In:
Just days after Royal Caribbean's last meteorologist announced he left the company, there's a new posting for a replacement.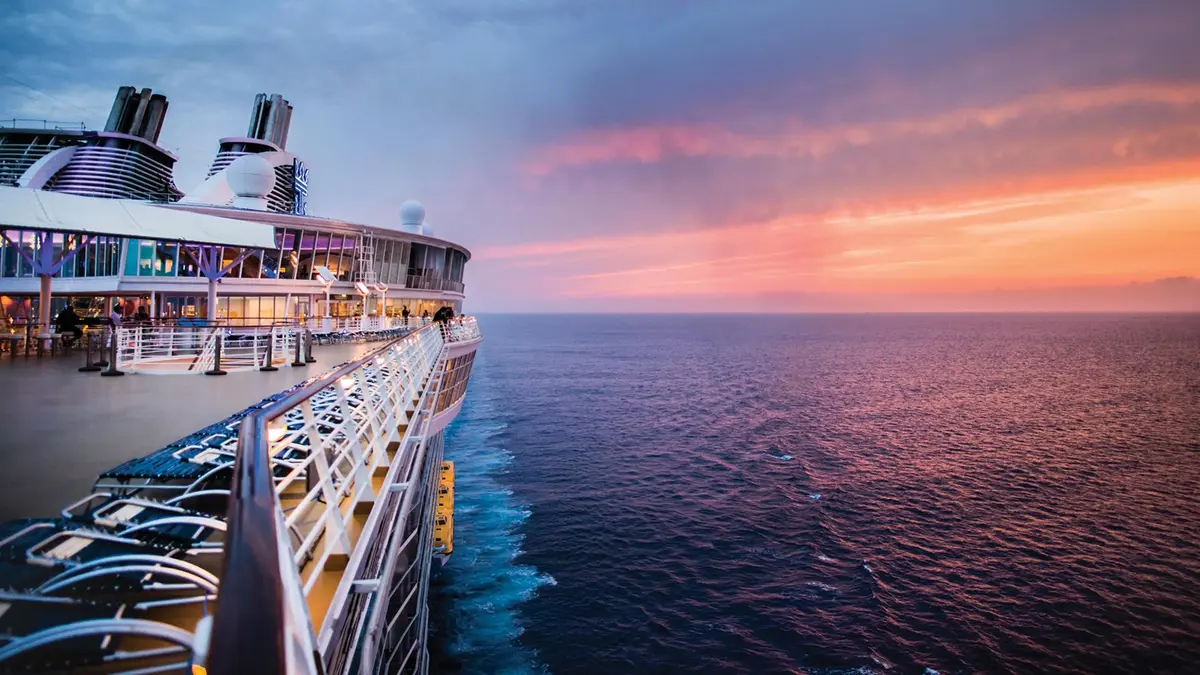 Royal Caribbean Group posted on their website a new job listing for the position of Chief Meteorologist.
Last week, James Van Fleet announced on social media he is no longer with Royal Caribbean. Mr. Van Fleet was the first Chief Meteorologist for Royal Caribbean and the cruise industry as a whole.
By employing a meteorologist on staff in a full-time capacity, it assists in tracking hurricanes, typhoons, tornadoes, severe rainstorms and winter storm fronts which may require itinerary deviations.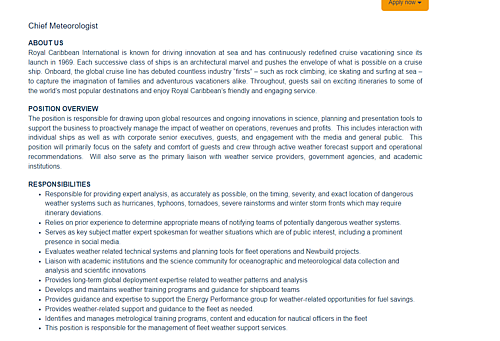 The job listing for his replacement seeks someone who has at least 15 years of experience forecasting the weather along with substantial media and public speaking experience.
"The position is responsible for drawing upon global resources and ongoing innovations in science, planning and presentation tools to support the business to proactively manage the impact of weather on operations, revenues and profits.  This includes interaction with individual ships as well as with corporate senior executives, guests, and engagement with the media and general public.  This position will primarily focus on the safety and comfort of guests and crew through active weather forecast support and operational recommendations.  Will also serve as the primary liaison with weather service providers, government agencies, and academic institutions."
Here's what is listed for the responsibilities of this potential new hire:
Responsible for providing expert analysis, as accurately as possible, on the timing, severity, and exact location of dangerous weather systems such as hurricanes, typhoons, tornadoes, severe rainstorms and winter storm fronts which may require itinerary deviations.
Relies on prior experience to determine appropriate means of notifying teams of potentially dangerous weather systems.
Serves as key subject matter expert spokesman for weather situations which are of public interest, including a prominent presence in social media.
Evaluates weather related technical systems and planning tools for fleet operations and Newbuild projects.
Liaison with academic institutions and the science community for oceanographic and meteorological data collection and analysis and scientific innovations
Provides long-term global deployment expertise related to weather patterns and analysis
Develops and maintains weather training programs and guidance for shipboard teams
Provides guidance and expertise to support the Energy Performance group for weather-related opportunities for fuel savings.
Provides weather-related support and guidance to the fleet as needed.
Identifies and manages metrological training programs, content and education for nautical officers in the fleet
This position is responsible for the management of fleet weather support services.
The timing of the change in personnel comes on the precipice of the Atlantic hurricane season, which begins next week.
Officially the hurricane season runs between June 1 and November 30, although dangerous storms can occasionally form outside those dates.
While the U.S. government's National Oceanic and Atmospheric Administration hasn't released its forecast yet for the 2023 season (it's coming on May 25), a few other institutions have posted predictions.
Colorado State University currently forecasts a slightly below-average amount of hurricane activity in 2023. The university's predicted 13 named storms for the season, with six storms becoming hurricanes. Two of those could become major hurricanes.
North Carolina State University predicted 11 to 15 named storms in 2023, with six to eight becoming hurricanes and two to three growing into major hurricanes.
Replacing James Van Fleet
The new job posting follows the departure of the first Chief Meteorologist, James Van Fleet.
Van Fleet's last day was May 1, according to his post.
Mr. Van Fleet confirmed on social media that he is moving on from his position with the cruise line following six and a half years of working at Royal Caribbean.
Van Fleet started with Royal Caribbean in January 2017 and was a very visible face of the cruise line who explained how weather would potentially impact cruise ships.  He would often record forecasts that were transmitted to guests in their staterooms, along with being posted online.
Most guests found Mr. Van Fleet's forecasts helpful during hurricane season when tropical disturbances would wreak havoc in the Caribbean.
"As far as the guests go, I also want to thank you for all your trust over the years as we've moved you around storms and systems so you would have the best vacation experience," he shared in the video he shared on social media.
Prior to working with Royal Caribbean, he worked as a meteorologist for local television channels in both Tampa and Orlando, as well as stations in Texas.
Your thoughts
Is it important to you for Royal Caribbean to have a Chief Meteorologist? Would you like to see Mr. Van Fleet return to the role? 
Share your thoughts on hiring a meteorologist in the comments on this post!