In:
James Van Fleet is out as Royal Caribbean's chief meteorologist.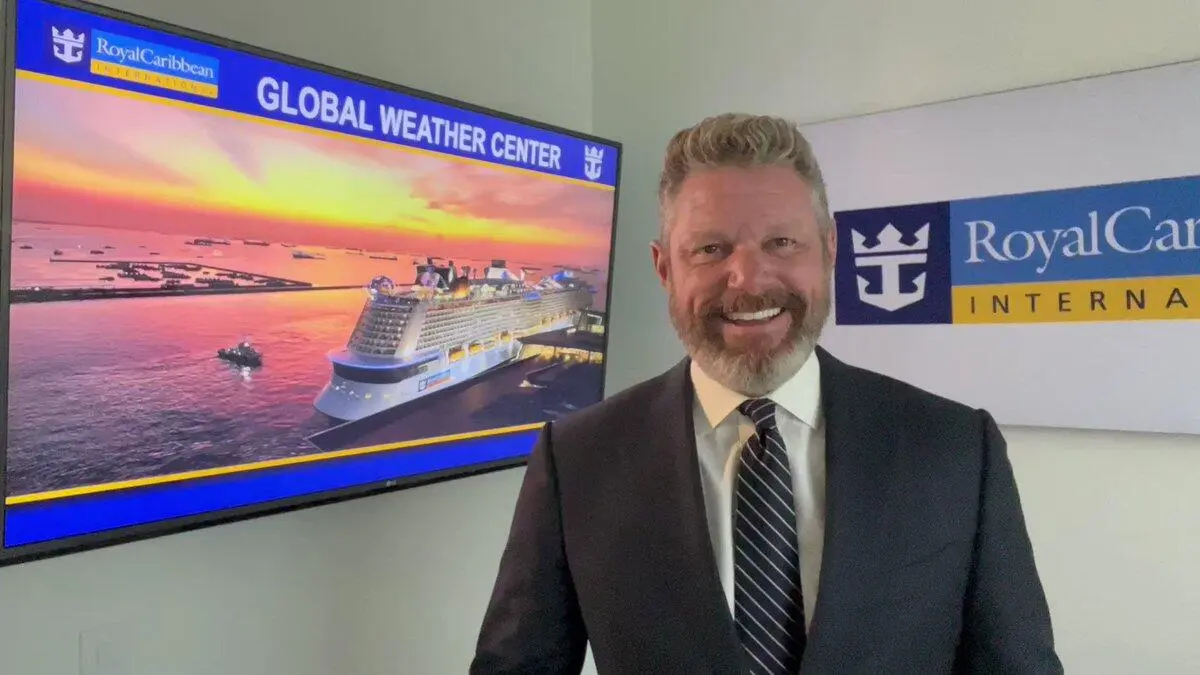 In a post on social media this morning, Mr. Van Fleet announced as of May 1, he is no longer with Royal Caribbean.
In his short 40 second video, he thanked Royal Caribbean for employing him for 6.5 years and to the guests for trusting him along the way.
"Thank you to Royal Caribbean for the last six and a half years," he said in his announcement. "That was amazing. That was so much fun, I enjoyed every minute of it."
He later tweeted, "I wish them all the best, it was the highlight of my career so far, and am excited for whatever comes next. Let's stay connected!
The video did not specify why he is leaving Royal Caribbean, nor what his next sort of employment will be.  He only said he'd prefer to remain in Miami.
There's also no indication of who, if anyone, will replace Mr. Van Fleet.
A user on Twitter asked Mr. Van Fleet if Royal Caribbean will no longer have a staff meteorologist, and Mr. Van Fleet responded back "Correct".
A trailblazing legacy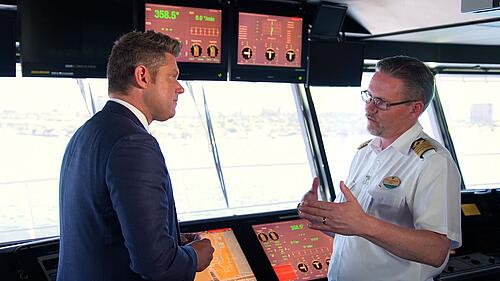 Royal Caribbean Chief Meteorologist James Van Fleet is a former TV weatherman who was the first full-time meteorologist for a cruise line. Despite early ambitions to be a DJ, Mr. Van Fleet tried his hand at the weather after an open position arose at a local TV station.
He worked in weather hot spots like Texas and Oklahoma, where he gained experience forecasting and broadcasting about severe weather. After moving to Florida, Mr. Van Fleet continued his work on hurricanes and storms, providing the experience he would need to work in the cruising industry.
Prior to Mr. Van Fleet's tenure, cruise lines used outside vendors to provide them with forecasts. 
The impetus for bringing on a meteorologist followed a bad storm that caught Anthem of the Seas in 2016 that drew a great deal of negative press coverage.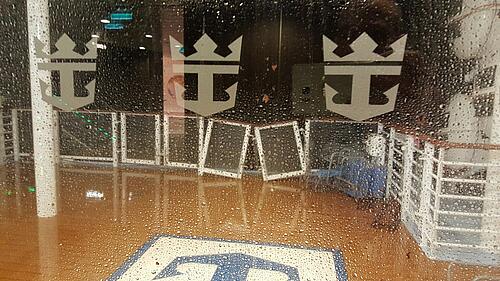 In 2016, the Anthem of the Seas was caught in some unexpected bad weather at sea while cruising between New Jersey and the Bahamas. With waves over 30 feet and hurricane force winds, the ship sustained minor damage to public areas. Although no one was harmed, it was not an ideal scenario.
Subsequently after the incident, Royal Caribbean decided they needed an in-house, dedicated resource to better monitor the weather.
Working as Royal Caribbean's Chief Meteorologist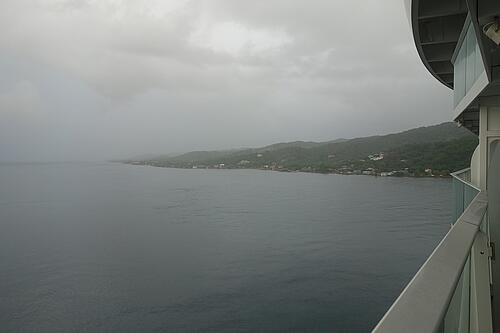 Once a part of the cruise line, James Van Fleet was responsible for 18,950 forecasts per year, a stark contrast to the 2000 forecasts he provided in previous positions.
He described the position at Royal Caribbean as his dream job, and it was one that had never existed before in the cruise industry. 
There was no "typical day" in the life of James Van Fleet during his time as Chief Meteorologist. Based in Miami, he spent about half the year working through hurricane and typhoon season, providing forecasts to help predict upcoming storms and reroute ships if necessary.
Related: How Royal Caribbean navigates bad weather with its own meteorologist
Other than time in the office, Mr. Van Fleet would visit weather specialists in Oklahoma or fly on a NOAA hurricane hunter plane to seek out the eye of a storm. Even if the weather was nice in Miami, a storm could be brewing elsewhere.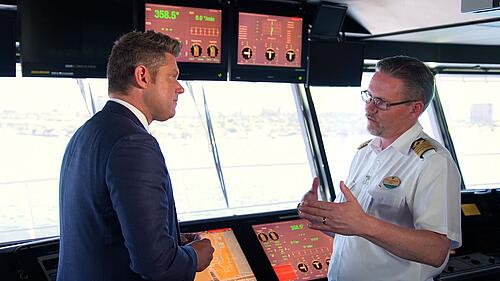 Unlike forecasting weather on land, forecasting weather at sea came with added challenges. There are many data gaps at sea, as there are not nearly as many weather sensors in the ocean compared to on land.
Plus, not only is the weather moving at sea, but Royal Caribbean's fleet of ships are moving as well, adding more variables to the forecast.
With 26 ships in the fleet, Mr. Van Fleet was responsible for forecasting weather on the itinerary of all ships, from those in the Caribbean to Alaska, Europe, and beyond. Additionally, he was responsible for monitoring weather at Royal Caribbean's private destinations in the Bahamas and Haiti, as well as ports where ships refuel, restock food, and have dry docks.
How will Royal Caribbean forecast weather without James Van Fleet?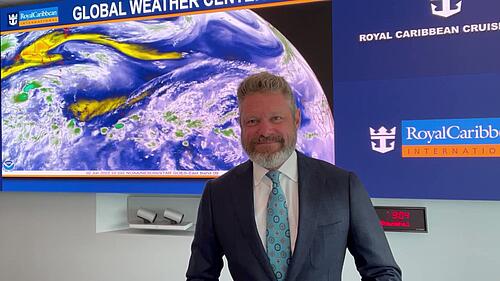 Cruise ships are equipped with technology to anticipate storms, and officers on the bridge carefully monitor weather systems. This allows them to change course and quickly move vessels away from inclement weather.
Communication was a large part of Van Fleet's position, and he made a point of visiting officers on all ships to get to know them better. He also hosted a fleetwide call every week to make sure all officers were on the same page.
Related: Cruise FAQ: Weather
Captains and officers will now be working without the assistance of Van Fleet, so they will not have access to his information on upcoming storms and the best course to avoid them. Nonetheless, trained officers can prepare for and foresee any weather approaching.
Many cruisers have enjoyed following Van Fleet on social media for updates about their itinerary's weather forecast. In fact, he accumulated nearly 28,000 followers on Twitter and over 10,000 on Instagram.
While you can be assured that, even without James Van Fleet, weather will still be forecasted for your sailing, his work at Royal Caribbean will certainly be missed.