In:
You might think about avoiding booking a cruise during hurricane season, but the lower prices and demand might have you reconsidering.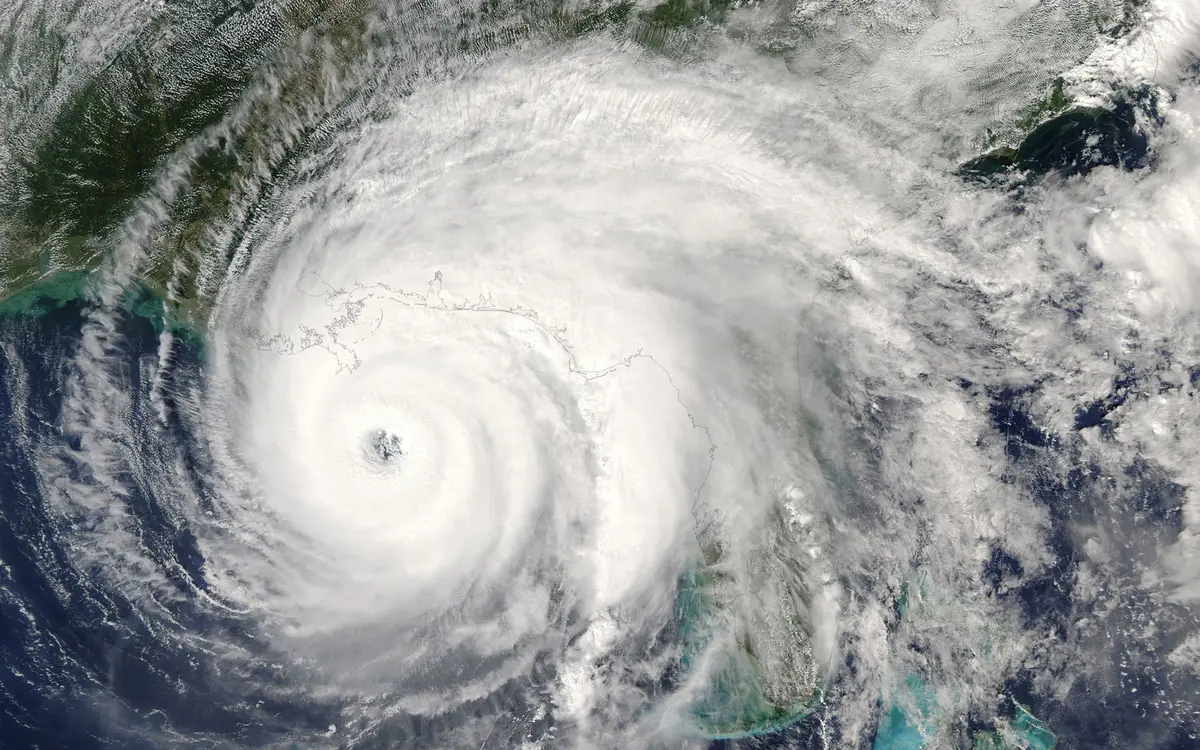 Going on a cruise during hurricane season can often be a topic of debate. The lower fares mean that you might be able to take your dream vacation for less; however, you risk your voyage being impacted by unfavorable weather. So, is going on a cruise during hurricane season a good idea?
In the past, storms have caused some itineraries to be modified or cancelled altogether. That being said, the majority of cruises are able to successfully depart without any issues. 
Here is everything you need to know about taking a cruise during hurricane season and predictions for the 2023 season. 
When is hurricane season? 
The Atlantic hurricane season, which includes the Atlantic Ocean, Gulf of Mexico and the Caribbean Sea, runs from June 1 through November 30, but the season's peak is primarily between August and October.
And while tropical storms are notoriously unpredictable, there are usually around a dozen or so storms in a given year, with some being stronger and weaker than others. 
The Pacific's season is a little bit different, beginning May 15 and ending on November 30. 
According to the National Hurricane Center, an average Atlantic hurricane season will produce 14 named storms, 7 hurricanes, and 3 major hurricanes. 
A major hurricane is defined as a Category 3, 4, or 5 on the Saffir-Simpson Hurricane Wind Scale, meaning that the cyclone reaches a maximum sustained winds of 111 mph (96 knots) or higher. 
Slightly below-normal hurricane season prediction for 2023
On Thursday, April 13, the Colorado State University Tropical Meteorology Project released their first forecasts for the 2023 Atlantic hurricane season. 
They predict that this season will be "slightly below-normal," with a total 13 named storms, six of which being hurricanes. Out of six hurricanes, two are expected to be major hurricanes. 
The project team also expects 55 storm days, compared to the average of 69.4 days from 1991-2020.  
Moreover, current conditions indicate that a transition to El Niño at some point during the summer or fall is fairly likely. If it does develop, there is uncertainty over how strong it would be, and since sea surface temperatures are warmer than usual, there is still the potential for a busy Atlantic hurricane season even if El Niño does not develop. 
On the same day, researchers at North Carolina State University released a separate report in which they predicted anywhere from 11 to 15 named storms during the 2023 Atlantic hurricane season. Six to eight of these named storms may develop into hurricanes, with two to three becoming major hurricanes. 
As of now, no reports indicate a busier than normal Atlantic hurricane season, which is great news for cruisers! 
Related: Safe at sea: what it's like on a cruise ship when there's a hurricane
Will a hurricane affect my cruise?
Royal Caribbean's top priority is the safety of the guests, crew, and ship, and they will never send a ship near a hurricane. To that point, if a storm is predicted to go anywhere near where a ship is scheduled to be, Royal Caribbean will be the first to cancel scheduled port stops or even completely change the itinerary.
Royal Caribbean's Chief Meteorologist James Van Fleet works year round to monitor weather patterns in order to keep ships safe. He has over 20 years of experience as a meteorologist in television and has covered locations from Texas to Florida. 
During hurricane season, he goes into overdrive to ensure that the ship's Captain and Royal Caribbean as a whole are making the best decisions possible for any impacted sailings.
While the odds of a storm affecting your cruise is low, you should be mentally prepared for that to occur; cruising during hurricane season means having a certain level of flexibility with your plans. 
If you are scheduled to visit the Eastern Caribbean but a storm arises, Royal Caribbean may drop a port of call or completely switch your itinerary, turning your Eastern cruise into a Western Caribbean one. 
On rare occasions, Royal Caribbean will cancel a cruise if a storm is projected to impact an area where the ship is scheduled to embark and/or disembark. 
Cancelling a cruise, though, is usually the last option for Royal Caribbean, and they are more likely to keep a ship out at sea for an extra day or two, subsequently shorten the next sailing, than outright cancel any given sailing.
If you decide not to go on the cruise at the last minute, you will not receive any compensation from the cruise line. Unless it is flat out cancelled by Royal Caribbean, the ship is still going to depart, and they will deliver a cruise vacation to all passengers, regardless of whether or not the itinerary stays the same. 
Do cruise lines provide any compensation if a sailing in impacted by a storm?
As mentioned, Royal Caribbean will do everything that they can to guarantee a safe voyage, even if it means that the port order is swapped or changed altogether. So long as the embarkation port is not closed, your cruise will almost certainly sail. 
Per the cruise contract that you agreed to when you booked the cruise, no compensation is required to be given if your itinerary changes. That means that if your cruise changes from an Eastern Caribbean cruise to a Western one, you will not be compensated for the change. 
If, however, they have to make the difficult decision to completely cancel the cruise, you will be issued a full refund. It must be Royal Caribbean's decision, though. If you elect not to sail at the last minute, you will lose the money that you paid for the vacation. 
Lower prices
Cruise fares tend to drop significantly in the fall. Not only is this due to the fact that the peak travel season has ended, but it is also to account for the uncertainty that arises when cruising during hurricane season. 
A 4-night Eastern Caribbean cruise onboard Independence of the Seas, for instance, starts at $559 per person for an interior room during July 2024. The same itinerary drops to $300 per person in September. 
In the days leading up to the cruise, you will inevitably keep a closer eye on the news to see if there are any storm developments, which may lead to some pre-cruise anxiety. In the summer, it is unlikely that you will have these worries, even though June and July still technically fall within hurricane season. 
Related: What is the cheapest month to go on a cruise?
Make sure that you buy travel insurance
Purchasing travel insurance is recommended regardless of when your cruise is; however, it is a no-brainer when it comes to cruising during hurricane season. 
Whether you get travel insurance from Royal Caribbean when booking or from a third-party provider, you will want to ensure the policy covers disruption in case of weather-related events.
You may also want to consider a "Cancel For Any Reason" policy, as most travel insurance policies only kick in if your vacation is interrupted -- think if Royal Caribbean cancels the cruise or an airline cancels your flight. A hurricane forming in the Atlantic and your fear of going is not grounds for travel insurance to kick in.  
If you want the flexibility to cancel your trip before Royal Caribbean does, you will need a policy that includes Cancel For Any Reason. Note, though, that these policies tend to be more expensive! 
Finally, make sure that you purchase the travel insurance as soon as possible, as to file any claims under a travel insurance policy, you have to have bought the policy before the storm was formed and named. If you purchase the policy afterwards, you will not be entitled to any compensation. 
Related: Should you buy annual travel insurance plans?
Importance of flying in before the cruise
You should always fly in at least one day prior to your ship's departure. During hurricane season, however, you may opt to fly in even earlier, just to make sure that you are in the vicinity of the ship if there happen to be any disruptions to air traffic due to a storm. 
Even if, for instance, you are flying from the Midwest to Florida, a hurricane in the Western Caribbean can impact flight schedules across the United States. If you wait until the day of, you may find yourself missing the ship! 
Come prepared with medication to curb any motion sickness symptoms 
Cruise ships will do their best to avoid the path of a hurricane and chart a course with optimal sea conditions. Plus, modern cruise ships are built with stabilizer fins that help counteract the ocean's movement, so there is less movement felt. 
That being said, you never know when you will hit a rough patch, whether you are sailing during a hurricane or not! 
When packing for your cruise, make sure that you buy some motion sickness medication, like Bonine or Dramamine. While medication will be available on the ship, having it on hand is best. 
Related: How to avoid getting seasick on a cruise