In:
Hurricane season isn't over yet, and the proof of that is in the late-season subtropical storm Nicole.
While not a hurricane yet (and possibly never a true hurricane), Royal Caribbean has begun re-routing a number of ships to avoid the path of the storm.  
Guests with sailings this week have been notified on a series of changes.
"We're very sorry for the last-minute change caused by the weather. The decision to modify our itinerary is not one taken lightly, and we explored all options before taking this measure," a letter distributed to guests on Liberty of the Seas said.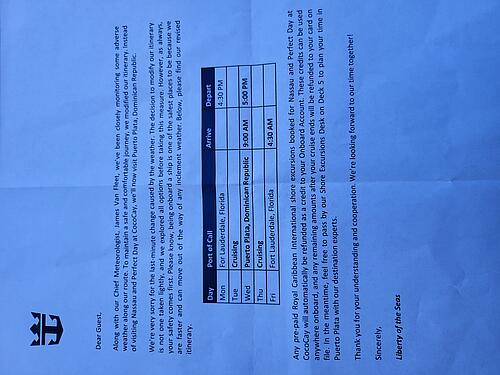 "However, as always, your safety comes first."
"Please know, being onboard a ship is one of the safest places to be because we are faster and can move out of the way of any inclement weather.
Read more: Safe at sea: what it's like on a cruise ship when there's a hurricane
Here are the changes due to Subtropical storm Nicole so far:
Liberty of the Seas will change her 4-night Bahamas cruise to skip all scheduled ports and instead sail to Puerto Plata, Dominican Republic.
Freedom of the Seas will change from a 4-night Bahamas cruise to head to Falmouth, Jamaica instead.
Anthem of the Seas is altering her 7-night Bahamas itinerary to instead visit Labadee for two days in a row.
Independence of the Seas will still be able to visit Nassau as scheduled, but will drop a visit to Perfect Day at CocoCay.
The November 7 sailing of Independence of the Seas will be extended by one day and will now return on November 12. As a result, the November 11 sailing of Independence of the Seas will be shortened by a day and begin on November 12.
Enchantment of the Seas is on an 8-night Southeast Coast and Perfect Day Cruise.  She was already able to visit Charleston and Port Canaveral, but will drop Nassau and CocoCay and head back north.
Read more: What to know about cruising during hurricane season in the Caribbean
Necessary changes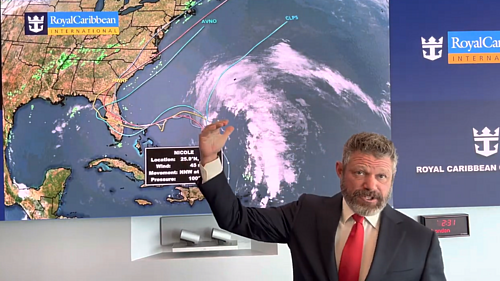 Altering the planned itinerary for cruise ships due to a tropical storm is no simple task, and a large part of the planning process falls to Royal Caribbean's in-house meteorologist.
James Van Fleet shared a video update on Monday explaining the nuances of predicting a hurricane's track, which is necessary to know where to send Royal Caribbean's fleet to avoid the path.
"This is a very odd track, friends. It looks super weird, but it all makes sense to me meteorologically how this plays out."
Mr. Van Fleet explained that the storm's track is the result of various fronts the storm will encounter, including a cold front that is going to, "punch it right in the face, knock it back to the south west."
"That's why such a weird track over the Bahamas, down over Florida, and then finally going north. It's because that first front literally pushes it back to the southwest. It hangs out for about 12 hours or so, and then a next front comes and grabs it as we get into Thursday and Friday and will yank it up the East Coast as we head into Saturday, Sunday and Monday."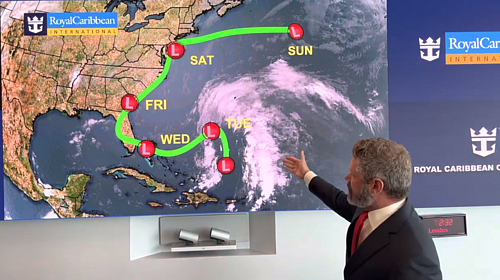 Mr. Van Fleet sees swells between North Carolina, the Bahamas, and the east coast of Florida.
"I think the worst part of that will be on Wednesday in the middle of the week. And that's when much of the fleet is out in ports and away from Florida."
How bad seas? Mr. Van Fleet is expecting ocean swells between 21-28 feet (7 or 8 meters).
Where is Subtropical storm Nicole headed?
According to the National Hurricane Center, the storm is located about 495 miles east of the northwestern Bahamas.
Nicole has maximum sustained winds of 45 mph and a minimum central pressure of 1002 mb.
According to the National Hurricane Center, a subtropical storm is a cyclone where maximum sustained surface wind speed is 39 mph or more.
Meteorologists expect Nicole will gradually strengthen over the next few days and be near or at hurricane intensity by Wednesday as it approaches Florida.