In:
All this week, we are helping first time Royal Caribbean cruisers with all aspects of the cruise vacation.  Check back every day for a new post aimed at those who are new to Royal Caribbean!
You may be asking what does Royal Caribbean do that makes it different from its competitors and why should you consider a Royal Caribbean cruise over a different cruise. 
Listed here are the ways Royal Caribbean seperates itself from the pack and why so many Royal Caribbean fans have come back again and again over the years.
Leader in offering more to do onboard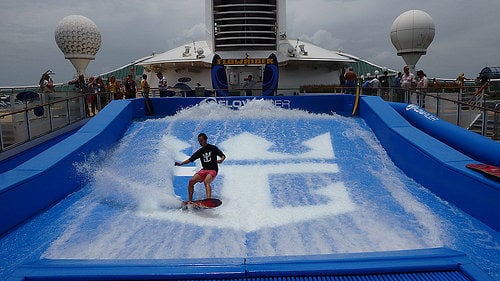 Photo by Graham Cairns
For years, Royal Caribbean has been blazing a path of innovation on its cruise ships, especially when it comes to the really neat activities to do onboard its ships.
Royal Caribbean was the first cruise line to offer a rock climbing wall, FlowRider surf simulator, ice skating rink, Broadway shows, true high speed internet at sea and a lot more.
What many fans like about Royal Caribbean is they are continuously pushing the envelope in terms of what a cruise ship can offer.  If you are looking for a cruise experience that offers more onboard activity options than you can possibly do in one week, Royal Caribbean is perfect for you.
Many of these innovations are still exclusive to Royal Caribbean and they have become staples of the Royal Caribbean cruise experience.  The FlowRider, bumper cars and Promenade shopping are all Royal Caribbean signature offerings.
All of this is in addition to the great variety of onboard activities available each day of your cruise.  Royal Caribbean has built a reputation for being a cruise line that offers a lot to do onboard.
The biggest cruise ships in the world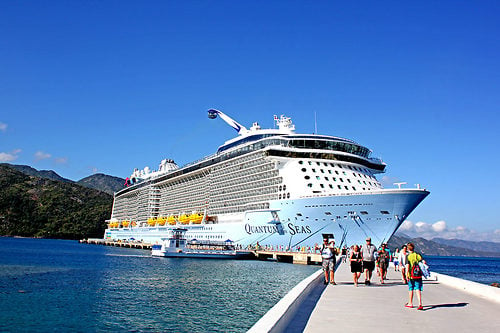 They say size is not everything, but it sure does help!
Royal Caribbean's cruise ships are among the largest in the world.  Its Oasis class cruise ships redefined not only how big a cruise ship can be but also what it can offer.
These ships are not just built to be big, rather, they are built to be large enough to house all the really cool adventures that await you.  Looking back to our first way Royal Caribbean differentiates itself, all those innovative activities need to go somewhere and so Royal Caribbean has built its ships bigger and bigger to offer more and more to its guests.
If you are worried that the ships might be too big, don't worry.  Folks that have been on these mega-cruise ships will tell you that they are truly designed with crowd control in mind and despite the ship's size, the layouts work to help spread the crowds around.
These large cruise ships go hand-in-hand with the wonderful activities available onboard to create a fun vacation experience.
Focus on families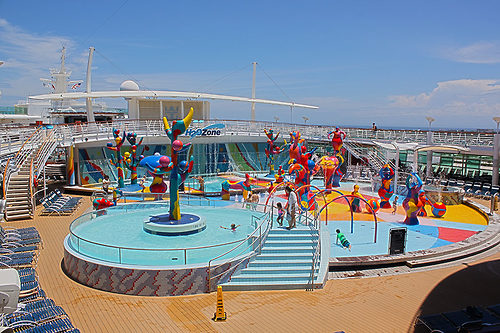 Royal Caribbean cruises are designed to be family experiences, where kids, parents, grandparents and friends can share in the vacation together.
Looking over the array of things to do onboard and onshore, you will see there are activities that can be great for certain ages and other activities that blend demographics together.  A Royal Caribbean cruise is meant to be fun for all.
The Adventure Ocean program for kids and the teen-only lounges and activities will give the underage set ample opportunity to have fun on their own in a supervised and fun environment.  Royal Caribbean has built these programs to appeal to each age group and they want it to be somewhere the kids want to be all day (and night).
Both Adventure Ocean and the teen program are complimentary and included in your cruise.  
If you are cruising with the babies or toddlers, Royal Caribbean has been adding nurseries to many of its ships to give parents a safe and inexpensive option for child care.
Of course, there is plenty for kids and adults to do together.  Evening shows, parades, dance parties, restaurants and shore excursions are just the beginning of what is available and they are great for all ages.
Value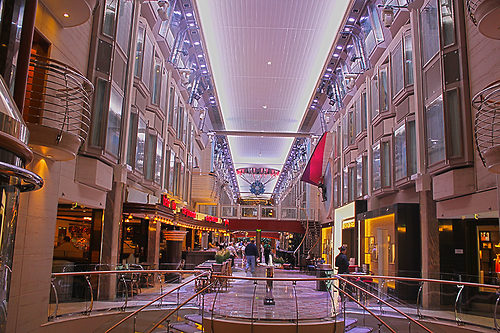 There are a lot of choices for a cruise vacation but what brings back many guests to Royal Caribbean cruise after cruise is the tremendous value of a Royal Caribbean cruise.  
Royal Caribbean prices its cruises competitively and it offers a great balance between what you pay for the cruise and what you get out of the cruise.  In fact, Royal Caribbean prides itself on offering cruise vacations that are not only affordable, but very comparable to a land based vacation elsewhere.  
Prices for a Royal Caribbean cruise vary from sailing to sailing and region to region, but generally speaking, Royal Caribbean sells its cruises on the notion guests are going to get a lot of value back from their time onboard.