In:
You booked your first Royal Caribbean cruise and excited to get onboard and start your adventure, but you may be feeling a little apprehensive about what awaits you as well.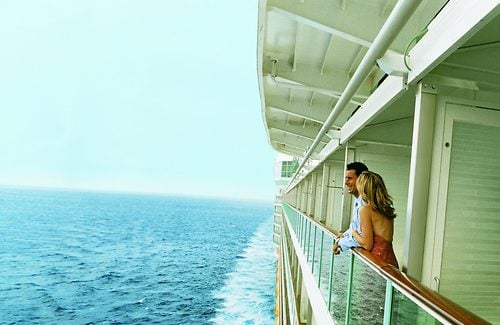 It is natural to be curious what a cruise vacation is all about, so we have some important things to know about planning your first Royal Caribbean cruise.
You can (and should) pre-plan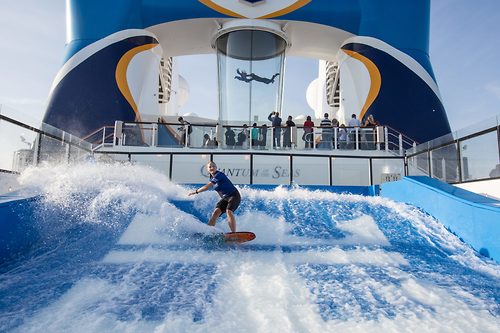 While a Royal Caribbean cruise is pretty easy to navigate and have a great time, you really should take some time before the cruise and plan ahead.
Royal Caribbean rewards guests who pre-purchase select activities, packages and offerings with discounts and advanced access. Moreover, by planning ahead, you can not only learn a lot about what the ship offers, but waste a whole lot less time.
One of the biggest mistakes first time cruisers make is not doing enough research before the vacation, and then lamenting lost opportunities. 
There is a lot of things to do, see and experience during your cruise, so do not let a potentially amazing family experience pass you by simply because you were not aware it was an option.
More: Check out our 2020 Royal Caribbean cruise planning guide for an in-depth starting point.
Check-in before your cruise
You can check-in before the cruise and save time at the terminal with Royal Caribbean's online check-in.
If your ship supports check-in via the app, be sure to use the app to check-in to potentially take advantage of Expedited Arrival.
Even if Expedited Arrival is not available for you, completing online check-in before your cruise will make things go quicker in the cruise terminal, and that means getting onboard sooner.
You should also download the Royal Caribbean mobile app (free on the Apple App Store and Google Play Store) to not only assist with check-in, but help plan your cruise. Depending on the ship you are sailing on, there are a variety of features available through the app.
Read: How to complete Royal Caribbean online check-in.
The ship has a lot of things to do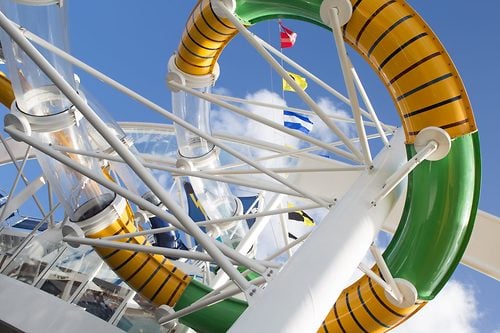 If you were not already aware, Royal Caribbean packs a ton of things to do on their cruise ships. These floating cities are an incredible place to spend your cruise vacation, and many first timers are unaware of the scale of activities.
The best strategy for keeping up with everything you can do onboard is to read the Cruise Compass. Each evening, your stateroom attendant will deliver to your stateroom the Cruise Compass, which is a daily guide to the news, events and activities that will be occurring on your ship the next day.
The Cruise Compass is more than just knowing what time bingo is at.  It offers you insight into the next day's weather, which bars will have drink specials, shore excursion information and much more.
Most importantly, there is a chronological listing of events from the early morning to the late evening. Each event has a time, event name, location and possibly brief description listed. There will also be an indication if this event costs extra.
Some events are not repeated while other activities can change daily, so it is in your best interest to track what is happening so you do not miss any of it.
More: We keep an archive of past Cruise Compasses to give you a ballpark idea of what to expect on your sailing.
Staterooms and why size does not matter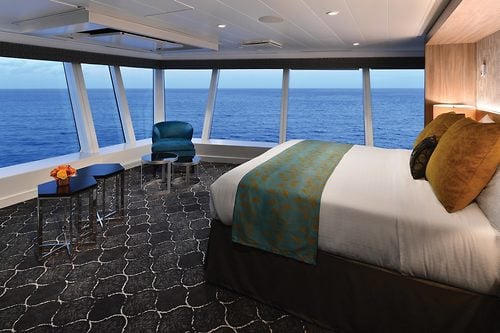 More than likely, the cabin you booked is going to be much smaller than hotel rooms on land. 
Royal Caribbean's cabins are quite comfortable, and there is still a good amount of storage space and cozy accommodations.
The reason why the smaller size of the room does not matter much is because in reality, you will spend a lot less time in the room than you think.
With so many activities, entertainment and places to visit, cruise cabins are most often used as a place to sleep and shower, rather than a spot you spend a great deal of time. Moreover, there is a tremendous amount of public space on each ship, where you feel drawn to during the day and evening.
Food, Glorious Food!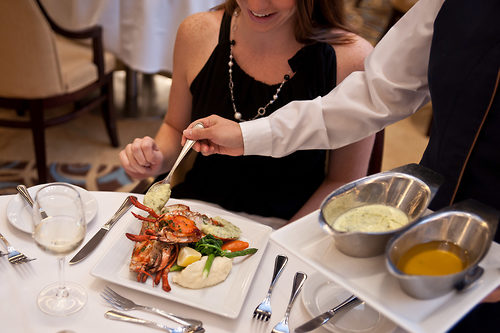 In terms of dining, you will find an incredible amount of dining choices day and night while on Royal Caribbean. Certainly any concerns of there not being enough food to eat will quickly be forgotten.
Royal Caribbean includes a great deal of food in the cruise fare, in addition to specialty dining options that cost extra.
Complimentary food is available for all meals, and time inbetween. Simply put, there is plenty of great food included in the cost of your Royal Caribbean cruise. One can easily go an entire food and enjoy nothing but food that has no additional cost from morning to night. After all, that is what the concept of a cruise has been for a long time.
In addition to all the food that is included in your cruise fare are specialty dining options, that carry with it an extra cost to enjoy the food there. The exact amount extra will vary from restaurant to restaurant, and ship to ship.
In most cases, the specialty dining options offer a greater variety of food choices than what is available at complimentary dining locations. Royal Caribbean has designed its specialty restaurants around themes or cuisines (Italian, steakhouse, sushi, etc).
More: All about food on Royal Caribbean.
Serving Up Gold Anchor Service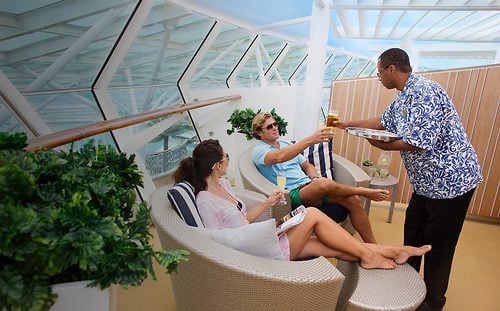 The crew onboard your ship are amazing, and will do whatever they can to ensure you have a great cruise.
From your stateroom attendant, to dining room waiters, to the activities staff, you will find crew members that are dedicated, friendly and compassionate. It seems there is a smile and friendly, "hello" around every corner of the ship.
The crew wants you to have a fantastic cruise, so if there is something missing, broken, or could be improved, do not hesitate to speak to a crew member about how it can be made better.
If you do encounter an issue, or think there can be an improvement, do not hesitate to talk to a crew member about your concern.
Shows every night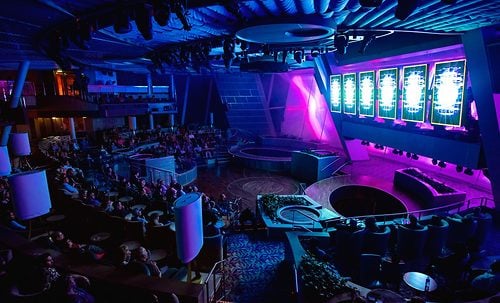 If you were worried about being bored on a Royal Caribbean cruise, you will quickly discover that there is plenty to do while onboard.
Each evening, there will be stage productions, featured entertainers, live music and more to enjoy.  Quite often, you have multiple entertainers and shows available to see overlapping each other, which means you have a lot to enjoy.
Royal Caribbean's entertainment is the cruise line's secret weapon, because they have been upping their game over the last few years to bring guests the kind of shows and spectacles you would expect to find in Las Vegas or New York.
Select ships offer full Broadway shows, comedian performances, Latin bands, DJ parties and newly released films to enjoy. 
You should plan your evenings to combine a show or performance along with a great dinner meal.
More: Entertainment on Royal Caribbean cruise ships.
Themed nights & what to wear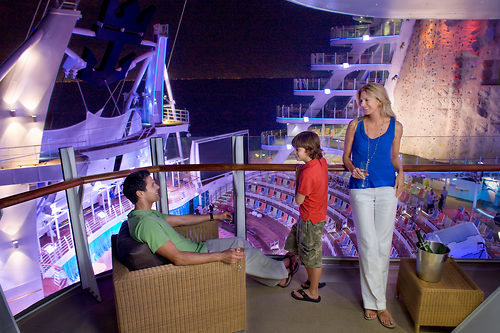 What to wear on your Royal Caribbean cruise is usually a source of frustration by new cruisers, because they want to be prepared and specifics on what to wear are a bit vague.
There are dress codes each evening that only pertain to the main dining room. When you see things like "formal night" or "casual" dress code, those refer to the appropriate attire to be worn during dinner in the main dining room.
Elsewhere on the ship, you can wear whatever you please. Specialty restaurants have their own dress codes, which supersede the main dining room dress code. In general, these are more relaxed.
In addition, there may be themed nights on select evenings of your cruise. These are very much optional, but there can be 70s, 80s or other themed dance parties going on during the cruise. Royal Caribbean does not publish what they are, or when they are, in advance, so your best bet is to read a past Cruise Compass from the ship and itinerary you are sailing on to get an idea what to expect.
The good news is cruising these days is a far cry from the "old days" of cruising in the last century when ball gowns and tuxedos with tails and top hats.  Royal Caribbean is pretty open about what you can wear throughout the cruise but at dinner time, there's still a few elements of formality left to consider.  And for those that don't want to dress up beyond t-shirts and shorts, Royal Caribbean has options for you as well.
Read: What clothing do I wear on my Royal Caribbean cruise?
Oh, the Places You'll Go!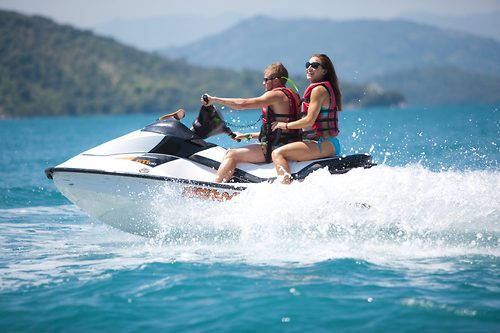 Of course, your cruise will take you to some amazing places around the world.  Your best bet is to research the ports of call you will visit, and make plans before you arrive.
Shore excursions are a major part of any Royal Caribbean cruise because a large part of your overall vacation is exploring the ports of call you will visit.  You have just a few hours at each stop, but it should be enough to get a taste of the city you are visiting.
Before you even look at one shore excursion, you should research the most popular activities in each port. 
When looking at shore excursion options, you can book tours through Royal Caribbean or on your own. Each has its own benefits and drawbacks, so I advise to consult both.
The key is to determine which tours you want to book, and reserve it in advance. In some cases booking in advance will save you money, and everyone can benefit from having the luxury of time to consider all options.
Read: How to book a Royal Caribbean shore excursion
Gratuities
Remember that awesome service the crew provides to you? They deserve a reward for the hard work put in daily to make your cruise better.
On Royal Caribbean, gratuities apply to all passengers. Royal Caribbean charges $14.50 per person, per day for most guests. This rate applies to interior cabins, ocean view, balcony and junior suites. The cruise lines charges $17.50 per person, per day for guests in grand suites and above.
You can also opt to go to Guest Services to have the gratuities adjusted. Guests have until the morning of their departure to make changes to the gratuities they pay.
Read: What you need to know about gratuities on Royal Caribbean.