In:
When you take a Royal Caribbean cruise, one of the costs to passengers are gratuities (tips) to crew members during your cruise.  Gratuities are the way guests can recognize great service aboard their cruise.
We provide this guide to help you understand how gratuities work on the cruise, when you can expect to pay them and how much it is.
Automatic gratuities
Royal Caribbean automatically adds a daily charge to each cruise passenger's SeaPass account to reward the great service its passengers receive.  
Each day of your cruise, Royal Caribbean will add a charge per person that will be divided among several people that you interact with likely on a daily basis:
stateroom attendant
head waiter
waiter
assistant waiter
As of September 7, 2022, the daily gratuity amount is $16.00 per guest, per day for those guests in standard accommodations.  Guests in suites will pay $18.50 per person, per day in gratuities.  The daily gratuity amount is the same for all passengers, regardless of age.
Guests have the choice to pre-pay their gratuities before their cruise to help split up the cost of their cruise vacation.
If you are a My Time Dining guest, you must prepay your gratuities.  
In addition, if a guest feels they want to alter the amount of gratuity they pay, guests can go to Guest Services aboard their cruise ship and ask to have their automatic gratuity charges changed or removed. 
How to pre-pay gratuities
Pre-paying gratuities allows you to lock in the current gratuity rate, as well as assist in budgeting the total vacation cost by having part of the cost be paid at different times.
Pre-paying gratuities is a simple process. If you booked directly with Royal Caribbean, you can pre-pay gratuities by calling 866-562-7625 or logging into Royal Caribbean's website before the sailing.
If you booked with a travel agent, simply let the travel agent know your preference and they can take care of the arrangements.
Beverage gratuities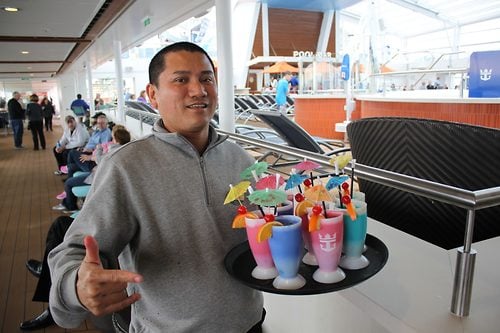 If you order beverage onboard your Royal Caribbean cruise, such as alcohol, you will be charged an automatic 18% gratuity when you receive the bill.
The gratuity amount is for the service you receive from the wait staff to serve your drink.  The gratuity amount is added to what you purchase and indicated at the bottom of your receipt.
You can add an additional tip on the receipt if you wish. 
Specialty restaurants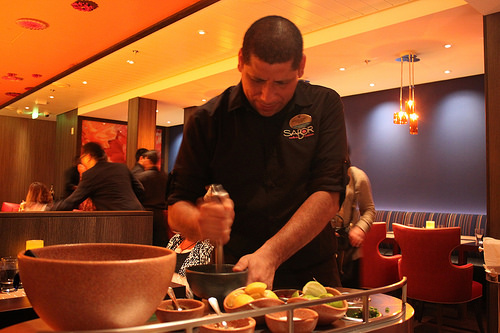 The surcharge you pay to dine at a specialty restaurant aboard a Royal Caribbean cruise includes the tip.
There is no need to pay a tip on top of the surcharge amount, unless you would like to.
Discretionary gratuities
In addition to the gratuities listed earlier, there are opportunities to give crew members an additional tip for excellent service.  
As the name implies, this is up to you and not expected in all cases.  Even crew members who receive an automatic gratuity can receive additional gratuities if you feel it is warranted.
Some instances where a discretionary tip may be appropriate are for room service deliveries or luggage service by porters.
You can remove the auto gratuities
As previously noted, Royal Caribbean will automatically charge you for every night of the cruise but that does not mean you have to pay it if you are not satisfied with the service. 
You can go to Guest Services at any point in your cruise and have them reduced or removed from your account if you would prefer to tip a different amount.
WOW Cards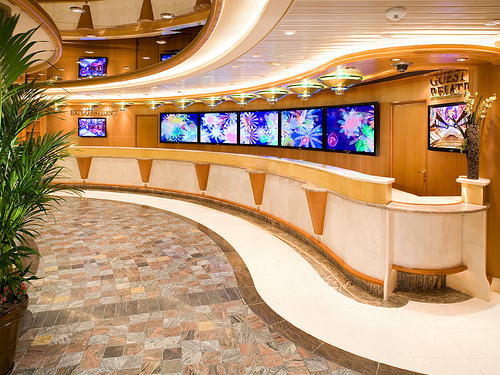 While a monetary tip is always appreciated, if you want to recognize great service by a Royal Caribbean crew member that will have a lasting effect on their career, fill out a WOW card.
Royal Caribbean will sometimes dispense to guests at check-in special cards to write about why a particular crew member went above and beyond the kind of service you might expect.  A guest can fill out the card, give it to the crew member and the crew member will then turn the card into their manager, which will in turn be placed on their permanent file.
WOW cards can help elevate crew members when it comes time for promotions and help their careers in the long run. 
If you do not receive a WOW card at check-in, you can go to Guest Services and request them.