In:
There is a risk of catching Covid-19 everywhere in life, including on cruise ships. Unfortunately, I tested positive for Covid on the last day of my cruise, and I wanted to share my experience for what to you can reasonably expect.
I was sailing on a 7-night Alaska cruise from Vancouver, Canada.
Anecdotally, it seems far more people are worried about what your life is like onboard after testing positive in terms of your treatment onboard, rather than the effects of the virus.
Keep in mind my experience may vary from your experience, as regulations are changing all the time.
I certainly had read plenty of other people's experiences on various cruise lines to have a ballpark idea of what to expect, but after going through it myself, here's the important takeaways.
Feeling sick
Before anything else, you will likely start feeling the effects of Covid. I'm sure most people start off in denial of what it could be. I certainly did.
My first symptom was a sore throat on the second-to-last day, but I had gotten up super early for the glacier viewing and stood outside for hours to watch it all, so I chalked it up to overdoing it. My energy levels were good and I had no temperature or any other symptoms.
As the evening came, I found myself getting quite tired and again, assumed it was a result of many days of touring Alaska.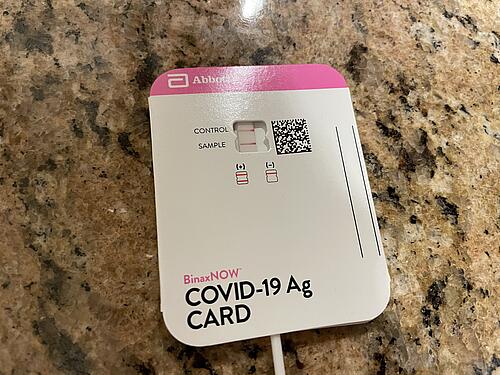 That night, things got much worse and my fever rose along with an even worse sore throat. By the time dawn broke, I couldn't take it anymore and found a home covid test I brought onboard. Sure enough, it came up positive.
At this point, I felt miserable and called medical to inform them of my symptoms and positive test.
Medical evaluation
The next thing that happens is the medical team came up to our cabin and tested everyone.  
The ship's doctor and nurse arrived to give us a quick antigen test each, and dropped off DayQuil, lozenges, and Tylenol to deal with the symptoms I was experiencing.
The doctor listened to my breathing and then told us we'd have the results very soon, likely within the hour. He also mentioned all the treatment was complimentary.
Almost exactly an hour later, I got a call that I was positive, but my wife and kids were negative.
Quarantine
Probably the biggest concern about Covid on a cruise ship is being quarantined. It's no secret there are inside cabins on every ship designated for Covid patients.
I was able to stay in my stateroom for two reasons: it was the last day of the cruise and we had a two bedroom suite. 
The doctor explained that if I could quarantine myself in one of the bedrooms, I could remain there. That certainly seemed like a better idea than going elsewhere.
I was not to leave my cabin at all. My wife and kids could leave the cabin, but had to wear masks and were not allowed to eat in any restaurants.
Instead, we were allowed to order food from room service at no extra charge. After one or two orders, the room service rep started calling me to place orders before I could.
In terms of the food, it's the exact same room service menu as any other guest has access to. For dinner, we were able to order from the main dining room menu just to give us something different.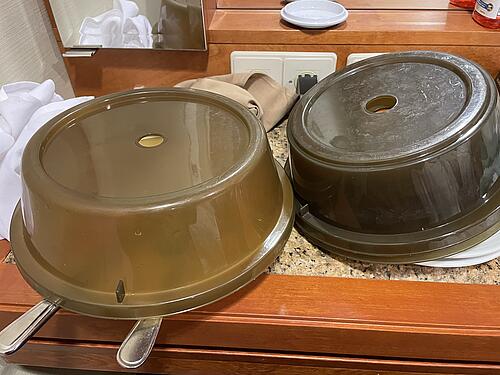 The room service food menu gets old quickly. Unlike the main dining room, there's no variations or new options. I could see how this could become frustrating if I had been in quarantine for a longer period.
You'll be provided with complimentary Voom and free phone service.
One thing that will stop is daily cleaning on your cabin.
Checking up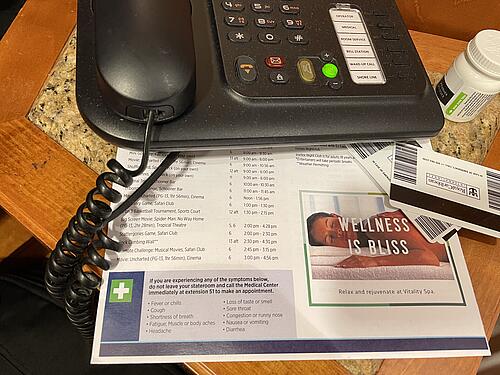 Once you test positive, expect a lot of phone calls to check on you.
I was impressed by the amount of crew members that called to check on me, and give me information.  I was concerned about not having access to all the questions about what happens next, but between the medical team and guest services, they ironed it all out.
The medical team called a number of times to check on how I felt, and were happy to provide more meds if I needed them.
Guest services also called to coordinate plans (more on that next).  Also, both medical and guest services cross checked the other, asking me if the other had done certain things to ensure no balls were being dropped.
What to do after the cruise
Guest services provided me options for what I could do at the conclusion of the cruise.
Because we were in Canada, which has public health regulations requiring me to continue to isolate after the voyage ends, I was given three options:
First, I could disembark in Vancouver and quarantine in Canada for a minimum of 10 days (9 days since I had quarantined one day in my stateroom).
Second, I could disembark and take my rental car (that I had parked in Vancouver) and drive back to the U.S.
Third, stay onboard for the next sailing. This was a shock to me, but in the paperwork Royal Caribbean provided, it listed staying onboard as an option sometimes allowed if there's space for it.
I'd need to quarantine for 4 more days, and if I tested negative after that, I could get off the ship in port and resume normal cruise activities. 
My family would need to test every day, but they would be able to enjoy the ship if they tested negative.
It was tempting to stay onboard, but the fear someone else could test positive (since they had been exposed to me) made it seem too risky.
Later in the disembarkation process, I spoke with a couple that opted to quarantine onboard and they spent the entire cruise in quarantine because they continued to test positive. That made me feel much better about my decision not to stay onboard.
We chose the option of taking our rental car and driving back to Seattle to stay there Had I not had a rental car already parked in Vancouver, I likely would have been stuck in Canada, per the Canadian regulations.
I had to provide guest services with the address and my ArriveCAN number for departure. 
Compensation
The most impressive part of the lengths Royal Caribbean goes to support those that catch Covid during their sailing is the compensation package they provide.
Since I could not drive home to Florida, Royal Caribbean offered me a daily per diem if I quarantined in a hotel.
Specifically, it offers reimbursement, up to a limit of:
$250 USD per hotel room per night
$100 USD per person, per day in meal costs
Air change fees up to $400 USD per person
$150 USD per day for a rental car cost
In addition, all quarantined guests and their travelling party get a prorated refund of their cruise fare based on the time spent in quarantine and cruise time lost.  This refund will come back to the original form of payment.
In my opinion, this quite a generous offering, especially the financial support given after you've left the ship and are isolating in a hotel.
Disembarkation
On the morning of disembarkation, we were instructed to wait in our cabins until all other guests were off the ship.
At 9am, crew members came to take my luggage. It would be brought down separate from other guests luggage.
At 9:45am, a crew member came to escort us out. It felt kind of surreal being back in the Centrum again. Again, I was happy to only have had one day of quarantine.
They escorted us to a conference room where eventually 10 other Covid positive guests joined us. This represented 11 out of 2,100 guests, or just 0.5% of the guests on our sailing.
We each had similar stories of "how it happened". Most appeared to be heading to a hotel in Vancouver that Royal Caribbean had arranged for.
We were taken off the ship and into a van to take us to our quarantine place. The bus dropped me off to pick up my rental car, which was parked nearby.
Must do's before your next cruise
Bring a few covid tests with you so you can test in your cabin before calling medical. From what I understand, you may still be temporarily quarantined if you call with covid-like symptoms but test negative.
Have some shows or movies downloaded on your mobile device to watch. Most streaming services you subscribe to allow you to download programming to watch offline (like on an airplane). There isn't much else to watch.
Bring extra prescription medicine for a possible quarantine.
Bring a few over-the-counter flu medications with you. My wife packed Ibuprofen and some Halls, but I wish I had daytime and night time DayQuil or even Mucinex to deal with my sore throat.
Conclusion
I was probably different from most that run into this situation, because I knew a lot about what cruise lines were doing with people that tested positive for Covid. I was looking to see how much truth there was to any of the subjective comments people had made in their experiences.
Yes, the room service menu gets tiresome and if I had to eat it for 3, 4 or more days, I probably would have really hated it. But I never got food that was cold. Luke warm, perhaps. But no different than how some food comes very hot or not so hot when in a dining room.
I freely admit I was lucky to only have to quarantine for 1 day onboard. The television programming is limited, and there were no pay-per-view movies on Serenade of the Seas.  Moreover, their slow internet made streaming anything pretty much impossible (although YouTube worked fairly well, since it could buffer better than other services I tried).
I thought the support from medical and guest services was exemplary. I was encouraged to call with any questions. So when I wasn't sure about mixing meds, I called the medical center and got a hold of the doctor almost immediately. My primary physician at home isn't that accessible.
Besides "how bad is quarantine", my other concern was communication because I had read some people lamenting gaps in time before knowing what was going to happen next. 
I started my ordeal around 7am. By lunch, I had a good idea of what the game plan was, and by 4pm I was clear on disembarkation and what to do after that.
I knew when I booked this cruise, and every other cruise I've taken since June 2021 that there's a risk of getting Covid. I was fortunate not to have run into this until now, but I can say it was handled well.
It would have been a heck of a lot easier if this had happened on a cruise from Florida, as I'd much rather quarantine in my own home. But the generous compensation package helps a lot.
I'm not not sure what sort of compensation options there are if the cruise had ended in the USA, which likely has different requirements than than of Canada.
I hope this article serves as an overview of what could happen and what to expect.