In:
With few exceptions, Royal Caribbean has dropped its pre-cruise testing requirements across the board.
Royal Caribbean sent out an update on Wednesday with new protocols that have removed the need to conduct a pre-cruise Covid-19 test, even if you are unvaccinated.
"Effective November 2, 2022, all travelers on U.S. sailings — regardless of vaccination status — will no longer require pre-departure testing (excludes sailings to Colombia, Haiti, & Honduras)." Cruises from Australia are also not included in this policy change.
Travel agents and guests were notified of the change in policy.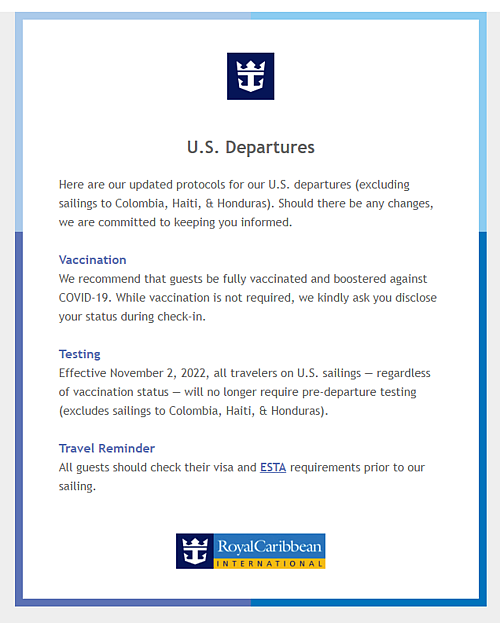 Prior to this change, unvaccinated guests had to take a Covid-19 test before their cruise. Fully vaccinated guests and guests ages 11 and younger are exempt.
Royal Caribbean recommends guests be fully vaccinated and boostered against Covid‐19. While vaccination is not required, they kindly ask passengers to disclose their vaccine status during check-in.
A guest is considered fully vaccinated 14 days after the required number of doses in their vaccine series have been fully administered (e.g. 2 shots of Pfizer, Moderna, AstraZeneca, etc., or 1 shot of Johnson & Johnson). Vaccines must be approved for use by the WHO or U.S. FDA, with the exception of CanSino.
Pre-cruise testing remains for certain itineraries
If your Royal Caribbean cruise visits Labadee, Roatan, or somewhere in Colombia, then unvaccinated will still need to test.
Guests age 12 and up who are not fully vaccinated have 3 days to take a test before their cruise, regardless the duration of the cruise.
Guests under the age of 12 do not have any testing requirements.
Accepted Tests
Guests can take advantage of in-person, telehealth, and self-swab tests. This includes unsupervised testing.
Proof of a negative test can be the printed or digital results, a clear photo of your self-test result, or your actual self-test in hand.
Another relaxation of policy
This is one of many changes in Royal Caribbean's approach to Covid-19, which has steadily seen health protocols erode in order to be closer to other forms of leisure travel. Airplanes, theme parks, casinos, and hotels no longer require any such Covid protocols and have not had any requirements for months.
Royal Caribbean Group CEO Jason Liberty spoke about the change during an earnings call with investors earlier this year and said the change is a move to be more like other forms of leisure travel, such as theme parks, casinos, or air travel. 
"We are continuing to adapt our protocols to align more closely with how the rest of society and other travel and leisure businesses are operating."
"This means that we're transitioning to the point where everyone will be able to vacation with us while always working with our destination partners to meet their regulations."
When Royal Caribbean resumed cruises in 2021, Covid-19 protocols were a major component to the onboard experience.
Since September 2022, all travelers, regardless of vaccination status, were able to cruise on most itineraries, as long as they meet testing requirements to board.
Since then, more itineraries opened up to unvaccinated cruisers.
In the past when Royal Caribbean relaxed travel requirements, they've reinforced their ships are still a step ahead of other travel in terms of protocols, "We continue to maintain additional layers of protection that far exceed any other vacation experience. This includes vaccination of all crew and keeping them up to date with boosters when eligible, routine surveillance of all crew, enhanced testing and treatment capabilities in our onboard medical centers, and much more."