In:
If you're vaccinated against Covid-19, you'll need to wear a bracelet to distinguish between vaccinated and unvaccinated guests, and this band can sometimes be a nuisance to wear.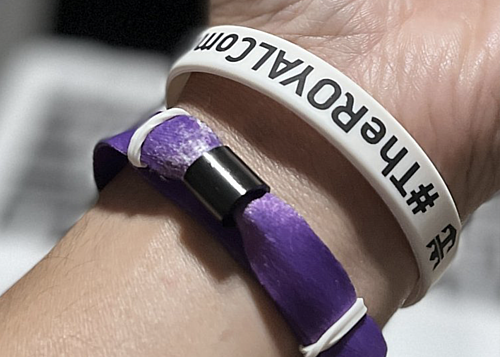 When cruises first restarted last summer, Royal Caribbean was using silicone wristbands that could be taken off at any time. In the fall, they primarily switched to a ribbon band that, once tightened, cannot be loosened.
While the ribbon band may seem convenient as it will not fall off throughout the cruise, many passengers find the band's design to be inconvenient.
Royal Caribbean Blog readers shared recently on our message boards the tips and tricks they use in order to make the wristband experience a lot more comfortable while onboard.
Put the wristband on loosely at first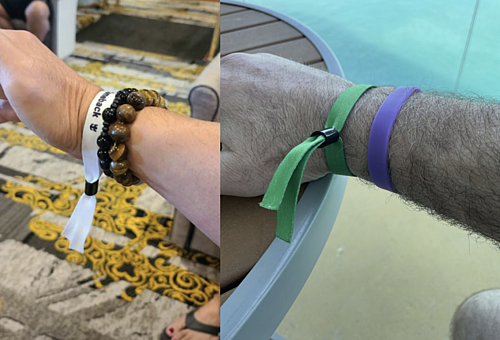 When you receive the wristband at the cruise terminal, do not tighten it too much. Because you cannot loosen it once it has been tightened, a tight wristband can quickly become uncomfortable. Putting the wristband on loosely at first will allow you more flexibility to take it off when it isn't needed. 
If you tightened the wristband too much, get a new one. Some guests find that they made their wristband way too tight. Don't fret, though. If your wristband is too tight, simply go to Guest Services and ask them to cut it off. They will give you a new wristband.
Put the wristband on your non-dominant hand
If you're right handed, be sure to put the wristband on your left hand. The wristbands all come in one size, and more often than not, there will be a lot of extra material hanging off once you tighten it to your wrist.
This "tail" can get in the way when you are eating or doing activities onboard. Frankly, it can be a little annoying! Be sure to put it on the hand you will not be using as much so it stays out of the way as much as possible.
Cut off the long tail after tightening the wristband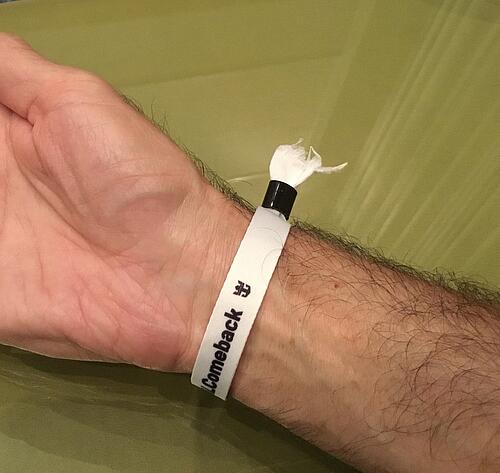 If the long tail on your wristband is really bothering you, go to guest services and ask if they can cut the tail of your wristband to make it shorter.
There will be no need to worry about the wristband dipping into your mashed potatoes or tomato sauce at dinner if the long tail is no longer there!
You don't have to wear the wristband on your wrist
All vaccinated guests must wear a wristband, but it does not necessarily mean you must wear it on your wrist. 
You can put it around your ankle, tie it to a lanyard, or even loop it on your belt. As long as you remember to take it with you each time you leave your stateroom or change outfits, you will not have a problem.
Use items to tie the wristband's tail back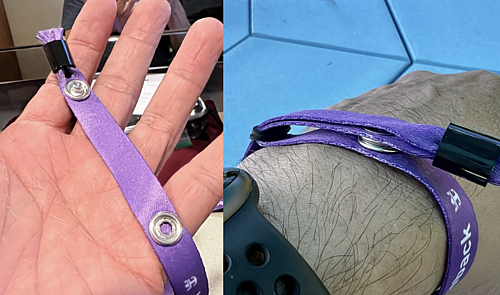 Some passengers have brought rubber bands and clips onboard to secure the wristband's tail. By using small rubber bands, the tail is able to be moved out of the way, making it much more comfortable for guests during the cruise.
Likewise, another tip shared was to purchase these cord locks which allow you to adjust how tight or loose your wristband fits.
Royal Caribbean Blog reader Ashley Dillo stated that "When I am given the wristband I just pull the nylon all the way through the black plastic piece like I'm tightening it all the way and it slips off. Then I thread the ends through the cord lock and it makes it adjustable for easy on/off."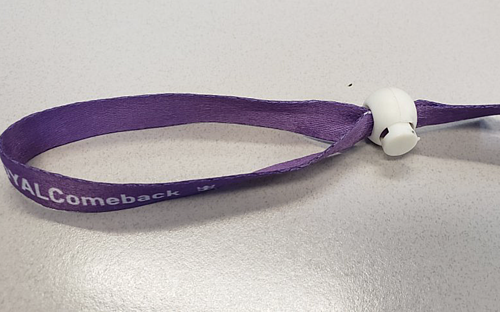 If you've been on a cruise recently, what did you think of the new ribbon wristbands? Do you have any tips and tricks for making them more comfortable? Join the discussion on our message boards and let us know!