In:
For the first time in two years, unvaccinated guests of all ages will be allowed to sail on a Royal Caribbean cruise ship later this summer.
Royal Caribbean International President and CEO Michael Bayley posted on social media the news about the change in testing coming next month, in which Covid testing for vaccinated passengers on short sailings will no longer be required.
Mr. Bayley also said, "Unvaccinated guests will be required to take one test within 3 days of departure. We will also continue to operate highly vaccinated cruises with a vaccinated population greater than society and which continues to exempt kids 12 and under and we will welcome unvaccinated guests over 12 and guests with a certificate of recovery within 90 days to travel keeping in mind our ships will typically sail with 80 percent plus vaccinated guests onboard. "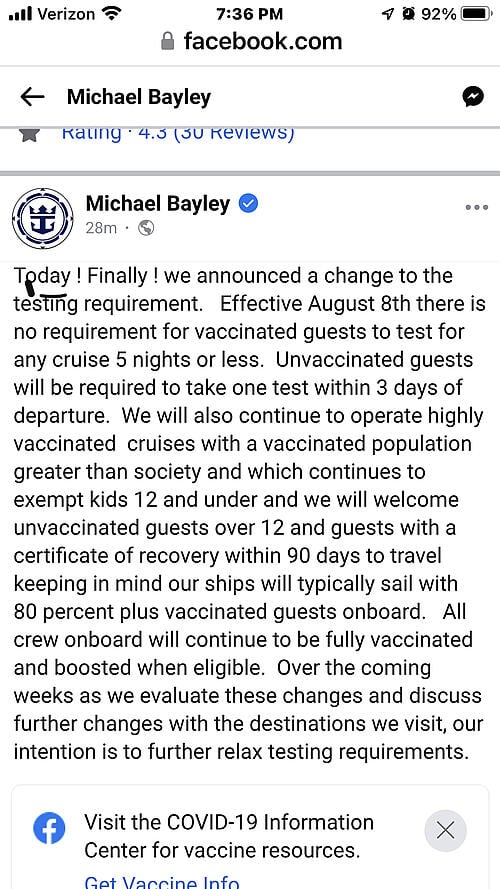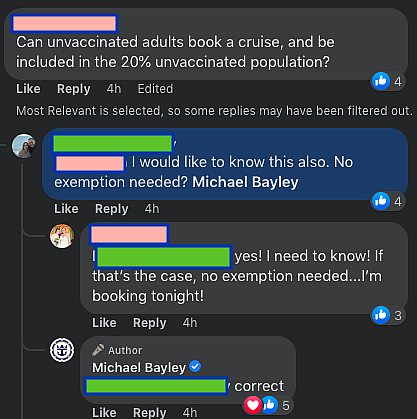 I reached out to Royal Caribbean's communication department to get confirmation on the Facebook posting.
Royal Caribbean confirmed for RoyalCaribbeanBlog.com that starting August 8th, 2022, unvaccinated guests of any age will be allowed onboard.
A spokesperson for Royal Caribbean verified the change in policy, "starting August 8th, 2022, we'll be transitioning so that we can welcome all guests onboard our ships."
"We will maintain a high percentage of fully vaccinated guests onboard all our sailings, far above the general population."
"Vaccination and testing requirements may vary by port of departure, ports of call, and age group. We are working through this with our destination partners."
Up until now, only unvaccinated guests under the age of 12 have been allowed on Royal Caribbean ships.
The change in policy is a result of the the CDC ending its Covid-19 Program for Cruise Ships.
No further details on the policy change were shared, but Royal Caribbean said further details will be released the week of August 1.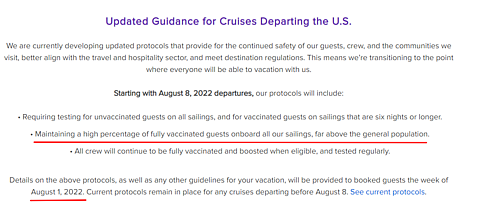 A major change in policy
Allowing unvaccinated passengers on ships is a big change, as this segment of the population has been left out of the cruise industry restart until now.
Ever since cruises restarted in the United States in 2021, all cruise lines have required anyone eligible for the Covid-19 vaccine to be vaccinated in order to sail on a cruise ship.
Royal Caribbean is the second line to change its policy, following Virgin Voyages announcement last week that it would allow up to 10% of passengers on any given sailing to be unvaccinated for Covid-19.
In a statement to investors on Thursday, Royal Caribbean Group CEO Jason Liberty said the change is a move to be more like other forms of leisure travel, such as theme parks, casinos, or air travel. 
"We are continuing to adapt our protocols to align more closely with how the rest of society and other travel and leisure businesses are operating."
"This means that we're transitioning to the point where everyone will be able to vacation with us while always working with our destination partners to meet their regulations."
Mr. Liberty told investors during an earnings call on July 28th that the close work between the cruise industry and the U.S. Centers for Disease Control and Prevention (CDC) allowed this progression in policy to occur.
"The other major milestone for the group, and the industry, is related to the CDC ending its program for cruise ships, as we are now transitioning to the point where everyone will be able to vacation with us."
"After two years of successfully working with us, the CDC has transitioned from enforcing protocols and policies for the cruise industry to suggestions and recommendations to be in line with the travel and tourism sector."
"That speaks to the great work we've done together as an industry."