In:
Sometimes picking a cruise ship to sail on can feel like picking your favorite child: you don't have one, but sometimes you prefer one over the other for different reasons.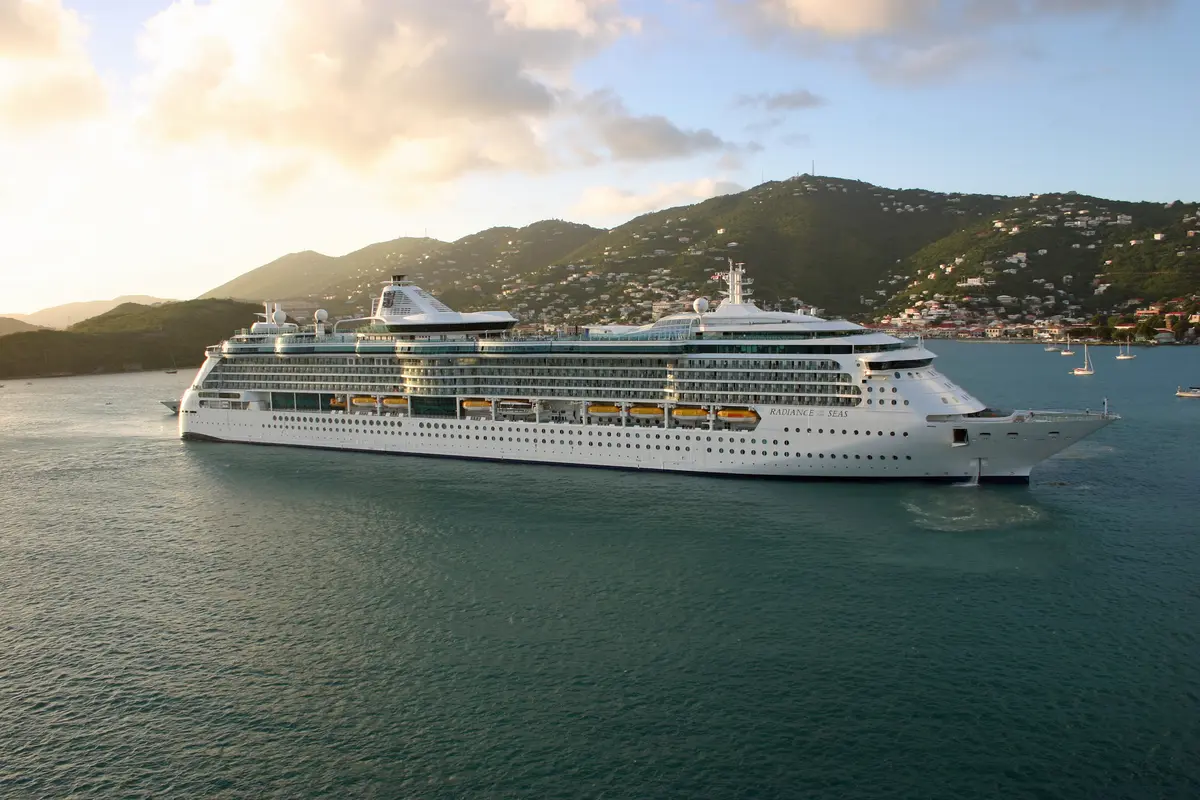 It can be daunting to choose between different cruise ships for a vacation, and even I can sometimes find myself second guessing the decision.
I recently sailed on one of Royal Caribbean's smallest cruise ships for a few important reasons, and it provided me an affordable cruise to the places I wanted to visit, even if it did not have all the bells and whistles of other ships.
Radiance of the Seas is the oldest Radiance Class cruise ship, having launched on June 15, 2000.  Cruise ships that reach the 20 year plateau are becoming far more commonplace than it used to be, so age is not the factor it used to be in evaluating how good a cruise ship is.
Read more: Why you can't trust online reviews of cruise ships
Radiance is also on the small end of Royal Caribbean's fleet.  She has a capacity of 2,501 guests and a length of 961 feet.  Compared to new cruise ships, like Wonder of the Seas, she is in a different category of cruise ship layout and feel.
Ultimately, I picked Radiance of the Seas because it was the right cruise ship for what I wanted: an inexpensive getaway cruise to ports of call in Mexico from a convenient homeport.
Here's why my cruise on Radiance of the Seas ended up being a great choice.
Inexpensive last-minute fare
It seems like a last-minute cruise deal is getting harder and harder to find because of rising cruise prices.  Royal Caribbean is seeing exceptional demand, and that means there's less incentive to offer a lower price.
I booked this cruise exactly 31 days before embarkation, and got a Category 4D balcony stateroom for $1,390.79 (including gratuities), plus $50 onboard credit.  
Read more: The 5 best cabin locations on a cruise ship
This was a 5-night cruise that visited two ports of call in Mexico, Costa Maya and Cozumel.
I could have gone with a category 2V inside cabin instead for $1,063.79  (including gratuities), plus $50 onboard credit.  I decided the extra $300 was worth having a balcony and more space.
Read more: 8 reasons a balcony cabin is worth it to book on a cruise
I didn't set any records for the lowest cruise fare ever, but considering I booked the cruise just a month before sailing, I think it's a pretty good price for a last-minute cruise in 2023.
At the time of booking, there were very few options that worked for the timeframe I wanted, but more important, I was going to pay more for them too.
Cruises from other ports around Florida had higher prices and worse cabin choices.
My cabin had lots of space, and the private balcony was so nice to have on the two sea days we had.
I was in cabin 8516, located near the forward elevator bank. There were no noise issues to contend with, and it was very convenient to have an elevator so close by.
Not only does a balcony cabin get natural light from the sliding glass door, but I was able to spend time on my balcony with the fresh air or a view from in my room if it got too hot.
Convenient homeport
Radiance of the Seas is spending the winter cruise season in Tampa, Florida, and it's one of my favorite ports to sail from because of how easy it is.
Tampa does not get the bigger cruise ships that you'll find in South Florida or even across the state in Port Canaveral, but it's such an easy process to cruise from there.
Besides the fact I can make the drive in a little over an hour from my house, the port is set up with a valet parking option that costs just $15 more than parking in the cruise terminal garage. 
The terminal itself is a no-frills embarkation experience, and I've always found it to be quick and easy. 
I arrived for my noon check-in time (which I picked from the Royal Caribbean app) and there were no lines at all to contend with. All they had to do was check paperwork and send me on my way.
While the embarkation process is just as easy at other Florida homeports thanks to Royal Caribbean's utilization of its app to speed up the process, the folks working in the cruise terminal have done their best to ensure everything goes smoothly.
Lots of dining choices
Given how old Radiance of the Seas is, I was surprised how many dining choices it has.
There are four different specialty restaurants on Radiance of the Seas, plus the Chef's Table.
Giovanni's Table
Izumi
Samba Grill
When you're choosing between a small or big cruise ship, often the variety of dining choices is one consideration as big ships are known for having more.  
However, with four specialty restaurants in addition to the complimentary Windjammer and Main Dining Room, I was impressed by the variety.
Whether you decided to eat at any of the specialty restaurants or not, it's nice how many options there are on a ship of Radiance of the Seas' age and size.
Ports in Mexico
A major reason I wanted to go on Radiance of the Seas was for the opportunity to sail to Mexico.
Anecdotally, it seems like there are far less cruises going to Mexico than the Eastern Caribbean. Or at least, I keep subconsciously choosing Eastern Caribbean routes.
I wanted a cruise that went to the Western Caribbean so I could review my two favorite beach shore excursions: Maya Chan and Paradise Beach.
Plus, I really enjoy cruises that go to Mexico because of the food.
At home, I eat plenty of Mexican food, but there's nothing like getting the real thing in Mexico. I enjoy the beautiful scenery there as well, but Mexico's food is my favorite among any Caribbean port.
An additional benefit to Radiance of the Seas was the amount of time we had in port.
In both Costa Maya and Cozumel, we were docked for the full day.  As an example, in Costa Maya we were in port from 8am to 5pm, whereas Mariner of the Seas came in on the same day, but did not arrive until 11am.  They did stay until 7pm, but in my experience so many businesses close up once you get to around 5pm.
Being that Radiance of the Seas was closer to Tampa, our distance was shorter than a cruise from Eastern Florida, and I loved having a full day in each port of call.
Fastest internet at sea
If having fast internet on a cruise ship is important to you, Radiance of the Seas is a great choice.
Royal Caribbean's investment in Starlink internet service has been a game changer, especially now that they seemed to have optimized their networking to better handle the traffic.
I was first blown away by how well Starlink worked when I was on Serenade of the Seas last month, which is another Radiance Class ship.
On Radiance of the Seas, the internet was almost as good as Serenade, but so much better than just a few months ago when I was on other, larger ships.
As someone that relies on the internet heavily, it was so nice to have a reliable connection for the entire cruise.