In:
Spending time at the pool on a cruise is a very popular thing to do on a cruise, but how can you ensure you get a seat?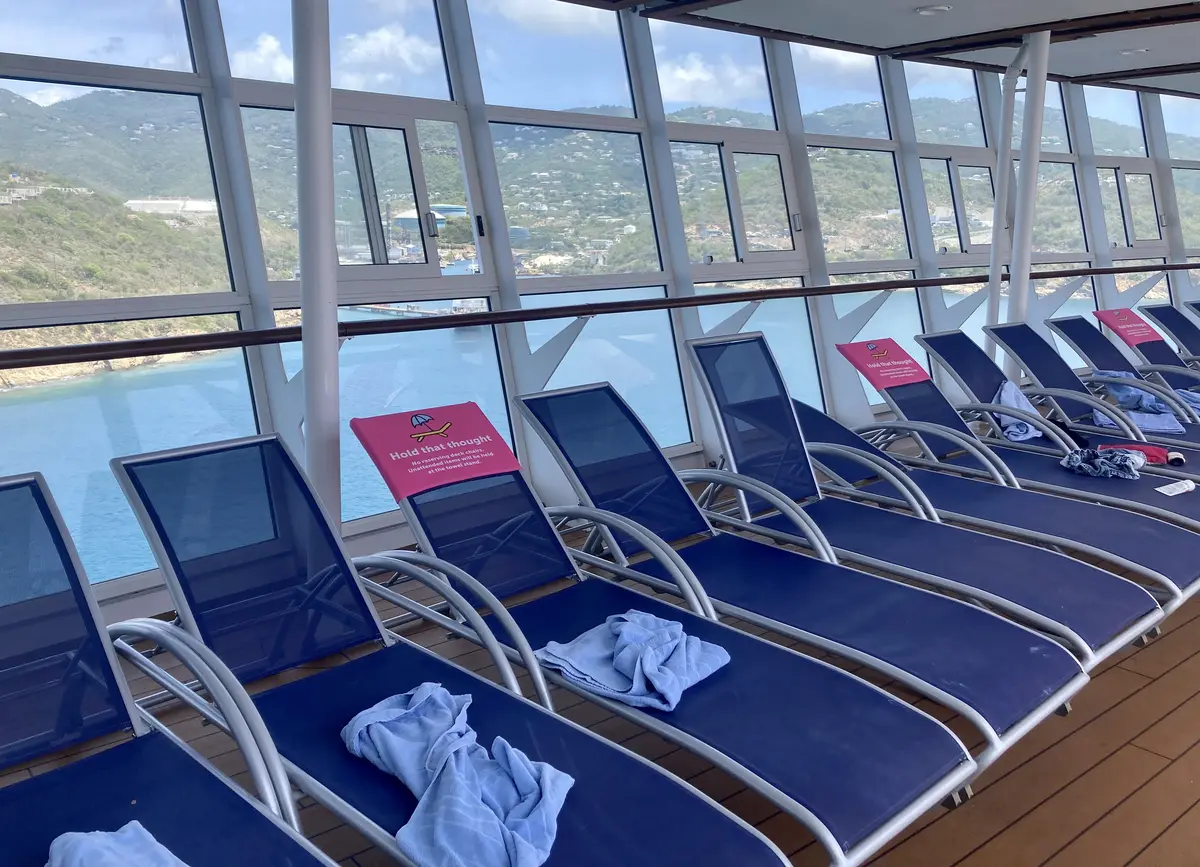 Getting to spend time by the water—whether at beaches, pools, or hot tubs—is always a highlight of cruising.
Royal Caribbean makes an effort to maintain clean and efficient pool areas, having multiple pools and hot tubs on a ship.
However, many cruisers complain about the epidemic of chair hogs at these pool locations.
Chair hogs often reverse a poolside chair for hours or even a whole day, leaving their items in one spot so no one else can use it.
They claim one or more lounge chairs by placing their belongings on them and then vanish for hours without actually using the chairs.
This behavior disadvantages other cruisers, but instead of complaining about the issue, we've decided to use a more practical approach and find a solution. 
We recently wrote up a few solutions to beat the chair hogs on your next cruise.
On my most recent cruise on Wonder of the Seas, I decided to put these solutions to the test.
Here are our six tips and how they worked out for me.
Get up early
In this tip, we recommend that you wake up before 10:00 a.m If you're able to wake up and have an early breakfast, you can usually stake a claim close to the pool.
I myself am a morning person, so I didn't have a problem waking up around 8:00 most days.
When I felt like going to the pool in the morning, I would grab breakfast at the Windjammer and head straight to the pool deck.
On these early mornings, I noticed plenty of empty seats. I also found that the outdoor pool deck was the best place to be during this time of day.
The sun wasn't too hot, and the pool itself wasn't yet crowded. 
As the time gets closer to midday, you'll find that the deck starts to fill up with people. Events like live music start playing at noon or 1:00, so cruisers start parading in to join the party.
It also gets very hot and sunny, so if you're not planning on staying in the water, it might be best to find another place to sit.
On the other hand, the pools will quiet down again after 4:00 P.M. I also enjoyed a few sunset dips with plenty of pool and chair space.
If you're looking to grab a good seat, just be sure to avoid the midday rush.
Rent a casita
I chose not to follow this tip due to the extra cost involved. 
Casitas are poolside huts with shade and cushions available. They are located on the decks of Wonder of the Seas, Odyssey of the Seas, Oasis of the Seas, Freedom of the Seas, and Navigator of the Seas. 
The cost of a casita currently runs at about $199 on a sea day and $149 on a port day. 
This price does include two chairs, free towels, a cooler, storage for your belongings, and a charging outlet. They also come with two complimentary Welcome drinks and four chilled waters.
Even though it took a little extra effort, I was still able to find open chairs on the pool deck without spending any more money. Because of that, I didn't see the need to open my wallet to find a spot near the pool.
It seems other cruisers felt this way, too, because I only ever saw one couple using a casita during the times I visited the pool decks.
Hit the pool on port days
In my personal experience, this tip stood out as the most helpful. 
In order to find quality chairs close to the pool, you can strategically plan your pool time around other onboard events.
On days when the ship was at sea, the ship's pool area quickly became a bustling hub of activity, particularly at midday. Adults and children alike would be running around, enjoying the water activities and live music.
In contrast, the pool became quiet and empty on days when the ship was docked at a port.
I discovered that I could walk around—even at noontime—and find a number of chairs available at multiple locations.
However, this tip does take a little more finesse, as you'll also want to take advantage of time at the local ports!
I recommend setting a few hours aside in the day to enjoy the serene pool deck.
Get a chair away from the pool
On days I didn't feel like swimming, finding a chair further away from the pool was easy.
The Solarium became my favorite place to relax. I found it to be the quietest pool area and enjoyed the adults-only, shaded atmosphere.
While the multiple pools and hot tubs still got crowded on the Solarium, there were many chairs available. Even if I couldn't always get a spot close to the pool, I could usually find a spot to sit down and read.
Either way, I was able to grab a drink, relax in the sunshine, and enjoy the beautiful scene.
Look for a chair at the kid's pool
Every cruise has a different demographic, but my Wonder of the Seas cruise seemed to have a lot of children.
In my experience, the chairs near the kid's pool filled up the fastest or were crowded up with children's towels and toys.
In addition to that, I found that the kid's park was noisier than other areas. It didn't have as relaxing an atmosphere as the other pools or the adults-only Solarium. 
Book a suite
Since I was staying in an inside cabin on this cruise, I couldn't take advantage of this tip, but staying in a suite is one way to circumvent chair hogs.
Booking a Grand Suite or higher gets you access to reserved seating on the suite sun deck.
Wonder of the Seas has a lovely suite area, complete with chairs, loungers, and plunge pool.
However, I don't think spending any extra money is necessary just to get a chair by the pool.