In:
A Royal Caribbean cruise is a family vacation that millions of people look forward to taking each year, and good planning can enhance that vacation experience even further.
After more than a decade of Royal Caribbean cruises, we have perfected some expert tips and advice to get the most out of your Royal Caribbean cruise.
Today, we are sharing our 25 must-read Royal Caribbean dining secrets to ensure you have the best possible cruise experience!
1. Make dining reservations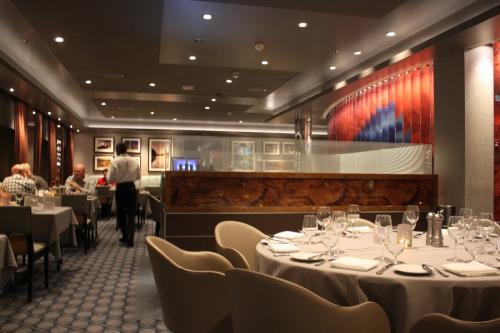 Simply put, the best way to ensure you get into any Royal Caribbean specialty restaurant that you want is to make a reservation in advance.  You could wait until you arrive onboard the ship, or even chance it to simply walk up and ask for a table, but you are risking the restaurant of your choice filling up.  Make a reservation online via Royal Caribbean's Cruise Planner site or as early as possible once onboard the ship.
2. Do date night on a cruise
Royal Caribbean cruises are the perfect vacation for honeymooners and anyone looking for a romantic evening out.  Plan ahead and treat your favorite person to a signature dinner at 150 Central Park or Chops Grille. Or order ice cream and cookies to your stateroom via room service, or take a ride on the carousel together in the Boardwalk.
3. Don't miss the must-eat items
After years of eating on Royal Caribbean ships, we have amassed our own list of "must-eat" dishes, treats and snacks across the fleet. Fan-favorites, such as the Tutti salad bar, Labadoozie, escargot, savory bites and pretty much anything from Sabor are high priority when onboard a Royal Caribbean ship. 
To read up on our favorites, check out our list of 15 amazing things you can eat on Royal Caribbean article.
4. You can reserve specialty restaurants before your cruise
A very common question we receive is, "when can I start booking specialty restaurants on my Royal Caribbean cruise?" and the answer is "it depends." Generally speaking, specialty restaurant reservations will open up sometime between 90 and 60 days prior to embarkation day on your cruise. The exact time frame will depend on a variety of factors.
The best reason to book dining in advance is to guarantee a spot for you and your family, as well as break up the total cost of the cruise. By booking these activities early, you can ensure you have the time and day that you want all lined up.
5. There are free beverages available throughout the ship
Believe it or not, you do not have to pay an extra dime onboard for beverages on your Royal Caribbean cruise. There are plenty of drinks included in your cruise fare to keep not only your thirst quenched, but also satisfied.
Here is the list of drinks that are included in your cruise:
regular coffee
decaffeinated coffee
tea
iced tea
tap water
milk
chocolate milk
lemonade
flavored waters
juices (at breakfast, not fresh squeezed)
hot chocolate (via instant packets)
These drinks are available throughout your cruise at a number of locations, so there will always be somewhere to get something to drink for free.
6. Research your dining options
Royal Caribbean ships offer more dining locations than ever before - everything from upscale dinners, to restaurants serving up burgers and fries. Take your time and research your options, and to that point, Royal Caribbean Blog has a list of Royal Caribbean restaurant reviews to provide a good starting point for learning about each dining choice available.
7. Free breakfast in Johnny Rockets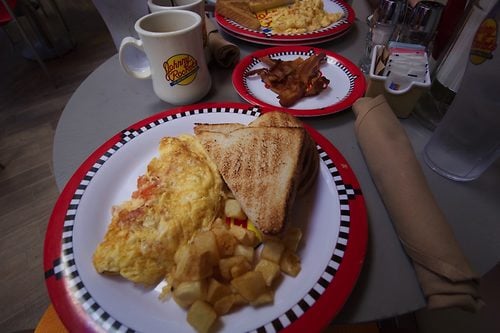 On Oasis class ships, Johnny Rockets is open for breakfast and it is included in your cruise fare. During breakfast, you will find classic American fare (just like the other meals), including pancakes, breakfast sandwiches, eggs, French toast and more.
Besides the price tag, Johnny Rockets is often a less crowded spot for breakfast, so if you need a break from breakfast in the Windjammer, head over to the Boardwalk and start your morning there.
8. Try My Time off peak hours
Royal Caribbean's My Time Dining allows guests to enjoy dinner on their schedule, but if you want to avoid the dinner rush, try eating off-peak hours.
We have found the most popular times to have dinner in the main dining room while on My Time Dining is between 6:30pm and 8:00pm.
Guests can make reservations for shorter waits, but if you want to truly avoid lines, try to go early or late: before 6:00pm or after 8:00pm.  
9. Research the Specialty Dining Packages to see if it meets your needs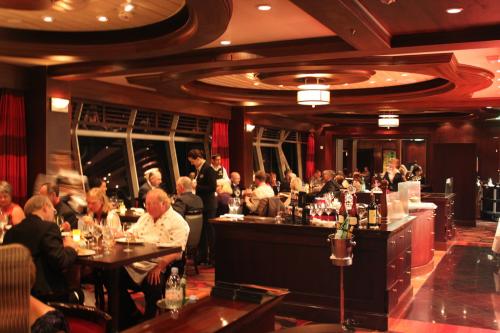 Many Royal Caribbean guests are opting for dining packages, which allow guests to get a discount on multiple specialty restaurants. Guests can choose between 2, 3, or even unlimited specialty restaurants on their Royal Caribbean cruise with up to 40% off the price if they were purchased individually.
The only caveat to the dining packages is one of the restaurants must be experience on the first or second night of the cruise.  Nonetheless, the cost savings offered by the dining packages is perfect for someone who wants to experience many of the best Royal Caribbean specialty restaurants.
10. Look for alternatives to avoid buffet lines
The Windjammer is the epicenter of any Royal Caribbean ship's dining experience, because it offers the greatest variety of food onboard in a casual, buffet style experience. This popularity can lead to a crowded experience during peak dining times.
The good news is there are great alternative spots available that will keep you satisfied and likely get you in and out a whole lot faster.
These locations include:
Park Cafe
Cafe @ Two70
Cafe Promenade
Sorrentos
Compass Deli (Majesty of the Seas only)
11. Communicate food sensitivity or special diets before your cruise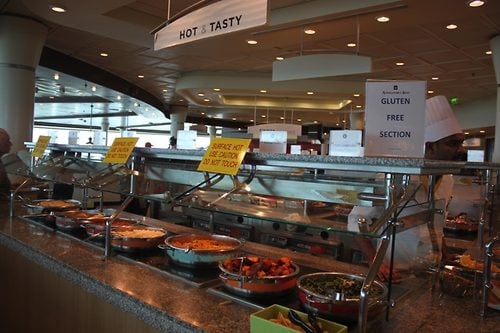 If you have a dietary restriction, special need or just prefer to have your food prepared in a certain way, your best bet is to let Royal Caribbean know about those kinds of requests prior to your cruise.
The best way to do this is by emailing [email protected]; please include in the e-mail the guests' names, booking number, ship name and sail date.
You should also make a quick stop in the main dining room on embarkation day.  There will be a head waiter on duty to speak with, and that person can confirm they have your dietary needs on file and make any necessary changes too.
12. Ask for a specialty restaurant deal
If you are walking around your ship and a waiter from a specialty restaurant asks you if you would like to dine at a specialty restaurant, your next question should be what kind of special can they offer you.
Waiters walking around looking to drum up business for their restaurants can sometimes lead to a discount off the regular price.  This strategy may not always work, but it is worth trying.  Heck, you might even consider going to a restaurant and politely asking if there are any specials or discounts if you want to book something.
13. Bring food from onshore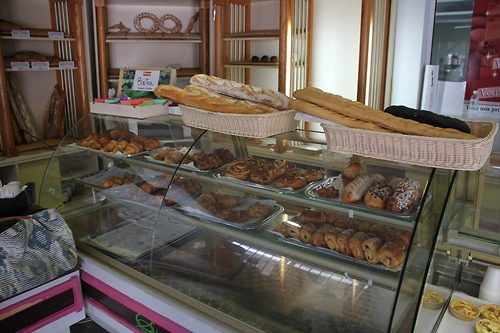 The ports of call your ship will visit offer a tremendous array of amazing food, but your culinary indulgences are not limited to when you are on shore.  Aside from alcohol, you can bring food back onboard the ship with you to enjoy later. Whether that is a freshly baked baguette, chocolates or something jarred for later, you can take it back with you for enjoyment later in the cruise or back home.
Keep in mind that the United States has strict laws about bringing back certain fruits and vegetables, so be sure to read up on these laws prior to bringing anything home.
14. When in doubt, do not be afraid to ask.
If you have questions about the food or the menu at a restaurant, do not be afraid to ask your server about it. Royal Caribbean offers a tremendous amount of flexibility for the most part when it comes to making substitutions or accommodating dietary needs. They truly want you to be happy, so be sure to communicate any needs to the wait staff. In the main dining room, you can speak to the head waiter about any gluten-free, vegan or other dietary needs.
15. Fill up at the buffet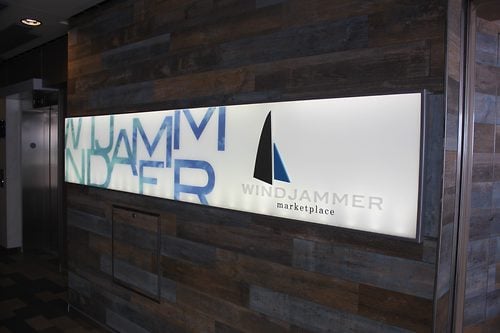 At the core of any Royal Caribbean cruise is the Windjammer buffet, which offers all-you-care-to-eat choices throughout the day. This is a fantastic choice for families or groups of guests that have wide variations in taste, as well as for picky eaters. For these reasons, the Windjammer buffet can be a wise choice for keeping everyone happy. 
Not only is the Windjammer very accommodating in tastes, it also offers a wide variety of choices and we have found the food quality to be quite good. In fact, some guests will eat exclusively at the Windjammer during their cruise.  That might be a bit much for our tastes, but keep in mind it is available most times of the day and evening.
16. Look for the cooking stations in the Windjammer
In addition to the array of food available in the Windjammer buffet, there are also cooking stations that offer custom-made dishes.  In the morning, this usually takes the form of an omelet station and each evening, there is a different choice offered.  There are custom-made pasta, Asian stir-fry, crepes and more regularly offered. 
Check with the Windjammer wait staff for a schedule of options.  These cooking stations not only offer the freshest food choices, but they will make it exactly to your taste.
17. Consider booking a dining event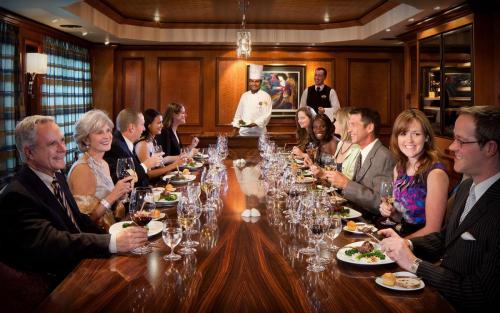 In addition to traditional restaurants, Royal Caribbean offers on select ships dining events, including a Chef's Table experience, mystery dinner and prohibition party.
These events are a fun alternative to a typical mean, and offer entertainment in addition to the food and drink that these specialty restaurants are well-known for offering.
18. Drink packages work at all specialty restaurants
Royal Caribbean's drink packages have become extremely popular with guests, and the good news is the drink package benefits work at specialty restaurants too.
Be sure to ask your waiter about any exclusions, but a majority of cocktails, beers and liquors will be included in the drink package benefits.  This means extra value from a drink package and an opportunity to sample some exclusive beverages available only at specialty restaurants.
19. If this is your first cruise, do not underestimate the importance of specialty dining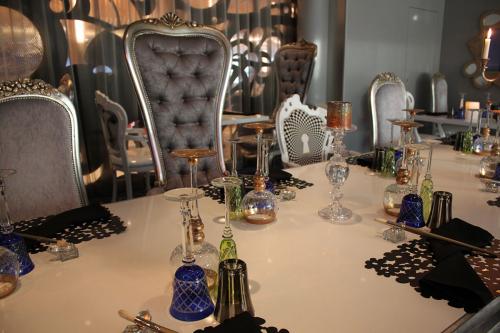 Even if you have visions of riding the FlowRider, hanging by the pool and catching a show on your first Royal Caribbean cruise, first time visitors should not overlook the important of planning your meals.
Royal Caribbean dining choices, both complimentary and specialty, offer unique dishes and impeccable service that has the potential to be every bit as memorable as time spent at the pool or onshore. 
20. Room service is complimentary for suite guests
If you are staying in a suite, there is no service charge for room service orders.  
While there is a ton of great food onboard your ship to enjoy, sometimes ordering room service is a great mid-meal snack, breakfast option or take it easy evening choice. Ordering is as simple as picking up the phone and calling in your order.  Soon thereafter, your food order will be brought up to your room and served wherever you like.
21. Have picky eaters?
Many of us go on a Royal Caribbean cruise and would prefer to eat chicken nuggets for every meal than try something new... and that is okay! Royal Caribbean is a safe haven for those with specific likes and dislikes. Check out the menus before you make your dining reservations to ensure there is something that everyone can eat.
Anything on the menu can be served as an entree, regardless of if it is listed as an appetizer, side dish or kids' menu item. Here are a few more tricks and tips for dining with a picky eater on a Royal Caribbean cruise.
22. You can bring your own water onboard
Did you know you are allowed to bring water or other non-alcoholic beverages on your Royal Caribbean cruise?
On boarding day, each stateroom may bring up to two 750 ml bottles of wine or champagne, as long as one guest is of legal drinking age. Corkscrews will be provided for guests to enjoy their drinks in their stateroom. If guests wish to enjoy their wine or champagne in our dining or bar venues, there will be a corkage fee applied.
Guests may also bring non-alcoholic beverages as carry-on items on boarding day. Non-alcoholic beverages may not exceed 12 standard (17 oz.) cans, bottles or cartons per stateroom. Milk and distilled water brought on for infant, medical, or dietary use are permitted. 
23. Take advantage of dining discounts onboard or pre-cruise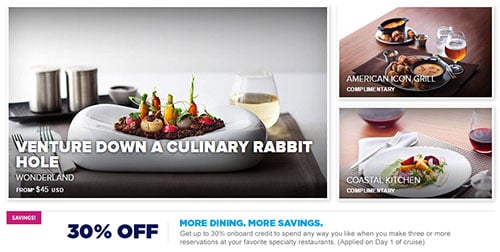 Royal Caribbean is known to offer pre-cruise discounts on various aspects of the cruise experience, including specialty dining.  In an effort to spur reservations, Royal Caribbean will discount specialty restaurant reservations and dining packages to guests that prebook on Royal Caribbean's Cruise Planner site.
Check your Cruise Planner site often, because offers can change from week to week.  And you can always cancel and rebook if prices drop!
24. Include your companions in the dining planning.
Traveling on a Royal Caribbean cruise with picky eaters, disinterested teenagers, first timers, a stressed out spouse? The best way to ensure that everyone has a great time on the cruise is to make them all feel invested in the trip planning. And who does not want to give their opinion on food? Share menus, reviews, and restaurant options with the family or your other traveling companions and get their feedback and favorites. This is an especially great idea for budding chefs!
25. Enjoy eating outdoors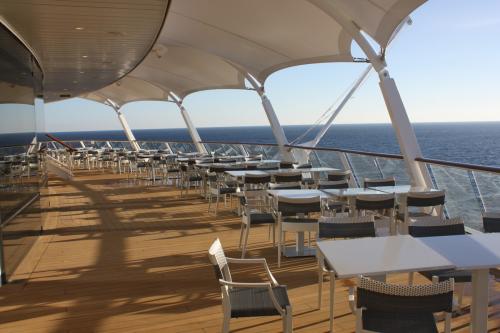 On certain Royal Caribbean ships, there is an outdoor seating option that is available to enjoy a little al fresco dining.
The Windjammer on Radiance and Quantum class ships offers an area at the rear of the ship to enjoy any meal with a fantastic view of the ship's wake.  Also, restaurants in the Central Park and Boardwalk neighborhoods of Oasis class ships also offer outdoor seating.
On any Royal Caribbean ship, food from the Windjammer buffet may be brought to anywhere on the ship, which means the kids can stay in the pool while an adult gets the food and brings it back to the pool area.