In:
For guests that want to experience the Main Dining Room without the formality of having a set time, Royal Caribbean offers My Time Dining.  It's a simple program where you get to eat in the main dining room on your own schedule.  Here's what you need to know about My Time Dining.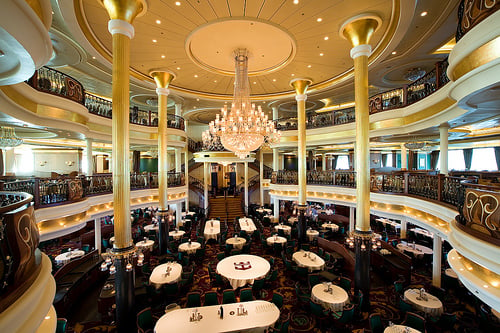 What is My Time Dining?
Essentially, My Time Dining is a program where for dinner in the main dining room, you can select times to eat between the hours of 6:00 and 9:30 p.m.
You can choose a different time each day, so you can fit dinner around the rest of your onshore and onboard plans.
There is a maximum of 10 guests per reservation.
How to opt-in for My Time Dining
Booking My Time Dining is simple, you can select it as your dining option when making your cruise reservation or at any time prior to your cruise by contacting Royal Caribbean or your travel agent.
To use this option, you must pre-pay all gratuities in advance.
Booking dining reservations
It is recommended that you make reservations in advance of your sailing if you prefer to dine at the most popular times, between 6:30pm and 8pm.
You can make reservations onboard your ship, although there will be less reservations available by that time and typically the crew members will try to steer you to keeping the same time each night.
In general, the larger the group, the less flexibility you have to modify your dining time.
If you don't get the time you prefer initially, keep checking back to see if you can change your dining time.  Even during the cruise, time slots open up.
Onboard your cruise
On your Royal Caribbean ship, there is one deck of the main dining room dedicated to My Time Dining.  
You arrive at the main dining room at your reserved time to be seated.  You can optionally arrive without reservations, but you should be prepared to wait for a table. Often, this wait can be up to an hour.
If you are more than 5 minutes late, your table may be given away to a stand by group
Who is My Time Dining good for?
Generally speaking, My Time Dining is great for those that think dinner before 6pm is too early and 8pm as too late. Additionally, My Time Dining is good for those that may want to change their time for dinner depending on their plans for the day.
The evening shows aboard the ship are more structured for those in early and late traditional seating.
The challenge is to try and book way ahead to get the limited number of slots available between 6:30pm and say 7:45pm.
Does My Time Dining "favor" small groups or large groups?
Smaller groups provide the greatest flexibility. There is usually just a few tables for 6 or more when you're asking for a table for just your group.
As an example, on a cruise on Independence of the Seas last year, there was only one table for 10 guests, so there was not much wiggle room for changing times.
How important are reservations? 
Without reservations, how important reservations are depend on your table size.
If you are up to two guests, you may not have much of a wait to get a table.  Groups of 4 or more and you have to wait 30-60 minutes until a table is ready.
The crew members will give you a pager to let you know when your table is ready but going to dinner without My Time Reservations is a gamble in terms of how long you will be seated, especially if you are trying to eat during the prime hours of 6pm to 8pm.
Is it possible to get the same waiters every night with My Time Dining?
If you make reservations for the same time every night, it is more likely you will have the same wait staff.
You may request a certain waiter each night, although it may increase your wait time, even if you have a reserved time.
Altering your dinner time will increase the change substantially of getting a different pair of waiters in our experience.
A big thank you to Ken Slusser for assisting in writing this blog post!