In:
Personally, I love to eat on a Royal Caribbean cruise and indulge in the amazing variety of food offered onboard.  Royal Caribbean offers a lot to choose from and for someone that enjoys trying new foods, this is terrific.
What happens if you, or someone you are cruising with (such as a young child) is a picky eater and hates trying new foods?  
You might think this could ruin your trip, but it does not have to!
Here are some good tips for how to deal with the pickiest eaters on a Royal Caribbean cruise that I have found over the years.
Best place for kids: Windjammer buffet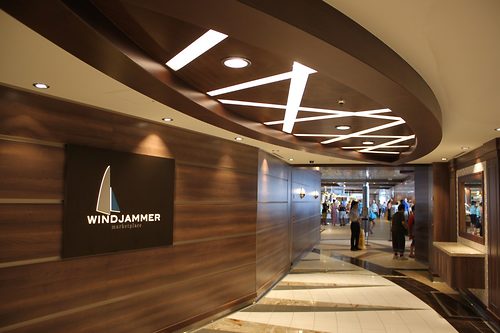 Children are notoriously picky eaters, because they tend to judge food purely on its aesthetics instead of what it tastes like.  
You can try explaining to your kids how tasty broccoli really is, or just head to the "great equalizer at sea", the Windjammer.
The beauty of the Windjammer is the sheer variety of food offered.  
You will find the widest selection of food in the Windjammer, including some really basic foods, such as grilled meats, cheeses, fruit, pasta and more.
In fact, much of the food served in the Windjammer is based on the idea of creating it yourself, so the pasta has no sauce on it and the grilled chicken comes out bare.  There are plenty of sauces and toppings you can add right next to it, but for picky eaters, it is always best to keep foods simple and go from there.
In short, when it comes to appeasing a picky eater, you want as much choice as possible on your side.
Places offering picky eater-friendly choices
On any Royal Caribbean ship, you will find a lot of restaurants onboard that serve up food to guests. Each has their own menu and different options to choose from.
For picky eaters, we have found these Royal Caribbean restaurants offer a higher likelihood of making picky eaters happy.
Sorrento's Pizza
Any Royal Caribbean ship with a Royal Promenade or Royal Esplanade will offer a food that almost any picky eater can enjoy, Sorrento's Pizza.
While Sorrento's may not win any culinary awards for the pizza it offers, the pizza available here is always a hit with kids and picky eaters a like.
At any given time, guests can enjoy a few different varieties of pizza, but plain cheese and pepperoni pizza is almost always available.  And it's complimentary!
Wipeout Cafe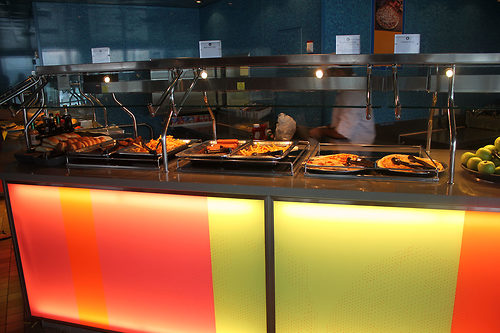 Royal Caribbean figured if kids are going to be spending a lot of time near the amazing onboard activities, such as the FlowRider, Rock Climbing Wall or Teen Club, then they should put somewhere to eat that appeals to them nearby.
Wipeout Cafe has hot dogs, burgers, fries and ice cream and not much else.  But for picky eaters, this must be heaven.
In terms of easy to please food that is nearby the pool decks, Wipeout Cafe is a great choice and usually features very short lines.
Main Dining Room
Royal Caribbean designed its main dining room to be able to accommodate thousands of guests and almost as many tastes.
Whether you are a super picky eater, have dietary restrictions or just do not like wet and dry foods touching, the staff at the main dining room is there to make your dining experience perfect.
Ask to speak to the head waiter and explain what you would like, even if it is not on the menu. With advanced notice, the chef can create something perfect that should satisfy the pickiest of eaters.
Johnny Rockets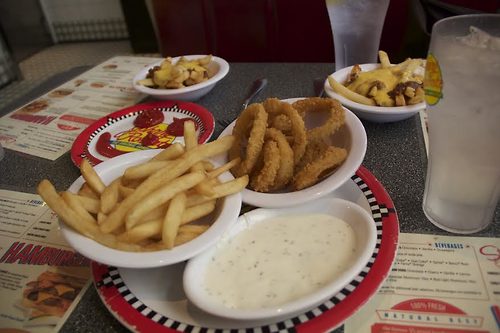 For a small charge, picky eaters can do quite well at Johnny Rockets, where you will find classic American food prepared to your liking.
Burgers, hot dogs, grilled cheese, chicken sandwiches and more are available at Johnny Rockets and you really cannot beat the quality of food served here when it comes to this classic fare.
While the burgers, dogs and sandwiches served elsewhere onboard are complimentary, the quality of the food at Johnny Rockets is top-notch and always seems to hit the spot.
Get your picky eater involved in planning
When you have picky eaters in your group, one important step you can take to ensure a smoother dining process is involve them in the decision making.
Empowering them to help with planning not only helps alleviate anxiety about what they are about to eat, but it also helps get them onboard with the plans.
When planning where to eat, encourage your picky eaters to help with the planning and take a look at Royal Caribbean menus in advance.
After all, eating on a Royal Caribbean cruise is more than just about getting sustinance to fuel your body.  Dining is a big part of the cruise fun!
The secret menu: side dishes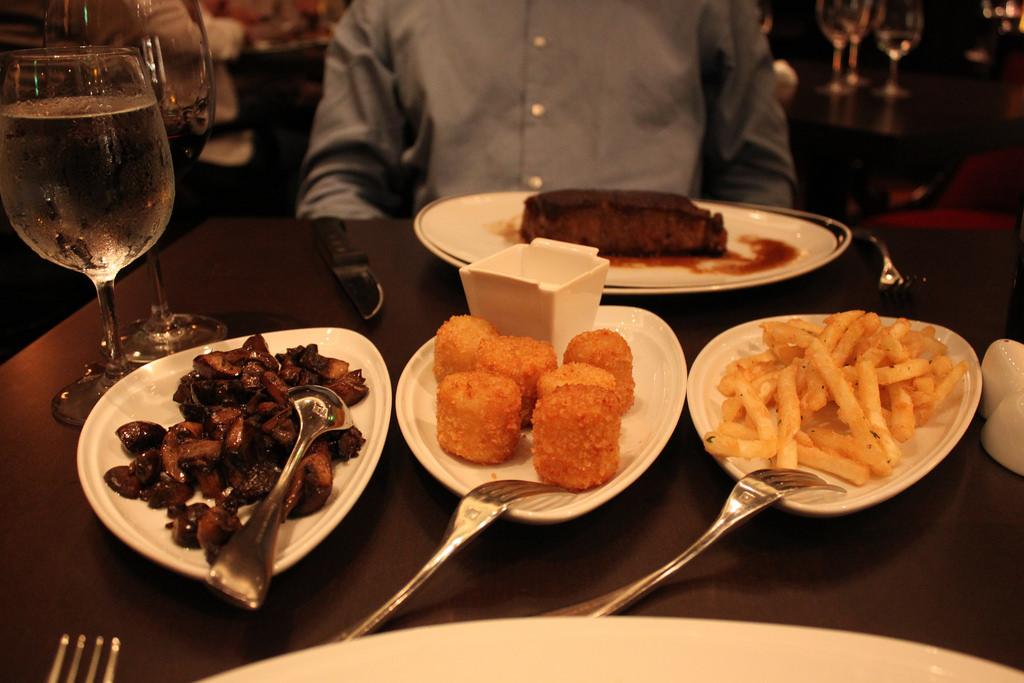 Just because you have a picky eater does not mean you cannot eat at restaurants without burgers or hot dogs on the menu.
On this blog, we love to dine at Royal Caribbean specialty restaurants such as Giovanni's Table, Sabor, Chops Grille and more, but picky eaters may not be thrilled about the menu choices there.
An overlooked aspect of all these restaurants are the side dishes, which are often basic options that can easily be turned into entrees (especially for kids).
In most specialty restaurants, the side dishes can be ordered in as much quantity as you like, so picky eaters can use those options as a basic part of their meal without having to venture out to the main dishes on the menu.
We want to hear from you! What are your best tips for dining with picky eaters on a Royal Caribbean cruise? Leave a comment and share below!