In:
When Icon of the Seas launches in 2024, she will have ten brand-new dining concepts onboard, with a total of twenty different venues to choose from.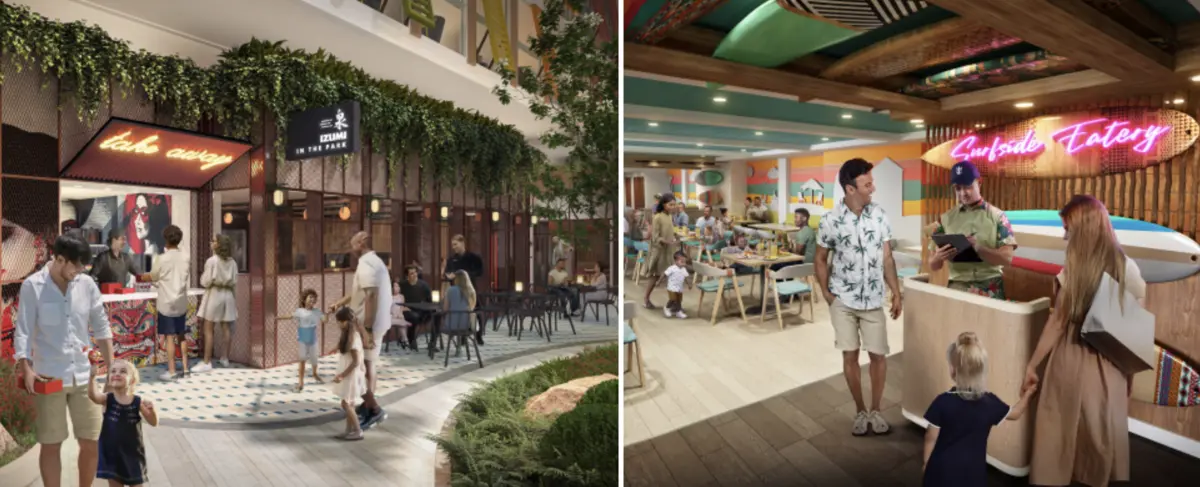 That does not include bar-like places, such as Playmakers Sports Bar & Arcade and Desserted, as well as Trellis Bar, which is going to feature a menu of small bites. 
Eleven of them will be complimentary, while nine will incur an additional fee. Royal Caribbean has yet to release the pricing of the specialty restaurants. 
"The experiences had over great food are at the heart of so many shared memories that we could all use more of in our day-to-day," said Linked D'Souza, Vice President, Food and Beverage of Royal Caribbean International. 
"We've designed Icon of the Seas to offer every guest, no matter their tastes, age and mood or the occasion, a variety of ways they can easily make those moments their way every day while on vacation." 
Whether it is grabbing a quick bite to eat at the cruise line's first walk-up sushi window in Central Park, sitting down to indulge in an eight-course meal at Empire Supper Club, trying something new at the brand-new food hall, or splurging on brunch at Pier 7 in Surfside, there is something for everyone onboard Icon of the Seas!
Here is a breakdown of all the dining venues the record-breaking ship. 
Empire Supper Club
Empire Supper Club is one of the brand-new venues onboard Icon of the Seas. It is meant to be reminiscent of the 1930s in New York City. 
Each night, there will be two seating for guests to experience the extravagant eight course menu: 6:00pm and 8:30pm. 
The menu will feature premium American cuisine and offer selections such as caviar and wagyu. Plus, each course will be paired with a beverage. 
And for the first time ever, this will be Royal Caribbean's first dining experience that combines food and music. A three-piece band will be situated in the venue and play a different song during each of the eight courses. 
Celebration Table
Think of Celebration Table as an elevated Chef's Table. Note that the traditional Chef's Table will still be offered, too. 
It is going to be a fully rentable private dining room located inside of Hooked Seafood on Deck 15 that will be able to seat up to twelve passengers and feature floor-to-ceiling windows for some of the best ocean views on the ship. 
The menu will be prix fixe, meaning that all guests will enjoy the same offerings family style; however, there are four different menus to choose from: Italian, Asian, American, and Seafood. There will be an option to personalize and upgrade the selections, too. 
Chops Grille
While Chops Grille is a tried-and-true favorite, the specialty steakhouse will be a little different on Icon of the Seas.
For the first time, guests can choose their own cut of meat from the butcher's display, anything from high grade wagyu to bone-in steaks. Plus, the open window will let them watch the chefs cook their selected cut. 
Giovanni's Italian Kitchen & Wine Bar
Another favorite will be returning to Icon: Giovanni's Italian Kitchen & Wine Bar. The menu will highlight Old World classics, such as veal meatballs, and will be located in the Royal Promenade, marking the first time that Royal Caribbean will place a specialty restaurant here. 
Related: How Royal Caribbean reimagined its signature Italian restaurant
Hooked Seafood
Hooked Seafood is a relatively new specialty restaurant to the brand, and it will be onboard Icon of the Seas serving up delicious New England-style seafood. 
In terms of location, it will be directly underneath the AquaDome. 
Related: Royal Caribbean's specialty dining packages guide
Pier 7
Pier 7 is the first family-oriented specialty restaurant that will be open for breakfast, lunch, and dinner. It will be located steps away from Playscape and the carousel in the Surfside Neighborhood. 
Here, you will find casual California cuisine, with options ranging from tacos, to a smoked salmon benedict, and even buttermilk pancakes. 
Izumi Hibachi and Sushi 
When you dine at Izumi on Icon of the Seas, you will find it to be more scenic than ever before, as it will be located in Central Park and feature al fresco seating, meaning that you can enjoy your favorite sushi in the open air under the stars. 
Plus, there will be more Teppanyaki than on any other ship in the fleet, with a total of six! In comparison, Wonder of the Seas only has three. 
Izumi in the Park
Those who would rather grab a quick bite before returning to all the fun will appreciate Izumi in the Park, which will be open from 11:30am to 10:30pm. You will not have to worry about making a reservation or getting dressed up to enjoy your favorite sushi rolls. 
This walk-up dining option will have signature rolls, nigiri, and Japanese sweet treats, all served in a portable box to take with you, available for an additional cost.
AquaDome Market
The AquaDome Market is Royal Caribbean's first food hall and will feature five different stands, all of which are complimentary and have their own look and menu: Feta Mediterranean, Mac's, Toast and Garden, GNGR, and Crème de la Crepe. 
Starting with Crème de la Crepe, this is where you will find both sweet and savory crepes. GNGR will serve Asian dishes, and Toast and Garden is for those looking for lighter fare, including salads and sandwiches. 
Mac's is the place for mac and cheese lovers, as this stand will remix the classic take on the dish with topping such as slow-roasted pulled pork, smoked gouda,  and BBQ sauce. 
Finally, Feta Mediterranean will serve fresh pitas and Mediterranean bowls, and you will find a bar with beer and wine, too. 
The AquaDone Market will serve breakfast starting at 7:00am for breakfast, lunch at 11:30am, and dinner in the evenings.  
Main Dining Room
The redesigned three-story Main Dining Room will feature a new menu each night that highlights a different cuisine.
You can also dine here for breakfast and lunch. 
Related: First look at Royal Caribbean's new main dining room menus
Surfside Eatery
For families who do not want to venture out of Surfside to the Windjammer, there will be Surfside Eatery, an all-day dining option that functions as a buffet during breakfast and lunch before transitioning into a hybrid buffet/traditional sit-down venue at night. 
During the day, you will find fun kid-approved options, including pancakes that can be topped with chocolate chips, fruit, and more, as well as pasta with a variety of different sauces. 
At night, you will find more elevated options that put a contemporary twist on some childhood favorites! 
Surfside Bites
For those interested in grab-and-go fare, look no further than Surfside Bites. This quick service eatery will be open from 11:00am to 5:00pm. 
You will find options like burgers, popcorn chicken, cinnamon sugar donut holes, and, of course, soft serve! 
Windjammer
When Icon of the Seas makes her grand debut, she will have the Windjammer in the fleet. Plus, there will be two bars located inside!
Windjammer is Royal Caribbean's preeminent buffet option that can be found on every ship. Open for breakfast, lunch, and dinner, it is ideal for those looking for a laid back dining experience with a variety of different options. 
Related: Guide to Royal Caribbean's Windjammer Cafe buffet
Basecamp
Basecamp will be located in the heart of Thrill Island and feature food windows with different complimentary options, as well as some premium selections that can be purchase á la carte. 
The bar will serve storm-inspired drinks, and if you find yourself on the starboard side of Thrill Island, you will not have to worry about walking back to the bar. There will be a bar cart, making it more convenient to enjoy your favorite cold beverages while on-the-go. 
Basecamp will be open from 11:00am to 10:00pm, with the bar opening at 9:00am for those who want to start the day with a mimosa!
Pearl Café
Say goodbye to Cafe Promenade! On Icon of the Seas, the popular 24-hour quick service venue is being replaced with Pearl Café. 
Do not worry, though-- you will still be able to enjoy a selection of complimentary sandwiches, ready-made salads, coffee, and more at any hour; it will also be open 24-hours. 
Pearl Café will have cozy nooks that offer specular ocean views, making it a great place to meet up with friends and family before dinner or catch up on your favorite book. 
Sorrento's
At Sorrento's you can grab a slice of your favorite signature pizza, or indulge in a specialty one. You will have to act fast, though, as the flavor of the specialty pie will change every day! 
And for the first time, you can pair your pizza with your favorite draft beer on tap. 
Park Café
Like on Oasis Class ships, Park Café will be located in Central Park and serve breakfast and lunch. On Icon, however, Park Café will be open in the evening from 5:30pm to 10:00pm for late night bites. 
El Loco Fresh
Steps away from the Cove Pool is El Loco Fresh, the grab-and-go spot for Mexican food onboard. It will be open daily from 11:00am to 7:00pm. 
Coastal Kitchen
Coastal Kitchen is the complimentary dining room for suite guests. Star and Sky passengers are able to dine here for breakfast, lunch, and dinner, while Sea passengers can only eat here for dinner based on availability. 
The two-level restaurant will be able to seat 154 guests and offers views straight into the AquaDome! 
The Grove
Available only to Star and Sky suite guests, the Grove is an al fresco buffet that serves Mediterranean cuisine. It is smaller than Coastal Kitchen, with a capacity of 38 passengers.