Royal Caribbean Classic: Savory Bites
In:
You may not know what they are called, but the savory bites that are served in the main dining room have become a favorite of many Royal Caribbean cruisers.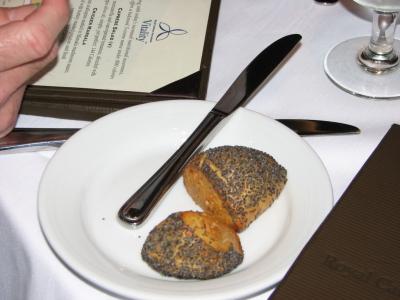 Photo by nenner1
These poppy seed covered bread bites take one or two bites to eat and have become a Royal Caribbean classic food.  It's basically a little savory sour dough "nugget" with herbs baked in that is kind of like a mini roll.  
The name comes from the fact they are bite sized and have the herb savory baked into them.
Some veteran cruisers will specifically ask their assistant waiter when he/she brings over the bread basket for the savory bites if they don't spot them because they are usually available on all Royal Caribbean cruises each night in the main dining room.
It's one of those foods that you just can't stop at having just one roll and I know when I visit the main dining room, something I look for each cruise.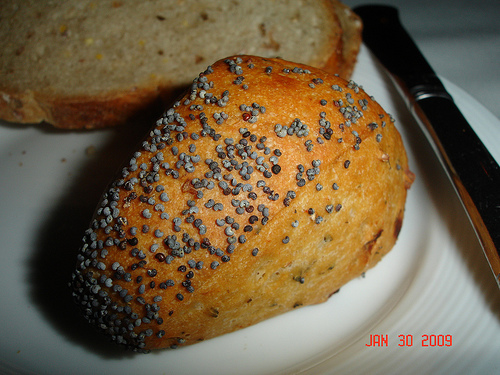 Photo by ikirumata
Savory Bites Recipe
Servings: 1157 pieces (!)
25 pounds Potato Bread Flour.
2 ½ pounds Savory base.
2 pounds Margarine.
5 ounces Dry Yeast
7 ½ liters Water.
Mix all ingredients for 2 to 3 min slow and 5 to 6 min fast speed until well developed.
Rest the dough for 30 min.
Scale into 16 oz. pieces and pre shape.
Roll them sheet pan long and dip in Poppy seed, than put 9 pieces on one sheet pan.
Store in freezer overnight.
When ready to bake defrost about 3 hours in the fridge, cut them into small triangles (25 pieces per pound stick).
Place 9 x 6 on one sheet pan.
Bake them between 220 °C and 230 °C and steam for about 13 to 17 min until golden brown.