In:
When you book a Royal Caribbean cruise, the intriguing destinations the ship will go to are among the most compelling aspects of taking a cruise.  So it may seem a little odd when you consider staying onboard the ship when it is docked somewhere but the truth is, it's perfectly okay.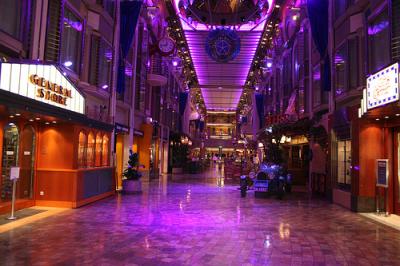 Why you would want to stay onboard
You might be wondering why anyone wouldn't get off the ship when you're docked somewhere and that question has a lot of possible answers.  Sometimes a particular port isn't of interest for a variety of reasons, such as having been to the port before, trying to save money or looking to take advantage of what's onboard.  On port intensive cruises, a day off from touring may sound like the perfect day.
Royal Caribbean builds its ships to be floating entertainment hubs and that isn't limited to just sea days.  The ship offers a lot of things to do and the activities don't stop when the ship is docked somewhere.  With a majority of guests enjoying things on shore, staying onboard can give you easy access to the otherwise popular parts of the ship.
The really neat sensation of staying onboard when the ship is in port, is the feeling of having the ship to yourself.  With so few other guests onboard, it really does feel like you have the ship to yourself.
Differences onboard when in port
When your ship is docked, there's still plenty going on, but activity wise, you will notice less things to do.  There will still be classes, activities and group events offered, but not nearly as many as a sea day.  You will want to consult the Cruise Compass for what's available and decide if anything is of interest.
In terms of dining, the Windjammer will be open as usual, although lunch is typically not served in the Main Dining Room on port days.  Specialty restaurant lunch schedules may also be affected by being in port, so you will need to check with the restaurants.
Of course, when you're docked on a port day, the ship will feel empty, especially in the late morning to mid afternoon.  It's quite a difference to be able to walk down the Royal Promenade or pool deck without the usual array of people around.  
Best things to do onboard
If you're staying onboard, there's a few good choices to consider when what you want to do.  By far, the best choice is go to the pool.  The pool is usually the most crowded area of the ship at any given time, but on port days, it can feel like you have the pool to yourself.  This is particuarly good for kids, who may find the pool area too crowded.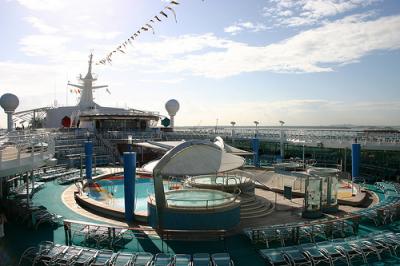 Fans of spa services will find port days to have the best deals.  The spa usually offers the best deals on port days to attract guests to book services because everyone is off the ship.  Check the daily spa specials on your port day to see what's available.
Just like the pool, the Windjammer will feel far more open and less congested on a port day.  Forget waiting in line for the buffet, you ought to be able to have free reign here.
Exploring the ship is also a great idea on port days.  Royal Caribbean builds amazing ships that are difficult to see everything in the time you're vacation is alloted, so some extra time to explore is always a great choice.  You may discover something you never knew about and it could become your new favorite thing.
The exception
All of this may sound great, but the exception to this may occur when the weather isn't great.  If you're in port on a rainy day, more guests than usual may decide to also stay onboard, thus negating the low crowd advantage outlined earlier.