In:
Experienced cruisers know that the port you choose to sail out of has a big impact on your embarkation day experience.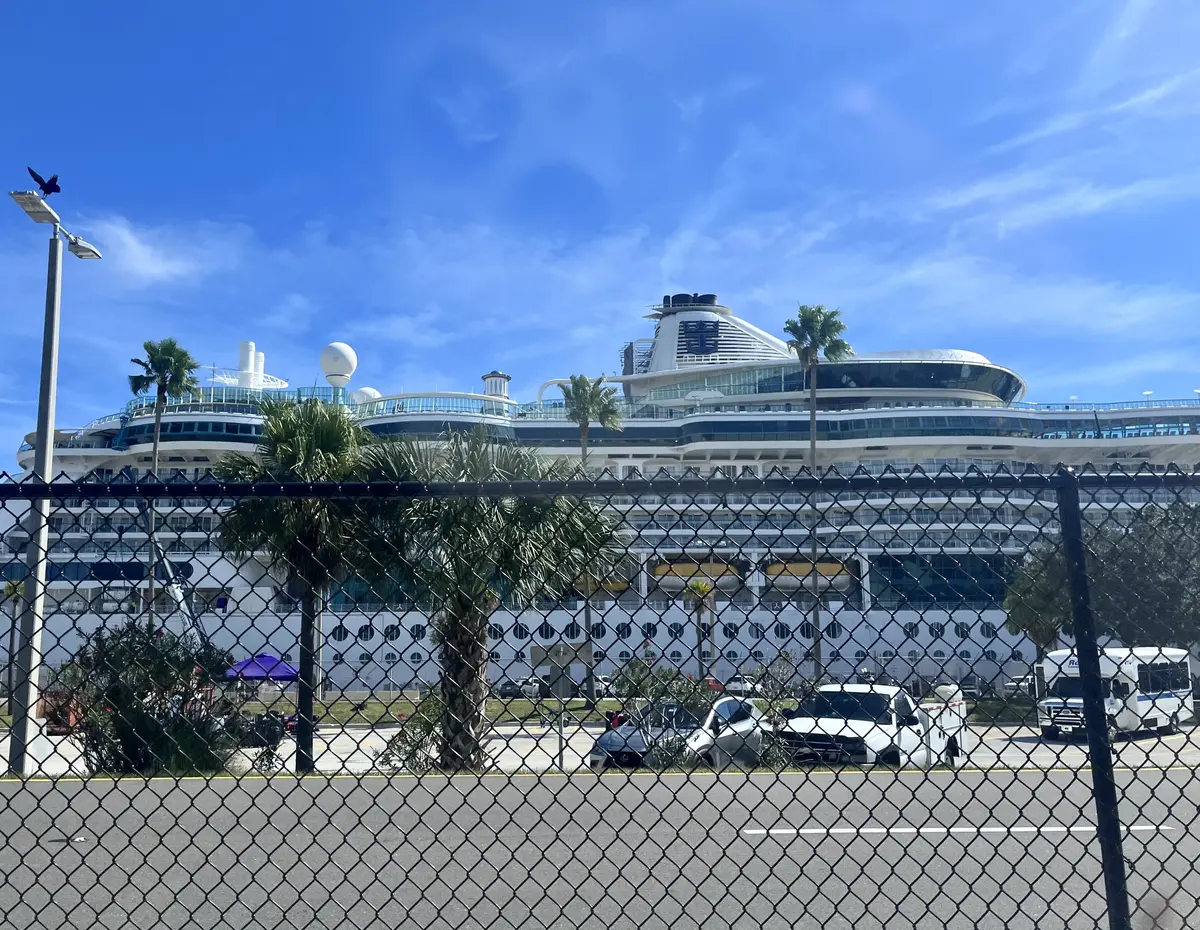 After experiencing the thrill of setting sail from the bustling large ports of Port Canaveral and Miami on my first two cruising adventures, I decided it was time to explore a new Florida port. 
For my third cruise, I embarked on a 5-night Radiance of the Seas sailing, departing from the smaller, more intimate port in downtown Tampa.
If you're considering sailing from a smaller cruise port like I did, here's what you can expect from embarkation day out of Tampa, Florida. 
I didn't prepare as carefully as I usually do for embarkation day
While picking an earlier check-in time saves you from waiting in line, I didn't make it a priority for this cruise.
My friend and I checked in on the app only about a week before the cruise, so we had to select a later check-in time in between 12:00 P.M. and 12:30 P.M. 
On previous cruises, I have arrived a little earlier, but I was glad I got the chance to experience the later time block on embarkation day. 
Additionally, my friend decided to fly into Tampa to meet me the very morning of the cruise: arriving at about 8:00 A.M.
Usually, we recommend flying in the night before your cruise, to ensure that nothing goes wrong and you can still make it onto the cruise ship in time.
However, my friend had no issues, and we still had several hours to spare before our cruise.
My friend and I ordered an Uber to arrive at the port around 12:00 P.M. 
Despite our looser planning, all went well, and we arrived right on time! 
When we arrived at the port, finding the terminal was complicated
Located in downtown Tampa, right next to the aquarium, this port was filled with cargo ships and other cruise ships. 
Whereas my cruises out of Port Canaveral and Miami had a much more international presence, it seemed like the Tampa port attracted a lot of native Floridians. 
Once I was onboard, almost everyone I talked to seemed to come from somewhere in Florida.
When I first arrived, I thought it looked crowded for such a small port. Little did I know that would become the theme of the day.
Our Uber driver had to circle around a couple terminals to find the correct one. While we waited in the car, we completed the mandatory safety briefing on the app so we wouldn't have to do it once we got onboard. 
At the Tampa port, Royal Caribbean uses both terminals 1 and 3, depending on which ships are in port. Since Grandeur of the Seas was embarking on the same day, Radiance of the Seas was located further down at Terminal 3.
It was hard to navigate through—we had to go around aquarium parking and other terminal entrances—but thankfully, security guards stood at several locations to give us directions.
Finally, our Uber driver was able to pull into the port and drop us off at the entrance. 
Immediately, a porter stopped us and took our bags. This was one benefit of being at a smaller terminal: we were able to find a porter and hand off our bags right out of the car's trunk!
However, the experience became a lot harder from there.
We had to wait in line for an hour before we could even enter the terminal
We got in line to go up the stairs or escalator to enter the terminal. However, as soon as we got in line, we saw that the stairs and escalator were closed off, and staff were preventing people from walking up. They said that it was so crowded inside the terminal that we had to wait down the stairs to prevent it from getting congested.
After about 10 minutes, staff opened up the escalator and allowed us to walk up. However, the lines only grew longer from there.
The lines stretched out past the entrance onto the outdoor level of the terminal.
We had to walk around the building to even get in line, and the lines only grew longer from there.
We stood in the heat for quite some time, waiting for the line to even move forward into the shade.
I found myself regretting not packing my sunglasses in my carry-on. As time went on, it became more of an issue of survival, and I wished I had packed more water and snacks.
As Florida tends to be in the middle of the day, it became very hot and sunny.
I started to worry that some people would start to pass out. If I was feeling overheated, how much worse would the elderly and children feel?
I could hear babies crying behind me in line, as the line started to stretch on even longer and wrap around the outside of the terminal.
However, one positive aspect of sailing out of this port is that we had a beautiful view of downtown Tampa, the water, and the palm trees as we waited. 
Since Radiance of the Seas is the smallest ship I've sailed on so far—only carrying 2,300 passengers—I was surprised that such a small ship would have longer lines than I'm used to. 
As we surveyed what looked like hundreds of people in line with us, I heard someone behind me say: "We're gonna need a bigger boat."
It was an hour before we even made it inside the terminal and into the blessed relief of shade and A.C. 
Once we made it inside the terminal, the process went much faster 
After that, however, things went smoothly: staff checked our passports and SetSail Passes before we got into a fast-moving line through security. 
The security there told us that it was a very hectic day, but I still found myself wondering why such a small ship would have so many people in line. 
That seems to be the disadvantage of sailing out of a smaller port: there is not a lot of space for people to wait, especially indoors. 
After that, a crew member checked our passports and SetSail Passes again, and we entered one last checkpoint where a crew member examined our SetSail Passes.
It was easy sailing after that last checkpoint: we just had to exit the terminal, walk up the gangway onto the boat, and find our muster station.
This part held most of the ease I was expecting from embarking on a smaller boat. It was quick and easy to enter the ship and find our muster station. We received a short safety briefing from the crew member at our station, made sure that we had already completed the safety lessons on the app, and we were free to go.
After arriving at the terminal at 12:00 P.M., we finally finished checking in at 1:30 P.M. It was the longest embarkation process I've experienced so far. 
But now that the process was completed, my friend and I could explore the ship and head up for lunch at the Windjammer.
We were ready for the adventure to begin!