In:
It has been just over nine months since Royal Caribbean restarted cruises from North America, and on April 24th, 2022 I boarded Harmony of the Seas for my 13th cruise since the "Royal Comeback."
While I have been on many different ships, this is the first time I've been on Harmony since December 2019.
I was curious to see not only what's different since then, but how cruising has progressed since my last sailing just two months ago. For reference sake, I'm writing this blog on day three of a seven night sailing.
Masks optional in cruise terminal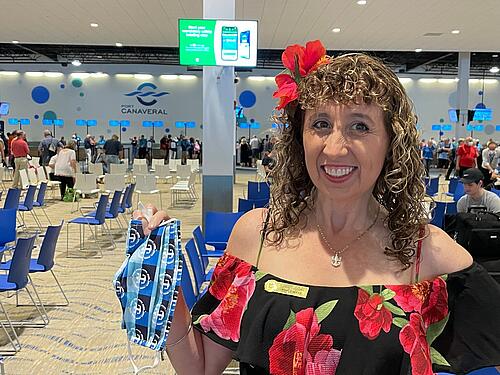 I received my e-mail from Royal Caribbean with their updated "Healthy Sailing" instructions two days before the cruise.
The updated mask policy read that masks are optional for vaccinated guests onboard and also in the terminal, unless required by local regulation.
It felt odd to enter Port Canaveral's terminal without a mask. That's something I haven't done in over two years.
Entertainment: Main Theater
After doing the e-muster drill (which I hope Royal Caribbean never gets rid of), we went to our room.
We had a copy of the show schedule for the week tucked into the daily planner.
The main theater has their Broadway Musical "Grease" performing on three different days. The Headliner performers were a comedian, a musician and a magician. There was a movie showing the first night, "Reminiscence". The Love and Marriage Game Show will be held later in the week. There are many days of Bingo scheduled.
What continues to be notably absent is the "Columbus! The Musical" stage show. There has been no word on when or if it's returning.
Entertainment: Studio B
Studio B is where you will find the ice shows. Harmony has a brand new ice cast that signed on this week. In fact, the show we saw was their "opening night". The cast performs two different shows. "1887: A Journey in Time" is their main show.
I'll be honest, it's not one of my favorites in the fleet. The story is hard to follow and the music is not exactly engaging. However, I can appreciate the artistry and athletic abilities of the cast so it's still enjoyable.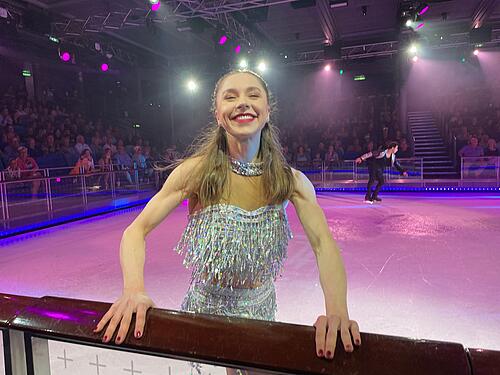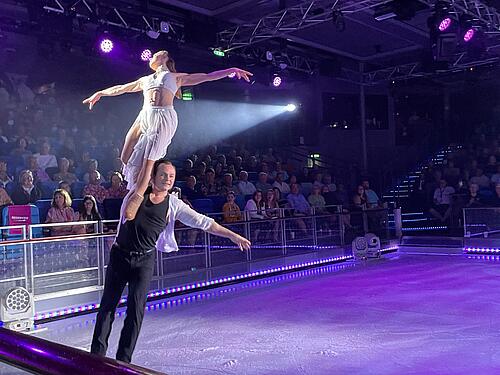 Their other show is "iSkate Showcase." It's a chance for the cast to show off their talent with songs that they have chosen. It is high energy, fun, and they are very engaging with the audience. We really enjoyed that show.
Entertainment: The AquaTheater
"The Fine Line" was Harmony's main show in the aqua theater for years. I'm not sure if it's been available on other sailings since the restart, but on this one it has been replaced by a "showcase," which I assume is similar to the free skate show that we saw last night from the ice cast.
Movies are also being shown. Some examples are "Cruella," "No Time to Die," "Jungle Cruise" and "Fast and Furious 9: The Fast Saga."
Later in the week, the aqua theater will host the 70's Disco Inferno dance party.
Entertainment: Around the Ship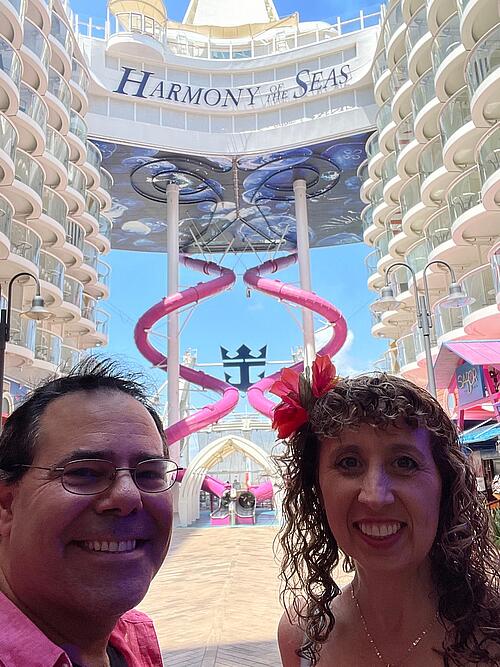 The pool has been a bustle of activities with the return of the belly flop and world's sexiest man competitions as well as plenty of live music.
The On-Air Club and Schooner Bar are home to trivia. I counted 25 different trivia options in my Royal Caribbean app. Everything from music, movies, general knowledge and eras. They also offer a scavenger hunt throughout the ship.
The Boardwalk is the place for Hula Hoop Competitions and Beer Pong (with water instead of beer).
"The Quest" continues to be unavailable. In fact, I haven't seen it come back on any ship since the restart.
Read more: Trying out the free activities on Harmony of the Seas
Dining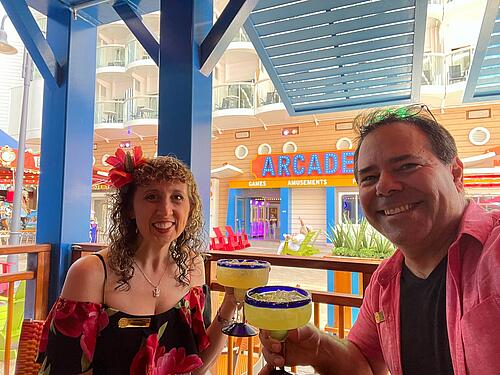 We purchased the Unlimited Dining Package for this sailing.
Yes, I know, there are so many free food options that you don't need a dining package. We decided we wanted to be able to go to all of the specialty restaurants for lunches (embarkation and sea days only) and dinner.
We like the variety and a more intimate, personalized dining experience. The main dining room and Windjammer feel crowded and loud to me.
So far we have had lunch at Jamie's Italian, Chops and Sabor (which is being replaced by Playmakers on most ships. It's currently only available on Harmony and Allure.) Dinners have been at Coastal Kitchen and 150 Central Park. Everything from the service to the meals themselves have been outstanding.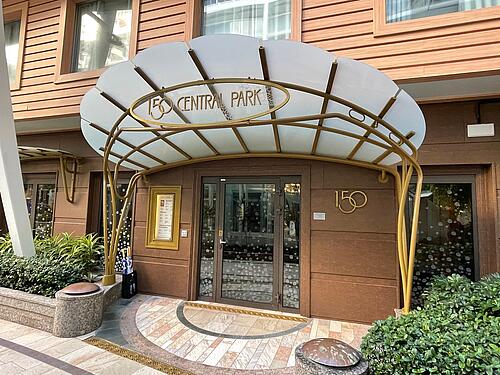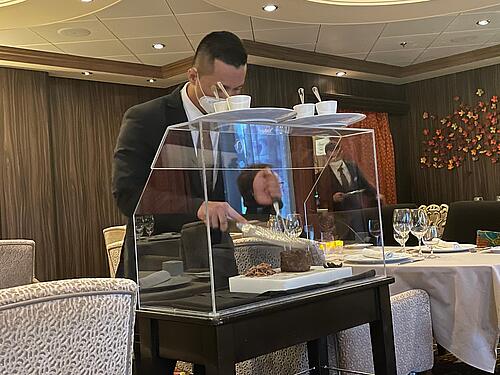 It should be noted that the unlimited dining package isn't exactly "unlimited". It does not include Chef's Table, room service, the tapas menu at Vintages or "Captain Jack's" shack on CocoCay.
You may have heard that the Windjammer buffet has gone back to self service. We stopped in there to check out the situation for ourselves. There was a crew member at the entrance making sure everyone was washing their hands. We also witnessed the crew sanitizing each table between guests.
Crown and Anchor Society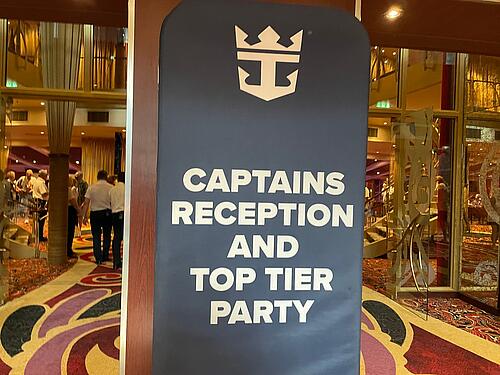 This is the first cruise since we turned Pinnacle nine months ago that we are allowed back into the suite lounge and have access to Coastal Kitchen for lunch and dinner. Even though the two venues are connected, our sea pass cards only unlock the door to the suite lounge and not Coastal Kitchen.
On Harmony, Pinnacles are still not permitted in Coastal Kitchen for breakfast. There is a pinnacle breakfast available daily at Chops. We went yesterday as soon as they opened. We waited 45 minutes for our food to come out, only for it to be cold. It was very disappointing.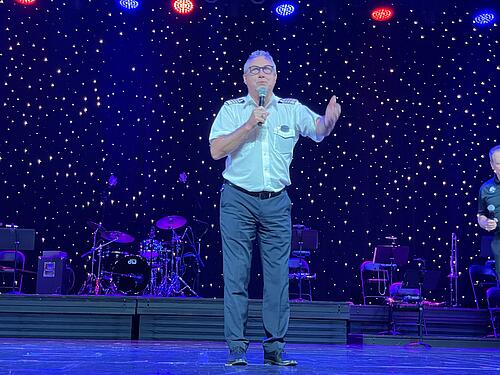 The top tier event was held in the main theater. That was a first for me. I'm used to it being in the aqua theater on the larger ships or the Star Lounge or Viking Crown lounge on smaller ships. Platinum members and above were invited to the event. It was a full house. Captain Johnny and Paul, the Loyalty Ambassador welcomed two new couples to the Pinnacle Club, recognized folks that were reaching 1050 and 1400 point milestones and introduced the top three cruisers. The passengers per tier were as follows:
1,276 Gold Members
491 Platinum Members
234 Emerald Members
464 Diamond Members
295 Diamond Plus Members
85 Pinnacle Members
Paul also mentioned that there are a total of 1175 Pinnacle members in the Crown and Anchor Society.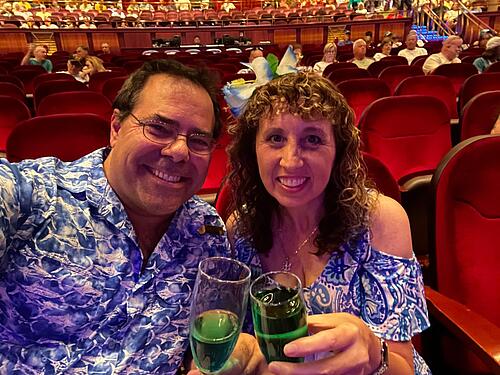 On the first day we had invitations in our room for the "virtual backstage tour." I'm not sure what that entails, as it is on day 6 of our cruise, all I do know is that the bridge tours and the behind the scenes tours remain unavailable.
Day 6 will also be our "Cheers with an Officer" lunch in the main dining room. It's available to Crown and Anchor members with 340 points or more and is typically offered on sailings of seven nights or longer. Pre-pandemic, it was "lunch with an officer", where an officer would be seated at each table and you could chat with them and get to know their role on the ship.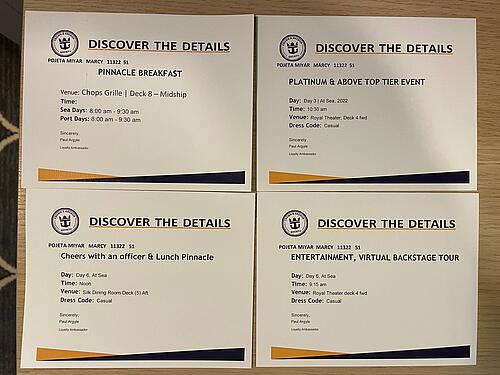 Usually the Captain, Hotel Director and the cruise director toast to the room and say a few words before leaving you to your meal with your fellow passengers.
Capacity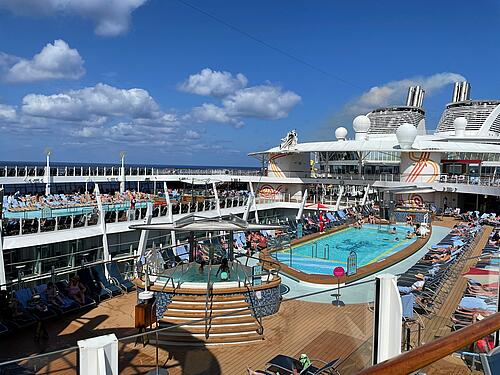 Probably one of the most asked questions in recent times is "how crowded is the ship?" This sailing has 4992 passengers. It can reach max capacity of 6,780, which is not typical. The double occupancy total is 5,479. There are 1,964 crew members onboard.
It's not as crowded as it was pre-pandemic but it is definitely getting there. If you're concerned at all about social distancing, stay out of the elevators. The signs are gone that limited the number of people in the elevator and guests are using every inch of available space.
Final thoughts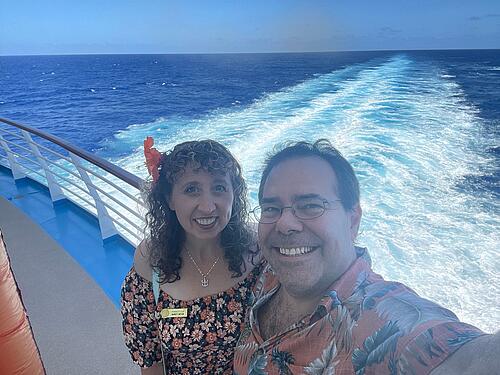 Even though it's only been three days, the cruise has been fantastic. Besides the Chops breakfast that wasn't up to par, everything else has been outstanding. (In Chops defense, we had lunch there today and the food and service was great). We have been lucky enough to find two of our favorite bar staff from previous ships. It's nice to see our crew friends again.
While masks are optional for passengers onboard, the crew is still required to wear them, even the lifeguards at the pool. Hopefully that can change soon. Slowly but surely things are returning to "normal," which is wonderful to see.