In:
It's official, you'll be able to serve yourself at the buffet on a Royal Caribbean cruise ship again.
Royal Caribbean confirmed to RoyalCaribbeanBlog that beginning with cruises that departed on or after April 2, 2022, guests can serve themselves instead of crew members doing so at the buffet locations.
The statement added that while guests can serve themselves, the cruise line will still offer single-serve foods that do not require passengers to handle any serving utensils.
"On cruises departing on or after April 2, 2022, Royal Caribbean International will bring back self-service dining in guest-favorite venues on board, including the Windjammer Marketplace, Solarium Bistro, and at private destinations."
"Grab-and-go dishes and single serving portions will continue as a permanent offering – they have become popular options, and keeping them is among the top requests from our guests."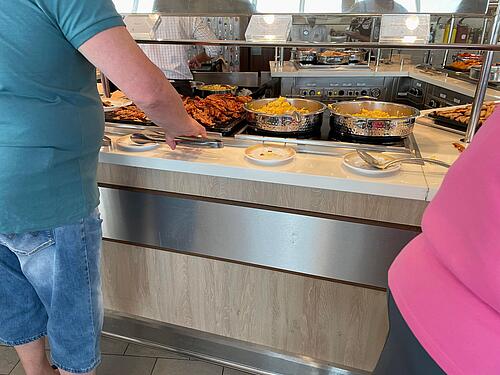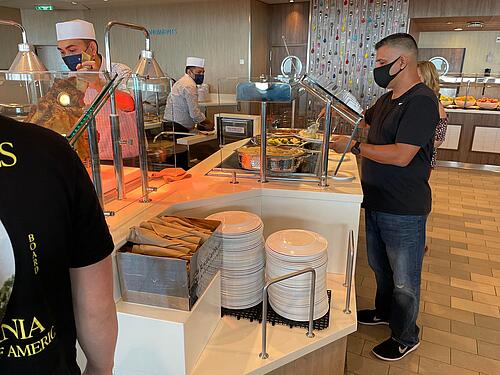 Photos by Matt Rearick on Symphony of the Seas
It looked like Royal Caribbean had made the change almost two weeks earlier when select cruise ships start seeing self-service resume in the Windjammer, but Royal Caribbean said that was a one-off test.
They've now decided to go with the self-service buffet.
Having crew members serve passengers instead of guests was one of the early changes cruise lines made during the Covid-19 pandemic in order to limit the spread from person to person.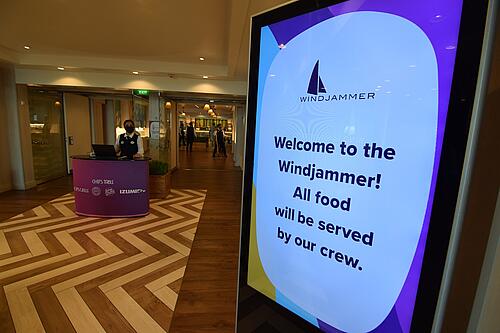 Crew members handled the serving tongs or serving spoons and would place the food on the guest's plate.
The buffet serving change is one of many changes Royal Caribbean has made following the cruise line joining the CDC's voluntary Covid-19 monitoring program and electing to join the "highly vaccinated" program.
Drink stations were already changed to self-service earlier this year, where passengers could grab coffee, water, and juice.
While Royal Caribbean has changed to self-service just now, other cruise lines had already done so prior to this.
Carnival Cruise Line had self-service buffets back in July 2021.
Disney Cruise Line said that as of April 1, their ships would resume self-service buffets.
CDC food service requirements
In checking the U.S. Centers for Disease Control and Prevention (CDC) operations manual for cruise ships sailing in the U.S., the rules for how food can be served has changed to be up to the cruise line.
According to the CDC, "food and beverage stations may be operated as self-service at the cruise operator's discretion."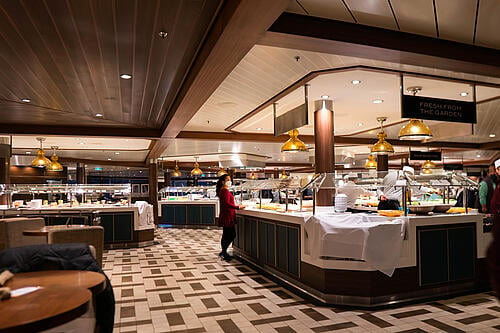 Cruise lines must encourage distancing through physical guides to direct the flow of passengers, provide signage for social distancing, and provide an appropriate number of staff to monitor distancing.
In addition, cruise lines must provide hand sanitizer at the entrances to food and beverage stations, ensure adequate supply of high-touch materials (serving spoons, tongs, etc.) to minimize sharing of the utensil by many guests, limit seat capacity at the buffet, and install physical barriers where it is difficult for guests to maintain a proper physical distance.