In:
Our last day on Harmony of the Seas is here, and it is another sea day.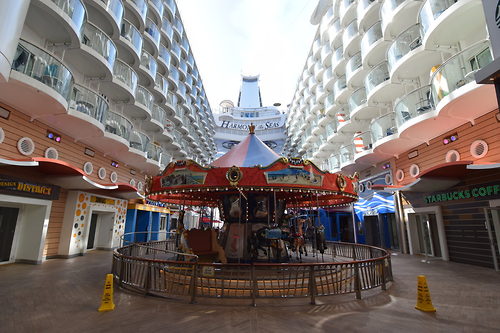 I started off my morning with my usual coffee and breakfast from Park Cafe.  I will definitely miss this morning routine!  I even had it out on my balcony today since the sun was not hitting my balcony directly yet.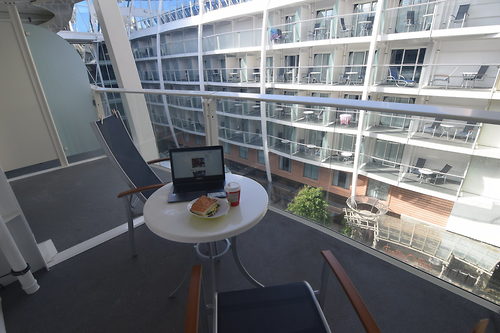 After a morning of work, I met my wife for a quick lunch at Sabor.  I just had to sneak in one more bowl of guacamole into my cruise before I left.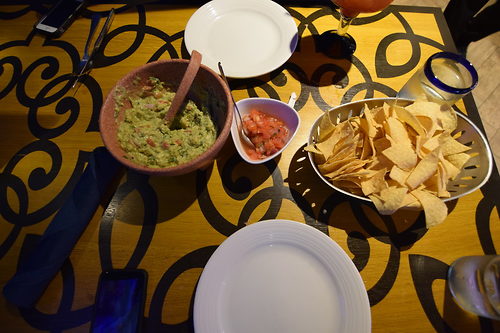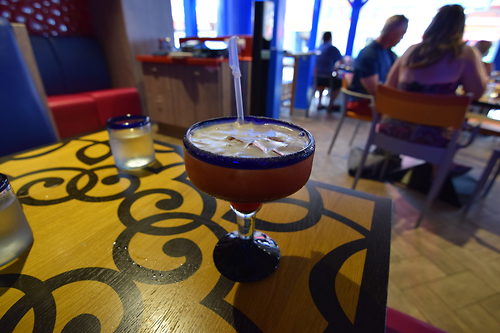 Note, not my margarita.
I tried the beef tacos today, but I still think the fish tacos are better.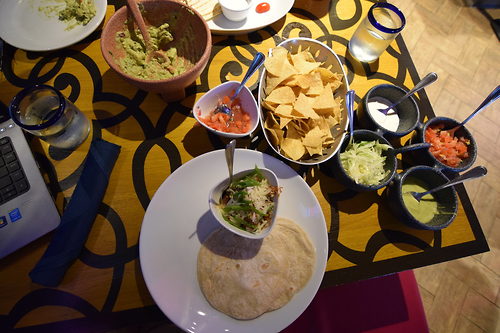 This afternoon, Crown and Anchor Society invited its members to an ice cream social in the main dining room.  I had never seen this sort of event, so I gave it a try.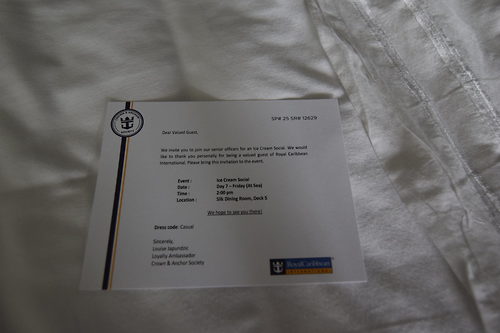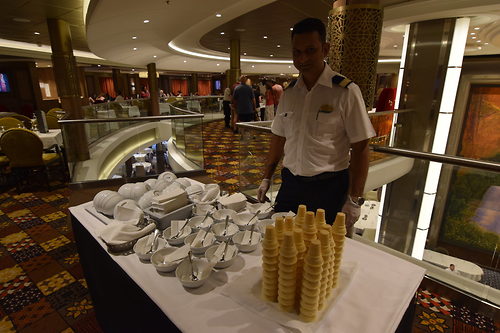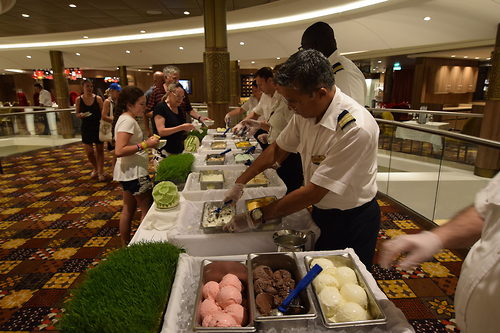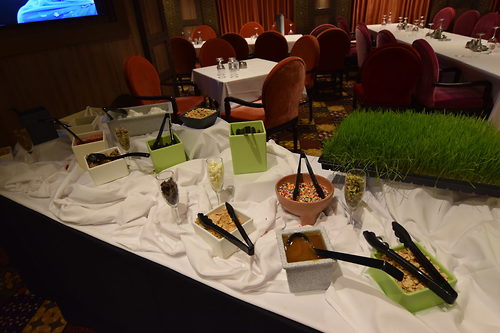 It was an informal event, with various officers serving up every flavor of ice cream available onboard the ship.  I guess you could say I had a coffee ice cream break instead of just a coffee break.
After work, my wife and I strolled the ship to take in as much as we could.  We bar hopped around for a bit to get "one last hurrah."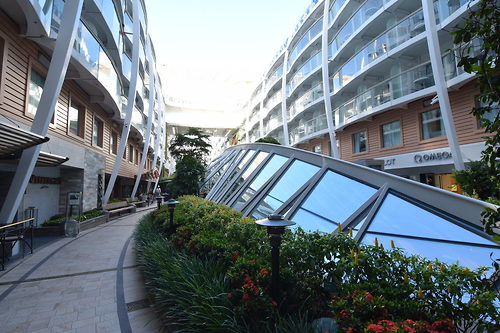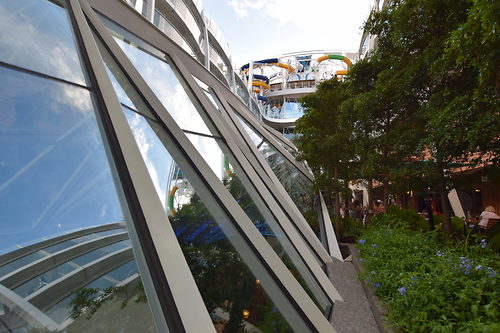 We had definitely slowed down and with very calm ocean around us, it almost felt like we were standing still.  The breeze was even quite calm.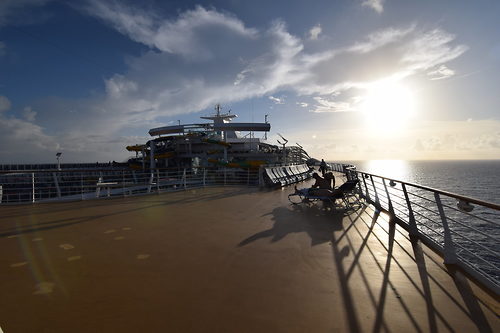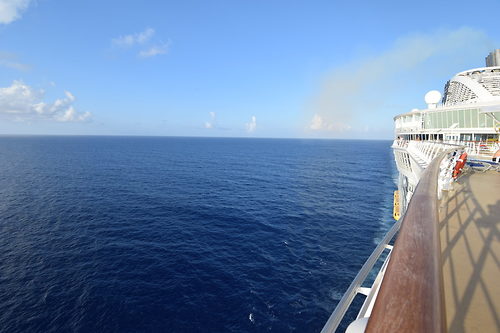 Our last dinner brought us to Izumi. 
My wife and I tried two of their special cocktails.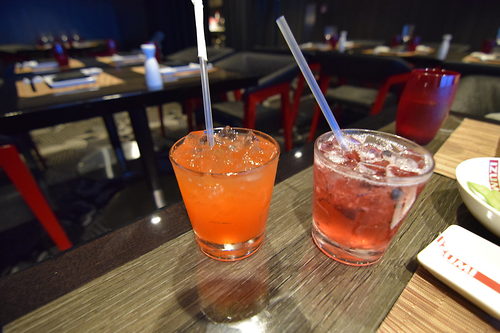 I attempted to recoup the value in our dining package by ordering two sushi combos and a special roll.  While I took solace in the fact I conquered this food challenge, I took some time to recouperate after dinner.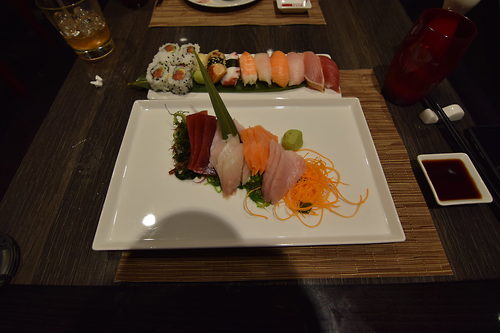 Looking back
With this being the end of the cruise, I wanted to share some favorites and highlights of the sailing.
Favorite specialty restaurant: 150 Central Park
Favorite drink: Kraken with Diet Coke on the rocks
Favorite show: Columbus, the Musical
Working from onboard
Overall, I was able to remain productive with my work onboard during the cruise.  The Voom internet worked quite well and aside from the occasional drop out here an there, remained steady and quite fast.  
If you have to give presentations or conduct mission critical meetings, I would probably not advise to do it onboard.  However, if the majority of your work can be done with just VPN, email and localized development, working from on the ship is quite easy.
The biggest drawback to working onboard is the knowledge everyone else is having fun and you are stuck doing work.  It is akin to being in summer school while everyone else is out playing.
Central Park stateroom
I loved our Central Park stateroom for the great ambiance.  Having the extra large balcony is nice, although I would have liked to have had a lounge chair to really take advantage of the space.  The room was quiet at night and we never lost any sleep due to noise.
St. John
I was nervous about trying to get to St. John but I am so glad that we tried it out.  The beach was beautiful and the trip was much simpler than I had thought.
We definitely left far too early, but the Carnival celebrations on the island forced our hand.  We could have easily stayed another 2-3 hours and made it back to the ship with plenty of time to spare.
Ultimate Dining Package
I will write up a full review of this soon, but I think the ultimate dining package makes a lot of financial sense, even if it is a lot of food.  On sea days where you get lunch and dinner at specialty restuarants, my wife and I found ourselves overwhelmed with the amount of food.  
For our next cruise on Harmony, I think we will go with a 4 or 5 night dining package just to provide a break in the day-to-day eating.  However, when you break down the costs and what you get, the best bang for the buck is with the Ultimate Dining Package.
Deluxe Drink Package
My wife and I definitely got our moneys worth from the drink package.  Even on days where I did not start drinking until 5pm, hitting 5-6 drinks is easier than it sounds.  Plus, having two premium coffees per day makes hitting that break-even point even simpler.
I am a fan of the drink package for a few basic reasons and it is why I will likely continue to buy it
I pre-paid it before the cruise, thus breaking up the cost of the cruise.
I never had to think, "Do I really want to order a drink? Or should I save my money?".  After a day or two, that mind game infuriates me and having the drink package makes it so much simpler.
Having a drink package means when waiting for a show or event to start, you always have something to do.
Of interest, most of the time waiters would ask us for our room number and look up our drink package that way.  Rather than take our SeaPass cards and individually run the charges and give us a receipt, they would return to the kiosk to mark down the purchase, but never give us a receipt.  It was certainly more convenient for us, but I was surprised to see this almost the norm on the ship.
Stray Observations
I walked into Starbucks to look around and noticed this sign posted.  I guess there is a bit of confusion among guests as to what their drink benefits gets them.

Check out this stateroom, where a guest set up a hammock. 

If you connect a device to the Voom (like a phone) and then log off but keep the phone connected to the wifi, notifications will continue to work.  In fact, my iPhone could still send and recieve iMessages.  I would not advocate relying on this method, but all week my devices would show notifications despite not being actively logged in to Voom.
I stumbled on Bingo, so here are the bingo prices

Our next cruise is in September 2017 on Harmony of the Seas for the Royal Caribbean Blog group cruise, and I will take this opportunity to invite you to join us for that sailing. I cannot wait to start that journey with friends who read this blog.
Thank you to everyone who followed this live blog. I never had so much fun staying up late to write blog posts!