In:
Today is our second day onboard the Harmony of the Seas and we are docked in Nassau from 12pm-6pm. We started our day with some breakfast at Johnny Rockets. I know you must be thinking, did you not have dinner there last night? But on Oasis Class ships they offer free breakfast at Johnny Rockets, so off we went.
I ordered an omelet with a side of bacon. There are a few reasons I recommend having breakfast here. One, they are very fast so if you are looking to get in and out this place is perfect. Two, the food is really good, much better than the windjammer if you are looking for eggs.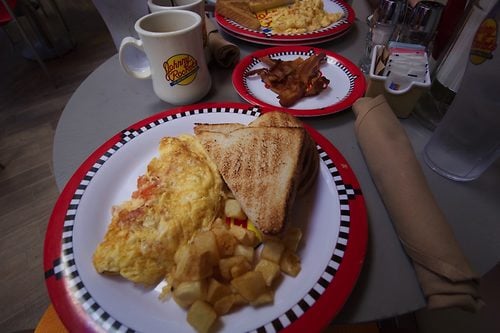 After breakfast we changed for some slides action, well on Harmony they have a total of 5 slides. There are 3 poolside, and the 2 large 10 story dry slides called Ultimate Abyss.
We did the dry slide first, Abyss and it was fast few seconds down to the boardwalk deck. The views from the boarding platform are unbelievable; the floor is all glass so you can see straight down. I wish I had taken my camera with me, but you cannot slide down with it, so I left it in the cabin.
After we went down we headed to the pool deck where I rode the water slides 4 more times. I know I shared my thoughts on them yesterday, but I just could not get enough of them.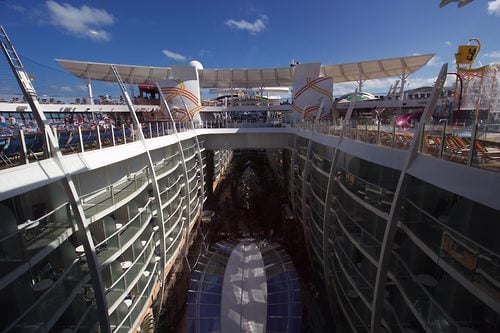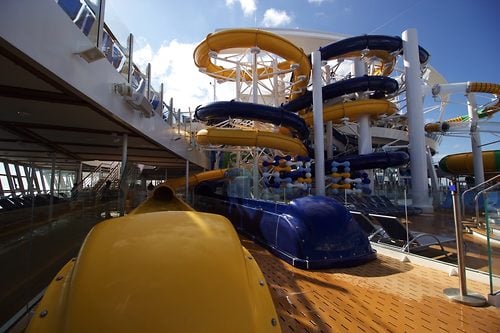 If you are taking kids on this ship, they are going to love them! 
Cabin Crawl 
Since this is a special media sailing, they had one of every cabin type open for viewing. I have never seen the loft suites in person, so those are the only type I went to see.
The Royal Loft Suite was the most amazing cabin I have ever seen. The balcony alone was amazing, from the full bar set-up to the hot tub. I also went into the standard loft suite cabin, which felt a little smaller than I was expecting but there were 20-30 people in there viewing it also.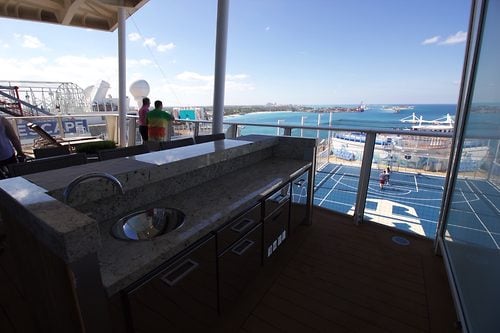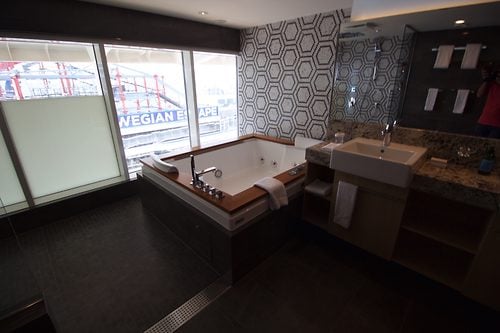 Escape the Rubicon 
 On Anthem of the Seas they introduced their first escape room, and that transferred to Harmony. However, on Harmony they have a full room for the game and our host talked about on Anthem they just kind of added it in.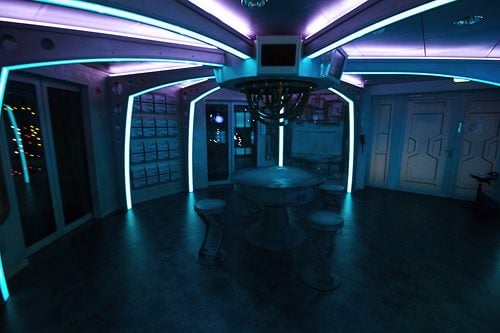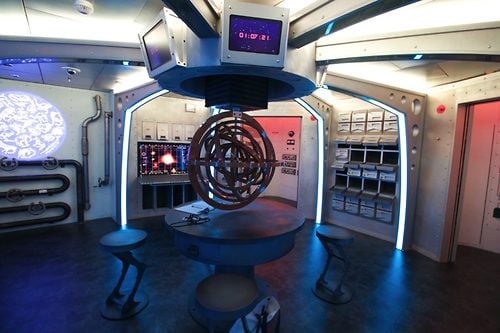 Needless to say, I did not want to go at all, but I had so much fun. You work together as a team to find clues in the room to ensure you escape within 1 hour. I am happy to report my team finished with 1:07 still on the clock! If you get the chance to play the game you will love it, I am sure just think out side the box is the only hint I will give you. 
Nassau, Bahamas 
 I had originally planned to stay onboard in Nassau since I was recently just here, and we only had 2 days onboard Harmony.
I just couldn't resist not going to my favorite pub in Nassau Pirate Republic. It is the only craft brewery in Nassau and it is the very first bar you see once you get off the ship.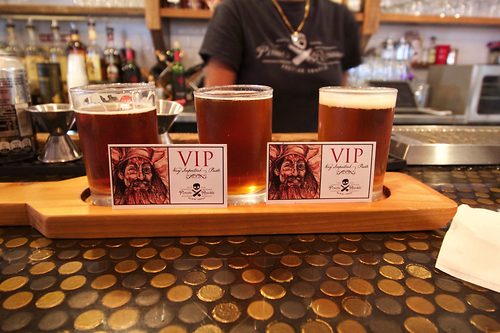 We only stayed for an hour since it was 3pm when we arrived. The beer was just as enjoyable as always, they have 3 – 3oz flights for $8. We headed back to the ship a little after 4:30pm. 
 Afternoon onboard 
 Once we got back onboard I noticed they had the ship decorated for Frindsgiving with balloons all blown for a party tonight. Really nice set-up, and I am sure they will use some of the footage for social media on Thanksgiving.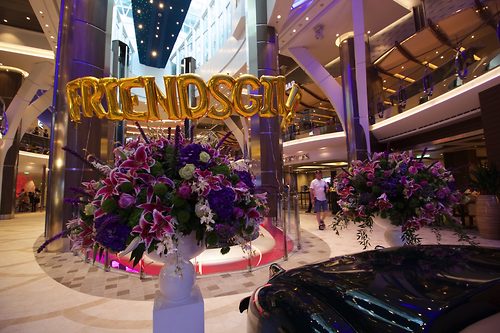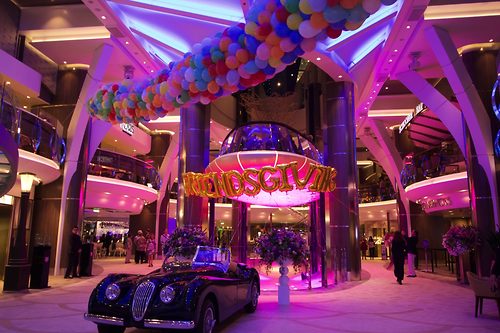 I ended up at the Pub back onboard and my girlfriend took a nap. They only offered a select type of beers, but I was happy Stella was one of them. I made good conversation with the bartender about their last few months in Europe. 
 Evening Onboard 
 Tonight we decided to spend most of our evening in Central Park. Usually when I sail on Oasis class ships it is late spring or summer and the park is extremely hot. But on our sailing Central Park felt so nice in the evening and I wanted to be outside enjoying the evening.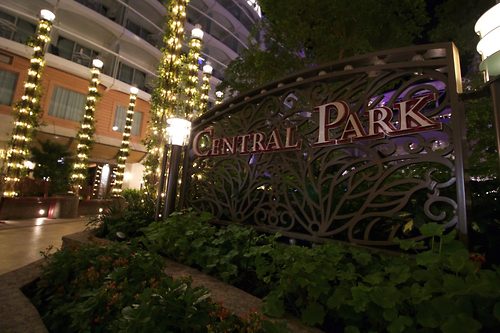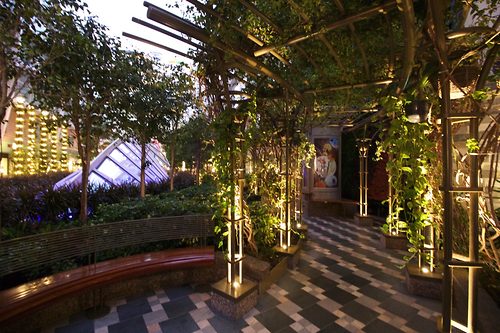 We had a few classes of wine in Vintages and again it was packed. I have never seen Vintages standing room only like this before, but it was tonight. They have self serve wine stations that you just tap your sea pass card up to and it pours wine.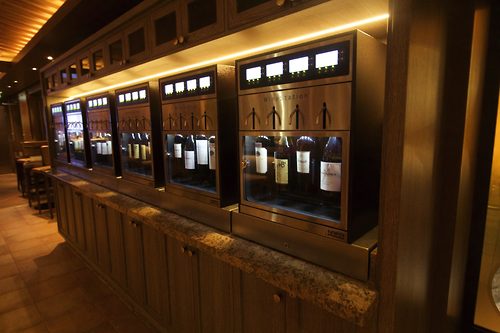 I have seen this on other ships across the fleet, but never this many. 
 Dinner 
 Well I am sad to report our dinner tonight was at Sorrento's Pizza. I was started to feel very tired at this point and did not want to eat in the main dining room. We went up toe the made to order pizza station and both got a personal pan pizza. They only take 10 minutes to bake and it was really good. If you ever want to wait for a snack get the made to order pizza, and it is complimentary too!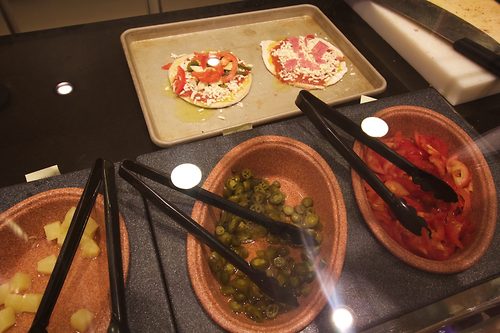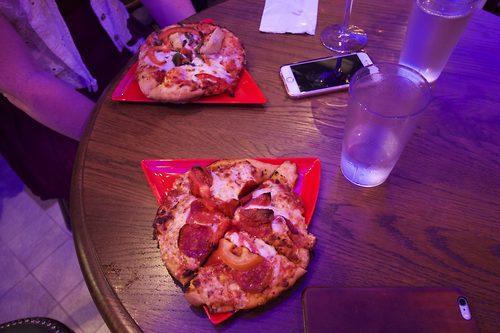 After dinner I decided to take a little nap before our evening, I should have known better but I never woke up. I guess all the non-stop action finally caught up to me and I enjoyed a full 11 hours of sleep. 
 Wrap Up 
 Thanks for follow along during my 2 day adventure on Harmony of the Seas. She is a great ship and I really cannot wait to get back on this ship in March. The décor onboard is very modern and really makes her stand out in my mind as the best ship in the fleet. But that does not mean I will abandon my small favorite ships.