In:
Happy Thanksgiving!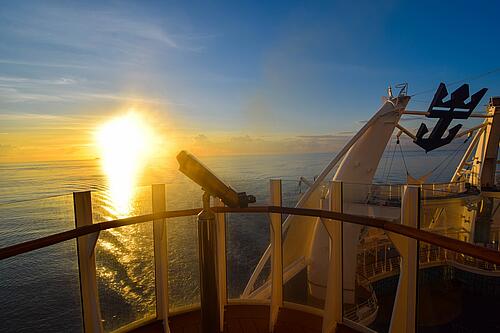 Our next stop is St. Thomas, where we get to enjoy a port day along with celebrating Thanksgiving.
I had booked a snorkel and beach excursion to take us to St. John. The last time I tried to get to St. John, I failed when I could not get a taxi.  This time, I booked a tour through Royal Caribbean so there would be no problems.
I was a little surprised when I noticed our meet time for the tour was 6:45am, which as you might imagine is very, very early.
Everyone met in the Royal Theater before heading off the ship to board a bus.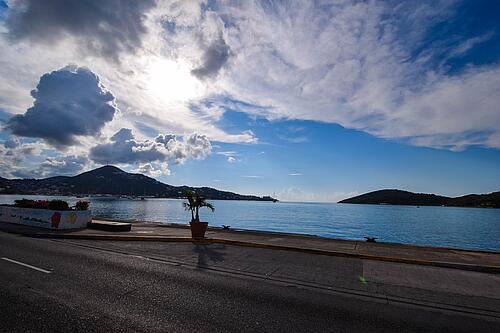 The bus ride took about a half hour to get us to the marina on the east side of the island, where our catamaran was waiting.
We boarded the Stars and Stripes catamaran, where Captain Matt (great name, but not me) and First Mate Paul took us out.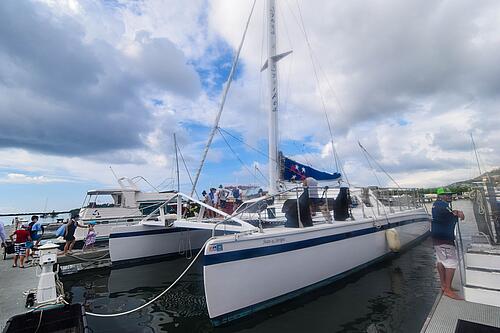 Almost as soon as the boat departed the marina, it began to rain. While the rain was unwelcome, luckily it only rained for the duration of the trip out to St. John.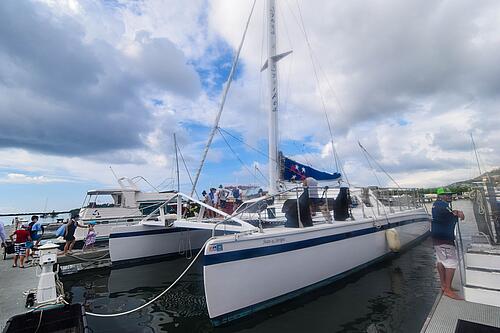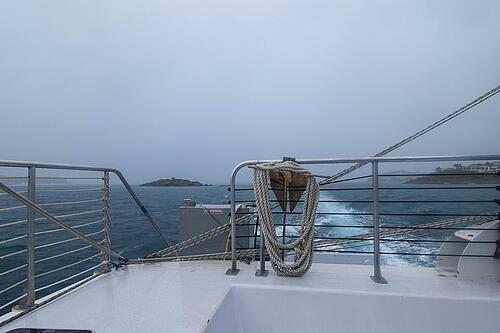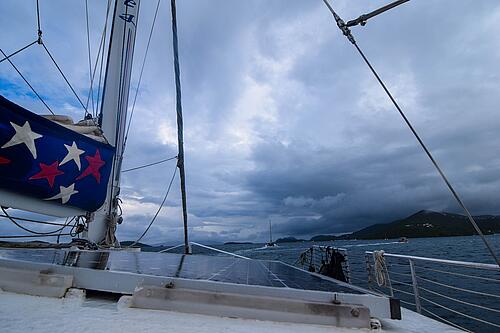 After about a half hour, we reached Honeymoon Beach on St. John. Almost immediately the rain stopped, which allowed us to enjoy time outside and in the water. In fact, the weather continuously improved as the morning went on.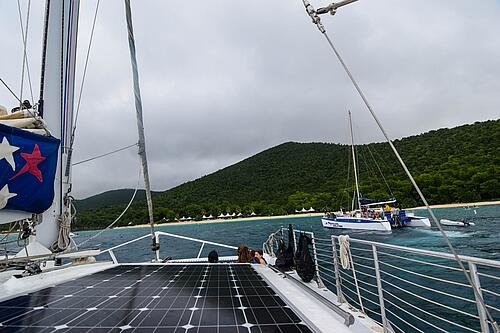 Guests had the choice of snorkeling around or taking a dinghy to shore. My oldest went snorkeling while we went to the beach.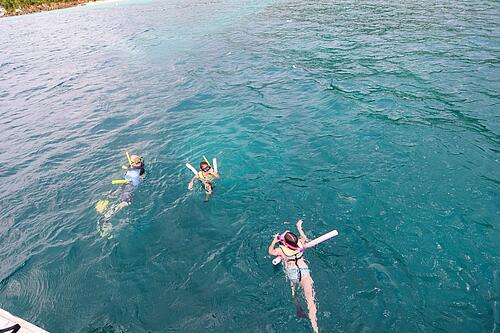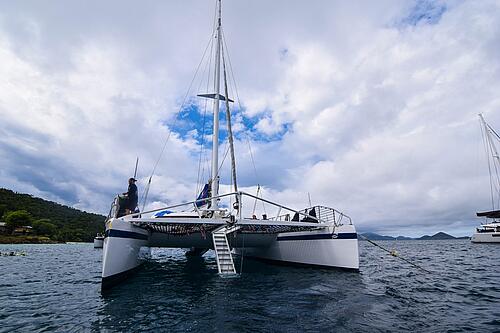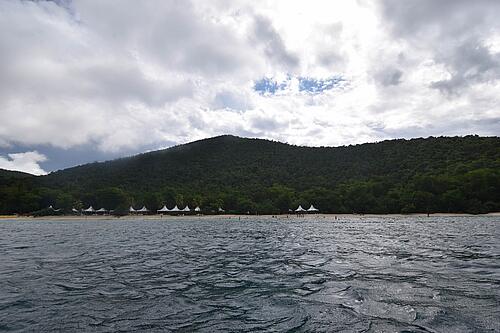 In terms of snorkeling, there was an area between the beach and our catamaran where there was sea grass that was home to many types of marine life, including sea turtles.
Over on the beach, you could sit on the sand as you saw fit. There was a vendor renting chairs, but I did not inquire how much they were.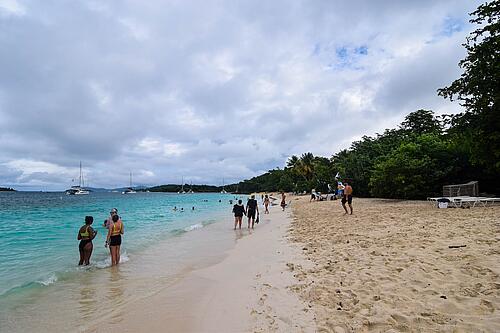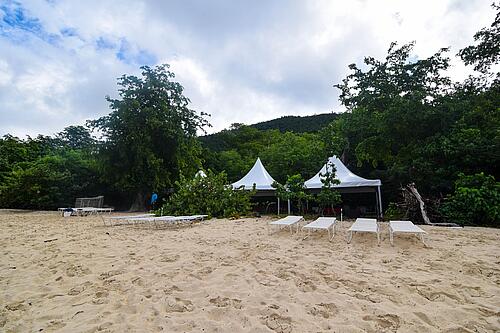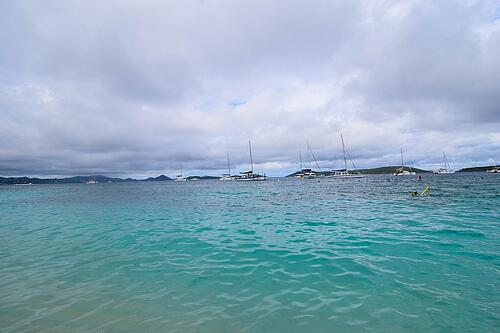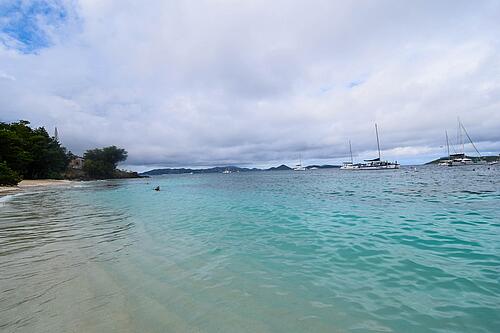 According to Captain Matt, we had 90 minutes of time once we arrived in St. John to be in or around the water.
What I love about St. John is the beautiful water colors and clarity, and today did not disappoint. While it would have looked better if the sun was shining, the clouds kept the temperatures comfortable and it felt great just wading in ocean.
All too quickly, our time came to an end and we took the dinghy back to the catamaran for our ride back.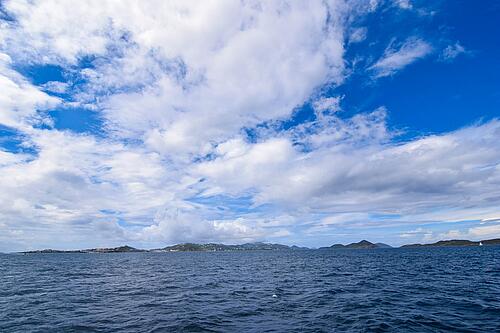 On the return journey, complimentary snacks, drinks, champagne, and rum punch was served.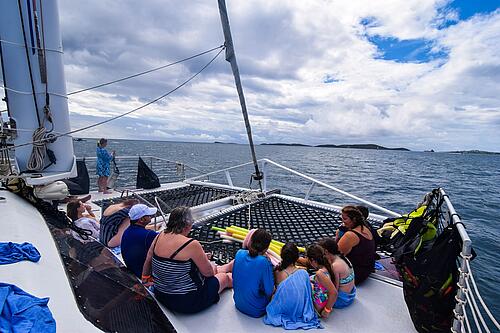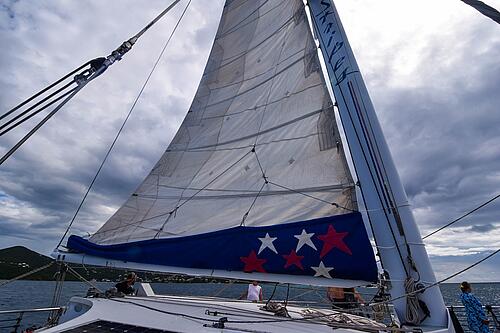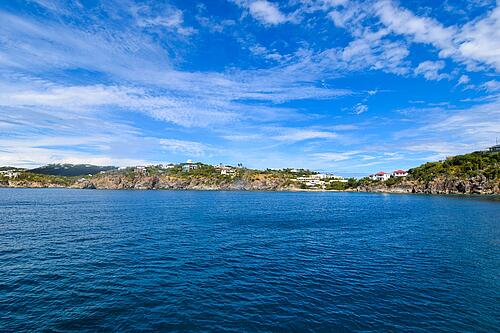 The tour was fun, and my kids really liked the beach time.  In fact, my oldest now wants to snorkel again as soon as possible. 
I wish we had more time at St. John, but that's a problem to consider for my next visit.
Upon returning to the ship, we grabbed lunch at the Windjammer.
By now the early morning wake up and beach time caught up with all of us, and it was time for a nap.
Our ship departed Harmony of the Seas around 3, but I was still sleeping when that happened. I woke up to a beautiful ride out of St. Thomas.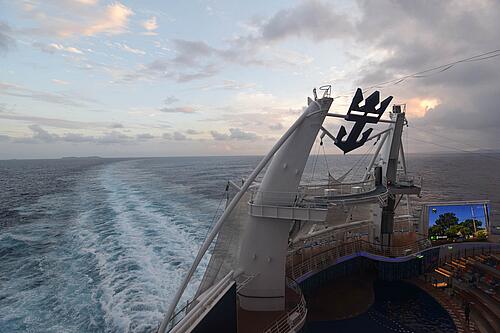 Almost as soon as we departed, the motion in the ocean returned.  In fact, all night the ship was rocking quite a bit.  The notion that Oasis Class ships don't really feel motion has been quickly dispensed.
Being Thanksgiving, we got changed for dinner to enjoy a family meal together. Rather than feeding the kids first and then dropping them off at Adventure Ocean, we opted to have a family Thanksgiving dinner together.
You may be wondering what Thanksgiving on a cruise ship is like, and there were all sorts of special add-ons. There were decorations around the ship, arts and crafts activities, and a special Thanksgiving menu.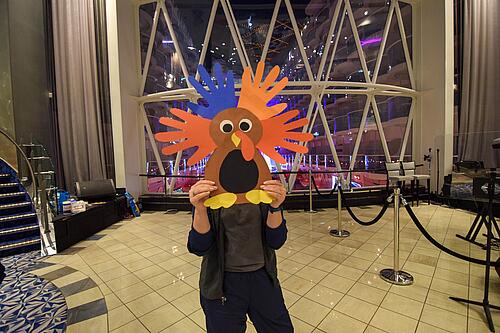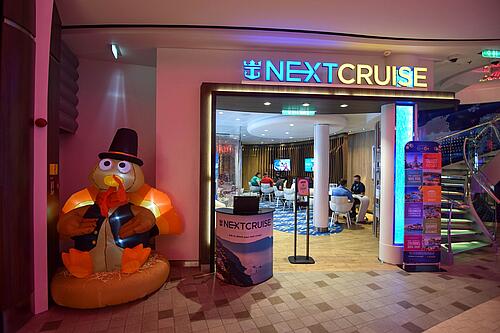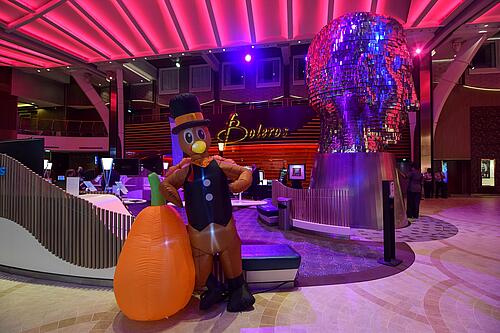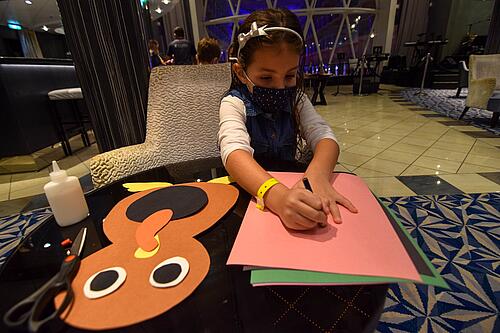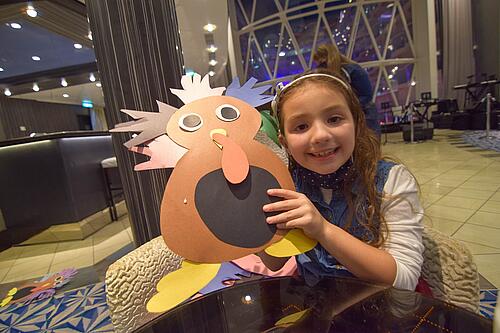 Our group enjoyed a celebratory drink together at Dazzles, before heading to dinner.
This evening, we went to Coastal Kitchen for dinner. In addition to their regular menu, they also had Thanksgiving offerings.
This was my first time eating at Coastal Kitchen for dinner. It's a lovely location on deck 17, although I prefer the Coastal Kitchen set up on Quantum Class ships because it does not share a space with the Suite Lounge.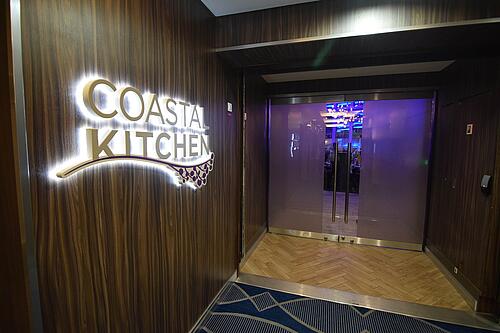 After dinner, I went down to the pub for live music.  A good time was had by all.
Tomorrow is a sea day.