In:
My first full day on Harmony of the Seas coincided with waking up earlier than I expected to full take advantage of this fabulous day.  
Today we are docked in Nassau, Bahamas, although I had no intention of leaving the ship.  It was going to be a great day, with plenty to see and do onboard.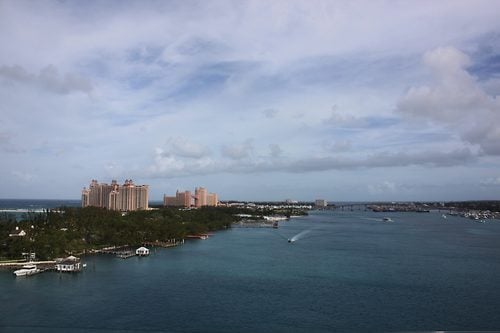 I decided to have breakfast in American Icon Grill (AKA the main dining room).  I wanted a custom made omelet, and I really enjoy the main dining room experience.  The breakfast features a fixed menu, plus a buffet option in the center of the dining room.  You can opt for either or both.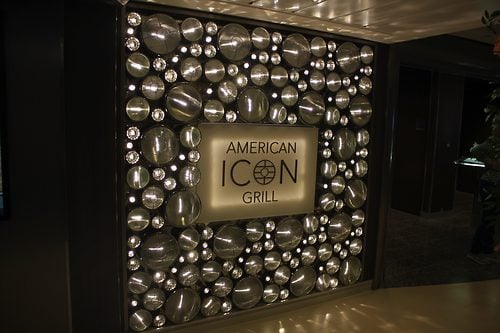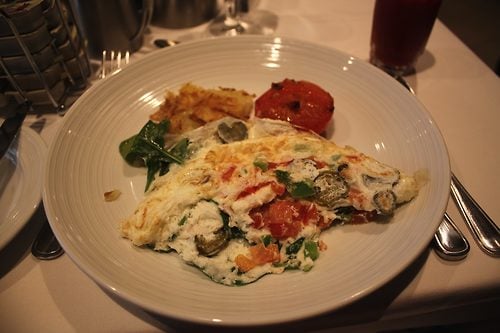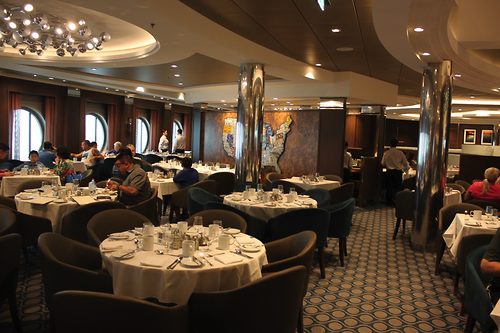 Following my meal, I went up to Cafe Promenade to take advantage of my Diamond-level Crown and Anchor Society benefit, which on this sailings gives us complimentary premium coffee (not Starbucks).  This is Seattle's Best coffee, and I went for a latte.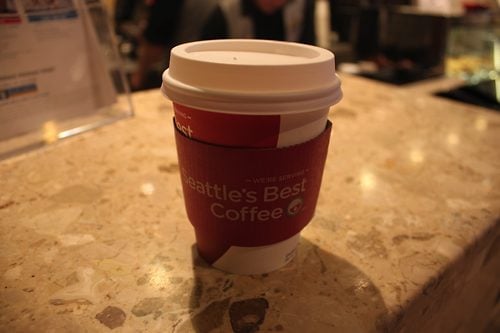 With my coffee in hand, I spent some time working on a few blog posts from the comfort of Central Park, and then headed over to the Schooner Bar for morning trivia.
I met a nice family from South Florida to play general knowledge trivia. We did not win, although I was quite intrigued to see the prize for the winning team were travel coffee mugs.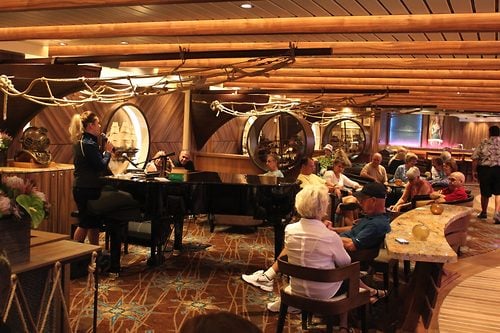 Next, it was time to try my hand at the water slides.  I was very excited to try them out ever since they were announced. I tried to bring my phone in a water proof case, but the crew informed me you cannot bring anything with you.  Just you and a bathing suit.
There is one line for all three slides.  Near the top, the attendant asks guests which slide they want to ride.  At worst, I waited perhaps 10 minutes I think.  First up was the champagne bowl slide.  It is a regular water slide that empties into a large, circular bowl area that you swirl around in until exiting in the middle.  Myself and a few of the other older guys seemed to get stuck right at the end, although a quick push and I was on my way.
Next were the two racer slides.  When it was my turn, they grabbed a kid who was also riding alone, and the 12-year old wanted to race.  Fine, bring it kid!
I was so dead set on showing this kid who was boss, but I ended up getting stuck a few times in the slide.  I would essentially slow down until I came to a stop, which in the racer slides is a bit nerve wracking because most of the slide is in the pitch dark! I managed to scoot a few times to get going.  At the bottom, I spoke to a crew member that told me the more clothing you have, the slower you will go. I was wearing board shorts and a rash guard shirt, so clearly that did not work well.  Oh well, it was still a fun experience!
I got back to the room and showered and changed and was ready for lunch.  I had hoped to eat lunch in either Sabor or Johnny Rockets, but neither opened until 2.  I decided to try lunch in the Solarium Bistro instead.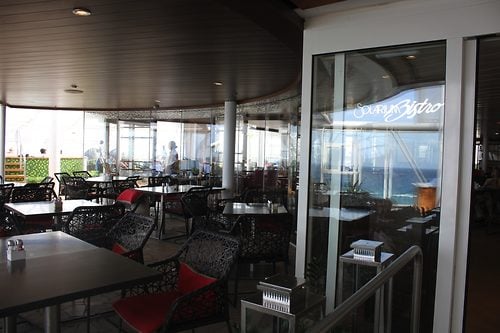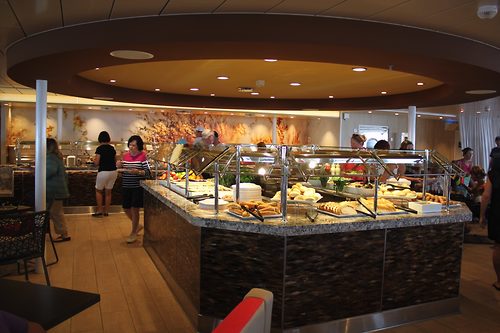 I am not certain if I have ever eaten in the Solarium Bistro before, but I really enjoyed it.  It is complimentary and offers a nice selection of salads, main courses, side dishes and desserts.  Plus, the ambiance of dining in the restaurant or just outside is quite lovely.
After lunch, it was down to Starbucks for an afternoon pick me up. Man cannot subside on regular coffee alone (or at least, not this man).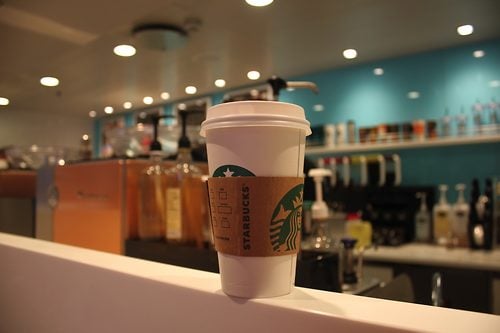 I did some more exploring of the ship and eventually stumbled upon the main dining room, which was still open at about 2pm.  I glanced at the menu and saw the lasagna from the dinner menu was available so I figured eating two lunches in one day is totally acceptable, right?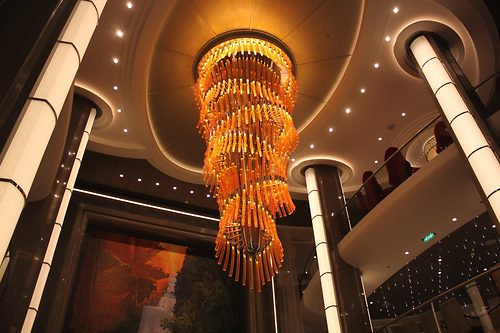 Like breakfast, there was a fixed menu and a buffet area in the center of the restaurant.  The buffet also had a chopped salad area, where you can specify the ingredients to put in your salad and the crew member will prepare it for you.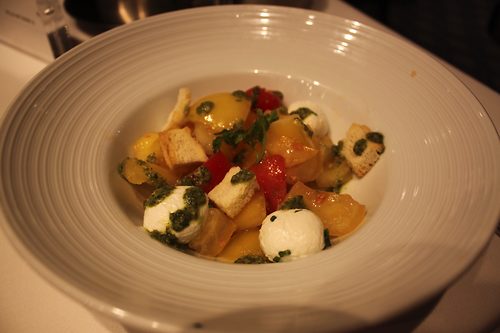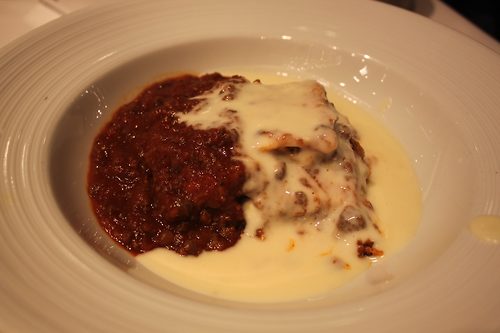 I also tried something brand new for me in the afternoon, by doing a "Total Request Live" Periscope broadcast.  Basically, I went on Periscope and offered to go anywhere onboard (within reason) that the people watching wanted me to go.  It was a lot of fun, and I even got to see much more of the ship than I had before.  Might have to do this again sometime!
Afternoon trivia came around and it was another general trivia session.  This time, our team did extremely well and won!  Not only that, they had inaugural season coffee cups as a prize!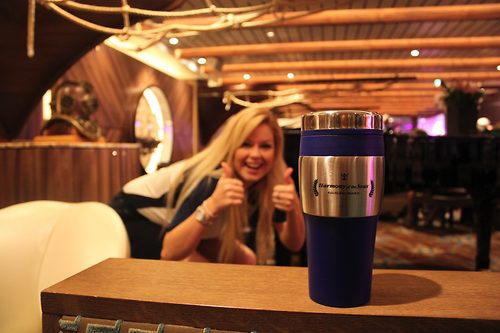 It is formal night tonight, so I went back to the room to relax a bit and then get dressed. Originally I was not planning on dressing up, but I had brought a pair of khakis and a polo shirt. I promise to dress up significantly more for the next sailing!
As the day turned to night, I wandered to the Boardwalk and finally lamented for a quick jaunt to my favorite restaurant, Sabor.
I went in with the idea of just getting guacamole, but ended up also getting tuna tacos.  I would love to rationalize it for all of you, but the truth is I just decided to indulge a bit.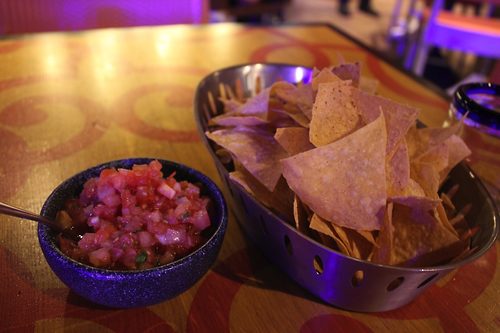 Needless to say, Sabor was wonderful and remains a must-eat specialty restaurant on any Royal Caribbean ship that offers it.
This evening it was rather pleasant outside, so I decided to take a few photos from up on deck to see the ship lit up.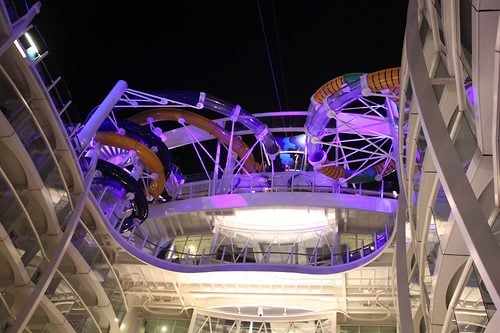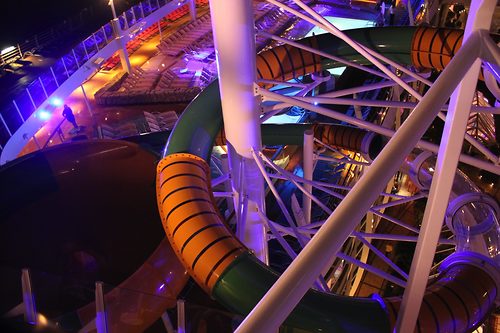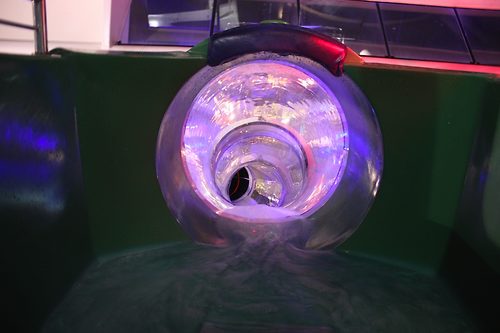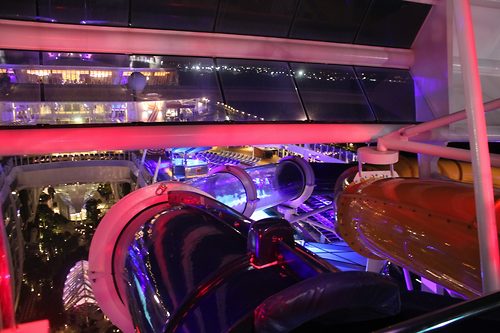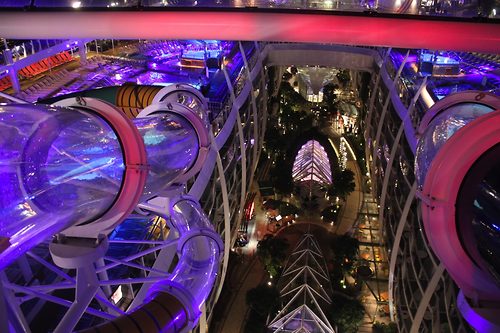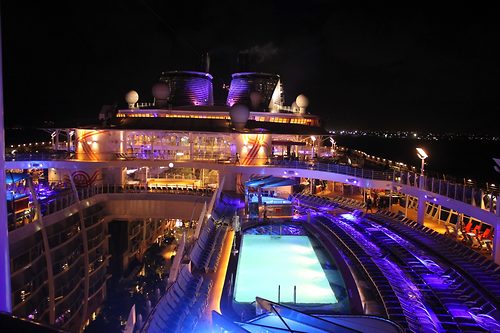 Next up was The Fine Line show in the AquaTheater.  It is hard to describe what the show is, but it is a combination aerial acrobatic show that happens to be set in a rather unique pool.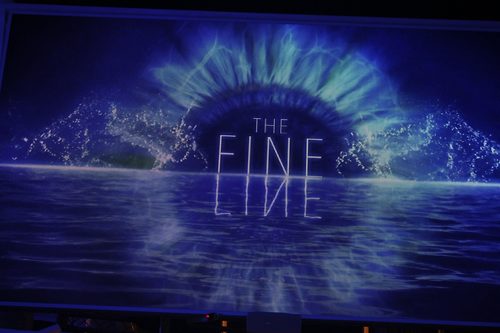 What makes The Fine Line different from other AquaTheater shows, such as OceanAria, is the added element of aerial stunts with the aid of high-tension wires.  There is quite a bit of "flying" and tight rope walking involved, and it is another really incredible show to watch from a pure performance standpoint.  The coordination and skill involved is quite extraordinary.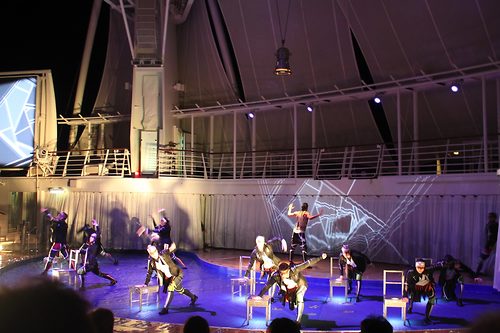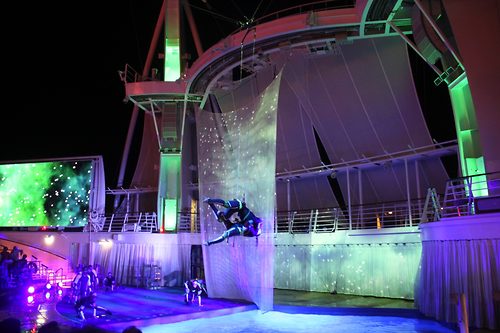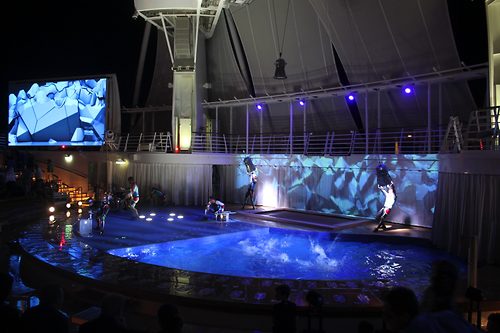 During the show, it began lightly raining and I ended up retreating to a Boardwalk balcony room that some fellow Royal Caribbean Blog readers (hi Tim and Kim!)offered to watch the rest of the show.  My room is 4 rooms away from the AquaTheater, but their room is the first room away, and had a nearly unobstructed view (and no rain).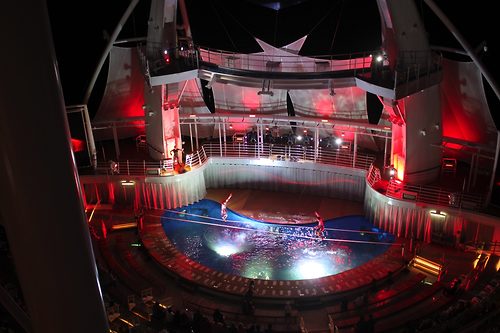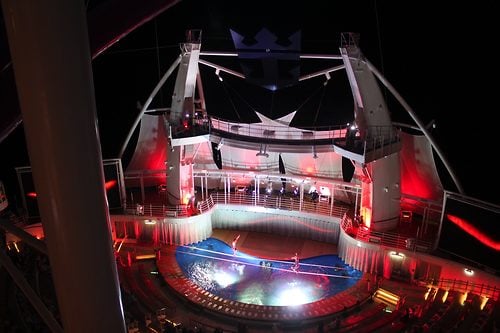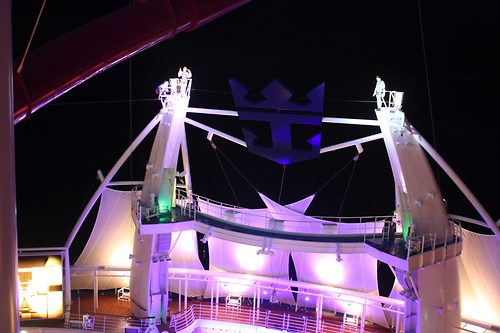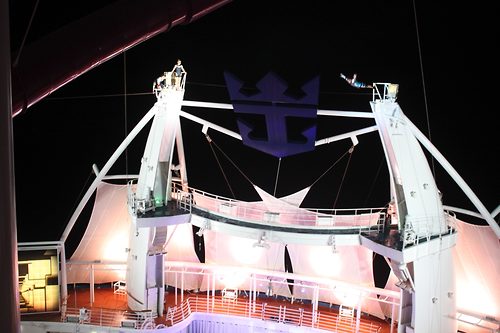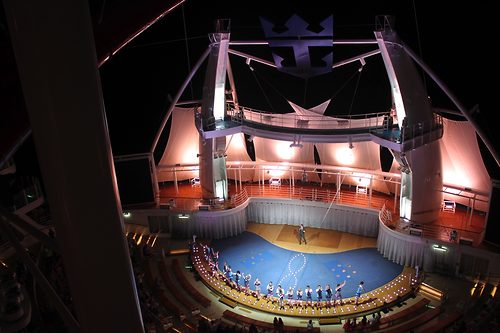 I returned to my stateroom to discover all guests were given complimentary Harmony of the Seas inaugural hats! Thank you Abe!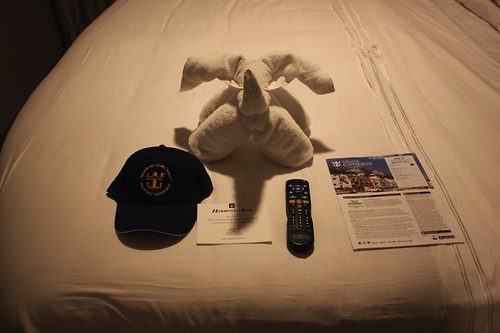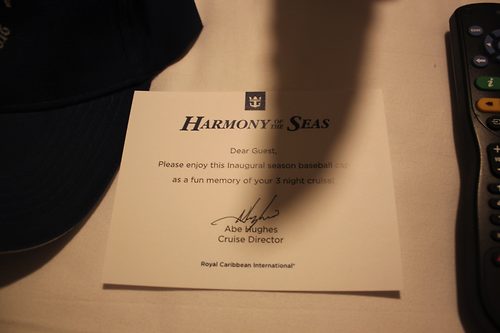 I also received this nice gift from my travel agent to enjoy.  Red velvet anything is right up my alley!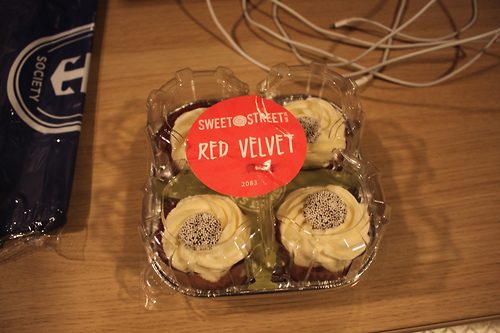 Tomorrow is a sea day, but I will actually be spending the day doing my day job from sea.  I know it may seem odd to be doing work from a cruise ship, but doing my work on a ship is far better than doing the same work from anywhere else. Thanks Voom!
Stray Observations
There are a lot of amazing fresh flowers all over the ship.

I spoke to the water slide attendants for a bit about crowd pattern.  They recommend the least lines are when they first open, as well as during the evening when it is meal time.
Multiple water slide attendants told me that if you want to go the fastest down the slide, a Speedo is the way to go.