In:
Welcome to our next Royal Caribbean LIVE blog adventure, as we are about to sail on the fabulous Harmony of the Seas. Harmony of the Seas debuted last year, and this is our first full sailing on what has become my favorite ship to date.
Beginning on July 1, I will head to Port Everglades for a 7-night Eastern Caribbean cruise.  We will visit the ports of Nassau, Bahamas; Charlotte Amalie, St. Thomas; and Basseterre, St. Kitts.
While I was briefly on Harmony of the Seas for a a couple short sailings last November, this sailing will give me plenty of time to check out Royal Caribbean's newest cruise ship. In fact, this the first of two Harmony of the Seas sailings I will be taking this year, so I will have lots of time to spend onboard Harmony in the coming months.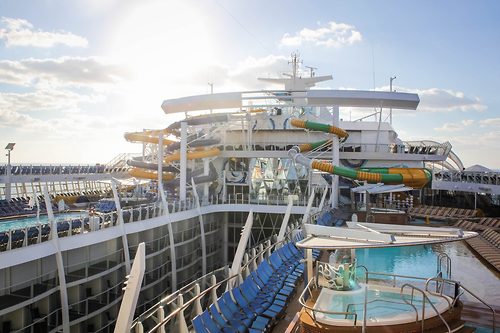 This sailing on Harmony of the Seas is a bit different for me for a couple of reasons. First, it is over the July 4th holiday, which means this is the first time I will be sailing over this holiday.
In addition, I will actually be working from Harmony of the Seas for a portion of the cruise.  My day job allows me to work remotely, and I have chosen to work a few days from Harmony of the Seas in exchange for a cruise longer than just a long weekend.  I do not have spare vacation days left in the year, so if I wanted to take a cruise without working, I would only be able to swing a short 3-night cruise.  It was a tough decision, but weighing my choices, I wanted a longer sailing and decided it was worth it to be on a longer cruise even if I have to work for part of it.  After all, being onboard a ship is better than not being onboard.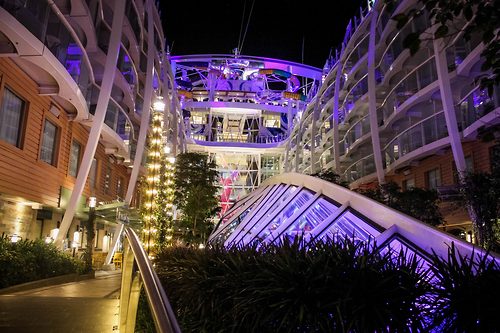 We picked Harmony of the Seas for this cruise for a couple of reasons.  After sailing on her in 2016, she quickly became my favorite ship and I really wanted to get back onboard.  Her high-speed internet meant she was among a handful of ships that I could reasonably do my job from without any interruption.  I would be remiss if I neglected to mention the amazing onboard activities.  From the water slides to the shows to Central Park, there is so much to do onboard.  The variety of things to do aboard an Oasis class ship really appeals to me.  
For this cruise, my wife and I will be sailing without the kids.  My in-laws volunteered to watch the children while we cruise, which means the two of us get some time to relax onboard.  Cruising with kids is a much different experience than cruising without them, and while we love traveling with our children, this will be a nice change of pace.
Of course, Harmony of the Seas has no shortage of activities and things to do onboard.  The water slides, musicals, dining and more are waiting, and having a full sailing to enjoy these activities is very exciting.
Itinerary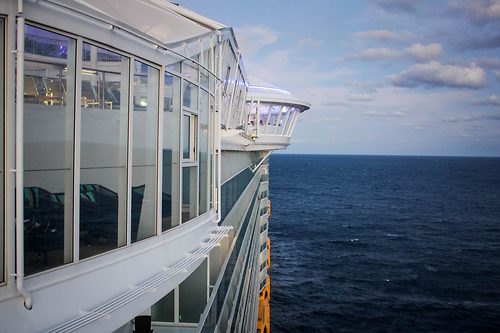 Our seven night sailing might not be the most exotic itinerary Royal Caribbean offers, but we have found some fun excursions in each place our ship will bring us. Plus, there are a lot of sea days, which means plenty of time to enjoy what Harmony of the Seas has to offer. In fact, the ship is what drew us to booking a sailing on her.
| Day | Port | Arrival | Departure |
| --- | --- | --- | --- |
| 1 | Ft. Lauderdale (Port Everglades), Florida | - | 16:00 |
| 2 | Nassau, Bahamas | 7:00 | 14:30 |
| 3 | At Sea | - | - |
| 4 | Charlotte Amalie, St. Thoma | 10:00 | 19:00 |
| 5 | Basseterre | 8:00 | 17:00 |
| 6 | At Sea | - | - |
| 7 | At Sea | - | - |
| 8 | Ft. Lauderdale (Port Everglades), Florida | 6:15 | - |
Since we live in Florida, getting to the cruise ship is fairly simple.  We will drive to South Florida with our kids to drop them off the night before the cruise, and then go to Port Everglades the morning of the cruise. Cruising from Port Everglades is one of the most streamlined and simple ports to cruise from, and that makes for an easy embarkation process.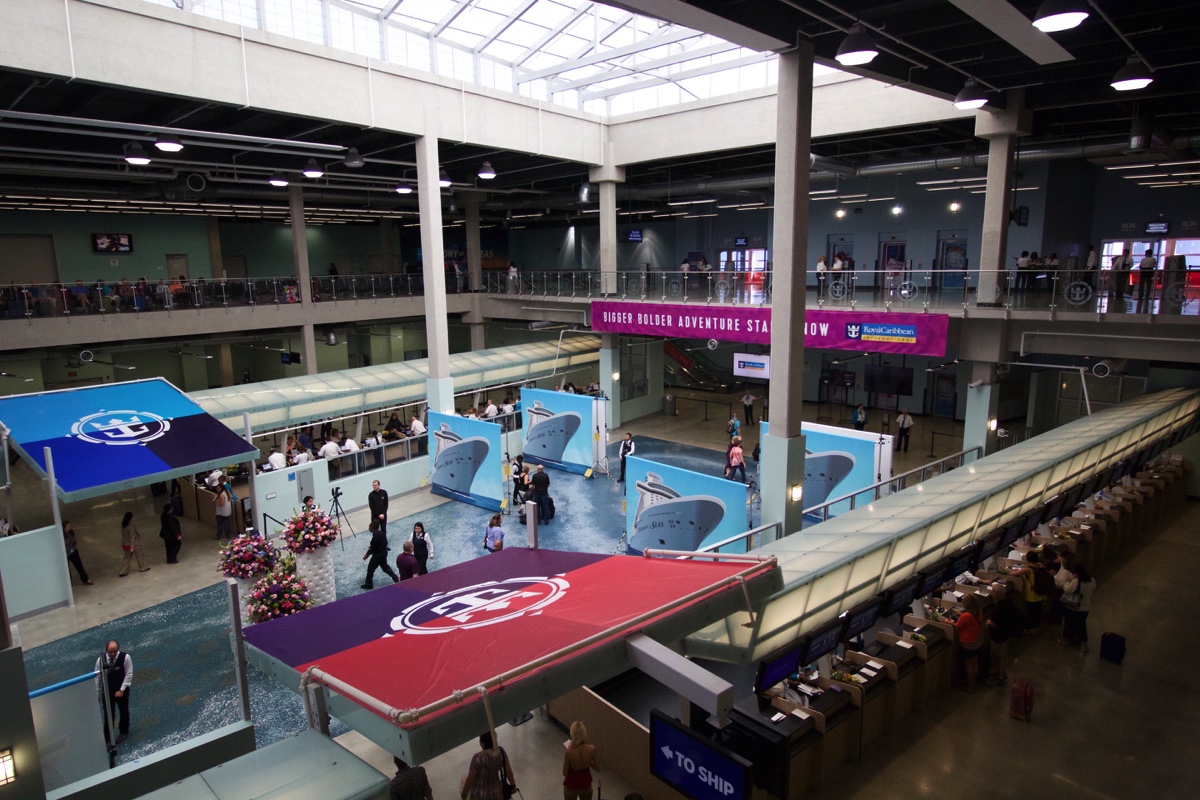 Of all the ports we are visiting, I think our stop at St. Thomas is the one I am most excited to call upon. We are going to try something we would never do with the kids: take the ferry to nearby St. John. I have read a lot about the beautiful beaches in St. John, and this seems like the perfect opportunity.
Three things I am excited to try
3. Chops Grille for lunch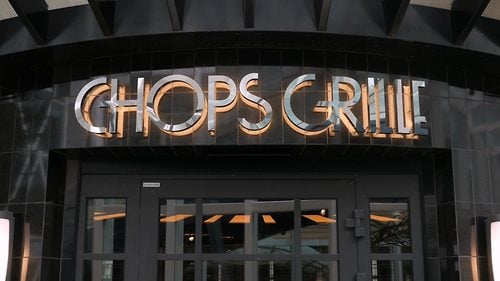 Earlier this year, Royal Caribbean began offering lunch at Chops Grille and it immediately piqued my interest.
I have always enjoyed meals at Chops Grille, so the prospect of trying a new menu for lunch sounds like a great idea.  Chops Grille built a reputation across the fleet for a quality meal, and I think going for lunch (and for dinner on another night) sounds like a great idea.
2. Visit St. John
While we have been to St. Thomas many times, this is the first time we are going to try to visit St. John.  Without our kids, I feel getting going and on schedule is easier, and that opens up visiting the island.
While Royal Caribbean offers a few excursions there, I want to try it on my own primarily for the adventure component of getting back and forth. Once at St. John, the plan is to visit Cinnamon Bay beach.
1. Ultimate Dining Package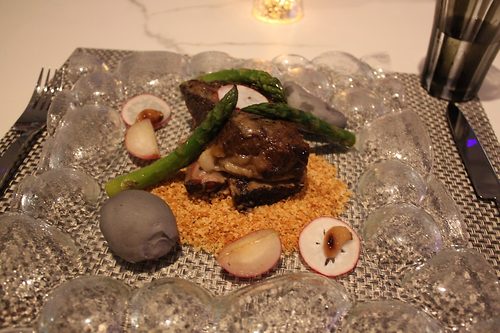 In the name of "research," I bought the ultimate dining package for this sailing.  I had always planned on getting a specialty dining package, but when Royal Caribbean added the ultimate dining package, I jumped on it immediately.
Since the ultimate dining package offers specialty dining each evening (and lunch on sea days), this will be my first cruise skipping the main dining room completely.  I admit, I will miss the main dining room, but Harmony of the Seas has such great specialty dining, I am excited to truly indulge in the various dining options.
What's Next
Our Harmony of the Seas cruise begins on Saturday, July 1st, and I will be sharing the details on the blog, as well as across my social media channels. Be sure to follow me on Facebook, Instagram and Periscope for live updates throughout the day.
I invite you to share in this experience with me, by posting in the comments for any blog post questions and comments you may have. I try to make these live blogs as interactive as I can, so I want everyone to feel welcome to share their thoughts.
Thanks for reading all of this and welcome aboard our next fun live blog experience!