In:
It is time once again to pack our bags, stock up on sunscreen, and get ready for our next Royal Caribbean adventure.  This time, we are going on Royal Caribbean's Harmony of the Seas for a 7-night Western Caribbean sailing.  Each day, I will be LIVE blogging to share with you what it is like to cruise on the world's largest cruise ship.  In fact, my friend Michael Poole, will also be live blogging from the ship, so it should be a fun week to follow along.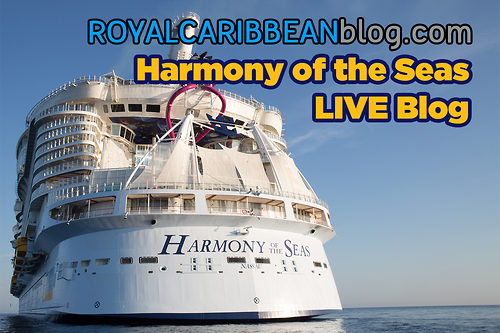 This particular sailing happens to be a RoyalCaribbeanBlog.com Group Cruise, which means we have nearly 100 readers joining us on this sailing.  We have been doing group cruises for a few years now, and it remains a favorite way to enjoy a cruise because we get to share the cruise experience with friends who understand the excitement and pleasure of a Royal Caribbean cruise.
The Cruise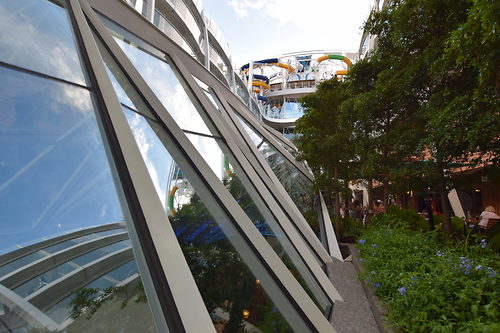 We picked this sailing a number of years ago so that many of us could try out Harmony of the Seas, and cruising in September means lower cruise fares.  In retrospect, we are lucky to have avoided Hurricane Harvey and Irma, but it did give us a bit of anxiety over the last week or so.  Nonetheless, we are ready to set sail and it looks like we are a go all around.
Our seven night Western Caribbean sailing will depart on Saturday, September 16th and take us to 3 different ports. We will visit the ports of Labadee; Falmouth, Jamaica; and Cozumel, Mexico.
This will be my fourth sailing on Harmony of the Seas, and believe it or not, there are still some things I have not done yet.  Royal Caribbean designs their cruise ships to be a floating hub of activities, entertainment, and relaxation.  As a result, there is more to do onboard than anyone can do in one sailing, let alone four.  Not only will I have the opportunity to try out more activities onboard, but re-visit some favorites with many of my friends.
Stateroom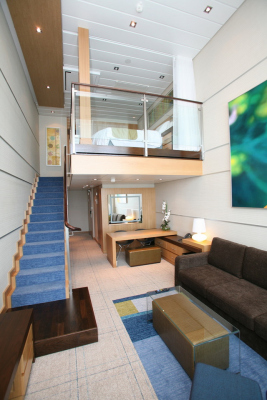 For this sailing, we are sailing in a stateroom category I have never had before, a Crown Loft Balcony Suite.  
Originally, we had booked two connecting ocean balcony rooms.  The price worked for us, and having separation from our children is always a good idea when it comes to cruising.  Right around final payment date, a number of suites opened up, and we managed to snag a Crown Loft suite for a great price.  
I admit that having two rooms makes for an ideal cruising scenario, because that means the kids can sleep in one room while my wife and I can watch television, or read without having to worry about making noise.  The price of the Crown Loft suite was just too good to pass up, so we jumped at the opportunity.  Plus, having Sky Class benefits means we can enjoy some nice perks that works well for us.  Namely, priority embarkation/disembarkation, suite sun deck, concierge lounge access.
Of course, the Crown Loft Suite is an exciting room to try out for the incredible views and creative floor plan.  Plus, there are two bathrooms in the suite and that will work well for getting everyone showered and ready each day.
Itinerary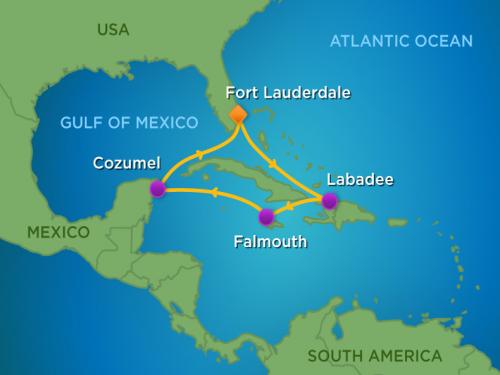 | Day | Port | Arrival | Departure |
| --- | --- | --- | --- |
| 1 | Ft. Lauderdale (Port Everglades), Florida | - | 16:00 |
| 2 | At Sea | - | - |
| 3 | Labadee | 8:00 | 16:30 |
| 4 | Falmouth, Jamaica | 10:00 | 19:00 |
| 5 | At Sea | - | - |
| 6 | Cozumel, Mexico | 8:00 | 19:00 |
| 7 | At Sea | - | - |
| 8 | Ft. Lauderdale (Port Everglades), Florida | 6:15 | - |
For this sailing, we are going on to the Western Caribbean, and this is the first time we have sailed the Western Caribbean on Harmony of the Seas.
Living in Florida, we will drive down the night before the cruise and stay at the Cambria Inn and Suites in Dania Beach.  The hotel is a 10 minute drive to Port Everglades, and we stayed there previously for a different sailing.  It is clean, well-run and offers room for the kids.
Labadee, Royal Caribbean's private destination, is always a highlight for me and we are hoping to snag a cabana at Barefoot Beach through the concierge.  We love Labadee, and cabanas are the icing on the cake for our family.  They are relaxing, provide a good "home base" for the children, and a nap spot.
In Falmouth, we have invited those who booked into our room block for the Group Cruise to join us for a private excursion through Royal Caribbean to the Bamboo Beach Club.  It promises to be a fun day at the beach, and the perfect opportunity for our friends on the cruise to do something together while in port.  Lunch and drinks are included, and there is even nanny service provided!
While visiting Cozumel, we may play things by ear, but the general plan is to have my wife get a massage, enjoy an early lunch downtown and then head to the beach.  A lot of our plans depend on the weather, the kids, and even what we feel like that day.  We are purposefully keeping things vague so that we have the option of changing things up.
Three things I am excited to try
3. Izumi Hibachi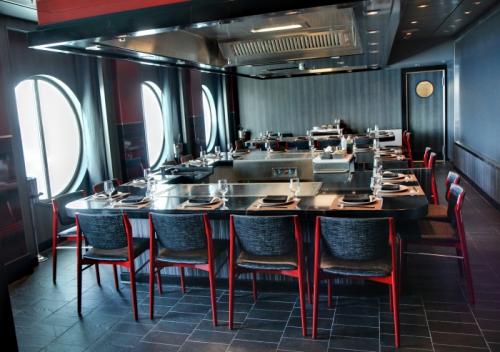 I have been a loyal disciple of Izumi since it debuted on Oasis of the Seas.  Royal Caribbean's Japanese specialty restaurant has been somewhere I have visited multiple times per sailing.  In recent years, they added an hibachi option and I have never tried it.
To be honest, I was saving this experience for the group cruise because I think the hibachi is more fun with friends, and we have a number of Royal Caribbean Blog Insiders who will be joining me for dinner.
2. Falmouth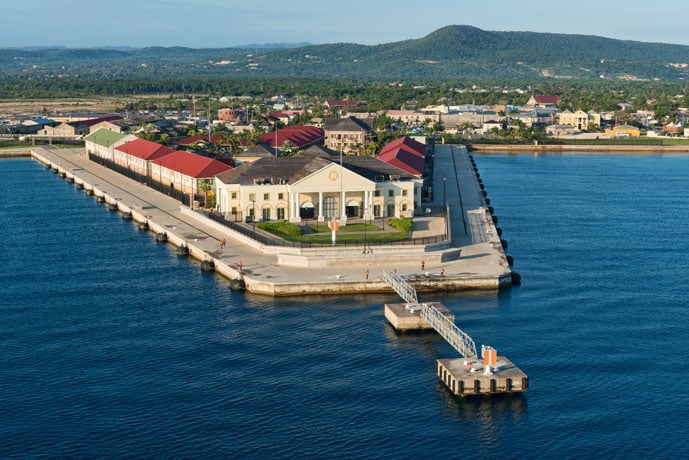 We have struggled to find a family activity in Falmouth that we really loved.  My hope is the Bamboo Beach Club will be that answer, and the photos and description seem to look promising.
Any parent knows how your kids do in any activity has many factors, some of which are pure luck (did they sleep enough, are they in a bad mood because of something petty earlier in the day, etc).  My hope is the kids will be able to enjoy our time there just as much as us.  Fingers are crossed!
1. Crown Loft Suite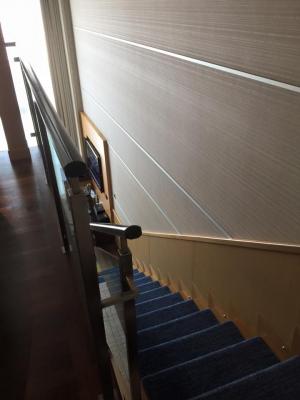 Since we booked the suite, I have been really excited to try out the Crown Loft Suite for myself.  The idea of a two-story stateroom is pretty awesome, and combined with the Sky Class perks we have experienced on Anthem of the Seas, I am really looking forward to it.
What's next
Our Harmony of the Seas cruise begins on Saturday, September 16th, and I will be sharing the details on the blog, as well as across my social media channels.  Be sure to follow me on Facebook, Instagram and Periscope for live updates throughout the day.
I invite you to share in this experience with me, by posting in the comments for any blog post questions and comments you may have.  I try to make these live blogs as interactive as I can, so I want everyone to feel welcome to share their thoughts.
Thanks for reading all of this and welcome aboard our next fun live blog experience!