In:
My Harmomy of the Seas adventure begins today and naturally, I was up bright and early to get a start on it.
Harmony of the Seas leaves from Port Everglades, Florida, and I live about 3 hours north of there in Orlando.  I was on the road a little after 6am and enjoyed a quiet and uneventful car ride down the Florida Turnpike to Harmony of the Seas' new home.
I arrived at the pier at about 9:30am and was among perhaps 30-40 other early birds to get in line for security.  It is absolutely not necessary to arrive that early for any cruise, but I was so excited that I could not help myself.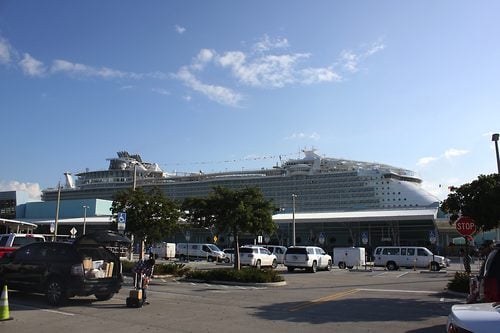 Check-in was quite easy and simple.  The check-in is a hybrid of the traditional Royal Caribbean check-in process, mixed with a little Quantum class touch.  You still go to the counter to check in, but I was able to provide a photo of myself during the online check-in.  Also, guests are not given SeaPass cards. Instead, your SeaPass cards are waiting for you just outside your stateroom.  
Once checked in, I was seated in the Diamond section of Terminal 18.  Because Harmony of the Seas was coming from a transatlantic voyage, US Customs was going to take longer to clear the ship.  Royal Caribbean did send passengers an email prior to the cruise warning guests of this delay.  That being said, boarding did not begin until a little after noon, and I was not onboard until 12:30.  Not a big deal, but the issue with a late embarkation like that is there was a big crowd in the terminal to get onboard.
Once onboard the ship, I followed my traditional embarkation day regiment and headed straight to the Windjammer for lunch.  I was blown away by the size of the Windjammer on Harmony of the Seas! It was massive, and much larger than the Windjammer on Allure of the Seas.  This was a welcome change.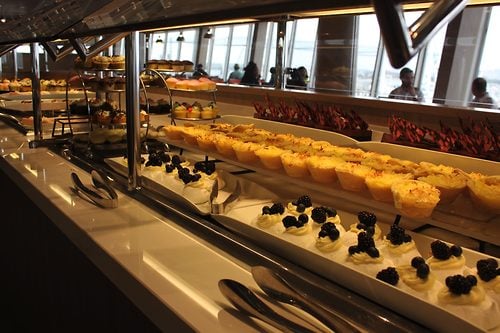 After lunch I started exploring the ship and immediatley I noticed that Harmony of the Seas felt so much like a Quantum class ship.  I joked on Periscope that Harmony of the Seas feels more like a Quantum class ship that is pretending to be an Oasis class ship, than the other way around.  This is by no means a bad thing, just a surprise to me.  The look and feel of Harmony (especially in the staterooms, cooridors and certain venues) is so reminiscent of being on Anthem of the Seas that I would dare someone who has been on either to see certain photos onboard and be able to know the difference.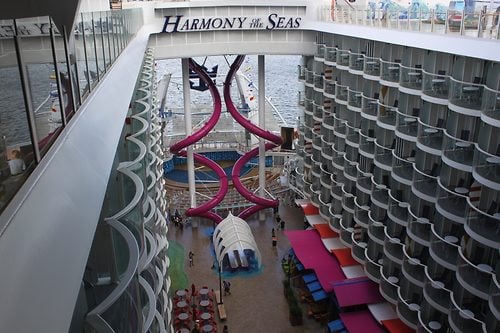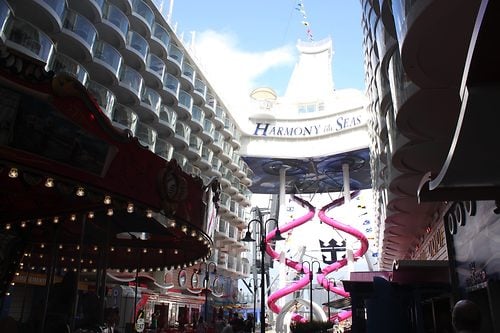 Our rooms were ready at 1:30pm and I really like my Boardwalk balcony stateroom.  The room is quite large and can easily accomodate two guests.  The amount of storage space is fantastic and the decor is once again nearly identical to the Quantum class rooms.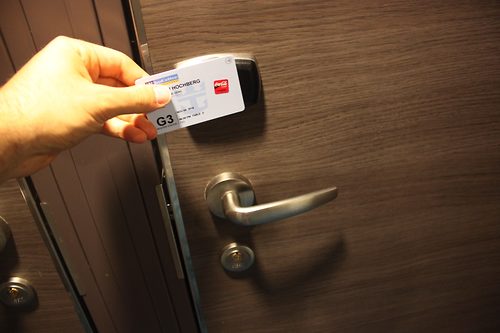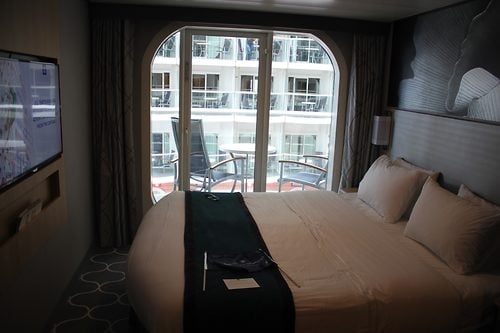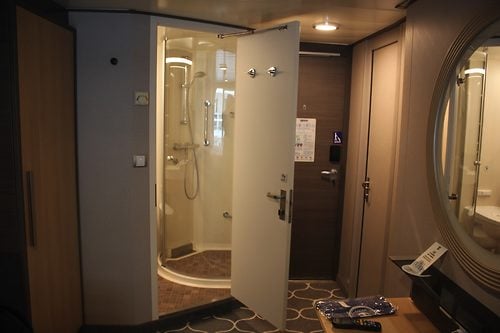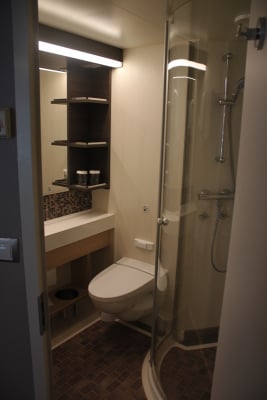 Of course, the balcony is what this sort of stateroom is all about and the Boardwalk view is terrific.  My room is towards the aft of the ship (perhaps 4 rooms from the end), and that provides a great view of the AquaTheater, rock climbing wall,  and more importantly, Sabor.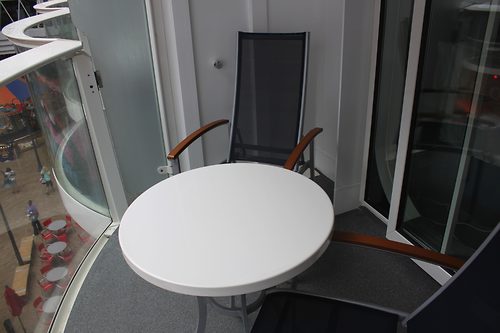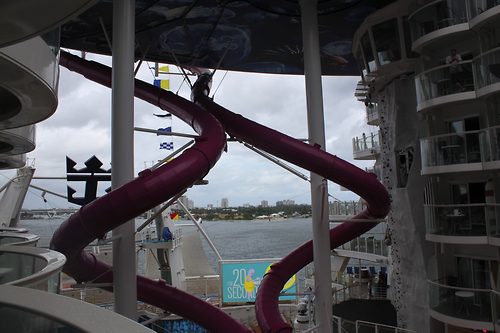 I have always been a fan of the neighborhood balconies because they are less expensive (typically) than ocean facing balconies, and offer a kind of experience that no other class of Royal Caribbean ships can offer.
After dropping all my stuff off in the room, I was off to start exploring Harmony of the Seas.  It is a beautiful ship, with so much going on.  I am quite happy that I added this three night sailing on, so that I can get more time to "see it all."
I was really impressed by the design of the main dining room on Harmony of the Seas.  The art piece is particularly beautiful!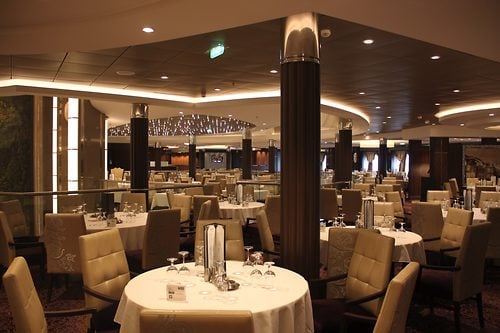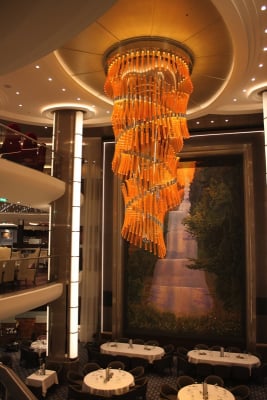 When muster drill time came around, I realized that my station was in the Boardwalk, near the AquaThear.  My first outdoor muster station experience on an Oasis class ship.  
Following the drill, I immediately made my way up to deck 15 to try my hand at the Ultimate Abyss.  
This is a 10-story slide and I was excited to finally try it.  I was one of the first few guests to get in line and after perhaps 10 minutes, the slide opened up and it was my turn to descend.
As I got closer and closer to the entrance to the slide I got a little nervous with apprehension, but once I pushed off and began sliding down I immediately loved the whole experience.  Not only is it a lot of fun, it is not nearly as intese or scary as one might imagine.  I as impressed by the special effects in the slide, which consist of lighting and sound effects.  Definitely a must-do and I think I have to try it again a few times.
After riding, I spent some more time exploring the ship.  I even got a chance to check out some fellow Royal Caribbean Blog readers' studio staterooms, which were quite nice and definitely something I could stay in if I was sailing alone (especially for the price).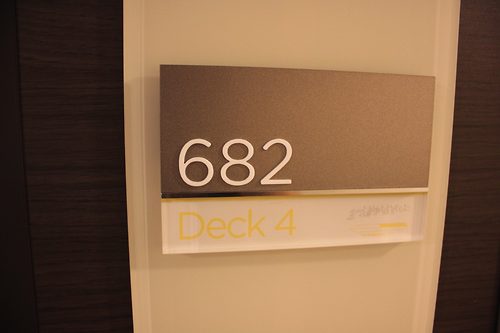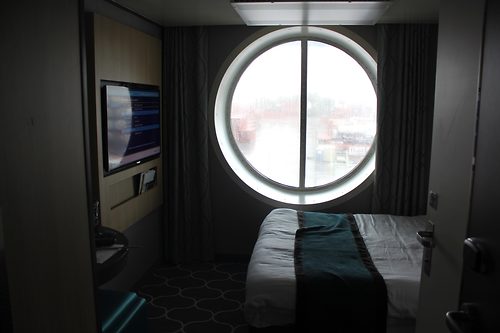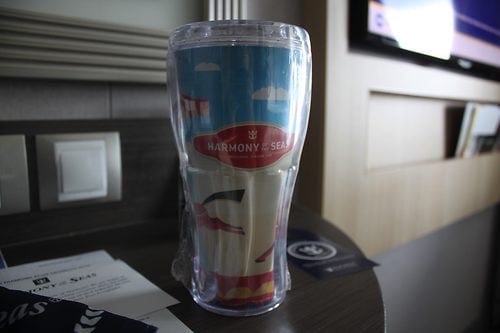 My favorite spot on any Oasis class ship is Central Park, and I was excited it again on Harmony of the Seas.  It is a beautiful area, full of natural beauty and terrific ambiance.  It especially looks great once the sun goes down and the lights come on.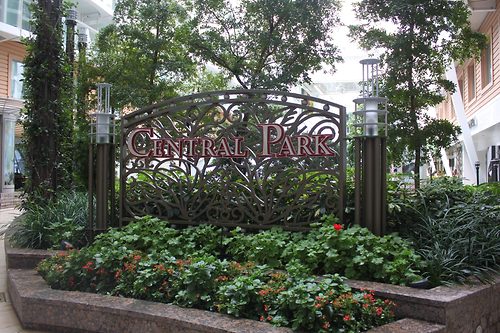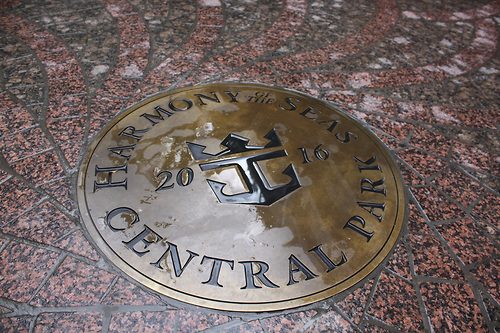 I grabbed a quick dinner in the Windjammer this evening, and enjoyed the great variety of options.  I even brought my own bottle of wine, that the crew were happy to store for me for dinner tomorrow night.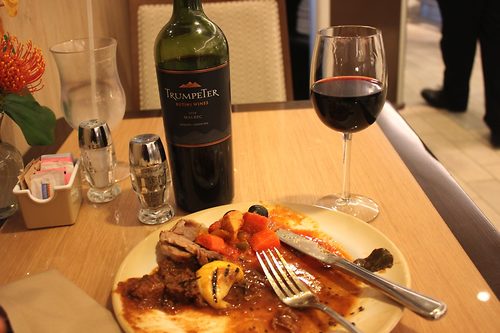 Being in the evening, I also took advantage of the Crown and Anchor Society Diamond level complimentary drinks from 5-8:30.  Because there are so many Diamond members onboard, Royal Caribbean converted the Attic on deck 4 into a temporary Diamond lounge.  I certainly got some value from this very nice perk.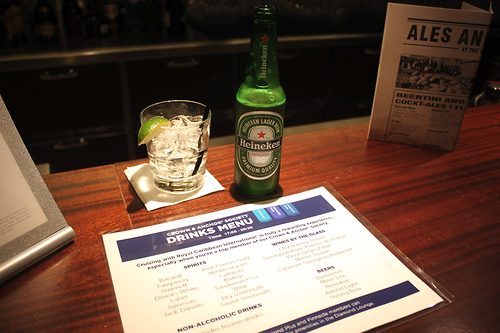 I was so busy exploring the ship that I completely overlooked our sailaway from Port Everglades. Oh well, I will see it again later this week when I return to Harmony of the Seas!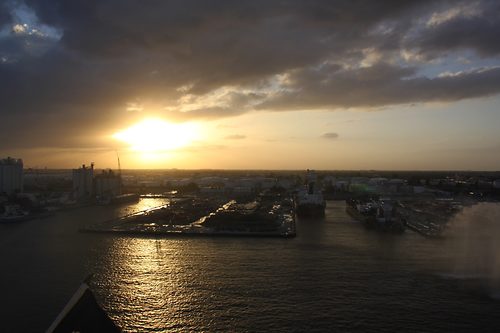 I had planned to see Columbus the Musical at 8:30pm, but unfortunately there was so much motion this evening that the show (and The Fine Line) had to be cancelled. It was really quite odd how much motion we were experiencing so close to land.  As soon as we got out of the channel, the ship started swaying quite a bit.  The good news is by about 9pm or so, the motion subsided quite a bit, and as I am writing this, we are back to barely any movement. I took the extra time to enjoy the live music in Central Park.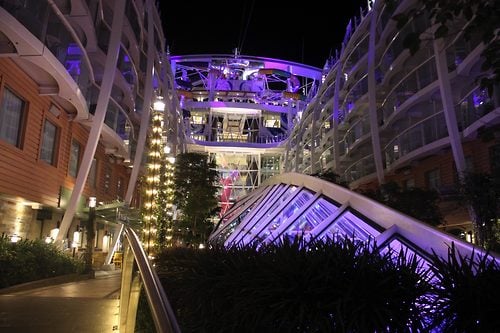 I am happy to report that I was able to exchange my old WOWband from Anthem of the Seas to Guest Relations and I received a new WOWband with no issues.  Plus, I finally got a new color (white) to add to my collection.  Personally, I love the convenience of the WOWbands over the SeaPass card.  No digging in my pocket for the SeaPass card and it is so easy getting back into my stateroom.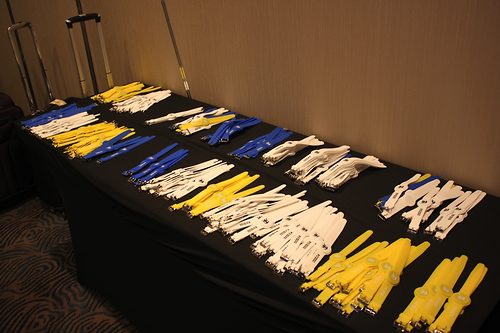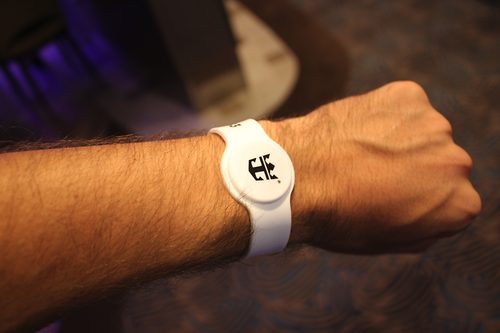 Since I had my handy, dandy WOWband, I wanted to test it out, so in the name of research...I had a drink from the Bionic Bar.  I ordered one of the stock drinks, and there is no denying how cool it is for a machine to make a drink on demand.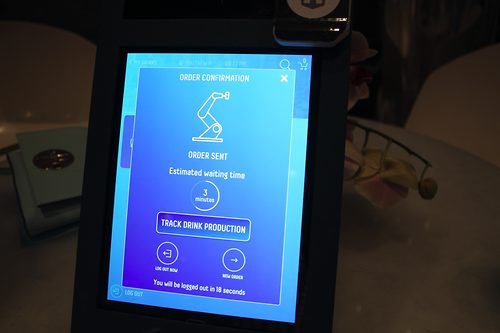 There was a second showing of Columbus the Musical at 10:30, so I tried for this showing and the motion subsided enough that the show could go on.
I had some high expections for this original Royal Caribbean production and I have to say, it did not disappoint at all. It is a fun show with a goofy, yet endearing plot that works in a lot of hit songs you can easily sing along to.  Easily another must-see show for Royal Caribbean!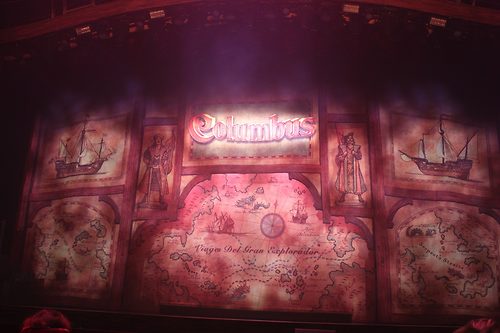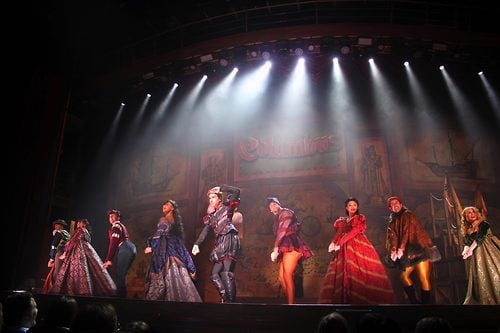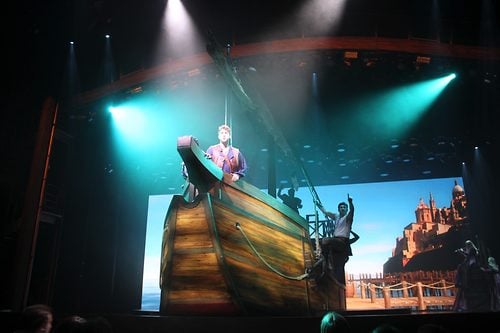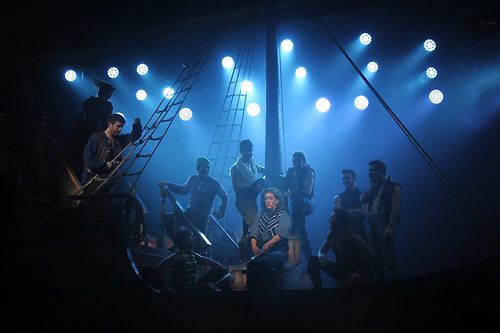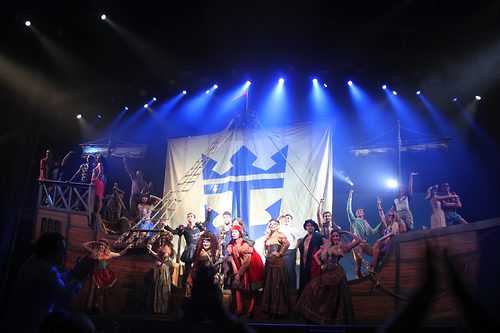 Tomorrow we will be in Nassau, but I plan on staying onboard to explore more of Harmony of the Seas!
Random Observations
Starbucks did not have the Christmas/green cup drinks yet.  Those drinks came out during Harmony's transatlantic, so I did not expect them to have that quick of a turnarond. I asked, and no coffee card on this sailing either.

Due to the Customs delay, our muster drill (and sailaway) was pushed back 15 minutes.
Today was the first day of the neighborhood balcony perks.  My perks include free soda drink package, a free meal at Johnny Rockets and a private rock climbing session.  I need to investigate how one "cashes in" on those last two perks.
Our cruise director, Abe, made an announcement that due to the embarkation issues many guests experience, Royal Caribbean is giving everyone onboard Voom for free.  If you bought Voom, you will get a credit.  Not a bad start to the cruise!
I spotted a Walking Dead reference in the cooridor of deck 9!

It definitely pays to pre-book a Royal Caribbean drink package before your cruise. Here are the posted rates for the drink packages if purchased onboard.