In:
Day six is here and it only our second sea day, which is kind of hard to believe because I am used to having more sea days earlier in the cruise.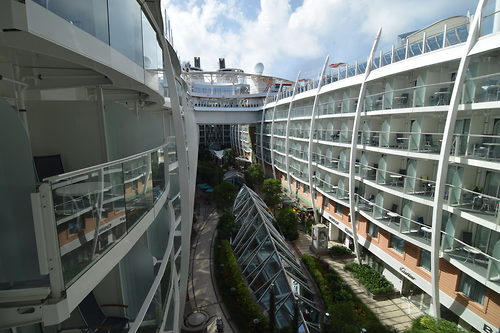 Today was another work from the ship day, and I grabbed a latte from Cafe Promenade before going up to Park Cafe for my vegetable breakfast sandwich.  I definitely enjoy mornings where I can walk in Central Park to grab my coffee, rather than just walking to my kitchen at home.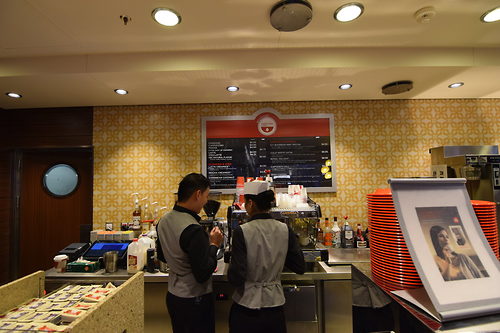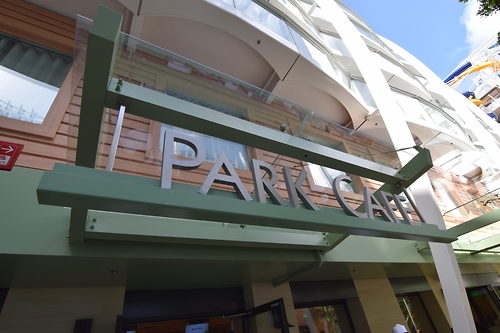 My wife spent her morning reading in the Solarium while I spent the morning doing work.
For lunch, I decided to try a different quick option: the main dining room.  Usually the main dining room may not jump out as a quick choice, but for lunch they have two options: the usual a la carte table service, or a special buffet in the middle of the room.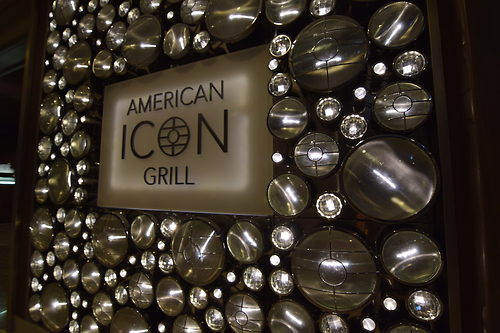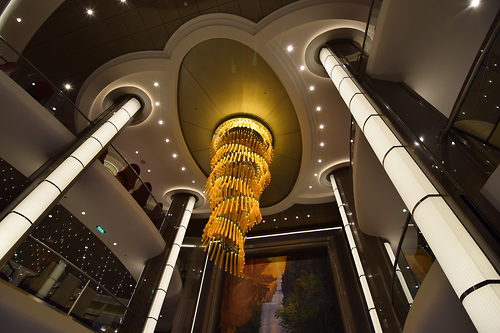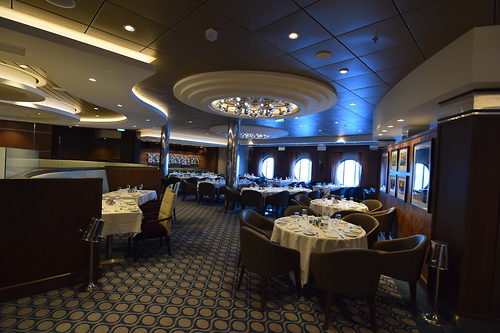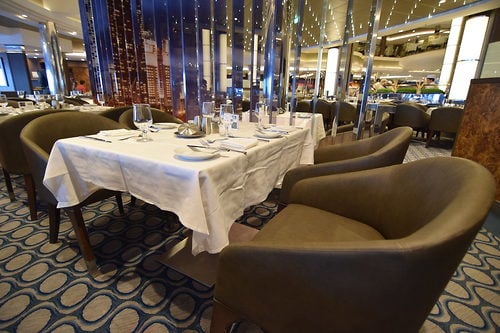 I opted for the buffet and had a choice of many great hot and fresh foods.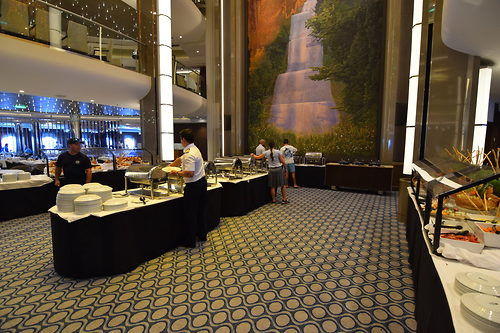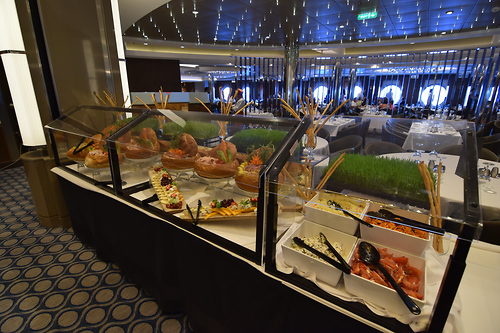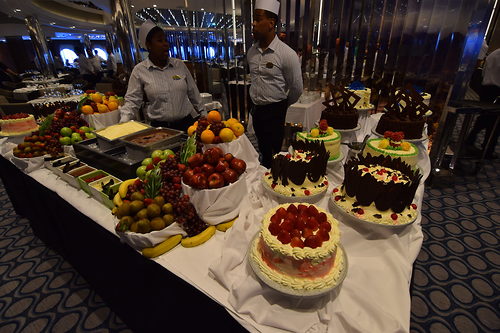 In addition, the buffet has a custom chopped salad station, where you tell the crew member what ingredients you want in the salad and they chop it all up on the spot.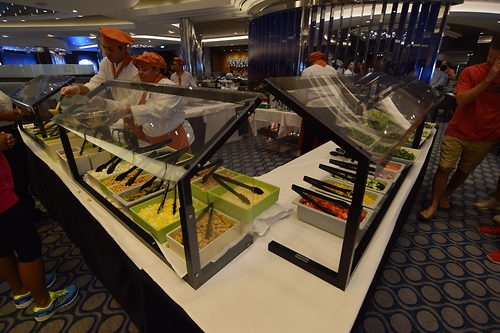 My favorite dish of the buffet was the vegetable Indian curry.  It was a potato based curry, so I grabbed some steamed cauliflower from another buffet station and created my own aloo gobi curry.  Glorious!
Before heading back to "the office," I took a stroll through Central Park.  With the breeze running through Central Park, it was a great time to be onboard and enjoy some fresh air.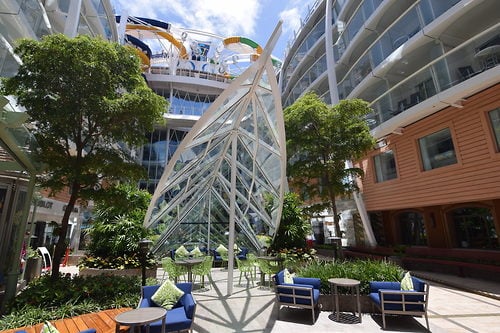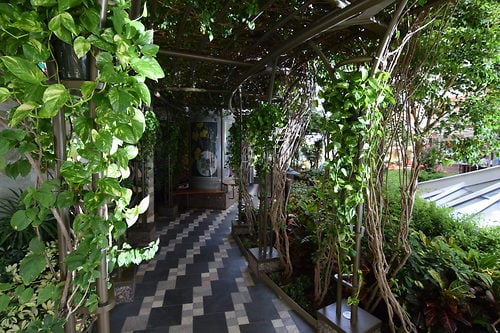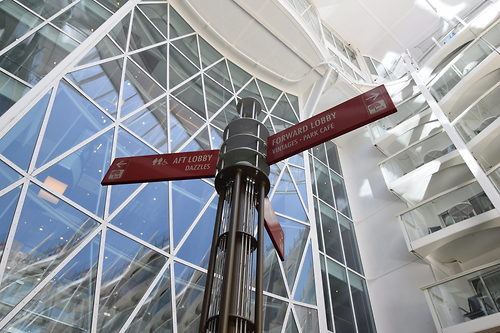 I had a quiet afternoon in my stateroom doing my work, while my wife headed up to the spa to have her hair done at the salon.  
I happened to find the stowaway piano player again.  He is a really fun act, where he literally wheels his piano anywhere on the ship and performs.  His piano has some hidden tricks too, which adds to the show.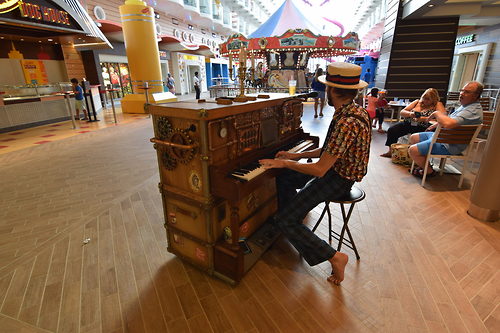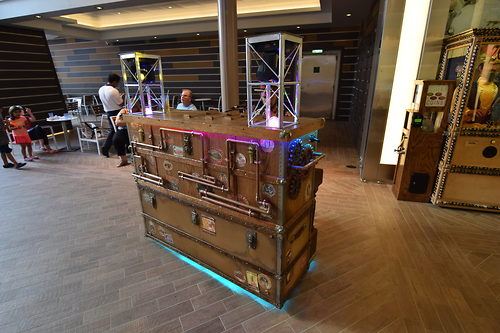 It was formal night, so we took some photos around the ship at the various photo stops.  Being Diamond members, we each get one free 8x10 print, so no need to let that go to waste!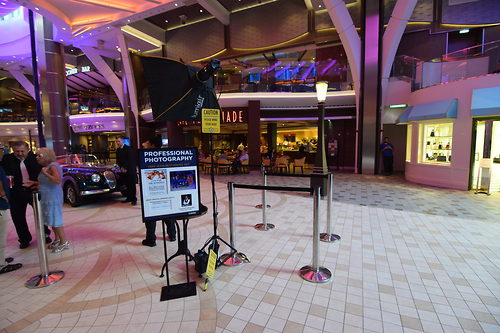 We decided to grab drinks on the Rising Tide bar because taking a ride is always enjoyable.  In fact, we ended up taking the ride back too.  Each sequence was faster than I remember, and it is still quite fun to experience now and then.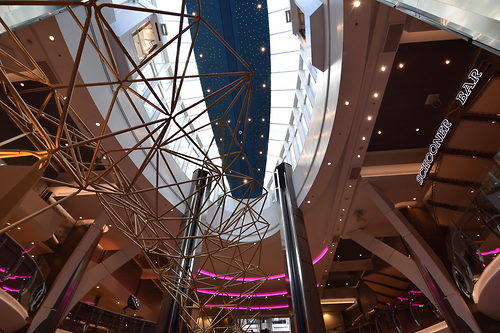 Our entertainment for the evening was 1887, which is an ice skating show. The performances were quite impressive, and "the bubble guy" is astounding.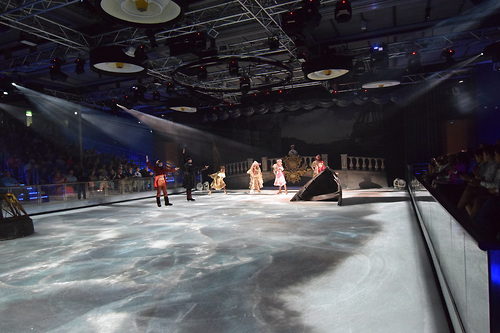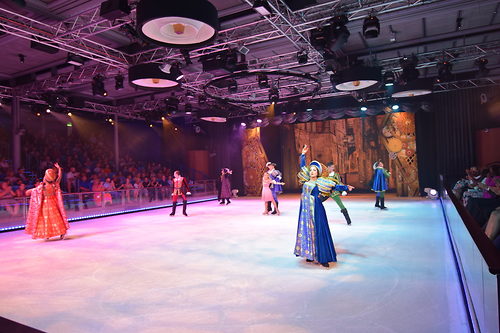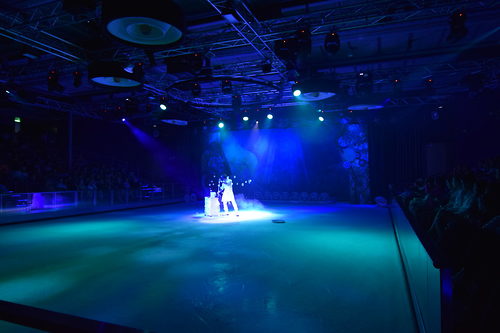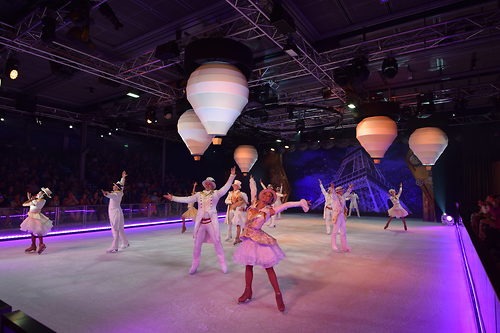 For dinner, we headed up to deck 12 for Wonderland.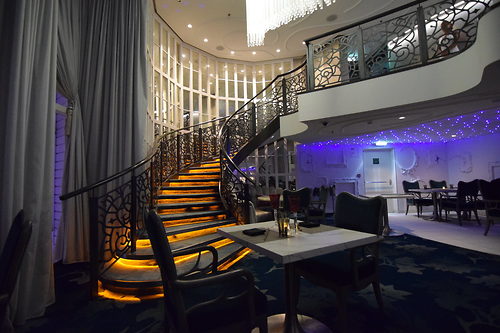 Wonderland is a specialty restaurant loosely based on the Alice in Wonderland tales.  The food never looks like anything you may have had before, and yet tastes great.  My favorites are the terroir beef and reconstructed caprese salad.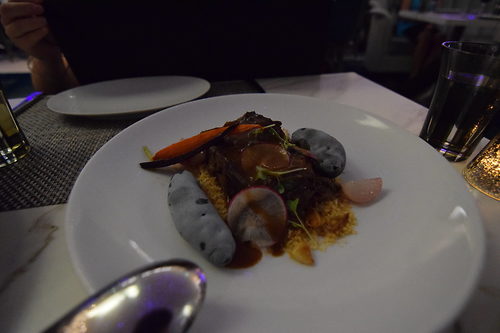 Also the desserts are amazing.
Tomorrow is our last day, and it is also a sea day.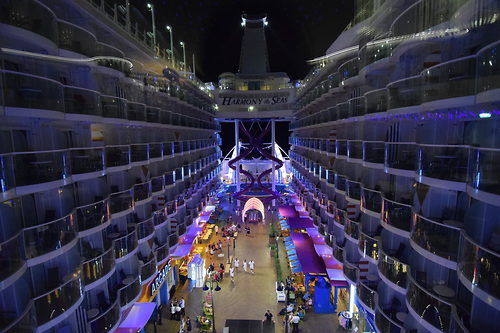 Stray Observations
We had barely any movement on the first 3 days of the cruise, and since leaving St. Kitts there has been a bit of movement.  It is really minor, perhaps 1 or 2 out of 10, but it is funny how you notice it just because we were used to no movement at all in the ocean.  All in all, another very smooth cruise.
My wife purchased a few items in the shops onboard and asked to use her Diamond level Crown and Anchor discount.  The crew member said she needed to see my wife's SeaPass card, despite my wife having her WOWband.  It is a bit surprising because looking up the WOWband should show her Crown and Anchor status in the computer.  
As a matter of personal preference, I think I prefer to stay on a deck that is lower than our current deck 12.  I say that because I feel I spend more time on the Royal Promenade, Boardwalk or Central Park.  My wife disagrees, and says if the kids were with us, having quick access to pool, Windjammer and Adventure Ocean would change the dynamic.  I think we all know who's right in this situation.
Here is the portrait of Harmony of the Seas' Godmother, Brittany Affolter.  She is super nice and you can find her photo near the Guest Relations desk.

The array of Indian-inspired pizza continues at Sorrento's with the Chicken Tikka pizza.

I do not believe I have ever dined at Wonderland yet where the waiter did not insist on ordering for us.  Menus at Wonderland seem to be just for decoration.