In:
I'm onboard Harmony of the Seas this week for a 7-night Eastern Caribbean & Perfect Day cruise. As this is my first time on an Oasis-class ship, I wanted to try out all the free signature activities this ship has to offer.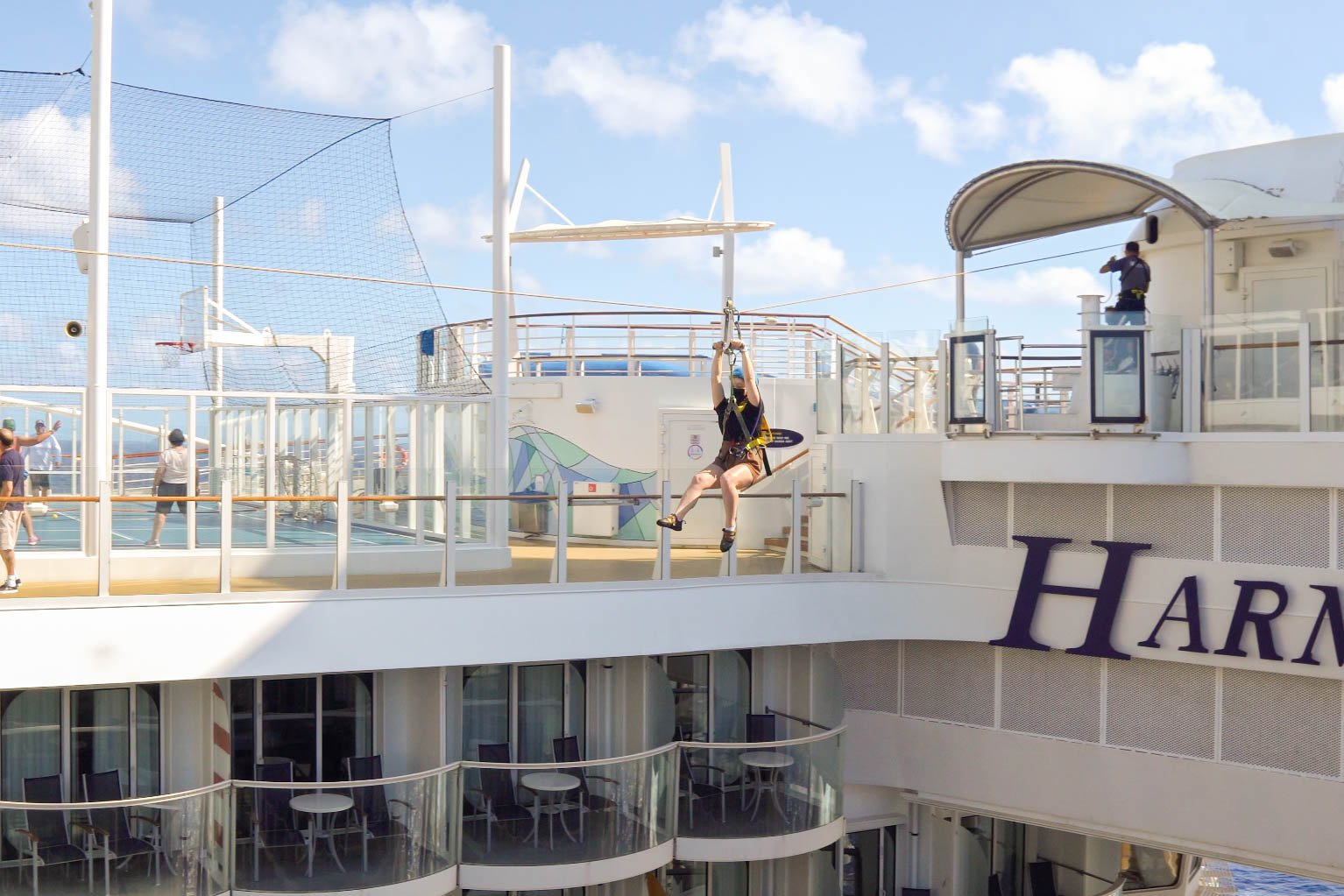 From water slides to a zipline and rock climbing, there was no shortage of things to do during my time onboard and I found myself trying a new activity every day.
The Ultimate Abyss
A unique activity only found on Oasis-class ships is the Ultimate Abyss. The Ultimate Abyss is a pair of two 70ft high slides (150 feet above sea level) located in the aft of Harmony of the Seas. The slide departs from the Sports Court on deck 15 and slides down to the Boardwalk neighborhood on deck 6.
The Ultimate Abyss is not a water slide, but is a dry slide in which you use a mat with a pocket for your feet and hold on to a handle. As there are two slides side by side, you can race to the bottom with a fellow passenger.
The slide starts by climbing through the mouth of an entrance designed like an anglerfish predator, with 35 teeth, two eyes, and a photophore (light source to attract prey). The entrance has a glass floor and views of the aft below, which gets your adrenaline pumping even before the slide starts.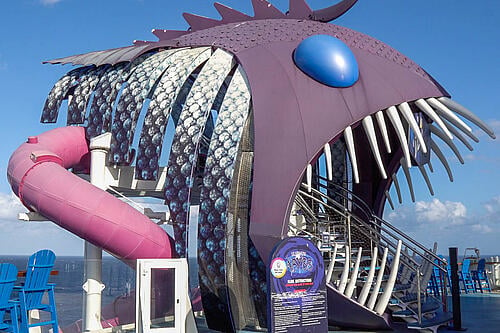 This was probably my favorite new activity that I tried! The ride takes an average of 13 seconds from top to bottom as you twist and turn through a tunnel with sound effects, music, and lights. It was much more thrilling than I imagined it would be and I found myself wanting to do it again as soon as I reached the bottom!
I liked the fact that it wasn't a water slide, so I didn't have to wear a swimsuit in order to try it. Plus, the slide brings you to an entirely different neighborhood on the ship! Who needs elevators when you have the Ultimate Abyss?
The Ultimate Abyss has a minimum height of 44 inches and a maximum weight of 300 pounds.
Water slides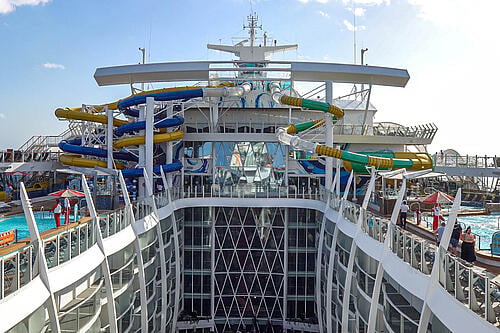 Harmony of the Seas has three water slides which comprise what is called the "Perfect Storm water slides". These are one of the most popular activities onboard Harmony of the Seas, and for good reason. They are thrilling, tall, and a fun activity for guests of all ages. I had actually never done the water slides on any Royal Caribbean ship, so I was excited to try them out.
The first slide I tried was the blue one on the Cyclone and Typhoon slides. These are the yellow and blue racing slides on Harmony of the Seas which twist and turn several times as you race to the bottom.
To be honest, this slide made me feel uneasy as it was mostly pitch black and I had no idea where I was going and for how long I would be sliding down. It made me pretty claustrophobic and panicky! Because of this, I decided to skip trying the yellow slide. Other guests and especially kids seemed to be enjoying the Cyclone and Typhoon slides, though!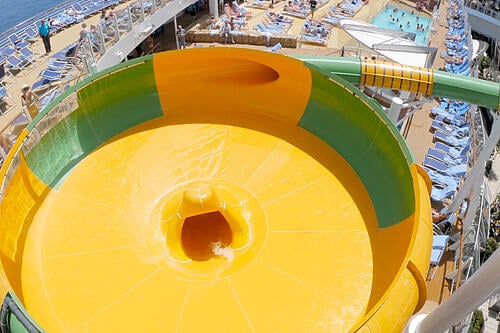 Next up was the Supercell side, otherwise known as the "toilet bowl". This yellow and green-colored slide takes you on a couple twists and turns before sliding you into a giant "toilet bowl". Once in the bowl, you will slide around a few times before falling into the middle.
I much preferred the Supercell slide over the Cyclone and Typhoon slides. I liked how there were no pitch black sections of the slide, so it was not as disorienting. The slide has both clear and rainbow-colored sections before sliding you into the bowl, where you are in the open air again. It was actually a ton of fun so I did it three times in a row!
Zipline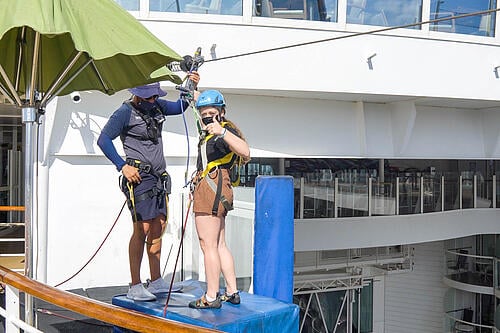 Who ever thought you would be able to zipline on a cruise ship? Oasis-class ships are the only Royal Caribbean ships to have a zipline. The zipline flies 9 decks above the Boardwalk neighborhood on Harmony of the Seas and spans 82 feet from start to end.
When you arrive at the zipline station, a staff member will put a harness on you and guide you to the launching area.
I felt confident in doing the zipline until it came to the point where the crew member clipped me in and told me to start. At this point, it really hit me that I was about to fly through the air! As you take your feet off the ground and start flying to the other side, though, you realize that it's actually a lot more fun than it is scary.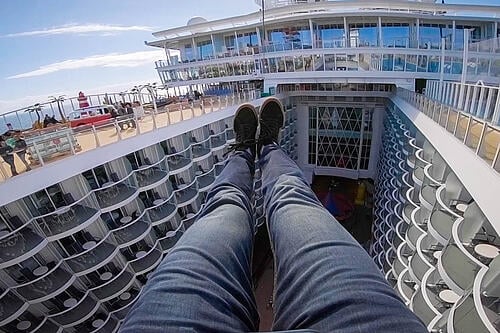 I enjoyed the zipline overall, although it was a short experience so I'm not sure I would wait in a huge line for it. The zipline itself only takes around 10 seconds, but I think it is still a fun activity to try at least once on your cruise. Be sure to wear laced shoes or bring socks to borrow shoes, as non-lace tennis shoes, such as sandals, are not allowed.
Passengers must be at least 52" tall to ride the zipline and weigh between 75-275 pounds. 
Rock climbing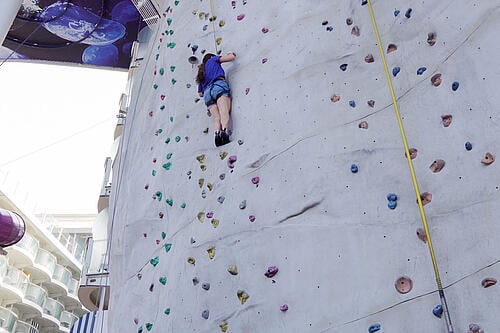 The next activity I tried was rock climbing. I go to a rock climbing gym at home and climb a few times a week, so this is always my favorite sports activity to do onboard. Royal Caribbean's rock climbing walls have routes with varying levels of difficulty, making it a fun activity for any fitness level.
There are two rock walls on Harmony of the Seas which are located in the Boardwalk neighborhood, overlooking the Aquatheater and wonderful views of the aft.
Before you go to the rock climbing wall, make sure you have socks and are not wearing a bathing suit. My recommendation is to wear a t-shirt and shorts to ensure you have the proper attire on for climbing. The staff will give you rock climbing shoes and harness before clipping you into the wall!
I went up the wall twice in a row to get a quick workout in and was blown away by the 180 degree view of the ship's wake from the top of the rock climbing wall.
My one complaint with the rock climbing wall is that the colorful holds on the wall are not properly tightened. When you grab many of the holds, they turn slightly. This is not ideal because you can unexpectedly fall when you grab something or when you put your foot on a hold.
The rock climbing wall is available for guests 6 and older and guests must be able to fit into the harness. Socks, dry clothes, shorts, or pants are required.
Carousel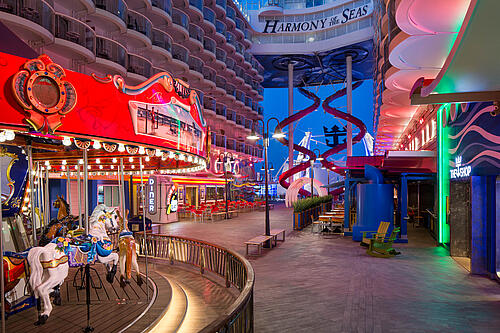 Located in the Boardwalk neighborhood on Harmony of the Seas is a colorful, intricately-designed carousel that seems to transport you back in time. Animals of all kinds line the carousel and it is an activity available during both the day and evening onboard.
I thought the carousel was fun, although it is geared toward small children so it wasn't the most thrilling activity I tried. For children, though, I think that the addition of a carousel on a cruise ship adds to the family-friendly environment created on Harmony of the Seas.
Guests must be at least 42 inches tall to ride the carousel without an adult. If under 42 inches, an adult must be standing next to the child and have their hands on the child at all times during the ride.
Flowrider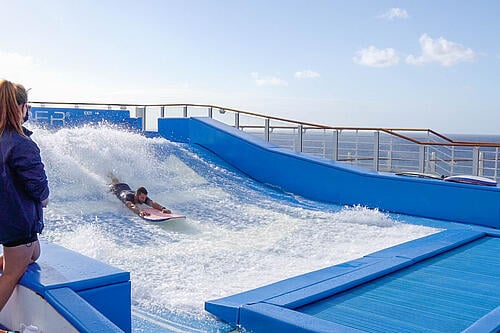 The Flowrider surf simulator is a common activity on Royal Caribbean's ships, but it is one that I had never tried before. Harmony of the Seas has two Flowriders in the aft of the ship. 
I had never tried the Flowrider because I wasn't sure I would be very good at it. While I took surfing lessons several years ago, I was not exactly the most skilled surfer out there (and that's an understatement). However, I figured that after six Royal Caribbean cruises, it was finally time to give the Flowrider a chance.
As a beginner, I started off by boogie boarding. The staff give you a very brief introduction into how to hold the boogie board and how to launch into the water. As soon as I launched, I was nearly overtaken by the water rushing all around me and I kept getting sent all the way to the back of the Flowrider instead of boogie boarding around the middle.
To be honest, I was pretty bad at this and cannot imagine being able to surf standing up on the Flowrider! That being said, I did not wipe out and send the boogie board flying away, so I was pretty happy about that. It was fun, although it wasn't my favorite activity which was probably due to my lack of skill. I think I will have to try it again in the future, though!
Be sure to wear a swimsuit to the Flowrider and be aware that there is the slight possibility of a loose swimsuit falling off as the water rushes around you. I would recommend a one piece swimsuit to avoid any potential mishaps… you've been warned!
Guests must be at least 52 inches tall to use the Flowrider.
Ice Skating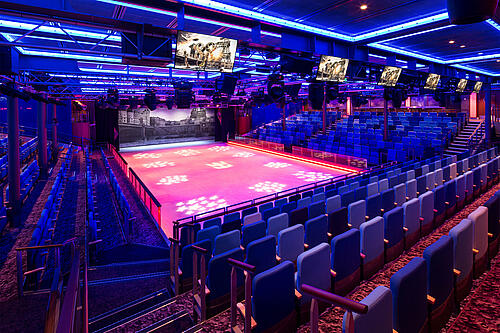 Harmony of the Seas has an ice rink onboard in Studio B, where the ship's figure skating cast perform impressive ice skating shows throughout the cruise. During the day, though, the ice rink is often open for free skate sessions where passengers can test out their skills on the ice.
Guests must sign up for an ice skating session by heading down to Studio B when sign ups are listed in the Cruise Compass. When you arrive at your scheduled time, the staff will give you skates and a helmet and you are free to skate in any way you like.
I really enjoyed my time ice skating onboard as it was something I definitely don't usually do at home. It is also a great indoor activity to do when the weather outside is not cooperating. There are rails on the side of the entire ice rink so if you are a beginner you can hold onto the side.
Parents must supervise minors at all times at the ice skating rink and must be on the ice with children under 6.