In:
When Royal Caribbean's newest cruise ship, Harmony of the Seas, debuts in the UK in May 2016, she will offer more than 30 different onboard sports and games activities.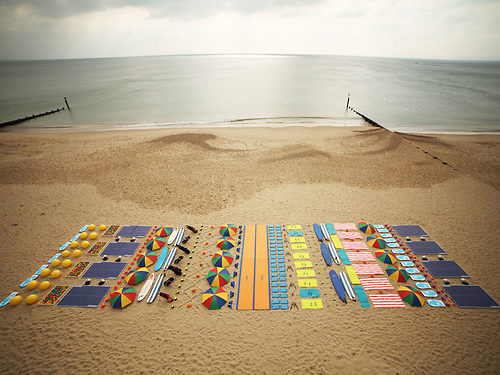 To show off this fact, 20 Royal Caribbean employees spent seven hours layout out 3,415 pieces of equipment that will be needed for all the activities onboard Harmony of the Seas.
Royal Caribbean spread the gear across 85m of Boscombe Beach in Dorset, UK.
The gear includes
900 ball pit balls
192 golf balls
144 badminton shuttlecocks
80 ping pong balls
31 surfboards
30 basketballs
16 ice hockey sticks
16 pool cues
144 pool balls
8 table tennis tables
We created the 1st-ever live infographic. Unleash your ultimate sports adventure with #HarmonyoftheSeas in 2016!https://t.co/p54GzLI87W

— Royal Caribbean UK (@MyRoyalUK) November 11, 2015
"There aren't many holidays where families can visit multiple destinations, try their hand at ice skating, body boarding, a zip wire and learn how to Blongoball all in one trip," said Stuart Leven, managing director UK and Ireland at Royal Caribbean. "Harmony of the Seas offers holidaymakers the opportunity to explore amazing destinations and enjoy a world of new experiences, with an activity to cater for every age and every taste."
Harmony of the Seas is under construction at STX France and will be the third Oasis class cruise ship in the fleet.