In:
Labadee is Royal Caribbean's private destination in Haiti, and is a common port of call for many Royal Caribbean western Caribbean-bound cruise ships. This guide provides tips for visiting Labadee, including things to do and not not to do and how to make the most of your time on Labadee.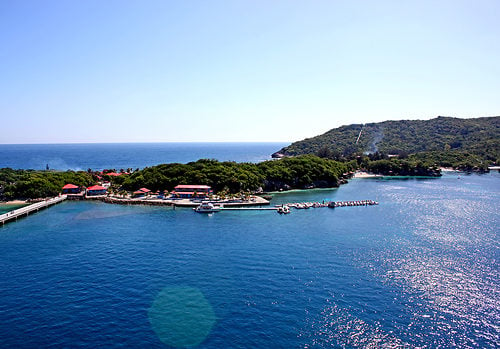 For starters, some basics about Labadee and then we will get into some recommendations.It is a a 260-acre private beach resort used exclusively by Royal Caribbean guests and crew members.  Royal Caribbean sister company ships, most notably Celebrity Cruise Line, have also been known to stop there. The Royal Caribbean ships dock right at Labadee, making for an easy on-off experience. You will need to bring your SeaPass card with you when you get off the ship at a minimum, but we recommend bringing a small day bag with you to keep valuables and belongings together.
Most times Royal Caribbean provides a towel station on the dock for guests as they exit the ship, but you can alternatively pick up towels to use on the pool deck.  Once off the ship, you will walk down the dock towards land and pass through the Labadee entrance area, which is your gateway to what Labadee offers.  Recently, Royal Caribbean has been offering a water taxi that picks guests up at the dock and takes them directly to Columbus Cove beach, which is the furthest beach to walk to.
Exploring Labadee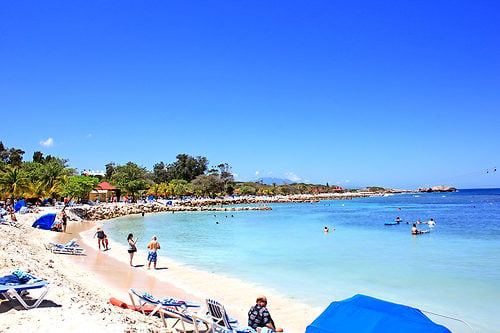 Royal Caribbean provides tram service to get around Labadee, but it is optional and we find walking to be quite manageable.  The tram is nice to hop on if it is convenient, but by no means necessary. Plus, Labadee has a lot of natural beauty to behold and walking around will give you a good sense of the layout of the beaches as well as an appreciation for the natural wonders.
It is not a bad idea to walk through Labadee and make your way to Columbus Cove and take the shuttle back at some point during your stay at Labadee, even if you are not interested in going to Columbus Cove. This is because you will be able to check out the striking natural beauty and great beaches and the walk really is not that bad, and can actually be faster than the trams.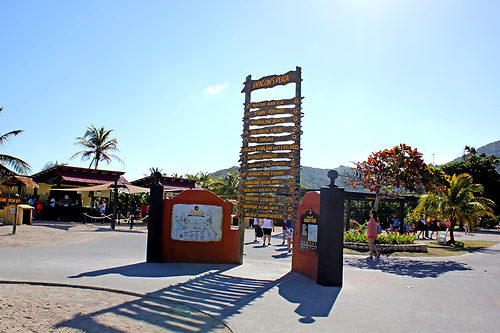 Labadee itself has an interesting past.  It was named after the marquis de La Badie, a Frenchman who first settled the area in the 17th century. The peninsula was named Labadie, although Royal Caribbean spells it "Labadee" to make it easier for English-speakers to pronounce.
Beaches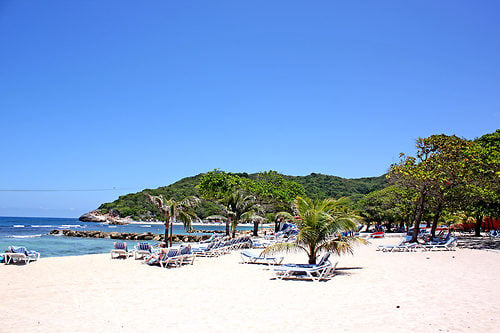 Labadee is made up of five main beaches.  Most guests arriving at Labadee tend to go to Adrenaline Beach, because it is located closest to the dock and when walking off the dock, it is the first beach guests see.  This beach is on the north side of Labadee and extends all the way down the north coast.  This combination of proximity to the ship and things to do is the kind of mix that leads to it becoming crowded first and ends up being the most popular.
If you do not plan on going to Adrenaline Beach all day, try to arrive either early or late.  We noticed it is the least busy and the most pristine first thing in the morning, so if you plan on doing any activity, early in the morning is the best time for that.  If you just want to enjoy the beach, the last couple of hours on Labadee is the best time to go.  Guests tend not to want to be stranded on the island, and overcompensate for the fear that this will happen by leaving the beach about 1-2 hours before the ship leaves. 
Barefoot Beach is a beach reserved for suite and cabana guests exclusively and located on the south side of the island.  It is a relatively smaller beach, compared to Adrenaline Beach and is more of a cove in shape.  By far, Barefoot Beach is the smallest beach of all the choices and access is controlled by checking a guest's SeaPass card. Because of its exclusivity, crowds on Barefoot Beach are not as much a problem.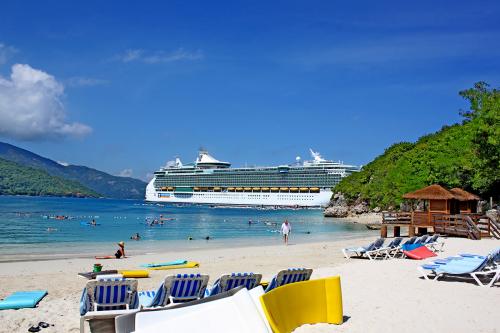 Adjacent to Barefoot Beach is Nellie's Beach, which looks very similar to Barefoot Beach but is open to all guests.  About a 10 minute walk from the dock, Nellie's Beach features another cove-type beach, with rocks on both sides that enclose the area. Many guests looking for an alternative to Adrenaline Beach end up at Nellie's Beach because it is still close to the dock area and quite pleasant looking.
Columbus Cove is the furthest beach from the dock area, but offers a lot of space and the least crowds.  Columbus Cove features the Arawak Aqua Park along with Dragon's Splash Waterslide.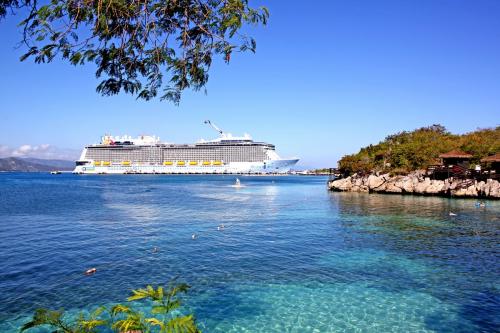 Columbus Cove runs along the the southern part of the peninsula. The beach water is sheltered and there is a white sandy beach with trees that go down to the water's edge. This area has its own bar and dining facility.
Which beach you pick can depend on a lot of factors, especially what time you arrive at the beach.  Crowds will build as the day progresses and most guests tend to fill spots closest to the dock first, extending out towards Adrenaline Beach and Columbus Cove. 
Regardless of which beach you end up going to, you should bring some cash with you for tips.  Chairs are complimentary, but there are locals on Labadee who will help you set them up and it is customary to provide a tip for the assistance.
Dining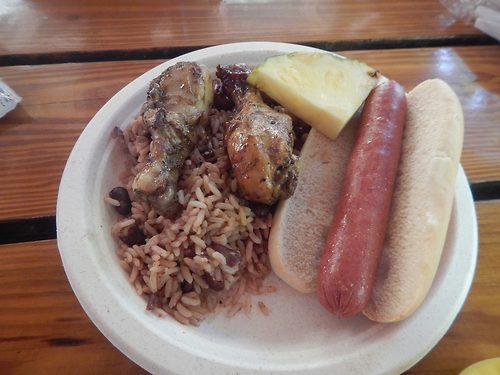 There are three lunch locations on Labadee, where guests can enjoy a BBQ-style lunch and it is included in the cost of the cruise.  Dragon's Rock Cafe is located very close to the dock area, Cafe Labadee is at the end of Adrenaline Beach and Columbus Cove Cafe is right in the middle of the beach area to serve guests on that side of Labadee.
Each of these locations serves almost exactly the same items, namely BBQ, including chicken, hamburgers, hot dogs, salads, fresh fruit, corn on the cob and more. The offerings are virtually identical in terms of food selection, so it is just a matter of which location is more convenient for you to go to.
Another option is to go back aboard your cruise ship, and have lunch onboard in the Windjammer or other location.  Some people prefer this for greater variety and a chance to regroup, but keep in mind that your time in Labadee is rather limited. The food on Labadee may not win any culinary awards, but there should be something for everyone, which fits in well on a beach day.
There are also at least 8 bars on Labadee, with roaming waiters that will also take your order.  Each bar location has a set of drinks available for purchase. Guests that have a Royal Caribbean drink package will be happy to know their package benefits work on Labadee, just like on the ship.
Without a doubt, the signature drink of Labadee is the Labadoozie, which is a citrus-based frozen drink best known for being served in sports bottles.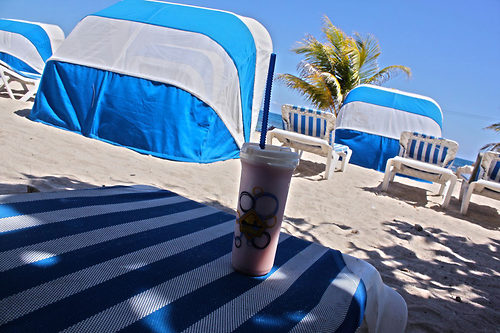 After a little bit of time on Labadee, you will grow accustomed to the waiters walking around with a tray full of Labadoozies offering to sell you one.  They are as tasty as they are a spectacle to see.  You can have them with or without rum, but for the adults that opt to have rum, their beach day is sure to improve immediately.
Keep in mind Labadoozies are included in the drink package, but the souvenir sports bottle is not.  If you have a drink package and want a Labadoozie, go to the bar and ask for one in a regular cup.
Things to do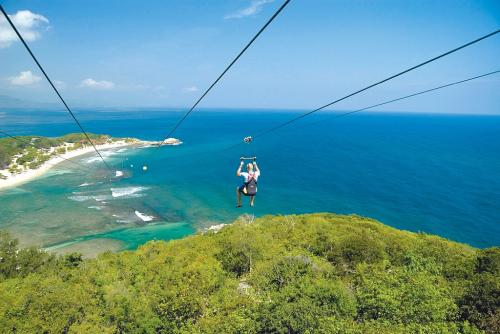 Royal Caribbean has been steadily adding more and more activities to Labadee over the years.  At its heart, Labadee is a beach day and you can go to any beach, have a seat and enjoy a day in the water with no additional cost. 
Guests looking for something more substantive to do will find quite an array of activities in Labadee.
Chief among the things to do in Labadee is the Dragon's Breath zip line, which is a 2,600 foot zip line over the ocean that takes guests across the span of Labadee. It is a bit pricey ($95 per guest), but it offers amazing views and one of the longest zip lines in the world.
On the same mountain as the zip line is the Dragon's Tail Roller Coaster, which is located 680 feet above sea level.  This is an alpine coaster that uses gravity to bring you down the mountain and combines thrills with fantastic views.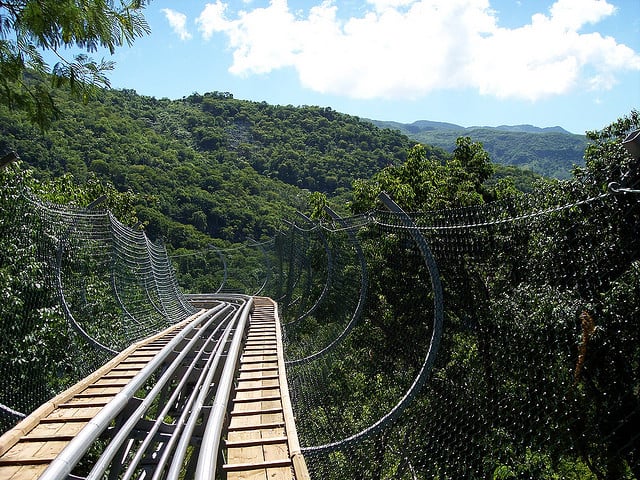 Essentially it's a single car vehicle that races down a track at 30 miles per hour and features 360-degree turns as well as dips, waves and curves, you can catch glimpses of the ocean.
Minimum age to be a single rider is 12 years old. Children between the ages of 5 and 11 may ride in the same cart with their parent/guardian. Maximum occupancy per cart is 2 persons with a maximum combined weight of 360 pounds. Total ride time is approximately 3-5 minutes.
There are also some simpler beach activities that can be reserved, such as snorkeling or renting a floating mat.  These cost just a few dollars per guest and allow you to enjoy the activities on your own.  The snorkeling at Labadee is not spectacular, but the ocean is clear and fairly calm.  It is a good place to practice snorkeling or test out new equipment.
Kids (and those young at heart) will gravitate towards Arawak Aqua Park, which is an aqua park in Columbus Cove.  There, you will find floating trampolines, pyramids and water slides.  You can jump, climb, fall, and climb again to your heart's content. Admission to Arawak is limited by times, which helps keep crowding issues down. We've generally found the cost here to be fairly inexpensive and a great way for kids to burn off extra energy.
While the Arawak Aqua Park has an additional cost, there is a complimentary splash pad area in the near center of Labadee, known as Luc's Splash Bash.  Kids will find lots of water fountains, buckets and sprinklers to enjoy and can be great for young children who are not comfortable in the ocean yet.
There is also the Dragon's Splash Waterslide located nearby to the Aqua park and features a 300-foot slide that drops you into a 18-foot splash zone.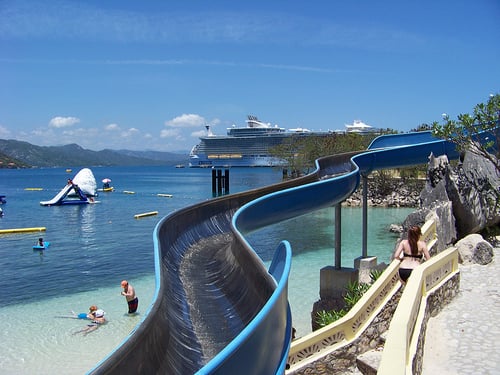 Photo by TravnKC
For those that want a beach day but would like to enhance that experience, there are a few options available.  Beach loungers provide shade and a little bit of personalized service for a modest fee.  We really like the protection from the sun these provide and think it is a good choice for families. There is a private beach lounger area on Adrenaline Beach, which can be reserved in advance.
Guests can also opt to rent beach beds at the end of Adrenaline Beach.  The idea is to have a comfortable place to relax, while still being right on the beach.  From your beach bed, you can relax in comfort as the ocean breeze passes by you, with a great view of Dragon's Beach.
For those that want the ultimate beach experience on Labadee, it is hard to overlook the cabanas. The Labadee cabanas come in two forms: beach and over-the-water and are available to rent at Nellie's Beach and Barefoot Beach.  The cabanas at Barefoot Beach are reserved and offered to suite guests first, but the Nellie's Beach cabanas are usually available to all guests. Cabanas can accommodate up to six guests comfortably and provide privacy as well as a lot of nice perks, including complimentary floats, snorkel equipment, beverages and waiter service.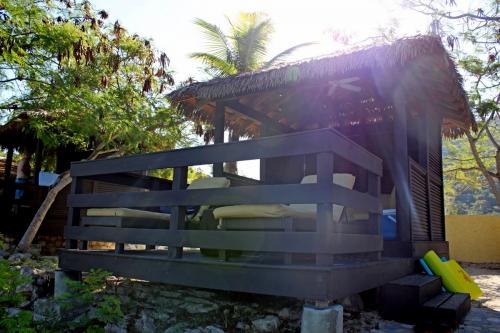 That rounds out some of the more notable things to do on Labadee, but there is much more available.  Fishing, parasailing, jet skiing, kayaks and boat tours are just some of the activities available while visiting Labadee.
All excursions and activities on Labadee are booked directly through Royal Caribbean and your best bet is to reserve it prior to your cruise via the Cruise Planner. You can wait to book onboard your ship, but there is a risk of some options selling out (such as the Cabanas).
Shopping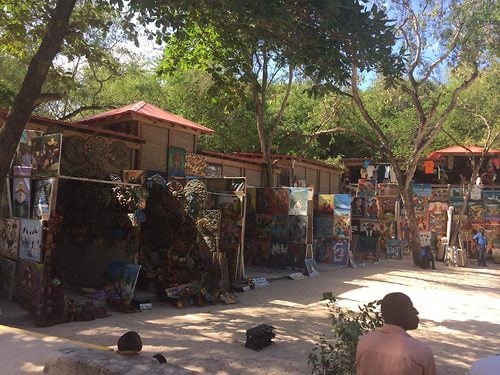 While visiting Labadee, you might be inclined to bring a little bit of it home to remember it by.  Royal Caribbean provides two major spots to do some shopping in Labadee: the Artisan Market and the Artisan Village.  The Maket is more of a store, with pre-set prices and offering hand-made goods.  The Village is more of an open air market, where guests are expected to haggle with the vendors.  
You will find wood carvings, necklaces, paintings, shirts and other souvenirs in there. Be sure to bring cash for either location, because your SeaPass card does not work for these purchases.
It is worth noting we have heard from many guests who were turned off by the shopping experience in the Artisan Village. Specifically, the vendors tend to be pushy and not everyone is comfortable with that.  Still, if you want an authentic souvenir from Haiti, this is your only option and the Market is less intense, compared to the Village.
You will also find a couple of Royal Caribbean shops on Labadee, where you can buy t-shirts, beach wear and other knick knacks.
What to pack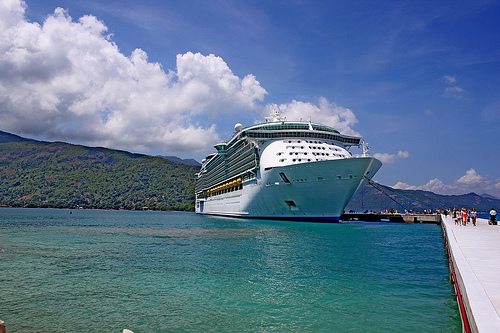 There are a few things you will want to bring to Labadee that you not otherwise consider. First, quality water shoes. You will want these because the paved walkways and even that white sand can get hot, plus in the water there are plenty of rocks that could be stepped on. Second, bring a camera (a waterproof camera would be ideal) because there is a lot to see and do on Labadee and you will want to remember it all.  With decent underwater cameras costing less than $100, it is worth it to have one so that you can take photos in and out of the water.  Plus, you will likely be able to use it on other port stops during your cruise.
You might also want to consider bringing your own set of snorkels or water toys.  Both can be rented from Royal Caribbean, although guests cannot go to Labadee and rent snorkeling gear on the island directly.  Rather, guests can get snorkeling gear via any of the snorkeling excursions. On many Royal Caribbean ships, there will be snorkeling gear to purchase onboard the ship. Water toys, such as beach mats, are available for rent but will cost more than if you bought an inflatable one to bring with you.  Granted, in the case of snorkel gear and water toys, you must be willing and able to pack and bring them because they will take up space in your suitcase and then you have to haul them back and forth from the ship.  Not everyone is willing to do that.  Even if you do need them on Labadee, you might be better renting or buying.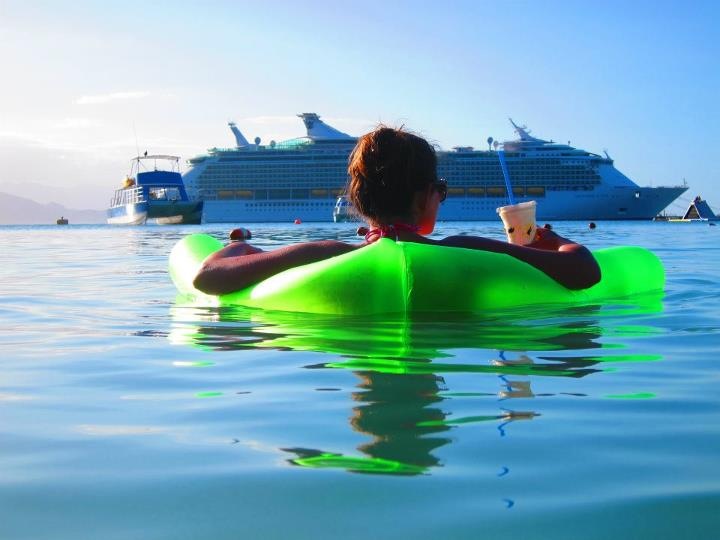 Other items are more common-sense based: sunscreen, hats, and other beach-ware. You don't need to bring the whole kitchen sink of stuff off your cruise ship and onto Labadee. If you forget something in your stateroom, you can always go back and get it!
Your thoughts
Do you have any tips to add for enjoying Royal Caribbean's Labadee? Any favorite excursions or things you think are a good value? Drink recommendations? Any other secrets to share or questions? Hearing from you is half the fun, so please leave a comment below!