In:
Ever since Hurricane Matthew passed through the Caribbean, many Royal Caribbean fans have been concerned about what damage the storm had on the cruise line's private destinations.  Royal Caribbean CEO Michael Bayley shared an update with guests aboard Allure of the Seas.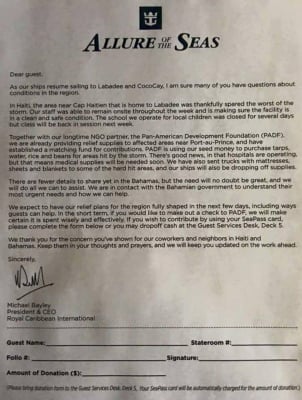 Thanks to Kathy Van Wormer Sanders for sharing this letter
Here is the excerpt from the letter regarding Labadee, "In Haiti, the area near Cap Haitien that is home to Labadee was thankfully spared the worst of the storm.  Our staff was able to remain onsite throughout the week and is making sure the facility is in a clean and safe condition.  The school we operate for local children was closed for several days but class will be back in session next week."
In regards to CocoCay, there were fewer details that Bayley shared, "There are fewer details to share yet in the Bahamas, but he need will no doubt be great, and we will do all we can to assist.  We are in contact with the Bahamian government to understand their most urgent needs and how we can help."
Royal Caribbean is also providing aid and supplies to the people of Haiti, as outlined by Bayley in the letter, "Together with our longtime NGO partner, the Pan-American Development Foundation (PADF), we are already providing relief supplies to affected areas near Port-au-Prince, and have established a matching fund for contributions.  PADF is using our seed money to purchase tarps, water, rice and beans for areas hit by the storm.  There's good news, in that hospitals are operating, but that means medical supplied will be needed soon.  We have also sent trucks with mattresses, sheets and blankets to some hard hit areas, and our ships will also be dropping off supplies."
Royal Caribbean is actively working on providing ways for its guests to donate to help support these efforts, "We expect to have our relief plans for the region fully shaped in the next few days, including ways guests can help."
If you would like to donate towards the rebuilding efforts, consider a donation to the Help Haiti Now effort by PADF.