In:
Hurricane Matthew may have dissipated weeks ago, but its impact is still being felt today, with an announcement by Royal Caribbean that Adventure of the Seas refurbishment plan has been modified.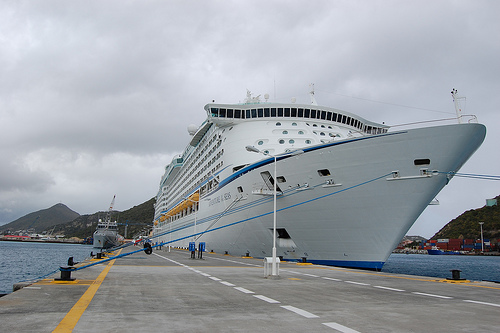 Royal Caribbean sent an email to travel partners, indicating that "extensive damage" at the Freeport, Bahamas shipyard, as well as the global rerouting of cargo ships carrying equipment and materials, have causes a delay in getting the new changes implemented on the ship. Several cargo ships carrying essential materials were forced to bypass Freeport to circumvent the storm and, in turn, continued their predetermined route.
Adventure of the Seas will still exit dry dock on November 14, as previously planned, to embark on its scheduled itineraries.  Royal Caribbean was able to implement some of the changes as scheduled, such as updated design and décor, as well as newly renovated areas such as Boleros Latin lounge and the two-story mini golf course. However, there will be visible work going on during the next sailings.
Work will continue on the Dual Racer water slides, FlowRider and Splashaway Bay aqua park with a new opening date of December 10, 2016.
Chops Grille will now open early next year, while Izumi Japanese Cuisine is no longer part of the planned scope. Giovanni's Table, will offer select Chops Grille menu items until the steakhouse opens in early 2017.
The introduction of new staterooms is no longer possible at this time. Guests booked in these staterooms will be contacted by a representative from Royal Caribbean's Customer Service team to discuss re-accommodation options on the same sailing.  Guests confirmed in a panoramic oceanview stateroom will be offered a complimentary upgrade to balcony accommodations and $100 OBC per stateroom to spend onboard.
All guests on Adventure of the Seas sailings departing November 14 - December 3, 2016 will be offered a 25% Future Cruise Credit based on the cruise fare paid. 
The new timetable looks like this.
Available as of November 14, 2016

Two story mini-golf course
Boleros Latin Lounge

Available as of December 10, 2016

Dual Racer Water Slides
FlowRider
Splashaway Bay Aqua Park

Coming in Early 2017
Removed from renovation plans