In:
Royal Caribbean's private destination of Labadee is a beautiful beach paradise that offers guests spectacular views, warm blue waters and a relaxing day.
A somewhat new offering on Labadee has popped up, where guests can reserve beach loungers that promise a little bit of privacy, protection from the sun and some exclusive benefits.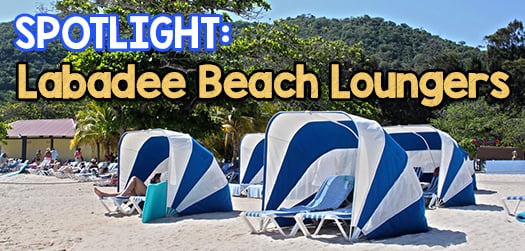 While on a recent Royal Caribbean cruise to Labadee, we tried out these beach loungers for ourselves to see what it is all about.
The official name of these clamshell shades are the Beach Lounger for Two, and they cost $35 for each beach lounger.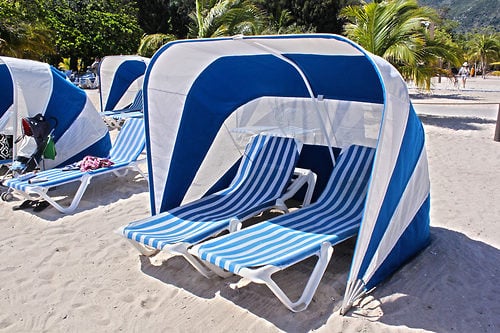 Each beach lounger can accommodate two guests and what you pay gets you a few benefits
A private beach lounger reserved for you, that provides protection from the sun and a little bit of privacy too
A beach attendant, who can order drinks for you
Access to a beach area for guests that reserve a beach lounger.
The beach loungers are set up on Adrenaline Beach, which is the beach opposite of where your Royal Caribbean ship is docked, somewhat underneath the path of the Dragon's Flight zip line.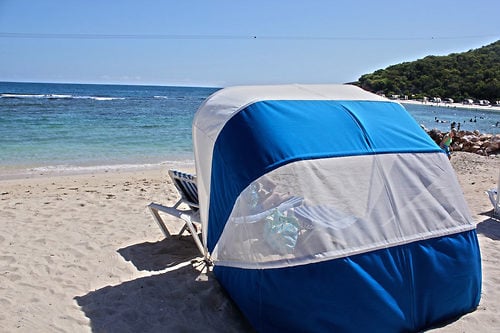 Once reserved online or onboard the ship, guests may proceed to the area at their convenience. Once there, a beach attendant will help pick out the beach lounger of your choice (based on what is available at the time of your arrival).  Beach loungers are taken on a first-come, first-served basis.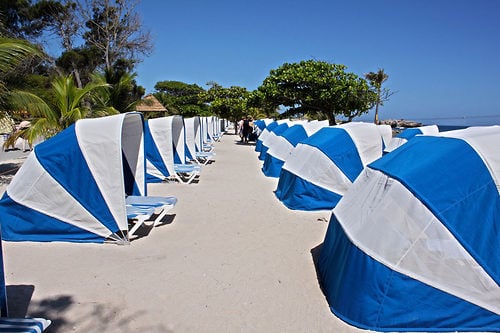 Each lounger can fit two lounge chairs, with a little space for bags and other personal belongings around and under the chairs.
While the lounger is meant to seat two guests, there is no limit of guests that can enjoy the lounger or the area. We saw families of 4 and more sharing one lounger in many cases.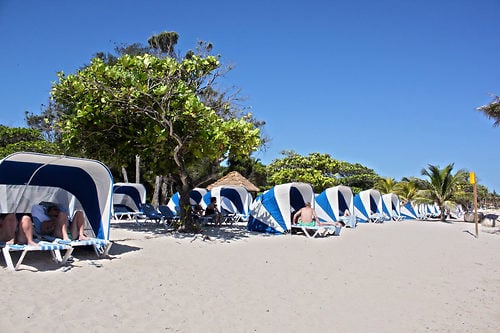 We really liked having protection from the sun and a somewhat private area to enjoy.  Cabanas and beach beds offer similar experiences, but at a much higher cost. At $35 for each lounger, it is a solid deal.
The beach attendant experience is nice as well, as it is much simpler to have a single point of contact when you need a drink.  Keep in mind that while the beach attendant services are included with the beach lounger reservation, tips are expected.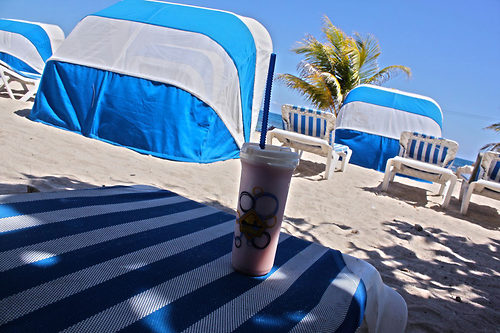 Unfortunately, the beach lounger will not provide complete shade at all times of the day. Depending on the position of the sun, it is quite likely for there to be sunlight shining onto at least part of the lounge chairs at any given time. If your goal is to get somewhere on the beach with complete shade, a cabana is still your best bet.
Overall, the price makes these beach loungers quite a competitive option that is hard to overlook.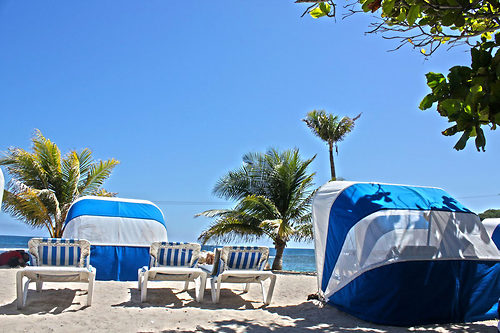 Unlike their CocoCay cousins, there are less perks available with the beach lounger, but the loungers on Labadee are also less expensive.
The Labadee beach loungers are perfect for anyone that wants to enjoy the Labadee experience without worrying about finding a spot and values a little protection from the elements while they are at it.