In:
How does dining on a cruise ship work if you are vegetarians or vegan?
If you take a look at cruise ship marketing, odds are you will see an abundance of food. Cruise ships are known for their dining options, and for good measure. The cuisine on cruise ships is diverse and extra tasty. Whether you choose to eat at complimentary venues like the Main Dining Room or at specialty dining like Chops Grille, you will never run out of things to eat.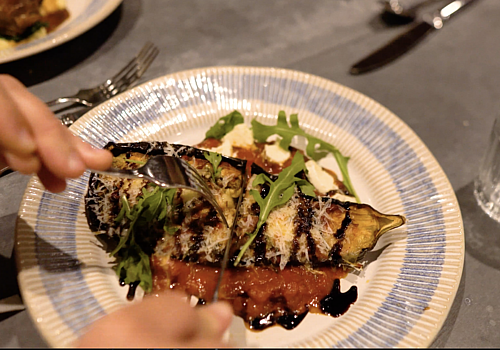 Those with dietary restrictions may be nervous about finding food they can eat on the ship. Will there be any vegan and vegetarian options? Will they have to survive on protein bars brought from home?
There's no need to worry, as Royal Caribbean aims to provide plenty of dining options for vegetarian and vegan guests. With so many restaurants and dining options, though, it can be a bit confusing to keep them all straight. This list will help you pick the dining venues that are the most vegetarian and vegan-friendly.
Vegetarian and vegan options at complimentary dining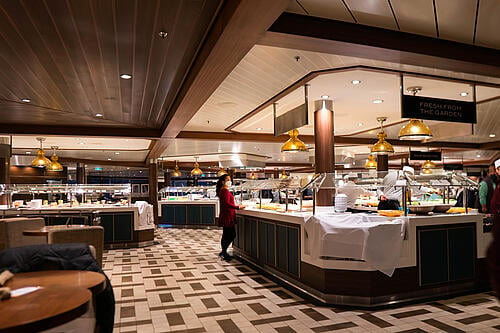 The Buffet
The Windjammer Marketplace is Royal Caribbean's signature buffet onboard. The buffet has an abundance of cuisines available for breakfast, lunch, and dinner.
There are plenty of vegetarian and vegan options at the Windjammer for every meal. Whether pasta with marinara, a salad, fresh fruit, oatmeal, soup, or avocado toast, you'll certainly be able to find something to eat. Plant-based milks are also available on request for cereal and coffee.
One of the best options at the Windjammer are the live cooking stations, where you choose what you would like and a crew member will cook right in front of you. My favorite has been the stir fry station, where you can choose a variety of vegetables and a spice level to be cooked with either rice or noodles.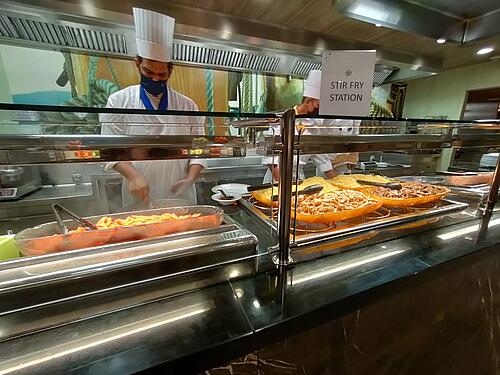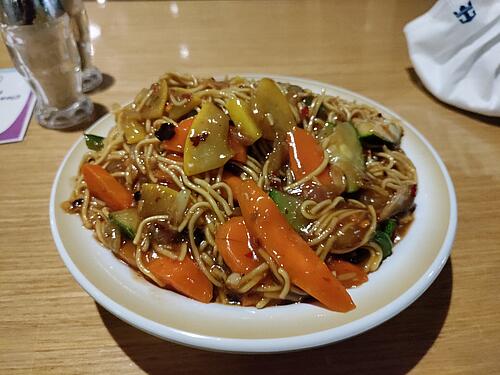 Another popular vegetarian option at the Windjammer is the Indian food. More often than not there is a vegetarian curry option available at every meal, such as chana masala, paneer masala, or dal. Served with rice and pita, this is a go-to protein-rich option for vegetarians.
The only problem with the Windjammer is that vegan and vegetarian options are rarely labeled. In my experience, I end up asking the crew member if something has meat or not. As a flexible pescatarian this works fine for me, but for stricter vegetarians or vegans this is not totally ideal, as the crew member may not be aware of every ingredient in the dish.
On my most recent sailing on Royal Caribbean's Odyssey of the Seas, though, there was an entire vegetarian and vegan section, which included Thai curries, quinoa salads, sautéed vegetables, and even vegan desserts. However, I have not seen this on other ships.
Main Dining Room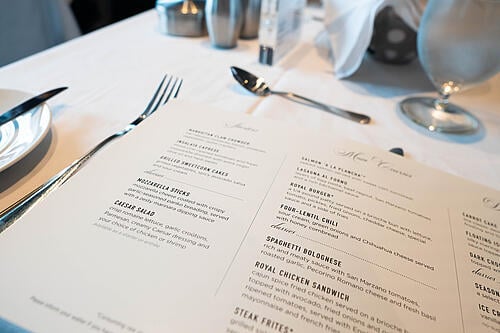 The Main Dining Room is one of the best places onboard for vegetarians and vegans to dine with ease. Royal Caribbean has implemented a special vegan menu each night in the Main Dining Room. This makes it extremely easy for vegans to find a dish that works for them. There are usually two appetizers, one soup, two entrees, and one dessert to choose from on the vegan menu.
The best place to see the day's vegan menu offerings is on the Royal Caribbean app, as they usually will not be listed on the paper menu. Here were the vegan menu options during a recent 7-night cruise on Harmony of the Seas:
Day 1:
Appetizer: Spring Onion "Falafel"
Soup: Butternut Squash
Entrees: Edamame-stuffed Portobello Eggplant & Pan-roasted Green Asparagus 
Dessert: Tahini Banana Soft Serve
Day 2:
Appetizers: Corn Fritters & Romesco Oat Spread
Soup: Caramelized Parsnip & Coconut Soup
Entrees: Penne Pasta & Grilled Eggplant
Dessert: No-bake Lemon Tart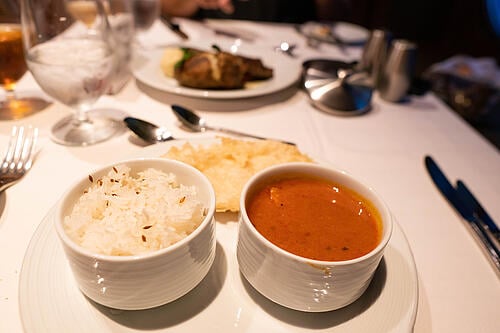 Day 3:
Appetizers: Zucchini Fritters & Avocado and Melon Salad
Soup: Cherry Tomato Gazpacho
Entrees: Vegan Risotto & Crunchy Tofu Tacos
Dessert: Chocolate Chip Cookie
Day 4:
Appetizers: Raw Vegetable Salad & Rice Paper Rolls
Soup: Tomato Soup
Entrees: Vegetable Pakoras & Orzo Pasta Stew
Dessert: Wild Berry Bar
Day 5:
Appetizers: Green Bean Croquette & Vegetable Tempura
Soup: Creamed Broccoli Soup
Entrees: Butternut Squash Curry & Vegan Eggplant Burger
Dessert: Vegan Crème Brulée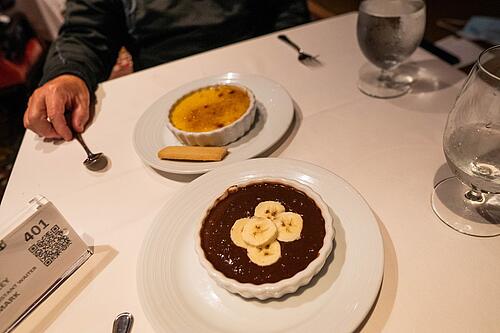 Day 6:
Appetizers: Grilled Avocado & Polenta Fries
Soup: Potato Soup
Entrees: Vegan Carbonara & Fried Rice
Dessert: Peanut Butter Caramel Rice Crisps
Day 7:
Appetizers: Ciabatta Salad & Grilled Peach and Panzanella Salad
Soup: Tortilla Soup
Entrees: No-egg Omelet & Vegan Spaghetti "Bolognese"
Dessert: Toffee "Cheesecake"
While there is no separate vegan menu available for breakfast and lunch in the Main Dining Room, requests can be made to cater to your dietary needs. Vegetarian options are available on the menu for both breakfast and lunch. Vegetarian Indian food is also often available on request.
Park Cafe & Cafe at Two70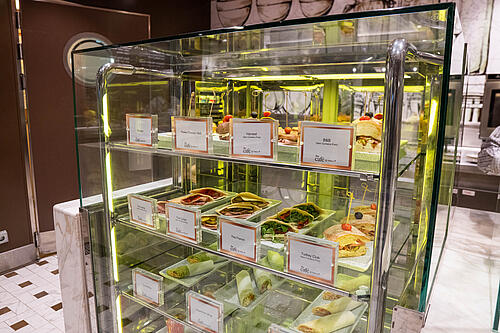 Park Cafe (Oasis-class ships) and Cafe at Two70 (Quantum-class ships) are two complimentary dining locations open for breakfast and lunch. They have similar food options and concepts.
One of the tastiest options available at these two venues is the Create Your Own Salad station. With several options of lettuce, vegetables, legumes, starches, and dressings, you can create a salad any way you like.
My go-to salad at Park Cafe is a bed of romaine and spring mix topped with bell peppers, kidney beans, Israeli couscous, corn, carrots, croutons, and balsamic vinaigrette.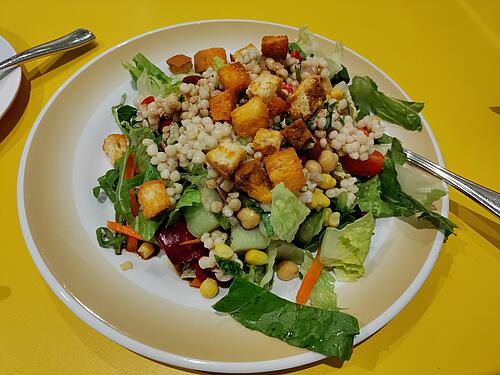 Soups and sandwiches are also available and, in my experience, there has usually been a vegetarian soup and sandwich option each day for lunch. The soup is not labeled vegan, so you would have to ask a crew member whether it is vegan or not.
For breakfast at these two venues you can choose from oatmeal, a bagel station, breakfast sandwiches, wraps, and pastries.
Solarium Bistro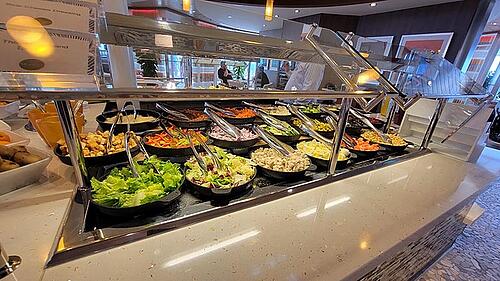 Photo by an average Vegetarian, Billy of CruiseHabit.com
Available on Quantum and Oasis-class ships, Solarium Bistro is a complimentary venue offering dishes with a Mediterranean flare. Solarium Bistro is open for breakfast with a similar selection of food you can find elsewhere on the ship, but the main meal is at dinnertime.
Vegetarians and vegans will enjoy the wide array of appetizers available at Solarium Bistro for dinner. From greek salad to hummus, baba ganoush, falafel, pita, moussaka, grilled vegetables, arugula salad, and barley salad, there is no shortage of flavorful Mediterranean cuisine at Solarium Bistro.
Appetizers are served buffet-style, so guests are able to try as much as they desire. Desserts are also available and include baklava, torta de mele, and chocolate nocciola.
Sorrento's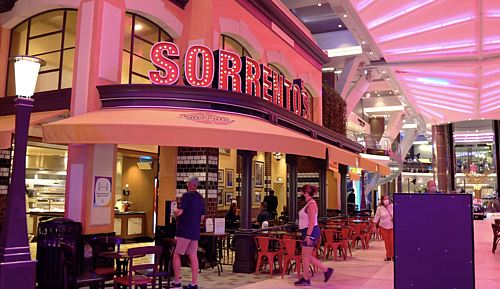 Sorrento's Pizza is a surprisingly easy place to eat vegetarian or vegan. Not only does Sorrento's offer a variety of cold plates, such as grilled vegetables and olives, but you can actually order a custom pizza all for yourself with or without cheese and topped with vegetables. To order a custom pizza, simply talk to a crew member at Sorrento's and they will begin making the pizza for you.
El Loco Fresh
El Loco Fresh is a complimentary and casual Mexican venue located on the pool deck of select Royal Caribbean ships. At El Loco Fresh you can build your own tacos with rice, beans, and a salsa/topping station. There are also cheese quesadillas and a nacho station available.
Other complimentary venues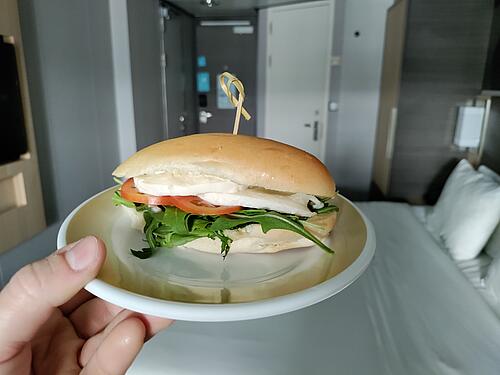 Outside of the venues mentioned above, you can find more places to dine as a vegetarian or vegan on a Royal Caribbean ship. Venues like Cafe Promenade, Vitality Cafe, and Mini Bites offer small sandwiches, fruit and vegetable cups, and other snacks throughout the day. 
Best specialty dining for vegetarians and vegans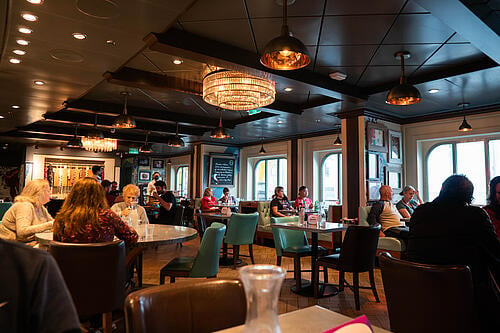 While the complimentary dining options available on Royal Caribbean are plentiful, specialty dining can be a nice way to enhance your cruise experience. Not all specialty dining restaurants offer the same amount of vegetarian/vegan options, though, but there are a few I feel are the best for those with dietary restrictions.
Izumi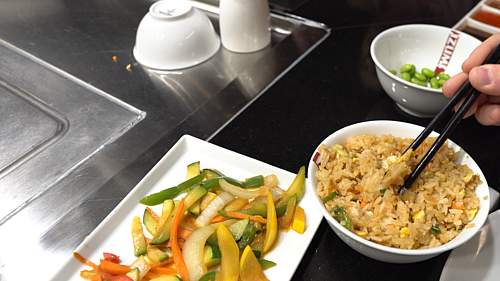 Izumi Sushi & Hibachi is a nice option for vegetarians and vegans due to how customizable the menu is. A vegetable roll is offered on the sushi menu, and if you talk to the sushi chef they will likely be able to customize another vegan or vegetarian roll for you.
Traditionally, the hibachi option includes egg and butter in the fried rice. The hibachi chef will ask guests if they have any dietary restrictions prior to cooking, so be sure to let the chef know what you can and cannot eat.
I've found that the vegetarian hibachi option has varied greatly by ship. On some ships, I was given just the fried rice and sauteed vegetables. On other ships, the chef cooked a tofu udon noodle dish in addition to the fried rice and vegetables.
Vegetarian appetizers include edamame beans and a ginger salad, and for dessert you can choose between mochi ice cream and crispy red bean sesame balls. The options are not labeled for dietary restrictions, so be sure to check whether the ginger salad dressing and sesame balls are vegan. The mochi ice cream contains dairy.
Jamie's Italian and Giovanni's Table/Kitchen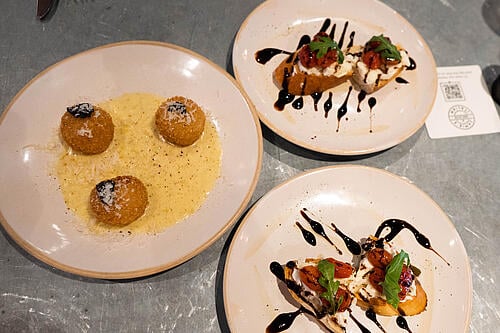 Royal Caribbean's Italian specialty restaurants are one of the best specialty dining choices for vegetarians. Pasta and pizza are easy dishes to make vegetarian or vegan and Royal Caribbean's Italian restaurants offer several options for those with dietary restrictions.
My favorite vegetarian Italian meal is the eggplant parmesan with penne pomodoro at Jamie's Italian. The eggplant is not breaded, so there is no need for vegans to worry about the eggplant including eggs. The dish comes topped with cheese, but this could be removed for vegans.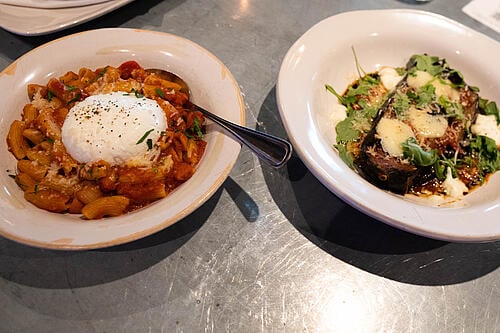 In addition to pasta with marinara sauce, Giovanni's Italian Kitchen has an elaborate pizza menu which can be customized to fit dietary needs for both vegetarians and vegans.
Some pasta may be made with egg and sauce with cheese, so it's a good idea to inquire about whether or not the pasta and marinara sauce at the Italian specialty restaurants are vegan. 
Playmakers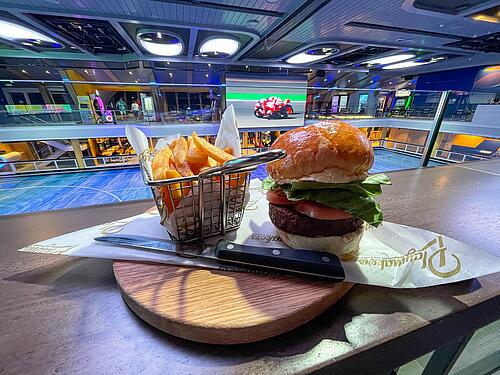 Royal Caribbean's premiere sports bar is another great venue for vegetarians, and it has several dishes that can be customized for vegans as well.
Vegetarians can start their meal by snacking on Pile On Nachos, Playmakers Fries, Jalapeño Poppers, and the extra tall Crispy Onion Ring Tower. Vegans can request the fries without cheese and garlic sauce.
Both vegans and vegetarians can enjoy the Playmakers Impossible Burger. The plant-based burger is topped with lettuce, tomato, onion rings, and cajun mayonnaise on a brioche bun. While the burger patty is plant-based, vegans should order the burger without mayonnaise and check with the staff whether the bun and onion rings are vegan.
Johnny Rockets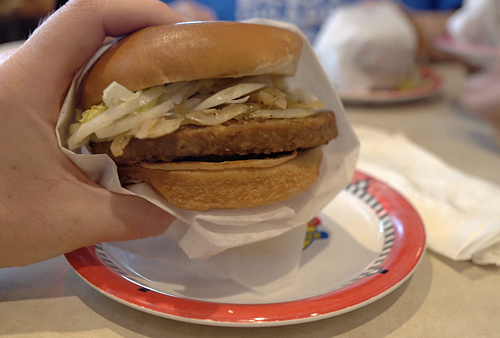 Vegetarians and vegans will have no trouble dining at Johnny Rockets onboard as the menu features a vegan burger. The Streamliner burger is topped with caramelized onions, lettuce, tomato, pickles, and mustard on a wheat bun.
Apparently the buns at Johnny Rockets are not vegan, so either double check with the waiter or order the burger without the bun if you are concerned.
The menu also features grilled cheese as well as fries and onion rings.
150 Central Park
Located within Central Park on Oasis-class ships, 150 Central Park is an elegant dining venue that sources local ingredients for its dishes. The venue features several vegetarian appetizers, such as Caesar salad and roasted organic beet salad. It also has a vegetarian entree of cauliflower "steak".
Vegans can eat at 150 Central Park by making substitutions to the selections, such as asking for no cheese and no yogurt.
Specialty dining with less options for vegetarians and vegans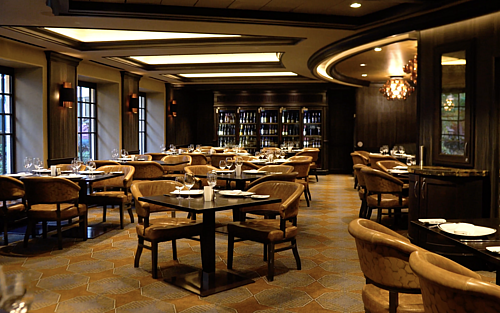 Some specialty restaurants onboard do not offer as many options for vegetarians and vegans on their menus, although dietary accommodations can likely be made upon request.
Restaurants such as Portside BBQ, Chops Grille, Sabor, Samba Grill, and Wonderland do not have any entrees that are vegetarian or vegan, although there are vegetarian/vegan side dishes available.
The best bet for dining at a specialty restaurant without any specific vegan/vegetarian main courses is to call or walk into the restaurant and ask if they are able to accommodate your dietary needs. The chef may be able to make something vegetarian or vegan for you to enjoy.
Perfect Day at CocoCay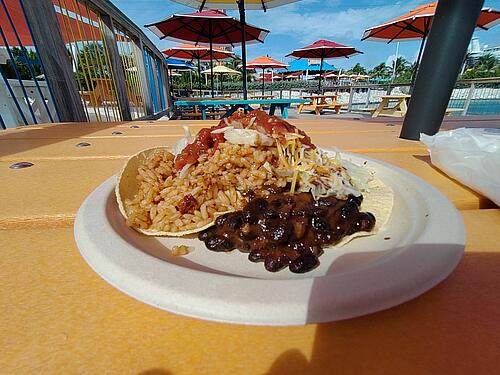 Perfect Day at CocoCay is one of the most frequented cruise ship ports in the Caribbean, and as it is a private destination, food and drinks are complimentary on the island (with the exception of the Coco Beach Club).
Chill Grill and Skipper's Grill are the two best dining options for vegetarians and vegans at CocoCay. Both venues serve the same food in a buffet-style, and include a taco bar with rice, beans, and a salsa station, salads, a portobello and mozzarella sandwich, fresh fruit, dessert, and smaller side dishes like corn on the cob and french fries.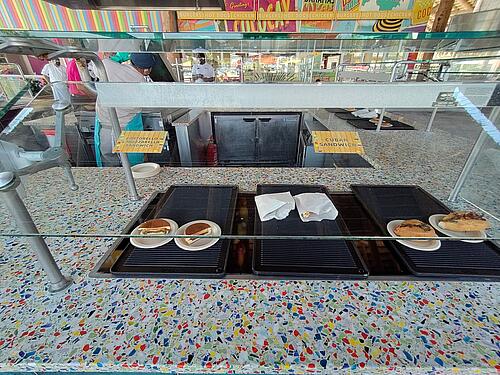 Snack Shack is another popular dining spot at CocoCay, but it's menu is more limited for vegetarians and vegans, with salads, mozzarella sticks, and french fries available.
If you're spending the day in the Coco Beach Club, you'll have the opportunity to dine at the Coco Beach Club restaurant. This venue has more upscale offerings compared to the complimentary venues on the island.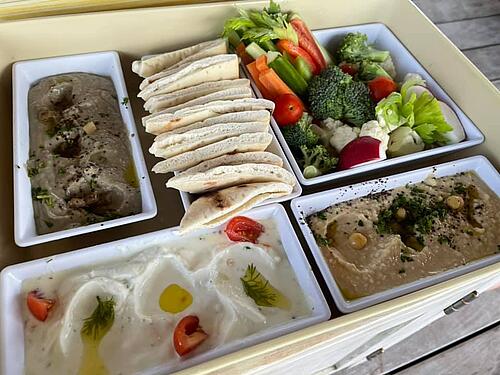 The only entree available for vegetarians at the Coco Beach Club is a caesar salad, but Royal Caribbean states that "You'll find gluten free and vegetarian options available at the Coco Beach Club as well as options to suit most dietary needs," so it's possible you are able to request a separate dish.
The appetizer spread will definitely be a favorite for vegetarians and vegans, though, as it features freshly made hummus, baba ganoush, vegetables, and pita. Desserts include exotic fruit salad, tropical fruit sorbet, and Bahamian rum soaked cake.