In:
The end of a cruise vacation can stir up many emotions, but most (if not all) passengers feel a hint of post-cruise depression set in on disembarkation day. Thoughts of returning to work, cleaning your house, and cooking your own meals can make even the toughest passengers dread returning home.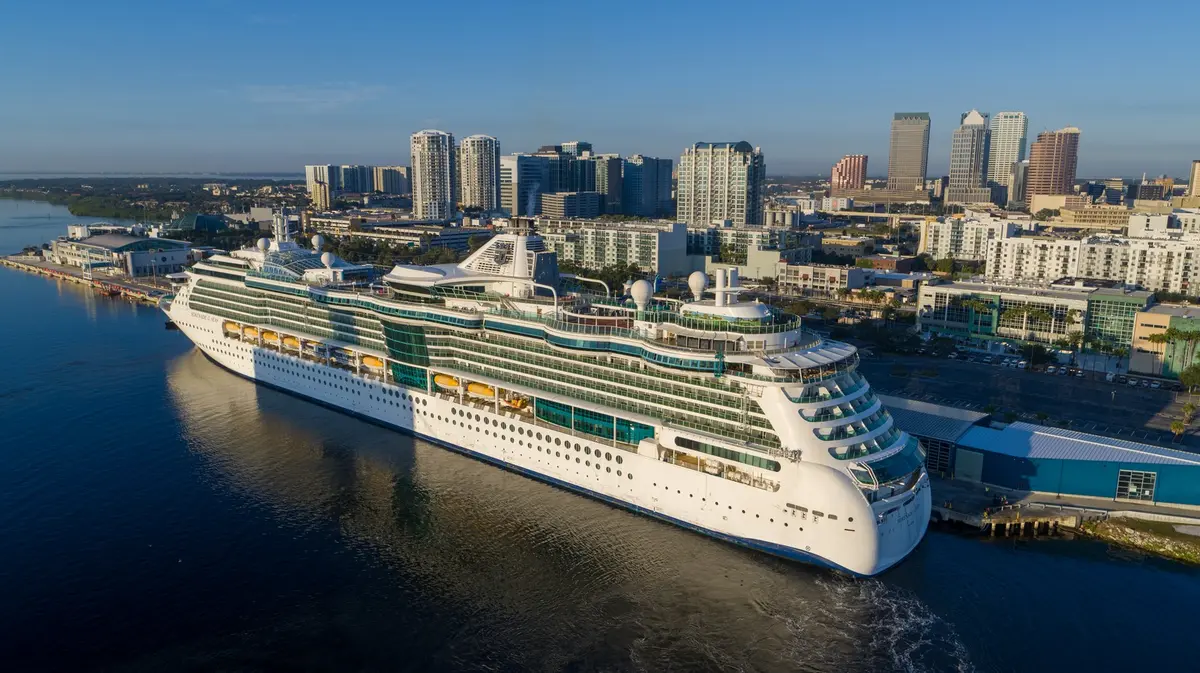 Nonetheless, you have to return home eventually after your time onboard, and we recommend that you get off your ship as early as possible on disembarkation day. For most cruise itineraries, this means disembarking around 7AM instead of, say, 8 or 9AM.
While shortening your time on a Royal Caribbean cruise may sound unappealing, the truth is that by disembarking just an hour or two earlier than other passengers, you can reap a wide range of benefits.
From shorter wait times in the cruise terminal to avoiding chaos at the parking garage, here are 8 reasons to get off your ship as early as possible.
How can I get off the ship as early as possible?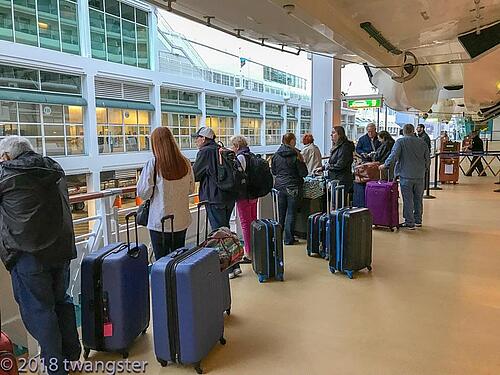 Before explaining the top reasons why you should disembark your cruise early, you should have a basic understanding of how Royal Caribbean's disembarkation process works.
You have two options for disembarkation: self-disembarkation or using luggage tags.
Self-disembarkation is when you carry your luggage off the cruise ship with you. By transporting your own luggage off the ship, you have the freedom to leave whenever you want. This works well for cruisers who packed light or who don't mind lugging suitcases off the ship, down the gangway, and through the cruise terminal.
Self-disembarkation is also a nice option for those who want as much flexibility as possible when leaving the ship. If you booked an early flight, you may prefer to disembark your ship as soon as the gangway opens instead of waiting until your luggage tag number is called.
Related: Self-disembarkation on a Royal Caribbean cruise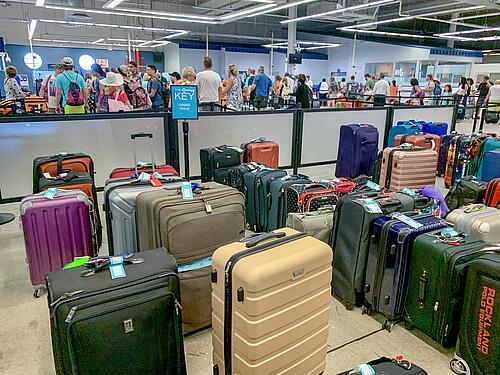 If you opt not to do self-assist disembarkation, you should adhere to the disembarkation time on your cabin's luggage tag number. Near the end of the cruise, luggage tags will be delivered to your stateroom. Each of these luggage tags has a number, and this number coincides with the time in which your luggage will be ready for you in the cruise terminal.
If you don't like the disembarkation time given on your luggage tag, you can change your luggage tag number to the time that works best for you—simply head to Guest Services and get a different luggage tag.
Now that you have a better idea of how to disembark a cruise ship, let's move into the top 8 reasons to get off your ship as early as possible on disembarkation day.
There's nothing to do onboard on disembarkation day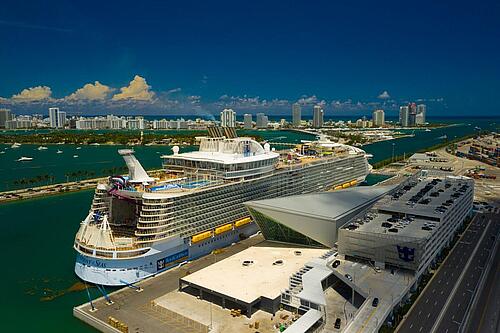 Although Royal Caribbean cruise ships are packed with activities and entertainment, you'll be hard pressed to find anything interesting to do on disembarkation day.
With such a short turnaround time between cruises, there's no time for activities like waterslides, trivia, and production shows.
Truthfully, there's a rushed atmosphere onboard on disembarkation morning. If you're suntanning on the pool deck at 9AM, you might get a few strange looks from crew members.
While there are no activities offered on disembarkation day, select breakfast venues, including the Windjammer and Main Dining Room, are open. We recommend grabbing a quick breakfast and getting off the ship as early as you can.
Avoid lines to leave the ship
While you won't usually encounter an exceptionally long line to disembark your cruise ship, it's best to avoid waiting in lines whenever possible. More often than not, the earlier you try to disembark your cruise ship, the shorter of a line you'll experience.
Related: How long does it take to get off a cruise ship?
Not only will you avoid a long line just to leave the ship, but you won't have to wait as long to have your passport and documents checked in the terminal. This is even more true if you're traveling with a birth certificate and ID instead of a passport.
Those with passports can usually go through a fast-moving line during which a facial recognition device confirms your identity. Those without passports, on the other hand, have to wait in a line to have their documents manually checked.
If you disembark at the same time as everyone else, there's a chance you'll have to wait in line longer than you'd prefer.
Get taxis and Ubers more quickly than other passengers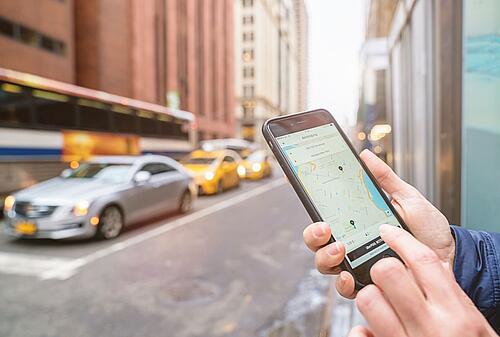 In addition to lines in the cruise terminal, disembarking your ship early means you'll spend far less time waiting in line for transportation to the airport.
With thousands of passengers leaving the cruise port at the same time, disembarkation day can be a bit hectic. Taxis and rideshares see high demand all at once, and unfortunately, many passengers end up waiting longer than they would like for a ride to the airport.
By getting off your ship as early as possible on disembarkation day, you can be among the first to call an Uber or Lyft, and it's unlikely there will be any wait at the taxi line.
Beat the traffic in the parking garage
If you drove to your cruise port, you don't want to get held up at the parking garage on disembarkation day. It's typical for long lines of cars to form as thousands of other passengers try to exit the parking garage all at once.
No one enjoys waiting around in their car when they could be on the way home. By getting off your ship as early as possible on disembarkation day, you can be one of the first out of the parking garage.
Get home earlier if you're driving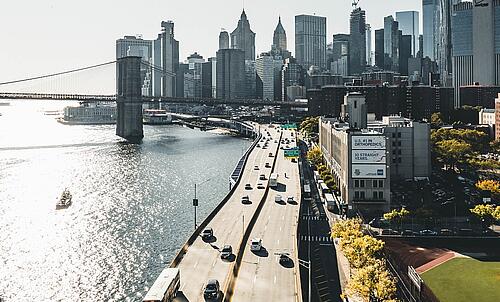 Driving to your cruise port? The earlier you disembark your cruise ship, the earlier you can hit the road.
It's always hard to relax knowing there's a long drive ahead of you. Getting home earlier means you can start to unpack and relax, even if it means you're no longer on a cruise ship.
Our recommendation is to wake up early, grab a takeaway coffee and pastry from Cafe Promenade, and hit the road before most passengers have even made it to breakfast.
More time to make a flight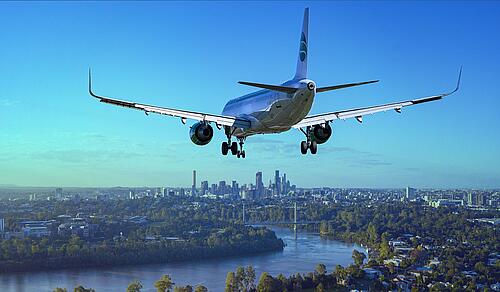 We've all seen frantic, disheveled passengers sprinting through an airport terminal to make their flight on time. Many of us, in fact, have been those exact passengers ourselves—I know I'm guilty. By disembarking your cruise ship as early as possible, you give yourself more time to make a flight.
As a rule of thumb, we recommend booking flights no earlier than noon on disembarkation day, but the exact time can vary from airport to airport. If you're flying from Fort Lauderdale, which is only 5 minutes away from the cruise port, you will (more than likely) be able to make an 11AM flight with little rush.
Making a noon flight from Venice, Italy when your cruise ends in Ravenna would be much more stressful—the cruise port is over two hours from the airport.
Related: The 20 worst cruise mistakes that will ruin your cruise vacation
As long as you don't book a flight too early, disembarking your cruise ship as early as possible will give you enough time to make your flight and account for any unexpected delays.
Account for security lines at the airport
My small, regional airport at home almost never has a line at security, but the same cannot be said about airports near popular cruise ports.
Many of the world's busiest cruise ports are also located near the world's busiest airports. Whether at the Los Angeles, Miami, or Orlando airport, you might encounter longer-than-anticipated lines at security.
If you don't have TSA Precheck or an alternative priority security screening like CLEAR, you want to make sure you arrive at the airport with plenty of time before your flight. There's nothing more stressful than rushing to the airport only to find out a long security line could cause you to miss your flight altogether!
Fly standby on an earlier flight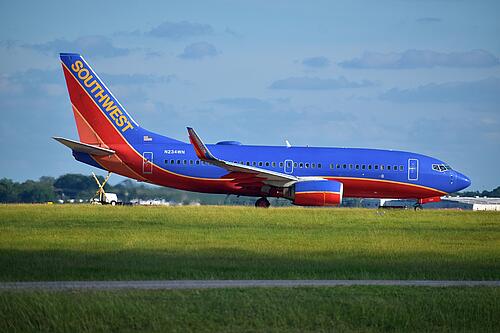 When I disembarked Symphony of the Seas earlier this year, I was off the ship by 7:45AM. My flight home, however, didn't depart Miami until 12:30PM, and I was dreading waiting around the airport for several hours.
On route to the airport, I opened my American Airlines app and realized I could fly standby on a 9AM flight to my connection in Los Angeles. I never would have booked this flight outright as it left very little time to get to the airport and go through security after disembarking.
As a standby passenger, though, I could attempt to make the earlier flight with no risk of missing my flight later in the day.
To my surprise, I was able to fly on both my flight from Miami and my connecting flight home as a standby passenger. I was home over five hours earlier than I would have been on my initial itinerary!
Had I dilly-dallied around the cruise ship for another hour before disembarking, I never would have made the standby flight at 9AM. From now on, I'll always get off the cruise ship as early as possible on disembarkation day if I can get on a standby list for an earlier flight.