In:
Royal Caribbean's Adventure Ocean is the award winning kids club the cruise line offers to families of daily activities for kids.  The Aquanauts program is designed for children between the ages of 3 to 5 five years old and on our recent Navigator of the Seas we got a first-hand look at how it all works.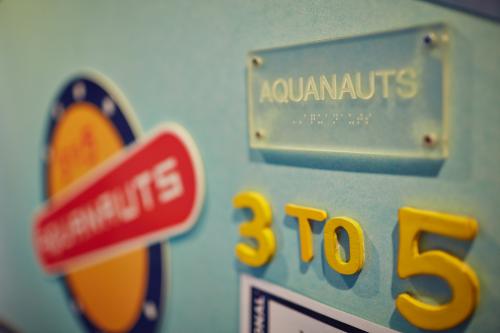 The basics
Aquanauts, and Adventure Ocean in general, is complimentary and offered to all children in the age group.  
The only requirements are the child be 100% potty trained and able to go to the restroom on their own without adult help.  In addition, children cannot wear pull ups or diapers of any kind.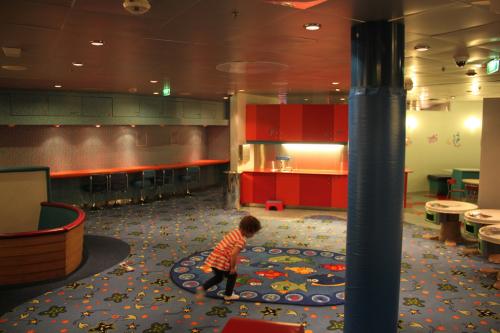 Prior to first bringing your child to Aquanauts, you will need to register him or her.  It involves sharing pertinent information about the children and signing the proper waivers.
There's only one entrance and exit to the Aquanauts room, which requires a a buzzer to be pressed to open the door that also sounds a chime.  This prevents kids from getting out without someone noticing.
Once in, the kids are introduced to the staff via funny names the Adventure Ocean staff give themselves.  Some of the staff on our cruise were nicknamed "Tinker Bell" and "Dino".  Kids are also instructed to take their shoes off, put them away and wash their hands before being allowed to participate.
You can check up on the kids at anytime by calling the Aquanauts room directly and seeing how your child is doing.  
Times
On our cruise, there were three main sessions per day on a sea day: 9am to noon, 2pm to 5pm, 7pm - 10pm. 
On port days, the schedule was simplified to two sessions per day: 9am to 5pm, 7pm - 10pm.
You could also opt in to the 10pm - 2am session for an additional fee of $7 per hour.
Activities
One of the first things you might be wondering is what exactly do the kids do.  The Aquanauts program is based around a combination of structured activities and free play.
Activities include story time, coloring, face painting, pirate night and central-theme based activities.  They did a lot and my three year old daughter would come back telling us about the funny things the Adventure Ocean staff took them through.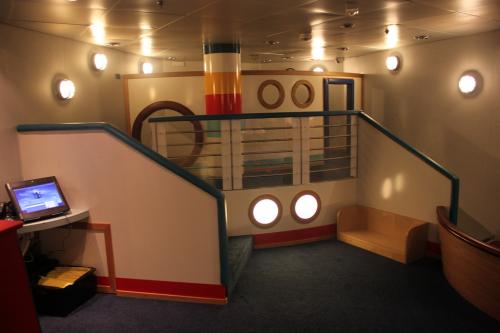 They also did a lot of arts and crafts work that would be on display in the room and then eventually brought back to your stateroom.
Of course, there's plenty of free-play time with the toys and facilities available to the kids. Play time is supervised by the Adventure Ocean staff to ensure the kids are safe.
Food
There's only two times the kids are fed and that is on port days around noon or in the Adventure Dining session from 5pm to 7pm.  
The food options depend on how many kids are in that day.  If they have a fair amount of kids, they will order pizza or chicken nuggets from the Windjammer to be delivered to the Aquanauts room.  If they only have a few kids, the staff will escort the children to the Windjammer and let the kids pick their own meal.
For dinner, you can opt into the My Family Time Dining, where if you are in first seating of the Main Dining Room, you can bring your kids to the Main Dining Room, where the kids will be served within 40 minutes and then escorted to Adventure Ocean by the staff directly from the Main Dining Room.  This is open to Adventure Ocean kids between the ages of 3-11.
Observations
The staff were quite good at making the kids feel welcome and they really seemed to enjoy their time there.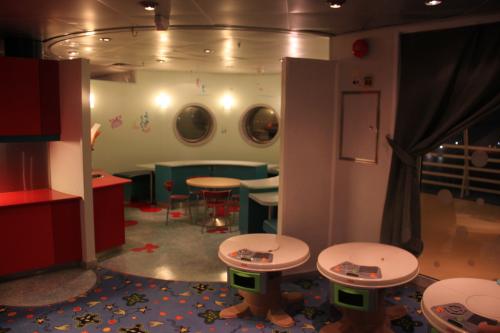 On paper, Adventure Ocean says Aquanauts parents will get a beeper when dropping the kids off in case the staff needs to get a hold of them.  In practice, we only got a beeper about half the time.  Not a big deal since we never needed it but worth noting nonetheless.
If you're wondering how well the program is run, look no further than the fact my daughter cried just about every time we picked her up because she did not want to leave.  Once she got over it, she would then begin telling us everything she did that day and would constantly ask us when she could go next.
There are no means for the children to nap at Aquanauts, but the break in sessions between noon and 2pm is when I assume most kids take their naps.  
The late night session starting at 10pm was a great bonus, even with the additional cost.  Getting a little extra time after dinner was a treat for me and my wife since we had second seating dinner on our cruise.  Well worth the extra cost.
The biggest concern for us going into this cruise was the potty situation and often people wonder how strict they are with the potty training.  Any parent will tell you it's very rare for a three year old to be 100%, completely potty trained.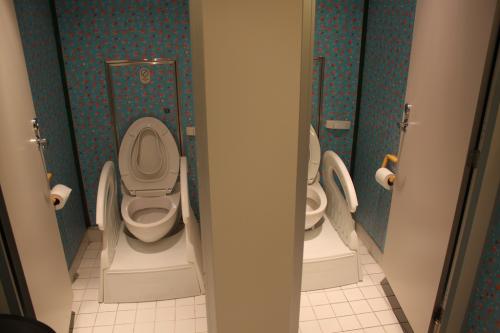 Basically it comes down to your child not wearing a pull up or a diaper and not soiling themselves during Adventure Ocean.  Our plan was to always bring her to the bathroom right before going to Aquanauts.  This worked well although she did report going to to the restroom on her own multiple times so clearly when properly motivated she did well with it.
I think the key is to make sure your child is aware that they need to be able to go by themselves to the bathroom without anyone helping.  Going beforehand is also good practice to ensure it's less of an issue.
`Overall I found the Adventure Ocean program to be run well and the thing my daughter looked forward to the most about the cruise. For parents, the Adventure Ocean programis a great means of getting some time to yourselves while the kids have a blast playing with other kids in a supervised environment.