In:
Taking the family on a Royal Caribbean cruise is something more and more families are doing every year.  A family cruise offers lots of different activities, shows, and places to visit that is sure to cater to everyone's needs.  In fact, a lot of extended families will choose a cruise because it allows them to make wonderful memories together without having to be physically together all the time.
If you are going on a Royal Caribbean cruise for your upcoming family vacation, here are our top tips for ensuring it is the best family vacation ever.
Consider getting two staterooms instead of one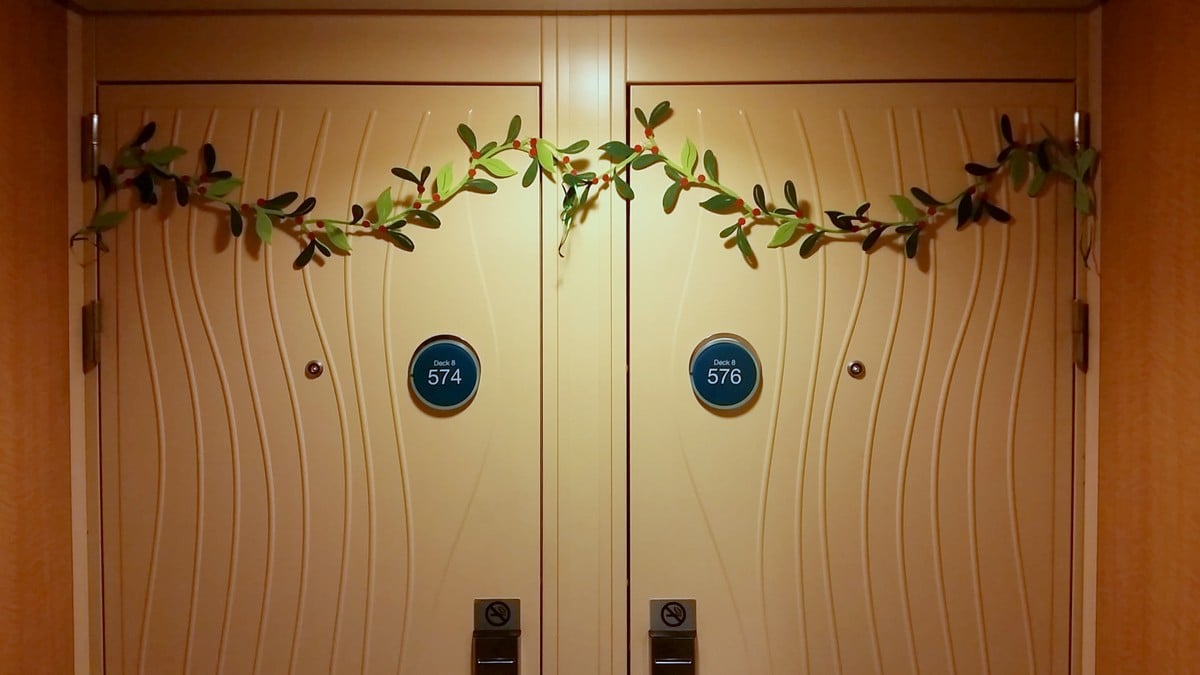 When families look to book a cruise, they will likely start off by trying to find a room that everyone can fit in.  It makes logical sense, but on a cruise, sometimes going for multiple smaller rooms is not only a better value, it can provide much more personal space for everyone involved.
Often, the cost of two staterooms can be cheaper than some of the family staterooms and can offer more separation between family members (a plus for families with teenagers).
Booking two staterooms also allows for connecting staterooms, in which there is a door between the staterooms that allows for easy flow between them.  This can be convenient during the day to keep the doors open, essentially creating a two room stateroom.
Families with younger children will want to get connecting rooms to ensure easy access between the rooms, while older kids can probably be fine in a nearby room. Regardless, a second room is an option to consider for larger groups that need more space.
Pick a ship that offers activities and amenities your family wants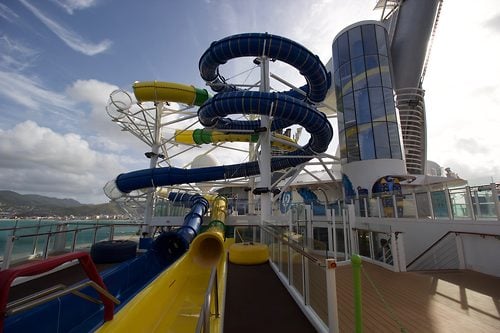 There are a lot of fantastic cruise ships in Royal Caribbean's fleet and each offers something a little different.  When you are trying to decide which ship to sail on, be sure to take into account what sort of options your family will want to enjoy.
What you ought to do is determine if having a water slide, ice skating rink, Broadway show, basketball court, or any other highlight is important and something you would like to enjoy while onboard and then see which ships offer those possibilities.
If you are a cruising with kids, picking a ship with many pools and water play areas might be a good idea.  All Royal Caribbean ships have pools and hot tubs, but only some offer water slides and aqua parks.  Teens would likely find enjoyment with a ship that has a FlowRider surf simulator, or Ripcord by iFly.
Be sure to look at what each ship offers and balance the options offered versus other aspects of what you are looking to get out of the vacation.  
Plan on swimming on embarkation day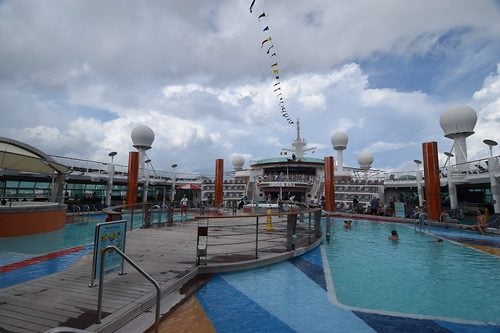 The first day of your cruise is filled with excitement, anticipation and energy.  With all the excitement of getting onboard, a really good idea for families is to let everyone start off the cruise with some pool time.  This is an especially good time to hit the pool because a majority of guests do not have their swim suits with them when they board, so you get to enjoy the pools, slides and aqua parks with far less lines.
Either wear your swim suit to the ship, or pack it in your carry-on luggage and then change in a public restroom onboard.  Towels will be provided in the pool area for your use. This is particularly good for kids who want to jump in as soon as possible.
Register children for Adventure Ocean early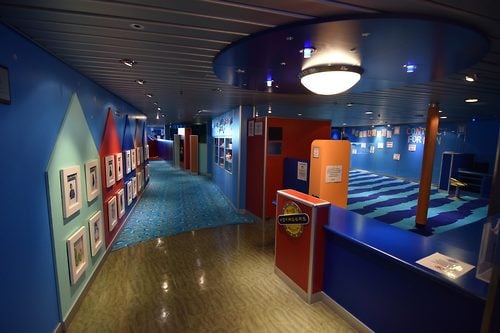 On the first day of your Royal Caribbean cruise, guests can register their children in Adventure Ocean prior to Adventure Ocean opening.  While you can register kids at any point in the cruise, take advantage of the open house on embarkation day for an optimal experience.
The Cruise Compass will list times when Adventure Ocean is open for registration.  This time is not when Adventure Ocean is open for kids to stay, but for kids to see the area and for parents to ask questions and get acclimated to the program.
The open house time on embarkation day is the perfect time for the kids to meet the counselors and see the facility.  As a parent, you can talk to the staff about any concerns you might have.  By doing this during the open house time (instead of when Adventure Ocean is operating) is you have much more time and a relaxed atmosphere to go over everything.
It is a good idea to register kids on the first day simply because there is a set time for registration to occur, and it ensures a smooth first night later on.
If you have a baby, make sure you cruise on a ship with a nursery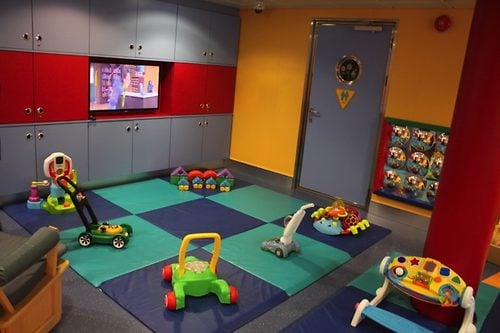 Children between the ages of six months and 36 months old can participate in the Royal Babies and Royal Tots (6-36 months) program.  Most Royal Caribbean ships offer a nursery, where parents can drop children off throughout the day and evening. Use of the nursery comes at an hourly charge. Young children can enjoy soft play areas and age-appropriate toys, as well as cribs and cots for napping or sleeping.
If you have children under the age of three, be sure to book a Royal Caribbean cruise that offers a nursery.  For child and parent alike, the nursery is a wonderful resource. Yes, the nursery does have an additional charge, but having a nursery onboard means you have the option to take advantage of it and provide some adult time when you might need it.
Review the Cruise Compass each evening together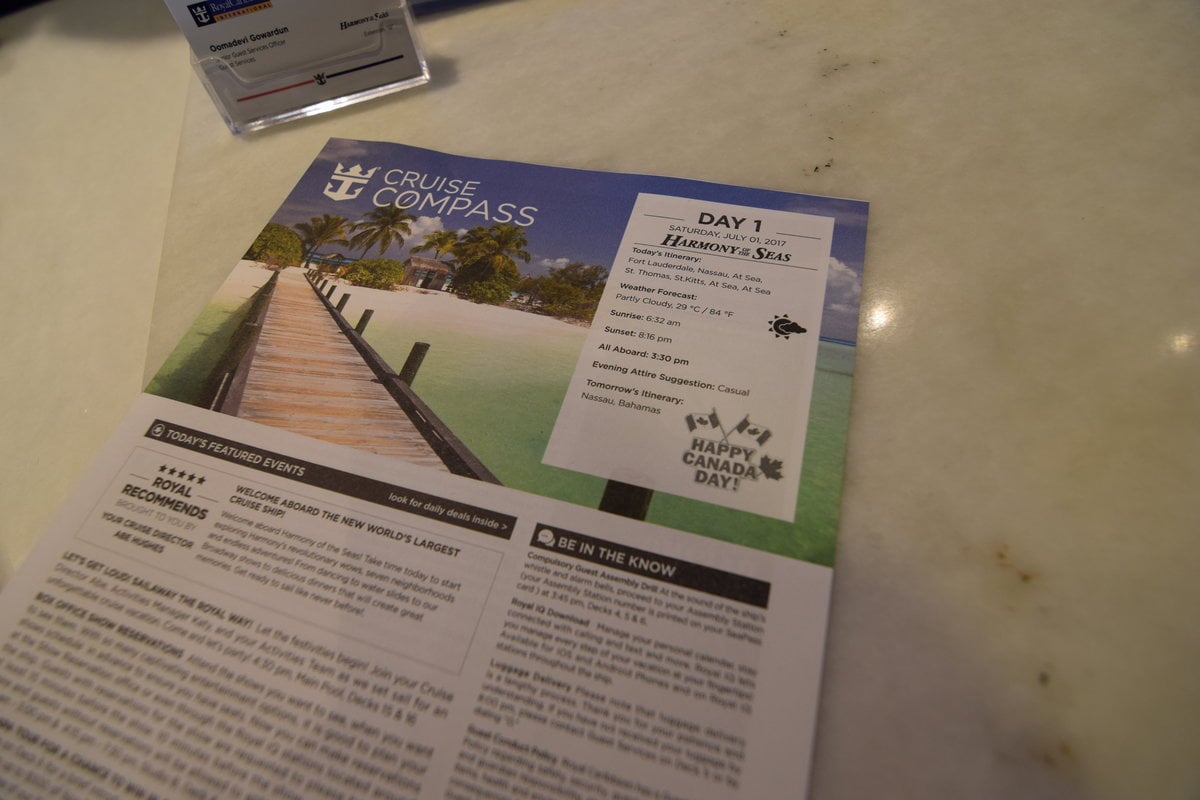 Your stateroom attendant will deliver a copy of the next day's Cruise Compass to your stateroom each evening, and this is a perfect opportunity to comb over what is lined up for the next day.  By reviewing the Cruise Compass together, you will be able to identify which activities or events are of interest and make sure you can plan around the schedule.
A mistake first time cruisers make is to not check the Cruise Compass until after they wake up that morning, and the result can be missing out on an event they would have liked to attend.
A good tip is to ask your stateroom attendant for a copy of the Cruise Compass just before going to dinner and reviewing it in the main dining room (or wherever you happen to dining that evening).  Since everyone will be around for dinner, it is the perfect opportunity to review what is in store for the next day.
Consider taking advantage of My Family Time Dining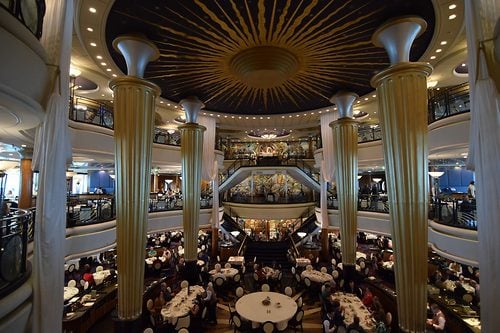 My Family Time Dining is offered for the first seating time in the main dining room, for children ages three to 11.
Here is how it works
You arrive at the dining room with the kids and let your server know that the kids will be headed to Adventure Ocean as part of the My Family Time Dining program.
The kids order and are served right away so that they can finish their meal within the first 40 minutes.
After about 45 minutes, the Adventure Ocean staff arrive in the dining room lobby to sign in and hand off the kids.Parents will need to escort their children to the designated Main Dining room entrance doors at 6:45 pm to check their child in with the Adventure Ocean counselors. Once checked­in, the Adventure Ocean counselors will then escort their children to Adventure Ocean for ongoing evening activities.
Adults return to their table to enjoy the rest of their meal at a more leisurely place.
Pre­cruise, guests can call into Reservations, reserve online, contact their travel agent or certified vacation planner. Or guests can sign up onboard in the Adventure Ocean area. Pre­cruise reservations are encouraged.
Your thoughts
What advice would you offer to a family going on their first Royal Caribbean cruise together? Are there lessons you would share with others for an even better cruise experience together? Share your tips and ideas in the comments.