In:
When you pack for a Royal Caribbean cruise, you may want to bring all the comforts of home so that your stay at sea is just like being on land, but you should be aware there are some important rules about what you cannot bring on a Royal Caribbean cruise.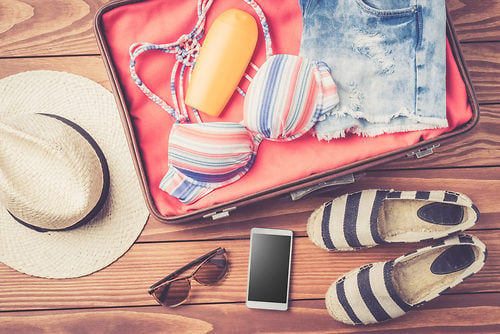 For the safety and well-being of all guests, certain items are prohibited from being brought on a cruise, and it will save you time (and embarrassment) by being aware of what you can and cannot bring on a Royal Caribbean cruise.
During the check-in process, security will scan all luggage (both checked and carry-on), and if they spot an item that meets the criteria, they can confiscate it and return it to you after the cruise concludes.
Appliances
If there is one item that I see confiscated the most on Royal Caribbean's prohibited items list, it is household appliances.
Coffee makers, clothing irons, travel steamers, electric kettles and hot plates are not allowed to be brought onboard. These items pose a fire hazard, so you will have to send out for laundry via dry cleaning and rely on Royal Caribbean for your morning cup of coffee.
Candles and anything you can light on fire
Fire is the number one danger onboard a Royal Caribbean cruise, so anything that can generate a flame is prohibited.
This includes, candles, incense, flammable liquids and explosives (including lighter fluid and fireworks), hookahs and water hookah pipes.
Weapons
Firearms & Ammunition (including realistic replicas), knives, scissors, martial arts, self defense equipment, sports gear (including handcuffs, pepper spray, night sticks) are all prohibited from being brought on Royal Caribbean.
Personal grooming items such as safety razors are allowed. Scissors with blade length less than 4 inches are allowed.
Sporting goods
Royal Caribbean does allow the following items to be brought onboard, but they must be stored in your stateroom and not used onboard the ship:
Baseball Bats
Hockey Sticks
Cricket Bats
Golf clubs
Skateboards
Surfboards
Bicycles
Drugs
While it may not surprise you that illegal drugs and substances are banned from Royal Caribbean CBD oil and CBD products are also prohibited. 
Even if you have a legally prescribed dose of marijuana, you cannot bring or smoke pot, edibles, cartridges onboard. Medicinal use is not permitted, and can result in serious legal troubles since Federal drug laws apply.
Alcohol
While Royal Caribbean does allow you to bring up to two bottles of wine per stateroom, any other alcohol is strictly forbidden.
Any alcohol you purchase onboard the ship or in a port will be stored by Royal Caribbean, and then returned to you on the last day onboard to be brought home.
Alcoholic beverages seized on embarkation day will not be returned.
You are also allowed to bring small quantities of non-alcoholic beverages in a carry-on or hand luggage onboard only on boarding day. Specifically, non-alcoholic beverages brought onboard may not exceed 12 standard (17 oz) cans, bottles or cartons per stateroom. Distilled water or specialized beverages such as, milk for medical purposes, dietary or infant use, are permitted.
Gadgets & toys
It may seem like a great idea to bring your favorite electronics with you, but certain ones are prohibited because they are a fire hazard or may annoy other guests.
You may not bring hoverboards, HAM radios or baby monitors onboard.
You should also be aware that electrical extension cords are also prohibited.  Instead, consider bringing a USB hub device to keep your devices charged up. Be aware that surge protectors, especially, are prohibited.
Guests may bring drones on their cruise to be used on land only, and outside the port area.  Drones may not be operated onboard the ship at any time, nor on Royal Caribbean's private destinations: CocoCay, Bahamas or Labadee, Haiti.
Everything else
There are a few other items that Royal Caribbean does not allow you to bring onboard that do not fit under any other category, so here they are:
Perishable Food & Meat Products

The only food that can be brought on board must be sealed and prepackaged.

Dangerous Chemicals, including bleach and paint