In:
Royal Caribbean offers year-round cruises from Baltimore, Maryland and for many on the east coast, this provides a convenient cruise port alternative to flying to Florida.  If you are planning on taking a Royal Caribbean cruise from Baltimore, here is what you need to know about the experience.
Before you go
Whether you are flying or driving to the port, here are some basic tips to consider before you leave your house.
First, be sure to bring your Set Sail Pass as well as passport/photo ID.  These are critical items that will prevent you from going on any Royal Caribbean cruise.
It is also important to have your luggage tags affixed to all of your luggage to ensure a speedy check-in process.  
If you are traveling during the winter months, it is a good idea to keep in your car gloves and coats as well as a shovel in case of a winter storm.
Arriving at Port of Baltimore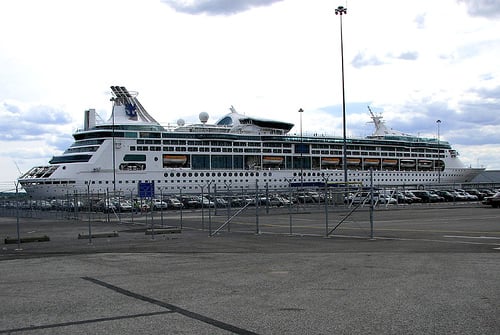 Driving to the Port of Baltimore is fairly simple, given its proximity to the major highway of Interstate 95. Use exit 55 to reach the port.
As you drive into the port area, several port staffers will greet you.  If you are driving your own vehicle, here are the steps you can expect to encounter
Staff will check if your luggage has luggage tags. If not, you will be directed to a building to get tags.
Staff will provide a parking paper for the dash of your vehicle if all parties are boarding the ship.
Direct you to luggage porters to check-in luggage.
Pay for parking (left for credit, right for cash).
Proceed left and in front of the terminal building to the adjacent parking lot. As of December 2015, parking was $15 per day and payable in advance.
This process can take around 25 minutes or so to complete, depending on how prepared you are and how busy the port is.
In the terminal
Once you enter the Port of Baltimore cruise terminal, you will be asked for your Set Sail Pas and Passport/Photo ID. 
You will be instructed to drop your luggage at the drive-through kiosk, where porters will instruct you to remove all alcohol - including your allowed 2 bottles of wine. When cruising from Baltimore, they specifically request you carry on your wine through the security checkpoint where they will ask to see each bottle (its not a problem, but they will likely make you take it out of your bag to show them). If you leave alcohol in your luggage, expect your luggage to be flagged for inspection and then you will be responsible to get your bag to your cabin.
Royal Caribbean Crown & Anchor Society members that are Diamond level or above can get priority check-in through security.  All other guests will be directed to form a line as security reviews your documentation.
After the security scanner, you will be asked to fill out the standard health form and then off to the check-in counters. Royal Caribbean Crown and Anchor members also have priority check-in here as well.
The check-in process usually does not take very long and the counters are well-staffed.  
Getting onboard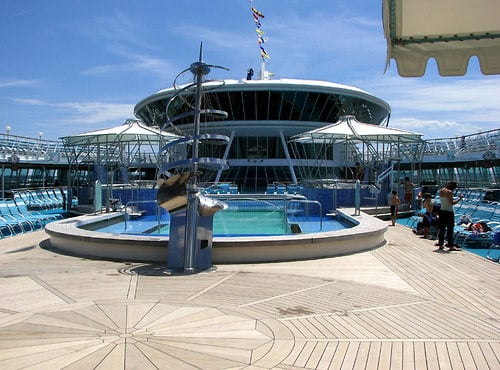 Be prepared, part of the walking distance from the check-in counter to the ship gangway is outside, albeit covered, inclement weather considerations should be evaluated.
Once you are able to board your Royal Caribbean cruise, there is an option on Grandeur of the Seas to check your carry-on luggage in the South Pacific Lounge on Deck 6 aft (the alternative location for this is Chops Grille, also on deck 6).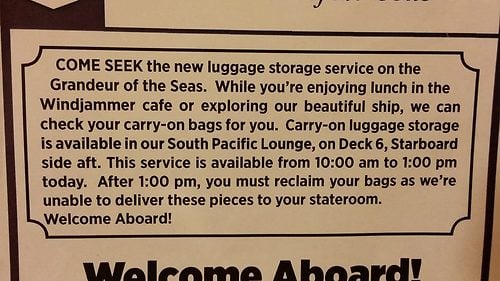 Royal Caribbean will hold your luggage until 12:45pm, so you can enjoy lunch and explore the ship before your stateroom is ready at 1pm.
Now that you are onboard, your cruise has begun and you can explore the ship and start enjoying the many amenities and options available to you.
A big thank you to Jodi Shoop for assisting in writing this blog post!
What are your recommendations for anyone taking a Royal Caribbean cruise from Baltimore? Share them in the comments!