In:
Royal Caribbean is now offering guests on at least one of its cruise ships the opportunity to store their carry-on bags until their stateroom is ready.
Sue Watson from the All About Royal Caribbean Cruises Facebook group spotted the new service available on Grandeur of the Seas.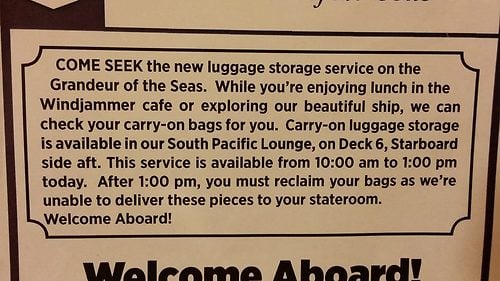 Guests can bring their carry-on luggage to the South Pacific Lounge on Grandeur of the Seas and have leave their carry-on bags there from 10:00am to 1:00pm.
Guests must reclaim their bags when they want to bring them to their stateroom.
It appears this service is designed to make things easier for guests in the time between boarding the ship and when their stateroom is ready.
Would you use this luggage storage service on your next Royal Caribbean cruise? Let us know in the comments!