In:
I recently sailed on Royal Caribbean's Grandeur of the Seas, and while the cruise fare was relatively cheap at $466.50 per person, the additional costs of cruising and traveling added up quickly.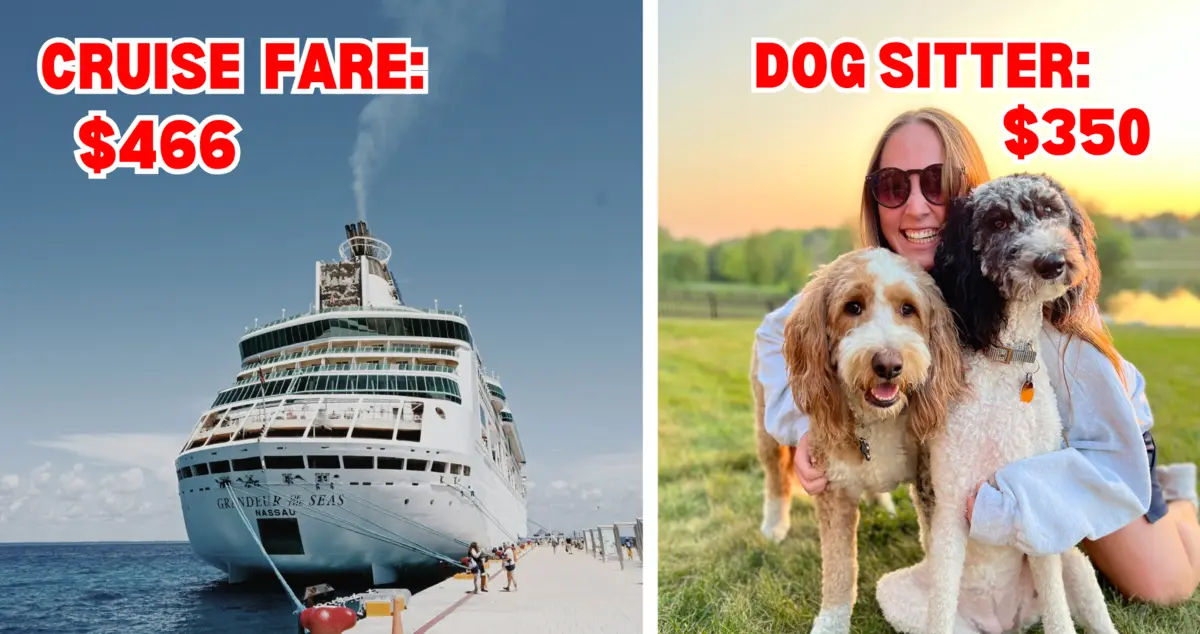 My sister and I were eager to have a fall getaway and we had never cruised on Grandeur of the Seas before. Since this cruise was only 4-nights, we thought it was the perfect opportunity to sail onboard the ship, commonly referred to as "Lady G". 
I spent approximately $1,512.71 on a 4-night cruise to sail on Royal Caribbean's oldest ship between my flights, internet, specialty dining and travel costs. I'm not sure if I would want to spend that much again unless the itinerary included more interesting ports. 
I flew across Florida for the cruise - from Destin to Tampa - for $250
Living in Florida is perfect for an avid cruiser like me, but the Florida Panhandle is about as far from the cruise ports as you can get in the state. Rather than making the 6 hour drive to Tampa for the cruise, I purchased a flight instead. 
To be frank, I hate driving in Florida and do not handle the stress with grace behind the wheel. I grew up driving on rural highways in South Dakota, so the massive interstates in Florida continue to give me driving anxiety.
Purchasing a flight was the best choice for us, even if it was more expensive than hitting the road. Given the upward trending costs of flights these days, $250 seemed more than reasonable to fly on Delta Air Lines. 
My sister and I both flew with carry-on luggage, so we did not have any additional luggage expenses. However, we did leave our car at the airport; this ended up costing us $51.90 for the five nights. Had we driven to Tampa, we likely would have spent more than this to park at the cruise port. 
Flights to Tampa: $250
Airport Parking: $51.90
Total: $301.90
To have someone take care of my dogs at home, I paid an in-home dog sitter $350 for five nights
When pricing out a cruise, I always forget about the additional cost of my dogs. Since my sister is my go-to (i.e. free) dog sitter when I travel, I needed to pursue another option because she would be traveling with me this time. Unfortunately, my husband would not be home to watch the dogs either. 
I have two large Aussiedoodles, so boarding can get expensive with two dogs. Because I prefer to keep them at home if I can, I hired a dog sitter to come to our house to take care of them. The total cost for this pet care was $350 for the five nights we would be away, including a tip. 
But, you can't convince me that this was not money well spent to know my dogs were well cared for during our cruise. Peace of mind is priceless!
The night before the cruise, we spent the night at the Tampa Marriott hotel connected to the airport for $150.96
The cardinal rule of cruising is that you should arrive to your embarkation port the day before your cruise, especially if you are flying. We opted for a flight that arrived later in the evening, which allowed us to work at home in the morning. This also saved on cost for the dog sitter and airport parking. 
I had never traveled to Tampa for a cruise before, so I was not sure the best area to stay prior to the cruise. Because we did not have much time to explore the city, we opted for a convenient option at the airport. 
We paid $150.96 for one night at the Tampa Airport Marriott. This was a perfect choice for us because it was connected directly to the airport, so we did not need to take transportation. We were able to walk directly from the passenger terminal to the hotel. 
Because I have status with Marriott, we had access to the hotel's lounge for both breakfast and dinner. This easily saved us $50 each because we did not need to pay for meals until we boarded the cruise. 
We spent $54.48 on Uber rides to and from the cruise port
Staying in the airport hotel was cost-efficient for us; however, we still needed an Uber ride the following morning when it was time to board our cruise. We had a leisure morning at the hotel enjoying breakfast and coffee before making our way to the Tampa Cruise Terminal.
The cost of the Uber to the cruise terminal from the Marriott Airport Hotel was $27.96, including a tip for the driver. We were surprised to see the cruise terminal was located in the heart of downtown.
Read more: Top things Uber & Lyft riders should know for getting to their cruise ship
After the cruise ended, we ordered an Uber to take us back to the airport. The cost of this Uber on a Monday morning was only $26.32. I anticipated this to cost more given the number of people looking for transportation, but that was not the case.
Uber to cruise port from airport hotel: $27.96
Uber to airport from cruise port: $26.32
Total Uber Cost: $54.28
The 4-night cruise on Grandeur of the Seas was $466.50 to stay in an inside cabin guarantee
Cruising in an inside guarantee cabin is almost always the most affordable option on a cruise ship. In addition, Grandeur of the Seas was built in the 1990s when ships featured very few balconies. Because of this, most cabins onboard are outside or inside cabins anyway. 
We did not mind sailing in an inside cabin since the cruise was only four nights. I was eager to see the cabin's condition consider the ship's age; however, we were impressed by the stateroom overall. It was apparent Royal Caribbean had refurbished the ship at some point, although it still lacked modern amenities. 
In fact, the cabin's design and condition was very similar to my recent experiences onboard Radiance, Voyager, and Freedom Class ships. The worst part of the cabin was the oddly-shaped shower and dealing with noisy neighbors. 
Onboard the cruise, we paid an additional $74 for tips between drinks and dining service
Although we had prepaid our gratuities, we still had additional tipping expenses onboard our cruise. My sister and I both qualify for the complimentary Diamond Plus drinks each day. But, these drinks are not automatically charged with gratuities in the same way you'd be charged for an individual drink.
Because of this, I always tip a few dollars on my Diamond drinks to ensure the bartenders are taken care of. I spent $14 on additional tips during my cruise since I did not have many drinks throughout the sailing. 
I also spent $60 on additional tips for our stateroom attendant, dining room waiter and assistant waiter. On a shorter cruise, I usually tip $20 to each of these crew members to express my gratitude for their hard-work and service. But, these are optional and at the cruiser's discretion, especially if you've prepaid your gratuities. 
Drink Tips: $43.98
Additional tips: $60.00
Total Additional Tips: $103.98
We decided to splurge on an Internet package and specialty dining during our cruise
It's easy to spend a lot of money on your cruise with additional add-ons once onboard. Everything from specialty dining to internet access and casino play can rack up quite the bill.
I never forget to purchase internet when I cruise, as I need this for my multiple remote jobs. I also prefer keeping in touch with those back home, such as the dog sitter for daily pup-dates. Moreover, I want to have access to the internet in case there is an emergency. 
Sometimes it's cheaper to pre-purchase internet depending on the sailing's length - this is especially dependent on any promotions that Royal Caribbean is running. For a 4-night sailing, it's normally cheaper to purchase internet onboard to take advantage of my two free internet days, which I receive as a Diamond Plus member. 
For the higher-tier internet package for our 4-night cruise, including my loyalty discount, I paid $51.98. I dream of the day that internet access on a cruise ship will be included!
Additionally, my sister and I decided to splurge on specialty dining for the first night of our cruise. Boarding day can be hectic and I enjoy winding down with a more upscale meal and dining experience in a specialty restaurant. 
Using our Diamond Plus specialty dining benefit, we can get a free cover charge with the purchase of a full-price cover charge. Essentially, this is a BOGO deal that can be used on the first or second night of the cruise. 
Read more: The Crown and Anchor perks you should use on every Royal Caribbean cruise
We had a fantastic meal in Giovanni's Italian Table costing $63.09, which included a service charge and tip for our incredible waiter.
Internet package: $51.98
Specialty dining at Giovanni's: $63.09
Total Onboard Purchases: $115.07
During our stop in Cozumel, we walked around the port but did not spend any money
We booked this cruise because of the price and dates rather than the itinerary. For this 4-night cruise, we had two sea days and one port stop in Cozumel, Mexico. My sister and I have cruised a lot in our lifetime, so we were happy to simply walk around the Cozumel port and not spend any money. 
Excursions in Cozumel can also be pricey depending on what you want to do during your time ashore. During the day we visited, it was very hot outside; so, we lasted maybe 30 minutes in the heat before making our way back to the ship. 
If you are looking to budget appropriately for your upcoming cruise, be sure to include the cost of your port activities or excursions. Some cities are easy to explore on your own while others might require an excursion to see or do what you want. 
Between the cost of the cruise, airfare, dog sitter, transportation and onboard expenses, I spent $1,512.71 to sail on Grandeur of the Seas
My sister and I had a great time on our cruise, although we both agreed the final cost of the entire vacation was more than we expected. It's easy to see a fantastic cruise price and think you will be enjoying a budget-friendly trip. However, the extra costs of cruising, traveling and simply enjoying vacation can add up quickly. 
Aside from the cruise itself, the most expensive aspects of my cruise came from the $350 dog sitter, $250 flight and $150 hotel cost. More often than not, the cost of pet care exceeds other areas of cruising - at least for me! It's much more cost efficient for me to cruise without my sister so she can stay behind and watch my dogs (sorry, Angie). 
For $1,500, I think I'd prefer to save up for a bigger cruise with either a more interesting itinerary or a newer cruise ship. But, sometimes a short weekend cruise is more accessible in comparison to a bigger cruise. Even still, there always seem to be unexpected charges