In:
Are you wondering about the onboard experience on Grandeur of the Seas?
We had so much fun answering questions about what it's like to sail on Harmony of the Seas this week, that RoyalCaribbeanBlog reader Keeley reached out to volunteer to answer questions about sailing on Grandeur of the Seas.
Keeley is on a Southern Caribbean cruise on Grandeur of the Seas, and answered questions about her experience sailing so far on this itinerary.
You can follow Keeley on her blog, which she describes as focusing on great food, even better booze and balanced travel. 
Can you describe the pre-arrival process for sailing from Barbados, and how difficult or easy was it to get everything?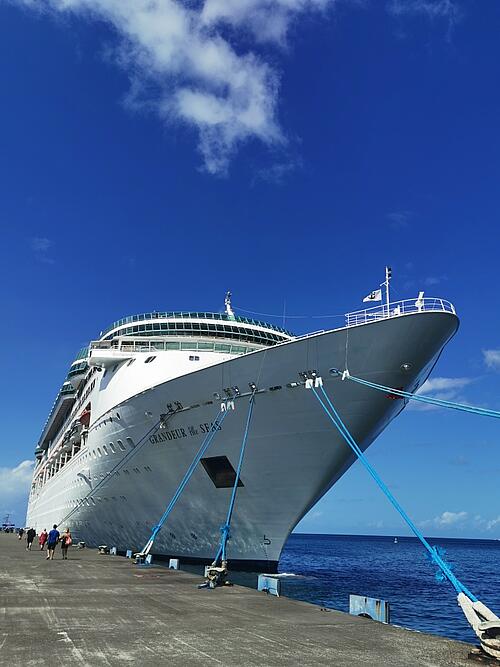 Our flight from the UK arrived at the same time as 3 other flights so there was a bit of a wait at the first check point at Barbados airport with no air conditioning, so it was a little uncomfortable but not unbearable. The queue moved steadily for the vaccination/test staff to check our documents. We were then given a coloured wrist band depending on our test information. 
After this, our suitcases were already waiting for us and we went straight through immigration. Onto the bus to go to the port and we were there in 30 minutes. 
At the port we had already booked a time for our pre-boarding antigen tests, so we waited 10 minutes and then 30 minutes for the results. 
From getting off the plane to being in our cabin, was around 2.5 hours. 
How many passengers are onboard?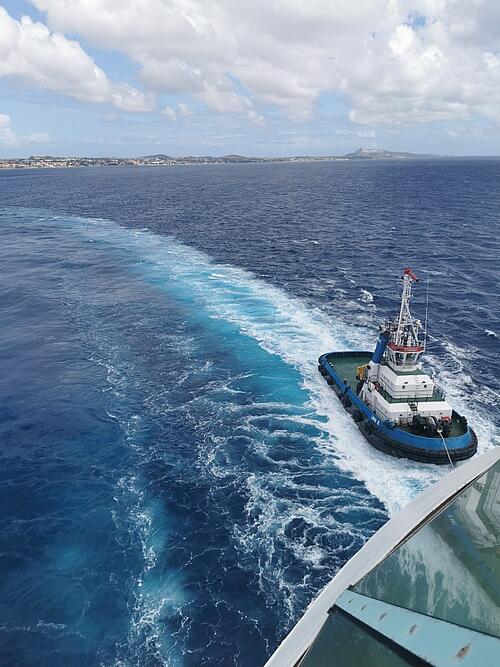 There are 630 passengers onboard. 
Have you noticed any changes to the entertainment line up?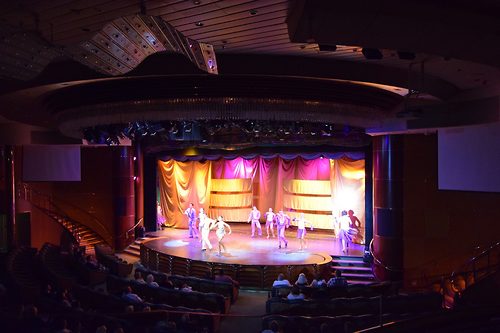 There has been some technical difficulties with the silent disco so this hasn't happened. Roki rokie karaoke was cancelled 2 nights for the same reason.
Last night's tango show was cancelled due to potential Covid symptoms amongst the dance team, but it was replaced by the guest act, who were fabulous! 
How is Adventure Ocean operating on this cruise?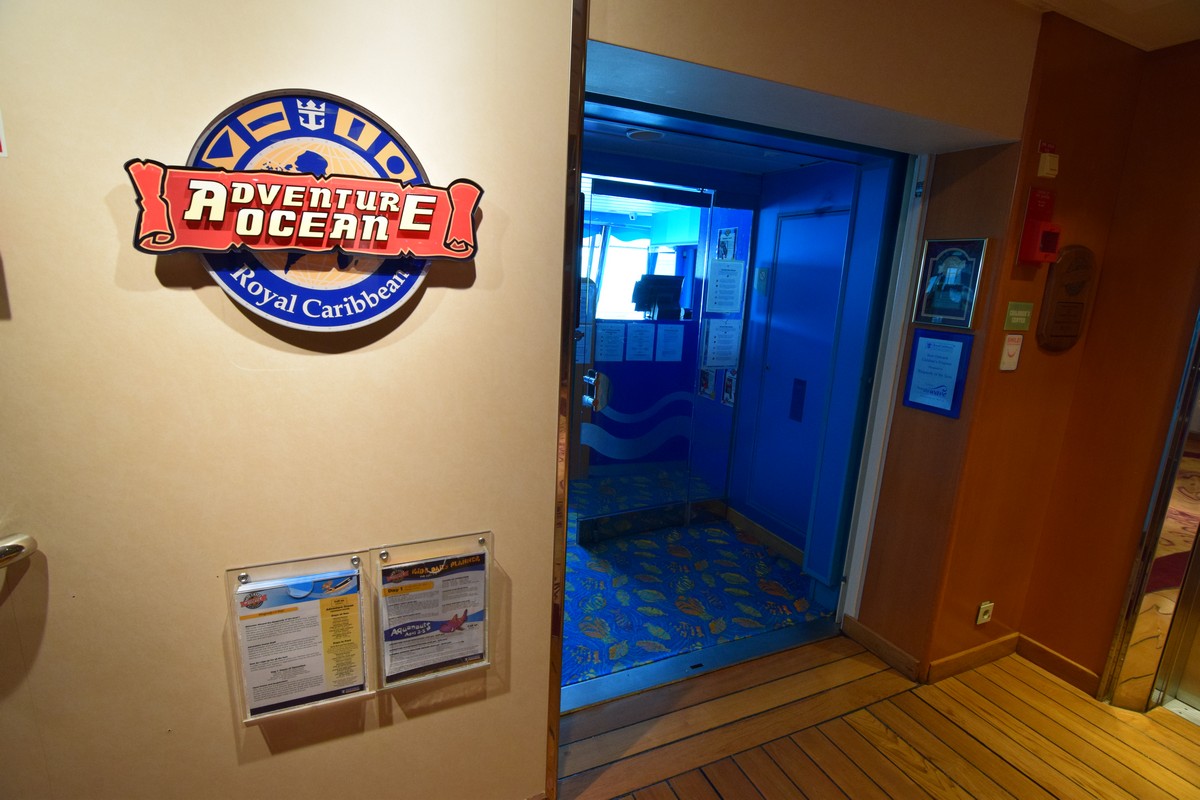 There are very few kids onboard this Grandeur of the Seas sailing, but it is open. An Adventure Ocean crew member described the current situation as follows:
Adventure Ocean is open, although there are only 11 kids in total onboard (5 are registered for Adventure Ocean).  For these kids, all sessions are there 9:30-12:00, 14:00-17:00, 19:00-22:00 + Late Night Party Zone for parents who want to leave their kids until midnight.
The Teens Club is not open because there is only one teen onboard. The staff indicated they offered the teen other forms of entertainment.
The nursery is not open all day because there is just one toddler onboard. In fact, the Adventure Ocean manager has informed parents that they can book nursery any time they seem fit, which they did a couple of times.
What is the embarkation process like in Barbados?
Smooth!
From arriving at port to boarding, was around 45 minutes. After the antigen test, we were advised that we would receive our result by email. I didn't get mine but they checked their system and were able to confirm my results with no issue.
There was ample space for people to wait with seating and water should people want it whilst waiting. 
Have there been any itinerary changes?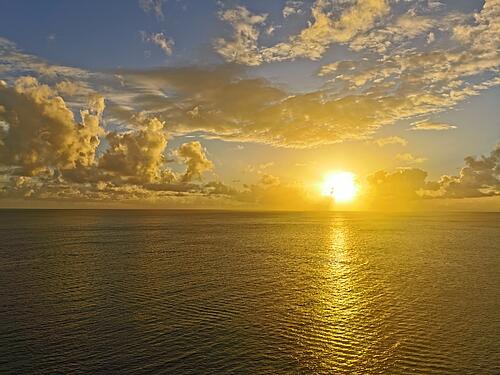 Before leaving the UK, we had Trinidad and Tobago changed to St Lucia and Dominica. St Lucia was further changed to Antigua.
On boarding we were advised that Colombia had been removed and changed for a sea day, so only the 1 stop to be removed completely.
Not itinerary changes but we have had a few trips cancelled, so it is worth asking excursion services which trips are the most popular to prevent this from happening. 
Any advice for someone sailing on Grandeur soon?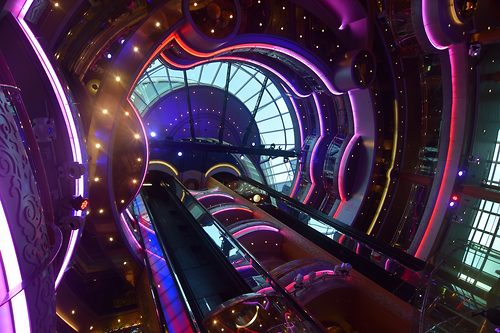 I'd recommend booking the antigen test required for boarding ahead of travelling as you will need to complete the same request whether you do it at the port or before, so it definitely saves time! 
In a similar vein, I'd recommend bringing a printed copy of vaccination documents so they are to hand easily to show. 
Check the itinerary carefully as some ports currently do not allow you to get off the ship without a trip booked through Royal Caribbean.