In:
Going on a cruise right now can be a little unpredictable. Protocols, entertainment, and dining options are subject to change from sailing to sailing.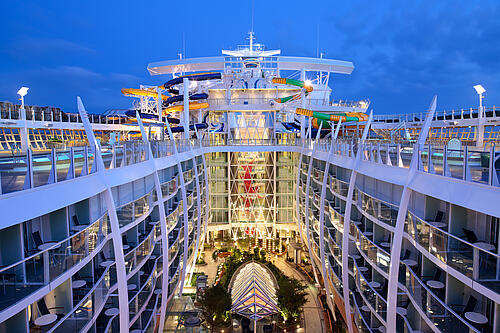 I am onboard Harmony of the Seas this week for a 7-night Eastern Caribbean and Perfect Day cruise, and I wanted to share what the experience is like by answering questions people might have.
We asked our followers on Facebook what questions they had about sailing on Harmony of the Seas this week, and here are our most requested answers:
How many guests are onboard?
Guest Services told me there were around 2500 passengers onboard.
Harmony of the Seas has a capacity of 5,479 guests at double occupancy, so the ship is a little under 50% capacity this week.
What is the entertainment this week? Is anything canceled?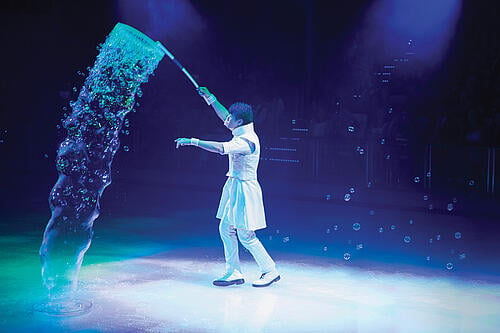 Due to the omicron surge, there has been an influx of changes in entertainment offerings onboard Royal Caribbean ships. When I boarded the cruise on Sunday, I wasn't sure what, if anything, would be offered in terms of headliner entertainment on Harmony of the Seas.
There have been several changes in entertainment:
Grease: The Musical is not being performed this week
Big Daddy's Hideaway Heist is being performed in the Aquatheater, but the other show, The Fine Line, is not.
1887: A Journey in Time and iSkate Showcase are being performed in Studio B.
Entertainment in the Royal Theater includes headliner vocalists, comedians, and game shows
While some entertainment offerings have been canceled or modified, there is still no shortage of things to do this week. Whether live music, comedy shows, dance classes, or signature activities, it's easy to keep yourself busy onboard.
How is Adventure Ocean operating?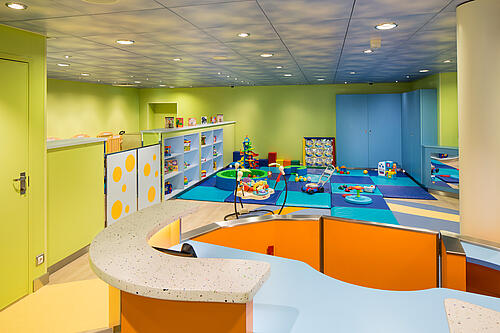 Adventure Ocean is currently operating at limited capacity with around 15-20 kids per room. Reservations are required and the amount of time slots a child gets in Adventure Ocean depends on the amount of children on a particular sailing. There will be more reservations available per child on a sailing with less kids onboard.
Walk-ins are available throughout the week, too, but are not guaranteed. However, I was told that parents have usually been able to drop their child off at Adventure Ocean on a walk-in during this cruise.
The teen clubs are open as normal throughout the day and there are still specific times for teens available at onboard activities like the Flowrider and Ultimate Abyss.
What restaurants are open for dinner?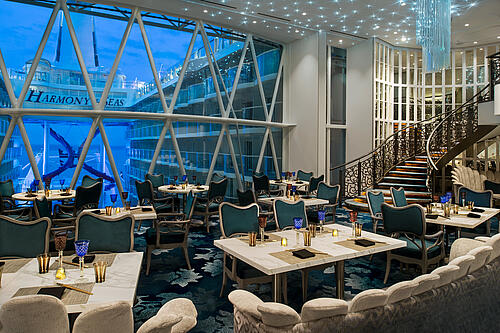 The following restaurants and venues are open for dinner:
Main Dining Room
Windjammer
Izumi
Jamie's Italian
150 Central Park
Chops Grill
Coastal Kitchen
Wonderland
A few other dining changes to note:
Johnny Rockets is only open for lunch from 11:30AM - 4PM on this sailing
Sabor is not open for food, although the bar is open
Solarium Bistro is not open for any meal
How did the testing go?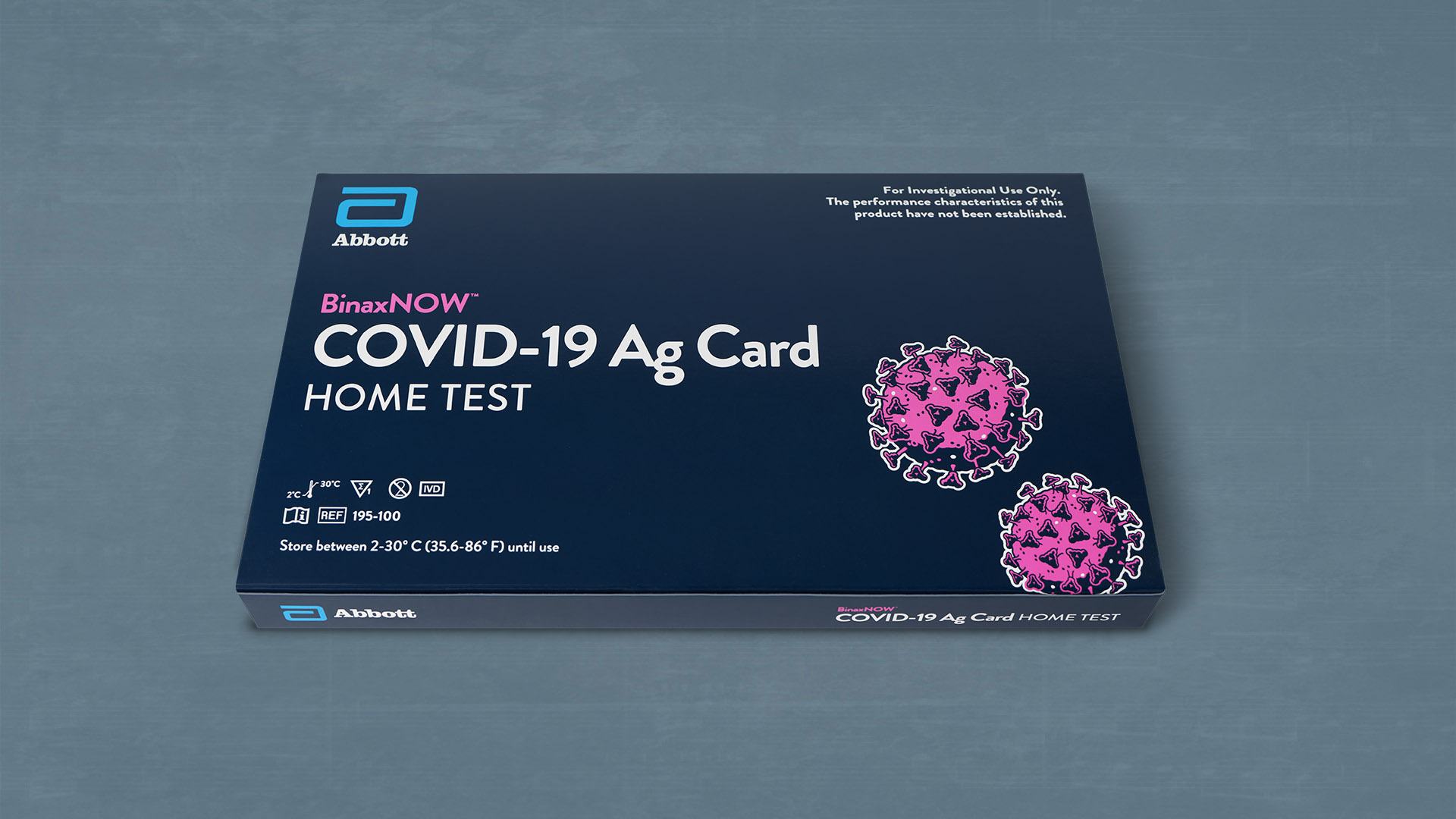 I tested before my cruise with the Abbott BinaxNOW Ag Card home test and I cannot recommend it enough! With the at-home test, you do not have to worry about finding a Covid test appointment and you can complete the test at whatever time works best for you.
Ordering a pack of these tests makes fulfilling the testing requirements a breeze. Each time I have done it so far, I have been completely done with the test in the same amount of time it would have taken me to drive to an appointment at CVS.
How was boarding the ship?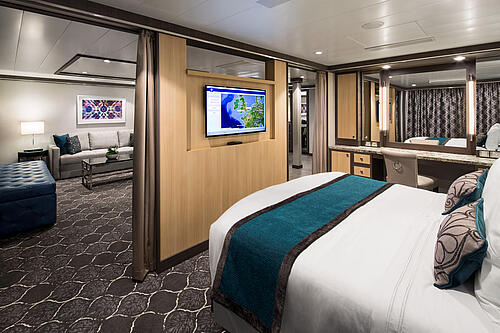 I had purchased The Key before my cruise, so I had priority boarding. With The Key, I was able to go through the priority boarding lane and got on the ship within 10-15 minutes total. The normal line to board seemed to be moving fairly quickly too.
Does this sailing offer any themed nightly activities?
There is the "Totally Awesome '90's Party" and "Country & Western Line Dance Party" which are located in Studio B on days 3 and 4. On day 5 is the "70's Disco Inferno Party" at the Aquatheater.
There are a variety of DJs and nightclub experiences throughout the week as well.
What are the port stops this week?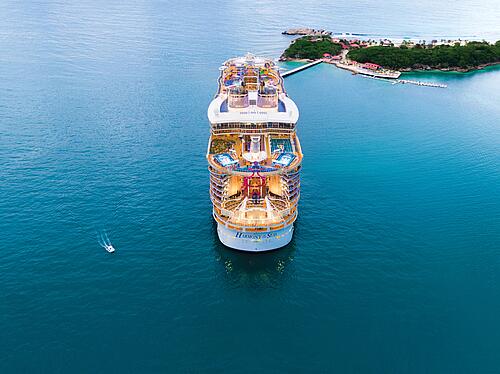 Our scheduled port stops this week were St. Maarten, St. Thomas, and Perfect Day at CocoCay. When I booked the cruise we were originally supposed to go to Antigua, which was then replaced by San Juan… which was then replaced by St. Maarten!
Unfortunately, today it was announced that we will be unable to visit St. Thomas. I predicted this would happen because St. Thomas has been denying ships recently, but it is still a bummer! Having four sea days and only two ports is not the most ideal scenario. As it was known in advance that it was unlikely we would go to St. Thomas anyway, I do wish something else could have been planned.
Regardless, it is important to be flexible these days when going on a cruise.
Are you going to Labadee?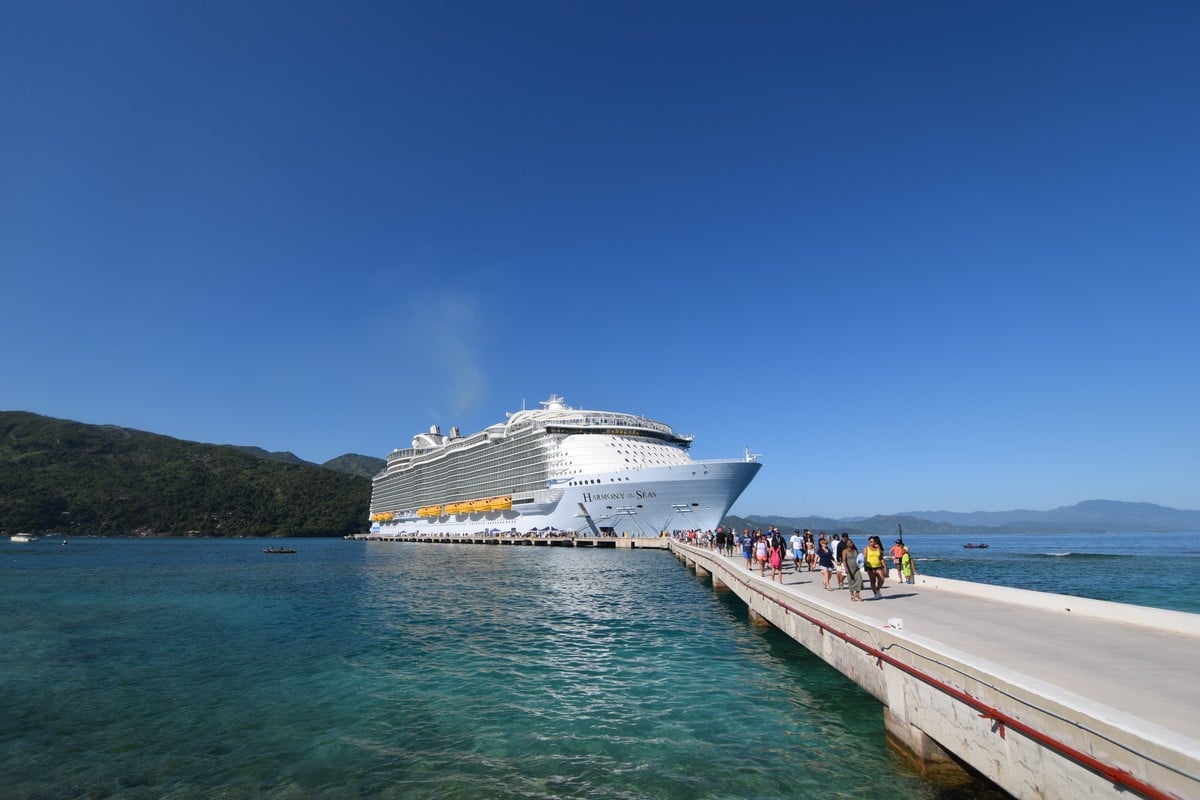 Our itinerary does not go to Labadee for this cruise, but next week's sailing on Harmony of the Seas is scheduled to stop at Labadee. Labadee has not reopened since cruises restarted in June 2021, but it appears that Harmony of the Seas may actually be going there next week.
We have a full article about the possibility of Labadee reopening here.
Are they still doing "The Quest"?
They are not doing The Quest on this sailing. The Quest has also not been offered on the previous five cruises I have been on since the restart.
What are the best and worst specialty restaurants onboard?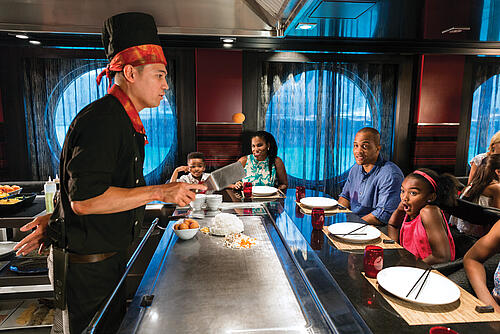 This question is highly subjective, of course, and what is the "best" for one person might be the "worst" for another. In my opinion, the best specialty restaurants onboard Harmony of the Seas are Jamie's Italian and Izumi Hibachi.
That being said, a restaurant like Wonderland is a dining experience that you should definitely try. I have also not had the chance to try Sabor or 150 Central Park yet!
How is the masking?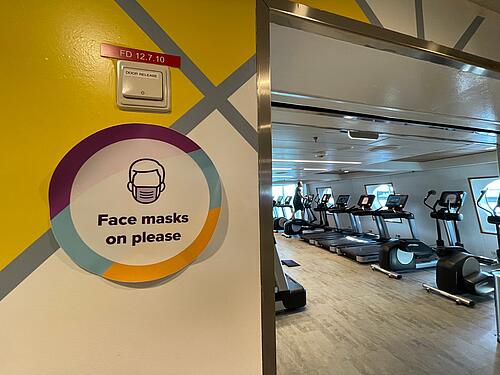 Last month, Royal Caribbean changed its mask protocols to require masks worn at all times indoors except when eating or drinking. Previously, masks were not required in vaccinated-only venues onboard.
This change has not been an issue for me personally. On my sailings before the protocol change, I would often wear my mask in crowded indoor spaces anyway. Plus, I live in a state with an indoor mask mandate so I hardly even notice. In addition, for a lot of the cruise experience, you are either outside or sitting indoors while eating or drinking, so often the mask is only used when walking from place to place.
I have not noticed anyone purposefully disregarding the masking rules on the ship. The only protocol not being followed well is the capacity per elevator. There are often way too many people in the elevator!
Why didn't you invite all of us?
Sorry about that!
Be sure to check out the Royal Caribbean Blog group cruises here and join the party! Our two upcoming group cruises are an 8-night sailing on Mariner of the Seas in July and a 7-night sailing on Wonder of the Seas in December.