In:
Royal Caribbean ordered a third (and possibly fourth) Oasis-class cruise ship earlier this week and already many of our readers are wondering about what the new ship's name will be.  Perhaps recent trademark filings by Royal Caribbean will give us a clue.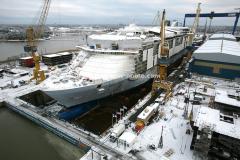 Back on Friday, November 2, 2012, Royal Caribbean applied for trademarks for the following ship names.  Could one of these be the next name for the new third Oasis-class ship?
Anthem of the Seas
Ovation of the Seas
Passion of the Seas
Pulse of the Seas
Quantum of the Seas
Vantage of the Seas
For Oasis of the Seas and Allure of the Seas, Royal Caribbean held contests to name the ship.  It is not known if Royal Caribbean will use one of these six names or hold another contest to name the ship.