In:
Royal Caribbean announced today it has secured a deal with STX France to construct a third Oasis class ship that will be delivered by mid-2016.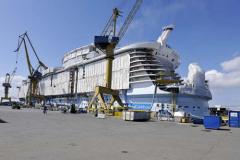 The ship will be the same size as the Oasis and Allure of the Seas, and will accommodate 5,400 passengers.
Royal Caribbean Chairman Richard Fain commented on the news, "The Oasis of the Seas and Allure of the Seas have fundamentally transformed the cruise experience for our guests. These ships have consistently generated outstanding guest satisfaction ratings and continue to produce superior financial results. We are thrilled to be adding a sister to this extraordinary class of vessels at a compelling price. Being back building in France just adds to the pleasure."
Including today's contract and existing ship orders, projected capital expenditures for 2012, 2013, 2014, 2015 and 2016 are $1.3 billion, $700 million, $1.2 billion, $1.2 billion and $1.3 billion, respectively. The company's annualized capacity growth rate from 2012 to 2016 remains at a historically low rate of 3.5%.
Royal Caribbean was negotiating with STX Europe in Finland to construct the third vessel, but a deal could not be worked out with the Finnish government.
Royal Caribbean has a one-year option to build a fourth Oasis-class ship from STX France, which would be delivered in mid-2018.