In:
Royal Caribbean has filed a trademark with the United States Patent and Trademark Office for "Spectrum of the Seas", which could be the name of a new cruise ship that is currently under construction.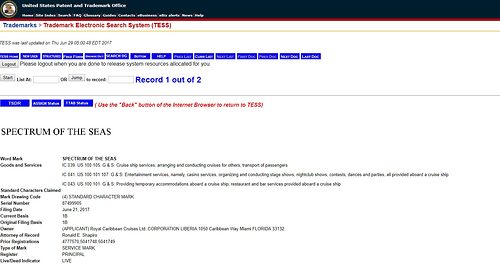 Royal Caribbean filed the trademark application on June 24, 2017 and it is currently active.
This is not the first time Royal Caribbean had applied for a trademark on Spectrum of the Seas. Back in September 2014, Royal Caribbean trademarked it, along with 4 other names.  The trademark for Spectrum of the Seas was abandoned on September 14, 2015, and now the cruise line has re-filed for the same trademark.
It remains to be seen which ship, if any, will bear the name Spectrum of the Seas. Royal Caribbean currently has six ships on order and/or under construction, although two of the ships already have names associated with them (Symphony of the Seas and Icon of the Seas).
Thanks to Lloyd Marchand for alerting us to the filing.
What do you think of the name? Share your thoughts in the comments!