In:
Once you take a single cruise with Royal Caribbean, there are a number of great customer loyalty reward program benefits you receive on every subsequent cruise.
The exact benefits depend on your Crown and Anchor Society level. Just like an airline loyalty program, the more you travel, the more points you get. Unlike the airlines, your Royal Caribbean benefits never go away.
You can expect discounts, vouchers, and even freebies just for having sailed with Royal Caribbean in the past.
Depending on your cruising style and preferences, all the benefits may not be useful, but there are certainly a few that stand out as must-use nearly every cruise.
It should come as no surprise that the best benefits are reserved for the top tier members (Diamond and above), but there are still great value even at the entry level.
Where can I see a list of my benefits?
There are two kinds of Crown and Anchor Society benefits: onboard and all around.
Prior to your cruise, you can take advantage of certain benefits simply by associating your loyalty number with your reservation. 
Assuming you put your loyalty number in your reservation when you booked your cruise, you'll receive a letter in your stateroom with your Crown and Anchor Society benefits.
The letter you get onboard the ship in your cabin lists even more benefits you can use:
Gold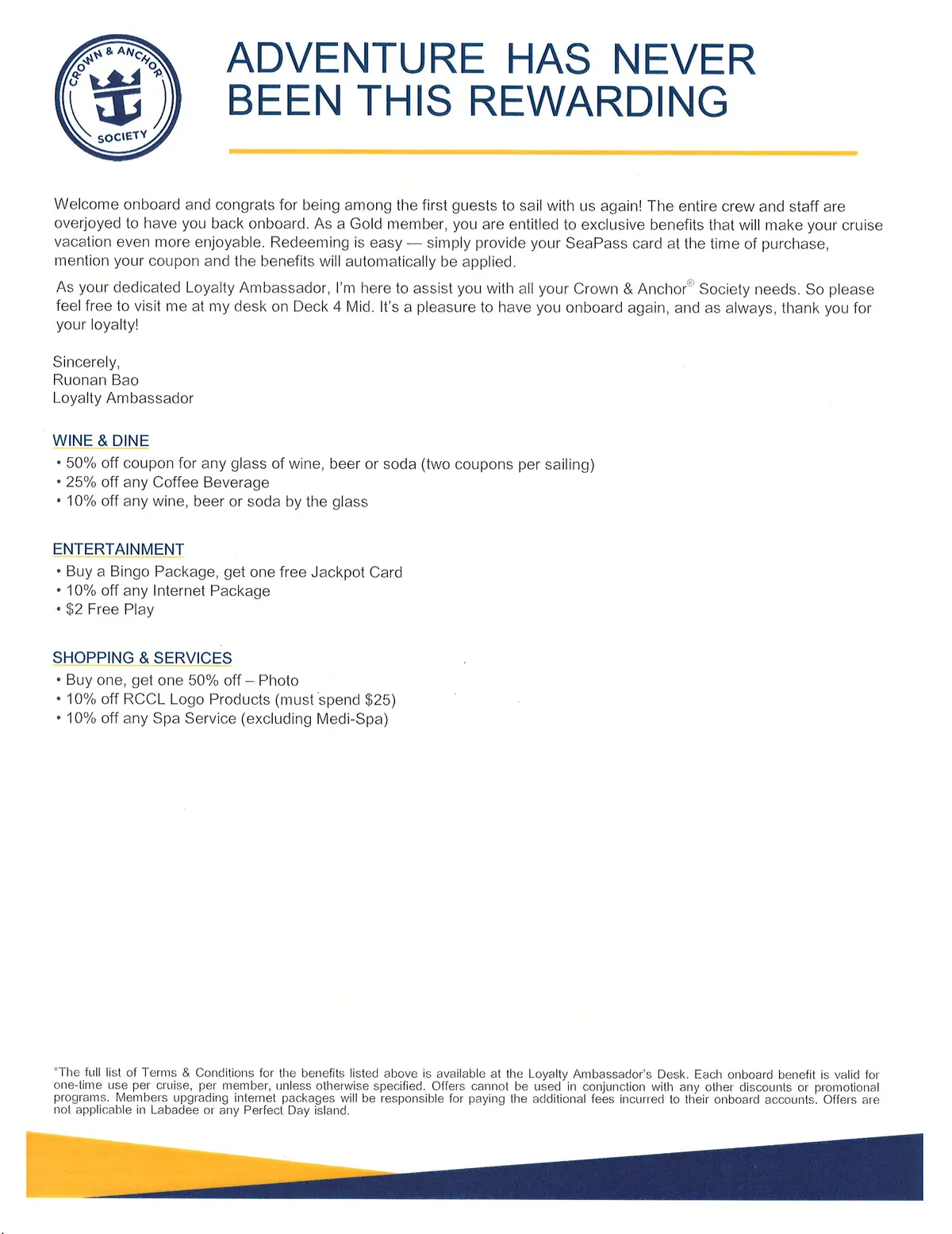 Platinum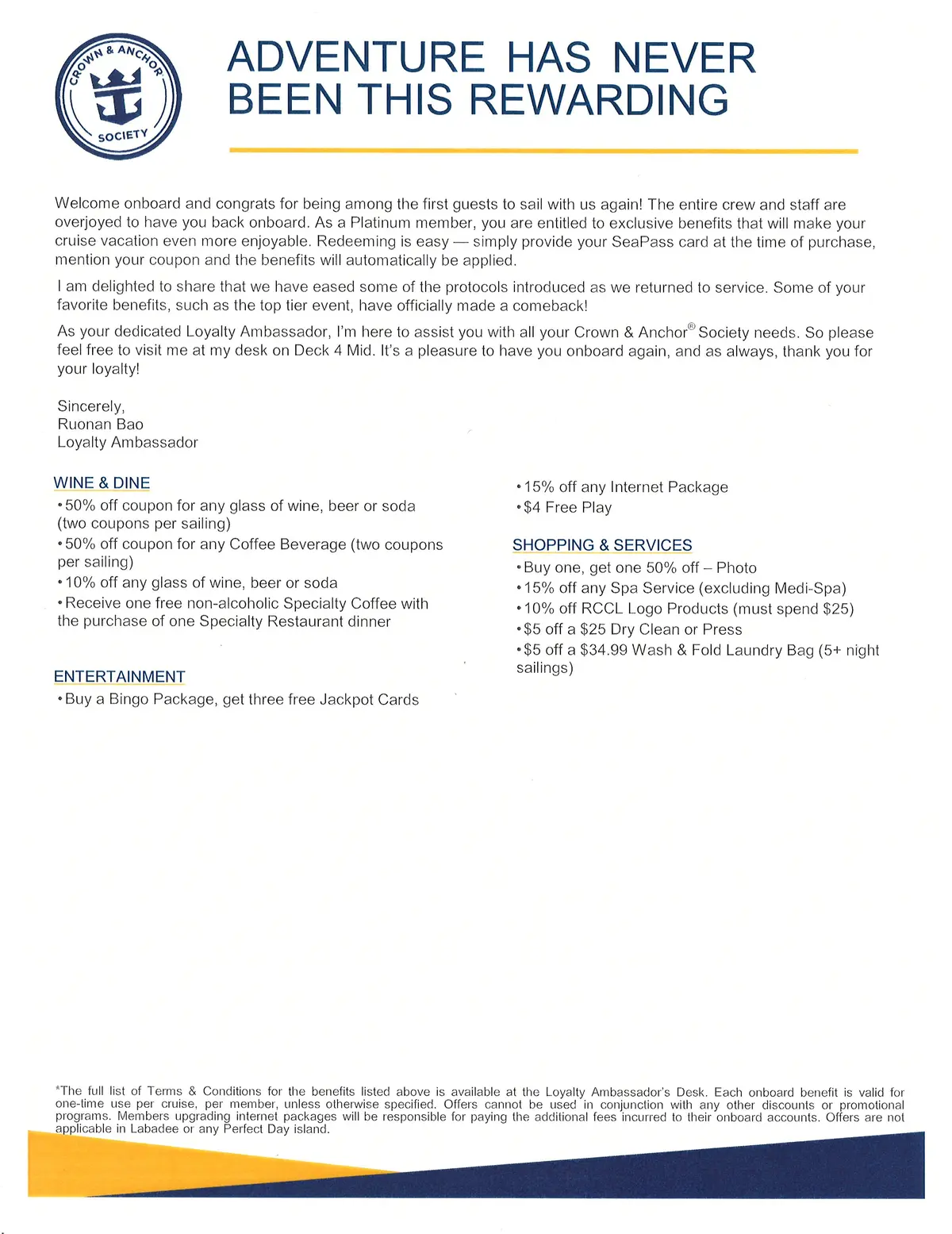 Emerald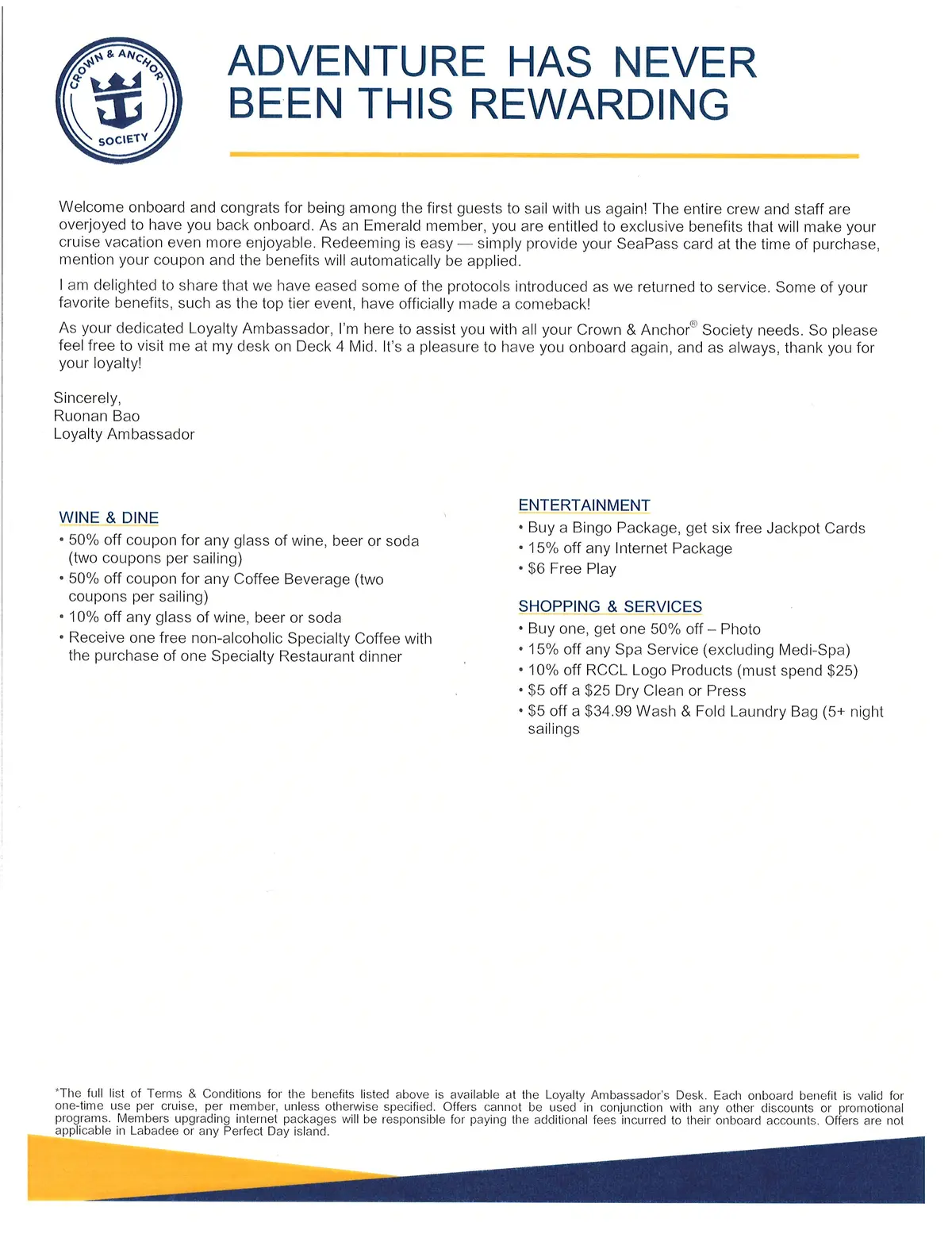 Diamond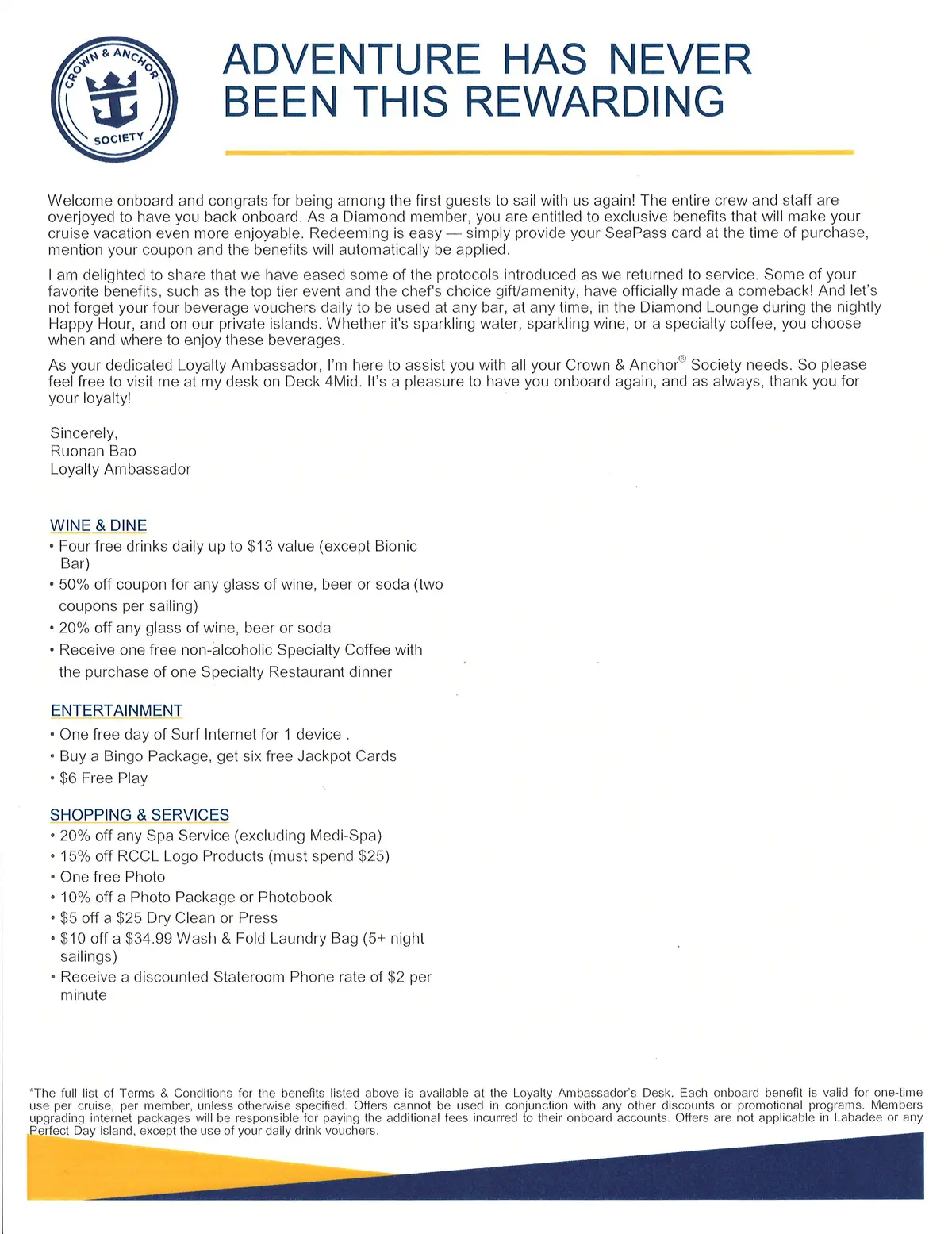 Diamond Plus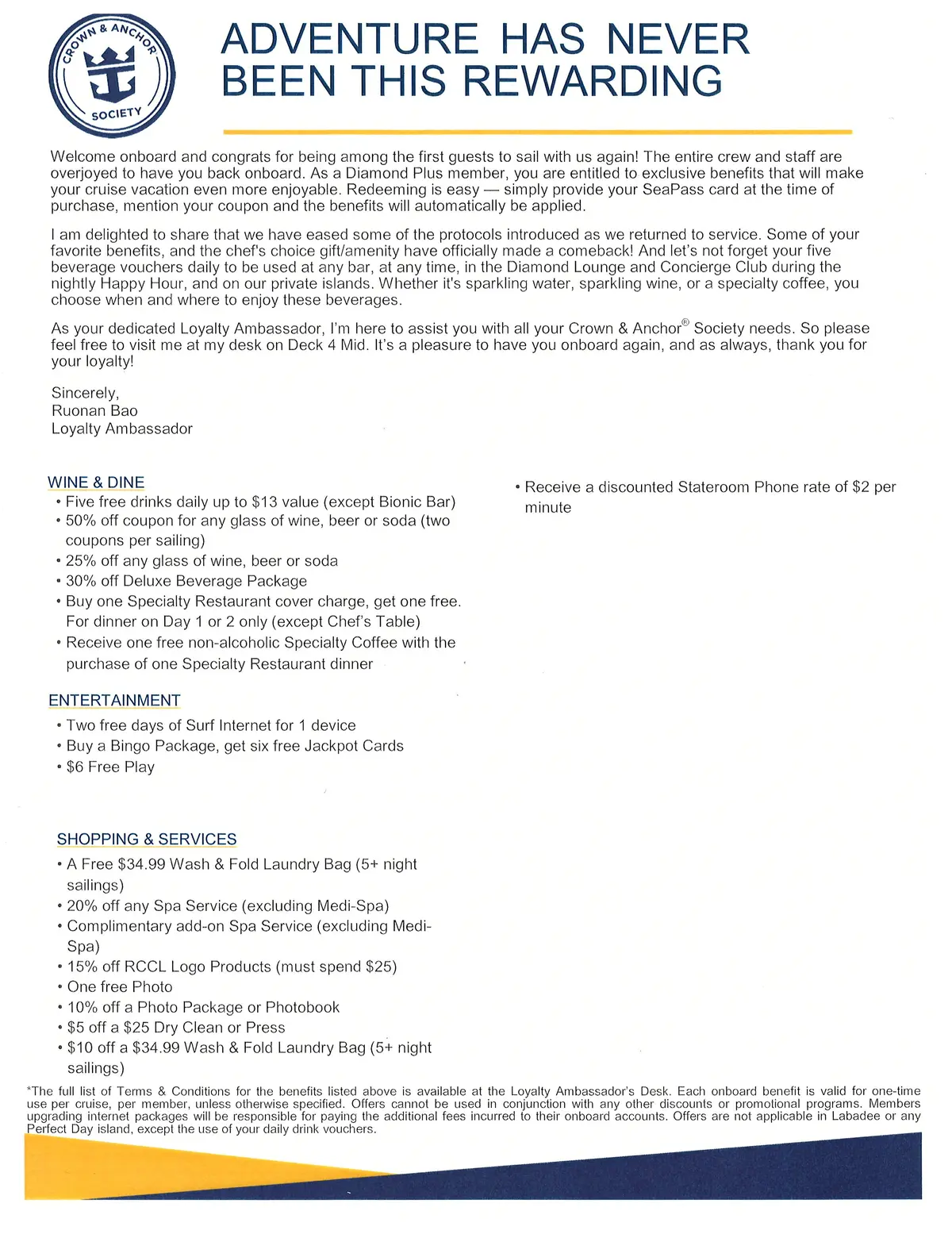 Pinnacle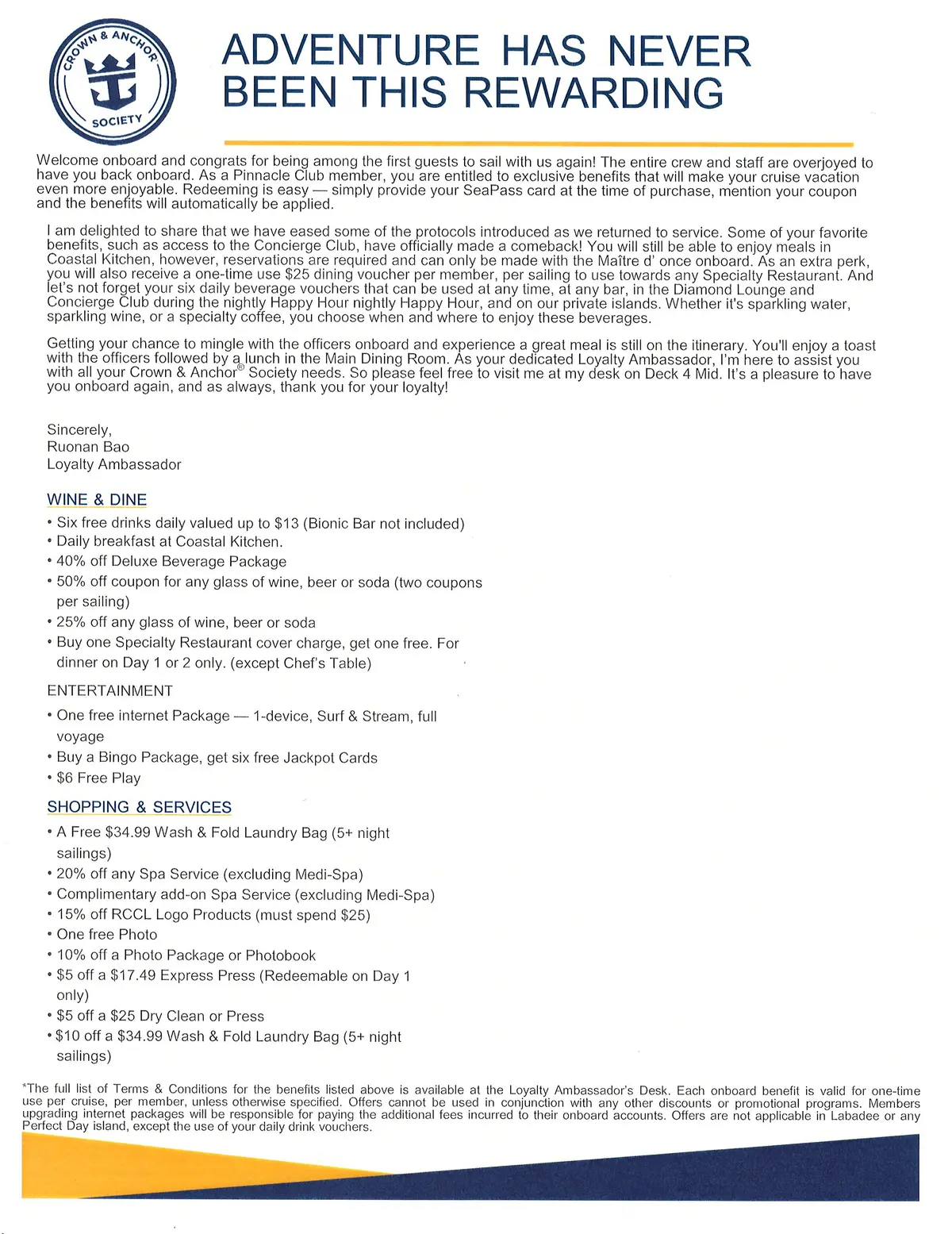 Thanks to Twangster for sharing these scans.
That's a lot of rewards you can use, but which ones truly stand out as the kind you should use every single cruise you take?
Here's my top picks for discounts, offerings, and amenities worth redeeming on every Royal Caribbean cruise.
Beverage coupons - All tiers
Whether you are Gold or Pinnacle, you'll get coupons preloaded on your SeaPass card every sailing for drinks.
If you don't have a Royal Caribbean drink package, these beverage coupons can save you money on alcohol, coffees, and more.
50% off coupon for any glass of wine, beer, or soda
25% off any coffee beverage
10% off any wine, beer or soda by the glass
Higher tiers, beginning with Platinum will get a free non-alcoholic specialty coffee with the purchase of a specialty restaurant dinner.
All you have to do is inform the waiter or bartender that you'd like to use your drink coupon and they can apply it on the spot. No physical coupon required.
Casino free play - All tiers
I couldn't believe it when someone told me I could play a few dollars in the casino every cruise, but it's true.
Crown and Anchor members get a range of free play to enjoy, and the exact amount varies depending on a few factors. It's available for the full cruise but if you go during the first couple of days, you get an extra $2.
All you have to do is go to any slot machine in the casino, enter your SeaPass card, create a new PIN and then transfer the money to your personal banker casino account. 
The PIN you need at first is your birth month and birth day in 4 digits MMDD then it will prompt you create a new PIN.  
The process on the machine to transfer the freeplay money is not completely intuitive but once you figure it out it's the same ship to ship.
You cannot cash out the free play, and must play through until you use it up. Any winnings are yours to keep and cash out.
Free/discount souvenir photo - All tiers
While there's no cost to take a photo with the ship's photographers, a single photo will set you back $19.99.
Depending on your tier, you're entitled to either a free photo or big discount.
From Gold through Emerald, you'll get a buy one, get one 50% off photo.
At Diamond, you get one free photo.
These are wonderful keepsakes from the cruise, especially if you can get everyone dressed up.
Balcony discount - Platinum and above
Should you book an inside cabin or is it worth it to move up to a balcony? If there's a discount on a balcony, that might sway your decision.
Platinum, Emerald, Diamond, Diamond Plus, and Pinnacle Crown & Anchor Society members will receive an increased discount for making a reservation for
a sail date outside of six months.
Once you achieve Platinum status, you can get an automatic discount on any balcony or suite you book.
| | | | |
| --- | --- | --- | --- |
|   | 3-5 nights | 6-9 nights | 10+ nights |
| Platinum | $75 | $125 | $225 |
| Emerald | $125 | $225 | $325 |
| Diamond | $150 | $250 | $350 |
| Diamond Plus | $175 | $275 | $375 |
| Pinnacle Club | $175 | $275 | $375 |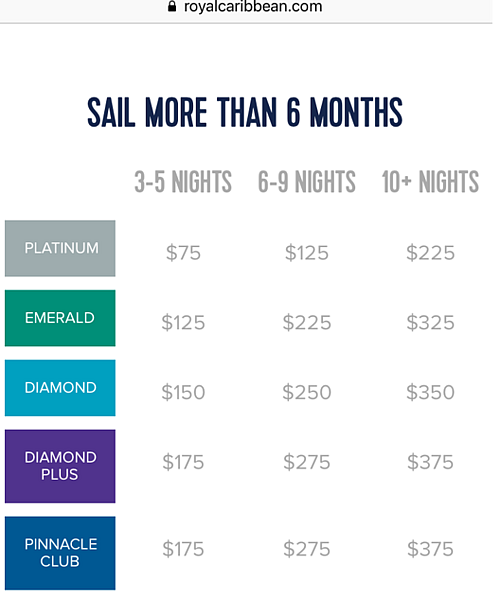 In many cases, this discount can save a lot of money. The key is to book a cruise more than 6 months in advance, or these rates drop.
Free beverage vouchers - Diamond and above
Perhaps the best known and most valuable benefit are the free drinks Royal Caribbean gives its top tier guests each evening.
If you are Diamond, Diamond Plus, or Pinnacle, you can get a set amount of complimentary beverages every day of your cruise, which includes alcoholic beverages.
It's simple enough to redeem, you just tell the bartender you'd like to use your Diamond drink voucher and you pay nothing for the drink.
Read more: How Royal Caribbean's free drink vouchers for Diamond and higher members works
Even kids can get free non-alcoholic drinks if they're a Diamond or higher cruiser.
I'm not aware of any other cruise line that offers its loyal customers free alcoholic drinks in this manner. For a lot of people, it becomes their defacto drink package.
Free internet access - Diamond and above
Diamond guests get one free day of wifi, while Diamond Plus get two free days of Surf & Stream internet package per sailing. 
If you make it Pinnacle Club, you actually get a free internet package for the duration of your cruise.
The only catch is you cannot pre-book, so you must wait to use it until you get onboard the ship.
BOGO Specialty Restaurant meal - Diamond Plus and above
The jump from Diamond to Diamond Plus isn't substantial, but there are some lucrative benefits to enjoy.
My favorite is the buy one, get one cover charge at a specialty restaurant for dinner on the first or second night of the cruise.
Just like the free wifi offer, you can't pre-book, but I've found it quite easy to redeem.
This is also great to use with family and friends, as you can apply the BOGO offer to other guests that are dining with you.
Free laundry once per cruise - Diamond Plus and above
I always have to remind myself of this benefit, but Diamond Plus and Pinnacle Club guests get a free wash and fold laundry bag on 5+ night cruises.
Royal Caribbean offers a Wash and Fold offer to all guests, which comes at a price of $34.99 and allows you put as many small pieces of laundry in a bag as you can for a fixed rate.
This is great for t-shirts, underwear, socks, and bathing suits. You can either use it mid-cruise to replenish your clean clothing, or at the end of the sailing to ensure there's less laundry waiting for you when you return home.
Diamond Lounge access - Diamond and above
It's fairly impressive that Royal Caribbean reserves a place on each cruise ship for use by its top tier members.
The Diamond Lounge is part social and part functional.
At its heart, it's a place for Diamond, Diamond Plus, and Pinnacle Club cruisers to go to for a private enclave. A lot of cruisers enjoy the social aspect of the lounge, especially in the evening. This is when guests can meet other guests and perhaps make a friend.
In addition, there's complimentary beverages and hors d'oeuvres served. A 24 hour coffee and espresso machine is available to use, which can save you money on specialty coffees elsewhere.
The finger foods they have in the lounge each evening are delectable, and there's a breakfast spread too earlier in the day. You won't get a meal here, but it's enough to tide you over.