In:
Royal Caribbean wants to make it easier to keep track of your Diamond drink benefits.
Diamond, Diamond Plus, or Pinnacle members get a set amount of complimentary beverages every day of your cruise, which includes alcoholic beverages.
In an email to guests, Royal Caribbean said it would make a slight change to how drinks are redeemed.
Effective on sailings starting this Friday, November 4th, guests will sign their check when using any beverage vouchers.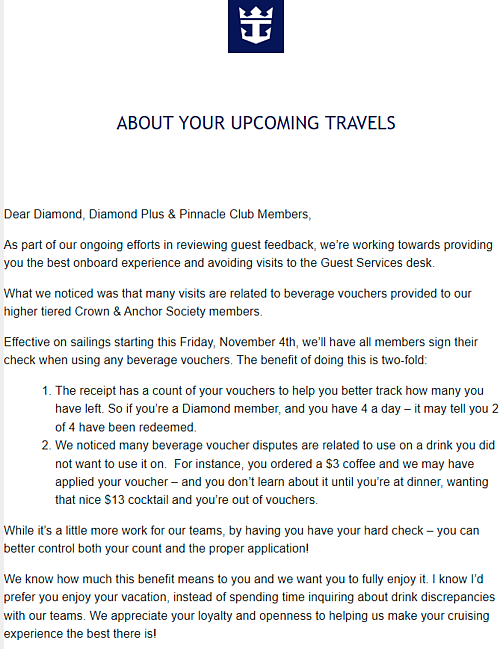 Prior to this change, there was no receipt to sign and the vouchers were all managed in the backend. 
Guests that purchase a drink and pay for it with their SeaPass card get a receipt, so this will be more similar to this.
This is another recent change by Royal Caribbean to the Diamond drink program. In June 2021 the amount of drinks was altered so the Diamond drinks would essentially cover almost any beverage and could be used all day.
Benefits of this change
Royal Caribbean says it is making the change for two reasons that it thinks will benefit guests.
First, the receipt has a count of vouchers to help you better track how many you have left.
So if you're a Diamond member, and you have 4 a day – it may tell you 2 of 4 have been redeemed.
The second reason is to help with billing discrepancies.
For instance, you ordered a $3 coffee and they may have applied your voucher – and you don't learn about it until you're at dinner, wanting that nice $13 cocktail and you're out of vouchers.
For these reasons, offering receipts should make it simpler to track for guests, "While it's a little more work for our teams, by having you have your hard check – you can better control both your count and the proper application!"
How the Diamond drink vouchers work
Royal Caribbean provides complimentary drinks each day to its Diamond, Diamond Plus and Pinnacle guests.
Guests who are at a lower tier of Crown and Anchor Society (Gold, Platinum, or Emerald) do not qualify for the drink vouchers.
Diamond: 4 beverage vouchers valid all day at any bar (except Starbucks)
Diamond Plus: 5 beverage vouchers valid all day at any bar (except Starbucks)
Pinnacle: 6 beverage vouchers valid all day at any bar (except Starbucks)
Drink vouchers are loaded automatically every day on a guest's SeaPass account. 
This includes alcoholic and non-alcoholic options, and includes any beverage up to $14 per drink.